If you are thinking about becoming pregnant or you already are pregnant, CONGRATS! This is a very exciting time in your life!! I loved being pregnant. It was such a joyous time because seeing my body change daily was truly a miracle.
You may find you are more concerned about what you are eating during pregnancy, and this is a good thing.
Healthy eating during pregnancy is one of the best things a mama-to-be can do for herself and her baby. The food you eat and the supplements you take are your baby's only source of nutrition. Good nutrition promotes your baby's growth and development.
There are no negative side effects to eating well :)
In this video, I share 12 pregnancy power foods that I recommend you eat regularly. Be sure to check out the summary of these foods below, because I've included plenty of recipe ideas for you too.
Excellent sources of fiber. You need fiber for healthy digestion and easy bowel movements to reduce constipation and hemorrhoids.
Their phytonutrients support healthy estrogen metabolism by assisting liver detoxification (hormonal balance is key when trying to get pregnant and while pregnant).
Source of calcium, which is important for bone and tooth development.
Try my Curry Quinoa Cauliflower Stew or this Roasted Cauliflower Salad.
Excellent source of plant-based omega-3 fatty acids and super high in fiber.
Great for "chia poops" by easing the passage of poop through your colon.
Rich in protein, which is a building block of your body's cells and of your baby's body as well. Eating adequate amounts of protein prevents you from turning into a carb monster, too!
Try my Chocolate Chia Granola or these Rosemary Buckwheat Chia Crackers.
Very rich in antioxidants, which are important during pregnancy because they reduce oxidative stress. Keeping stress low and eating antioxidant-rich foods positively affect baby's health later in life.
Blueberries are perfect to munch on when you are craving something sweet. Fruits like blueberries provide the body with a slow release of glucose because they contain fiber, unlike candies, cookies and pastries, which spike your blood sugar and make you crave MORE sweets.
Try my Blueberry Bliss Smoothie Bowl or these Gluten-free Vegan Blueberry Oat Pancakes.
Both are very rich in fiber, which helps eliminate waste through the digestive system. A higher intake of fiber can help prevent the glucose intolerance that can lead to gestational diabetes.
Rich in minerals like potassium and magnesium. Potassium's main role is maintaining fluid and electrolyte balance in your body's cells. Since your blood volume expands by up to 50% during pregnancy, you'll need slightly more electrolytes (sodium, potassium, and chloride, working together) to keep the extra fluid in the right chemical balance.
Try soaking some prunes in water to re-hydrate them and then pop them in your blender or food processor and then whip them into a puree.
Kale - Queen of the Greens!
All greens are a source of folate, which is a pregnancy power nutrient. It is essential for development of baby's neural tube (which develops into the brain and spinal cord). It plays an important role in the production of red blood cells and may reduce the risk of pregnancy complications.
Rich source of digestive-friendly fiber.
Very high in antioxidants to help reduce the negative effects of stress on your body and your baby.
Try it chilled in my Chopped Kale & Beet Salad or warm and comforting in my Warm Beet & Kale Bowl or my Kale Salad with Creamy Dressing.
A total superfood! Avocados are a fantastic source of good fat that keeps you satisfied and balances blood sugar.
Great source pregnancy power nutrients, including vitamin B5 – which is important for adrenal health (stress management) – folate, calcium and potassium.
Try my Key Lime Avocado Tart – a great way to smash a sweet craving!
Excellent source of plant-based protein and rich in fiber.
Lentils are high in iron. Iron is a pregnancy power nutrient and you need about twice as much iron as you did before you were expecting because your body uses iron to make extra blood for your baby.
Try my Curry Lentil Quinoa Soup, it's an oldie but a goodie!
Very rich in fiber and very blood sugar balancing, good source of iron.
It's no secret that pregnancy can take a toll on your energy levels. Oats are a great food for energy because they are rich source of complex carbohydrates.
Try my Chewy Chocolate Chip Tahini cookies.
A rich source of many pregnancy power nutrients, including B vitamins (especially folate), calcium, iron, magnesium, zinc and more!
B vitamins are important for energy production. You need more energy than ever when you are pregnant, so having a handful of pumpkin seeds keeps energy levels up!
Good source of protein and healthy fat.
Try them in my Comforting Cranberry Ginger Granola.
Next to fatigue, the most common complaint of pregnant women is digestive problems. Even if you're not yet pregnant, fermented foods are beneficial for digestive health because they encourage a healthy microbiome.
They feed the good bacteria through their prebiotic action. A healthy gut flora is essential for a healthy immune system. This is important during pregnancy so you can avoid getting a cold or flu. Pregnancy can definitely take a toll on your immune system, so keep it strong and you will avoid any sickness
Check out more fermented foods here.
Last but certainly not least!
One of the most common questions I get asked as a mama and a nutritionist is what prenatal I'm taking? The answer is New Chapter's Perfect Prenatal. I love it because it doesn't bother my tummy and I get NO multi-vitamin-burps whatsoever.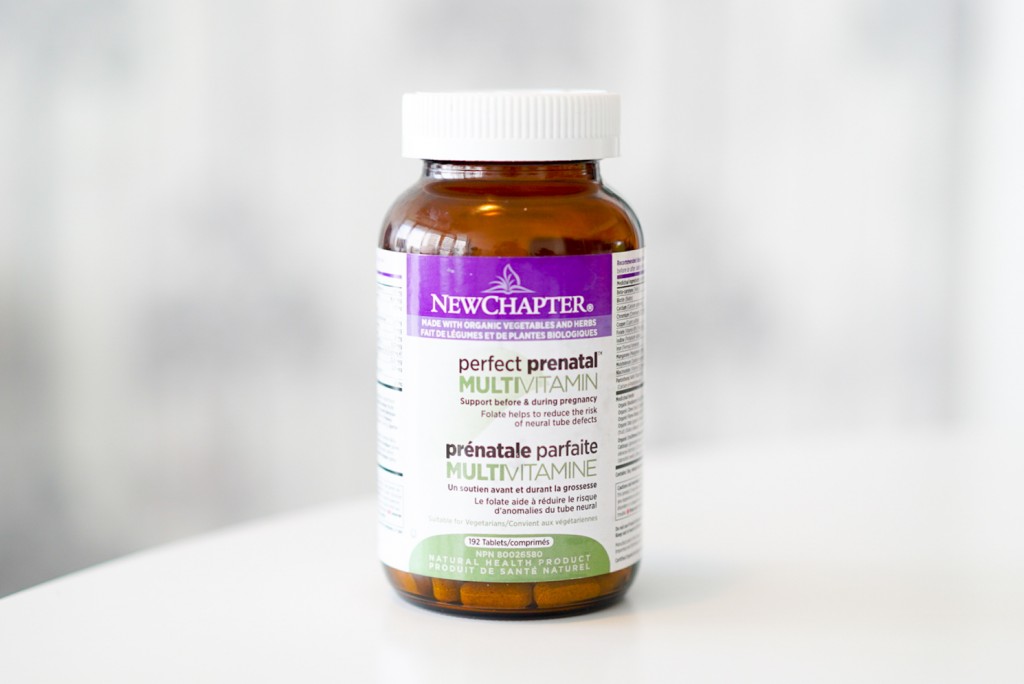 Pregnant tummies are super sensitive because digestion is slowed down, so it only makes sense that your multi is easy on your tummy too. New Chapter's prenatal is fermented, which is why it is so easy to digest. This also means more nutrients are getting to where they need to go! Foods that are fermented are much easier to digest. Think of them almost like a predigested food where the nutrients are amplified. This prenatal is made with organic fruits, vegetables and herbs,  including many of the foods I mentioned in my video! It is important to choose more organic foods while pregnant or if you are considering becoming pregnant to avoid hormone-disrupting pesticides.
Wishing you a joyous pregnancy and beyond!
Ps. Check out my latest ebook: The Complete Self-Care Guide For New Mamas
This post was created in partnership with New Chapter, however all opinions are always my own. Read more about partnership ethos here.