We have just come back from our trip out west and I've been dying to get in the kitchen and create some snacks for The McJordans (Walker, Vienna and I). These bites are the first recipe I've whipped up in my food processor since being back. I actually created this recipe a few months ago for my friends at Genuine Health, so I've been looking forward to sharing it with you because it's made with my favourite superfood powder: fermented organic gut superfoods+ (note: I have also made this with greens+ kids in the past if you have that on hand, but please note it is no longer available)
These bites taste like a burst of freshness in your mouth! The lemon and blueberry is a wonderful flavour combination. The addition of the fermented organic gut superfoods+ really amps up the nutrition because it's super rich in phytonutrients. Since phyto means "plant," maybe I should have called them plant-powerballs!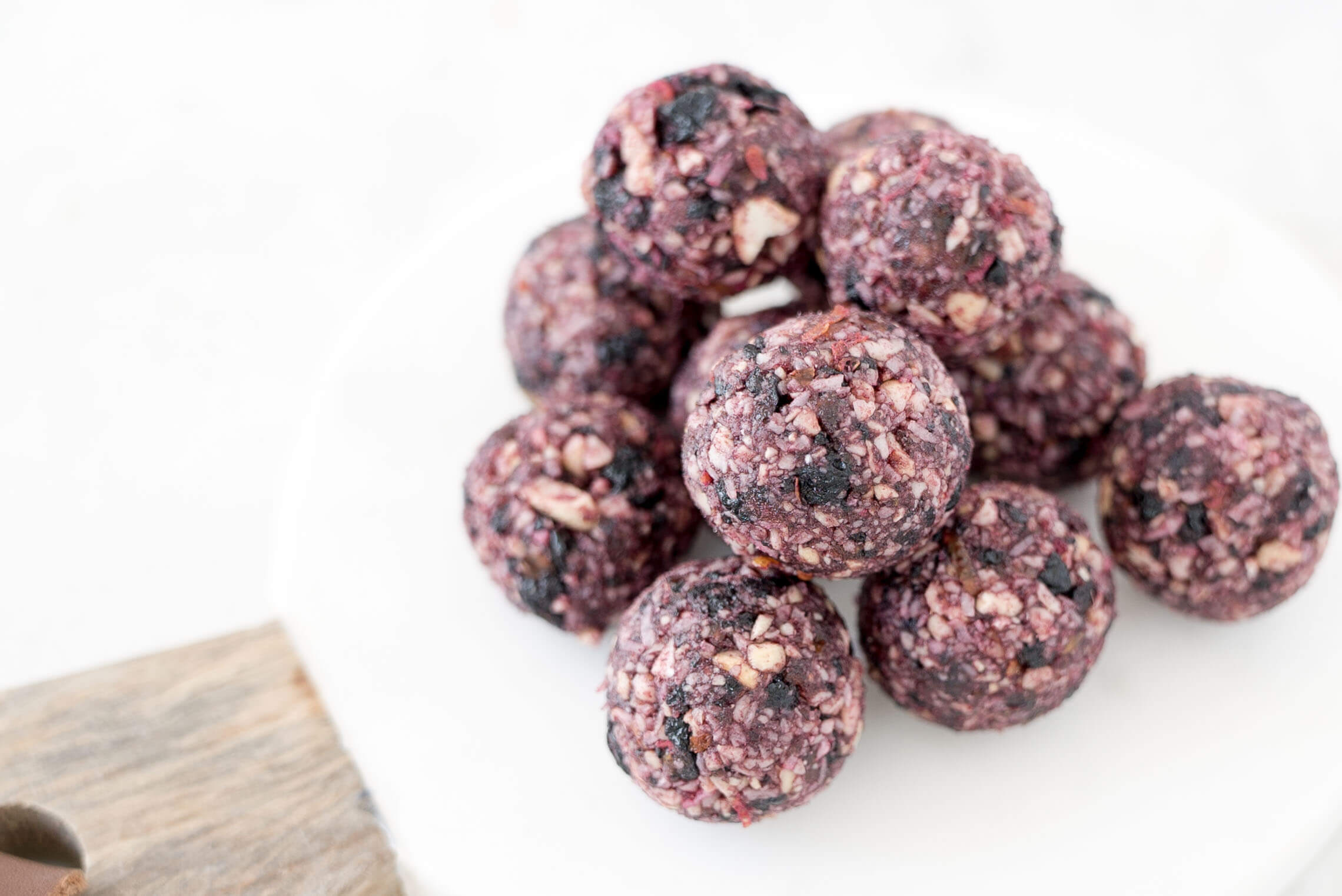 Did you know there are over 23,000 known phytonutrients in plant foods?
Phytonutrients have many different roles in the body. Some act as fire fighters and extinguish any inflammation, some protect your cells from damage caused by free radicals that would otherwise accelerate aging of your skin or worse, promote cancer. Other phytonutrients aid in detoxification, which is what my second book Joyous Detox is all about! And if that wasn't enough, there are phytonutrients that protect your mental health by preventing the breakdown of mood-boosting neurotransmitters such as serotonin and dopamine.
These Berry Green Bites are power-packed with phytonutrients, so let's get to this recipe shall we? (as I nibble on one right now …)
Ingredients
1 cup raw cashews
1/2 cup dried blueberries
1/2 cup shredded unsulfured coconut
6 soft medjool dates, pitted
2 scoops fermented organic gut superfoods+ (summer berry pomegranate flavour)
Juice from 1 lemon
Zest from 1 lemon
Instructions
Combine all ingredients into a food processor. Blend until combined.
Roll into 1 inch balls.
Refrigerate for up to a week or freeze for a few months.
Be sure to check my Instagram stories because I made them this morning and you can watch how I did it!
By the way, I used all organic ingredients for these bites including the fermented organic gut superfoods+ which is made with 21 organic plant-based superfoods. Organic is important to me. In fact, you can learn more about why I choose organic in this article I wrote for the Canadian Health Food Association here.
These Berry Green Bites are wonderful packed in your lunchbox as a mid-afternoon treat. You could make them nut-free by using sunflower seeds instead to make them school-friendly. Vienna LOVES these little bites because they are the perfect size for her little hands. If you're making them for your little one, just make sure you blend them long enough so that you don't have any large cashew chunks, which can be tough for young ones to swallow.
Genuine Health will be sharing this recipe and two more I created for them over the coming weeks so be sure to check out their blog!
Be sure to tag me #joyoushealth if you make them so I can see your creations.
Have a joyous week!
Joy