Dinner tonight was awesome! I made these Asian Chicken Lettuce wraps from The Paleo Diabetes Diet Solution cookbook. While I don't have diabetes and I'm not "paleo", as you might already know from my latest " 10 Things about Me " video, I do love a healthy and tasty recipe. These wraps are blood sugar balancing and very satisfying. I had two and I was perfectly happy.
Usually I am not a huge fan of recipes with a long list of ingredients, but believe me when I tell you this recipe was worth it! And it wasn't labour intensive - just a lot of ingredients. I made a few changes based on ingredients I had on hand so I didn't have to do a whole new grocery shop.
Lucky for me, we have leftovers too. This could easily feed a hungry family. I feel like Walker and I barely made a dent in that bowl!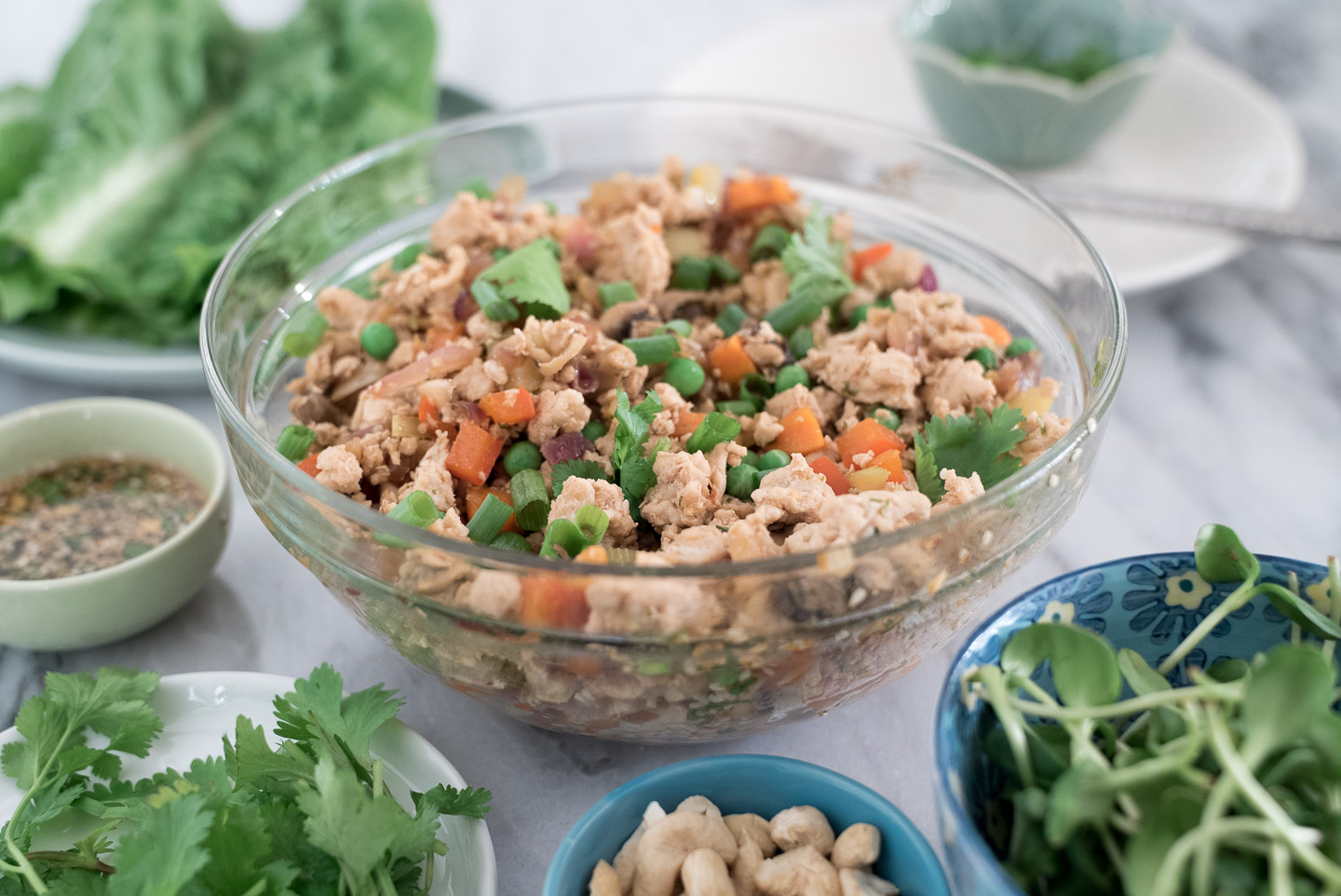 This recipe is gluten-free and dairy-free however as I was eating it I thought to myself this would be really nice with some goat feta sprinkled on top. That would kinda ruin the Asian vibe though seeing as feta isn't usually in asian dishes.
Walker said he would have rather had a hard shell taco or fajita with it but I loved the lettuce wrap. My belly is happiest without many grains anyhow, so I was quite pleased with dinner.
Vienna didn't have any but that's only because she's not feeling well right now. She got a head cold about 10 days ago and as soon as it seemed like she was better it morphed into something else. Last night we had to take her to Sick Kids Hospital :( because things escalated but she's on the mend now. It was pretty scary, I was in tears en route to the hospital but I guess that's pretty normal when your baby is sick for the first time. Or maybe I'm just a big suck. Probably the latter. :)
Okay let's get to this tasty and nourishing recipe shall we?
Sauce
2 garlic cloves, minced
1 tbsp ginger root, minced
1 tbsp fresh cilantro*, chopped
1 tbsp sesame seeds
1/4 cup tamari
1 tbsp lime juice
1 tbsp rice vinegar
1 tsp fish sauce (I omitted this because I didn't have any)
1 tsp toasted sesame oil
I added: 1 tsp real maple syrup
Stir Fry
1 tbsp olive oil for sautéing
1 lb organic ground chicken
2 celery stalked, finely chopped
1 carrot, finely chopped
1/2 red pepper, finely chopped
1 cup snap peas (I didn't have any so I used frozen sweet peas)
1/2 cup onion (I used red onion) finely chopped
1 garlic clove, minced
1/2 cup shiitake mushrooms (I didn't have any so I used crimini)
1 tsp ginger root, minced
2 green onions, chopped
Lettuce Cups
12 Boston lettuce leaves (I didn't have any so I used Romaine and turned these into "wraps". The original recipe is called "cups")
1 cup bean sprouts (I used sunflower sprouts)
1/4 cup cashews, toasted and chopped (I just used raw, unsalted) Instructions Sauce: In a small bowl, combine garlic, ginger, cilantro, sesame seeds, tamari, lime juice, vinegar, fish sauce (if using), sesame oil and maple syrup (if using). Set aside. Sti
Instructions
Sauce: In a small bowl, combine garlic, ginger, cilantro, sesame seeds, tamari, lime juice, vinegar, fish sauce (if using), sesame oil and maple syrup (if using). Set aside.
Stir-fry: In a large skillet, heat olive oil over medium high heat and add chicken and cook until it's no longer pink. Add celery, carrot, red pepper, peas and onion. Stir fry for a few minutes. Stir in garlic, mushrooms and ginger. Add half the sauce to the pan. Cook for 1-2 more minutes then transfer to a large bowl and top with green onions.
Lettuce wraps: Fill lettuce leaves with stir fry and top with bean sprouts, cilantro and cashews. Drizzle remaining sauce over top as desired.
EnJOY!
---
Notes
*Hate cilantro? Use parsley instead.

The next time I make this I will double the sauce ingredients.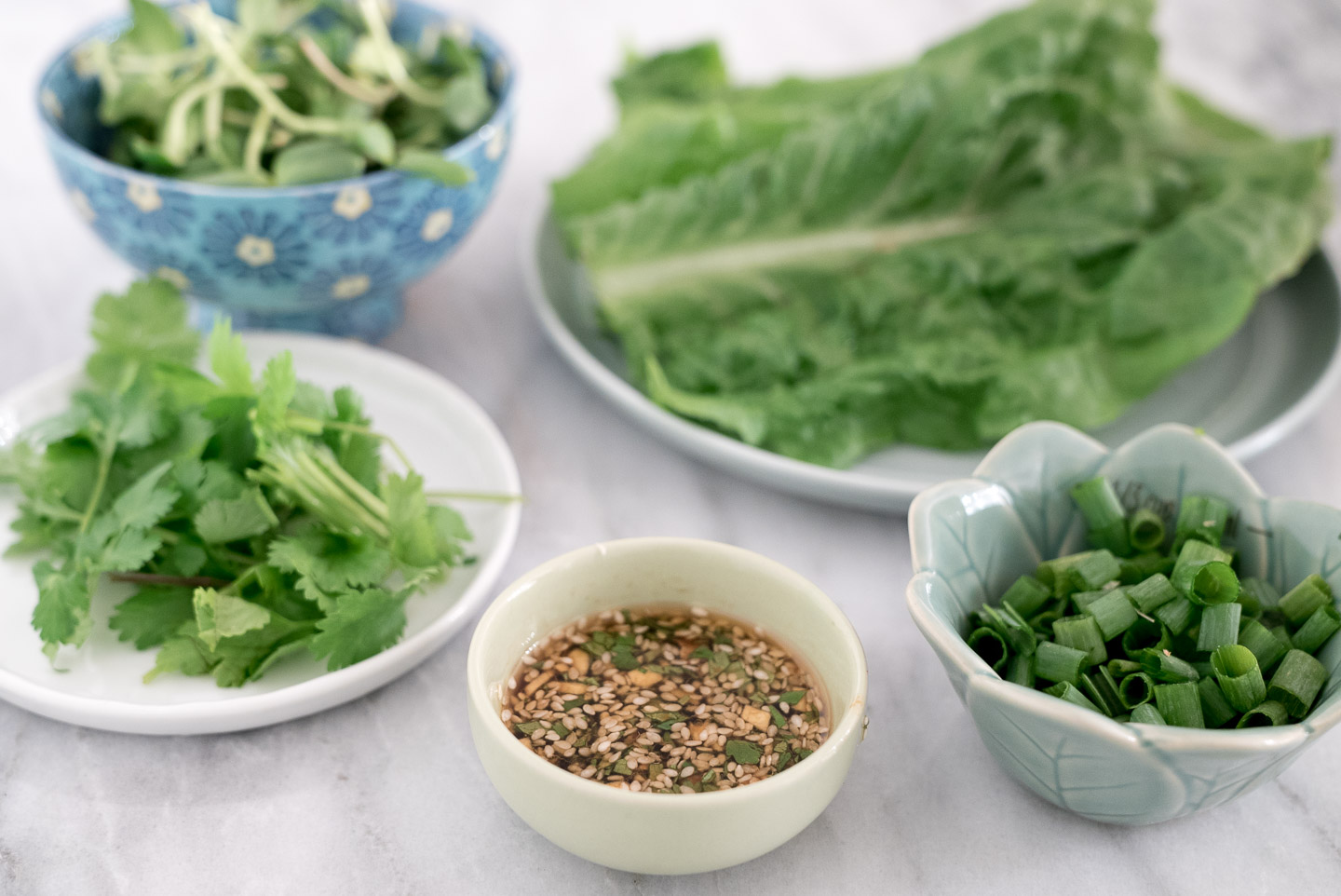 I just love the photo above because just seeing it reminds me of how incredible cilantro smelled. I think someone should make a cilantro perfume? Don't you think? haha! Okay maybe not but chopping and smelling it makes me feel so gosh dang joyous! Sorry to those who hate cilantro out there, you could swap it with parsley instead.
I loved that there were so many detox-friendly ingredients in this recipe from cilantro to sprouts to green onions that this recipe could easily
As sign of a great dinner is looking forward to leftovers the next day and that's exactly how I'm feeling right now!
Have a joyous rest of your week!
Joy