One of the many reasons I love instagram is all the food photos and recipe ideas. Admittedly, I'm not the greatest at following a recipe to a "T" because I like to be creative in the kitchen. But I do love looking at food photos for inspiration.
This is what happened with these baked falafels — I was inspired by @Organicfoodforkids on instagram. She posted this recipe and she has instant cred with me because she always has such healthy and tasty ideas! These days with Vienna eating solids I'm always looking for ideas that work for Walker and I, plus Vienna.
These baked falafels were loved by all!
If you'd like to see a recent FACEBOOK LIVE I did while I was reviewing top detox superfoods plus how to make the tahini sauce, you can see it here.
Falafels
1.5 cups sliced mushrooms (crimini or button)
1 small onion, chopped
1 tbsp coconut oil or extra-virgin olive oil
1 x 398 ml can organic BPA-free chickpeas, drained and washed
1 cup chickpea flour (brown rice or quinoa flour will work too)
1 tsp ground cumin
1/2 tsp chili powder
3 garlic cloves
Juice from half a lemon
1/4 cup fresh parsley (I added in an extra handful)
Sea salt and black pepper
Instructions
Preheat oven to 375F degrees. Grease a cookie sheet or line it with parchment paper.
Saute onions and mushrooms in oil until tender.
Using your food processor, add chickpeas, chickpea flour, cumin, chili powder, garlic, lemon juice, parsley, sea salt and black pepper. Blitz until well blended.
Add mushrooms and onions, blitz again until blended.
Take 1 1/2 tbsp of mix and form into balls. Don't worry if they are sticky and don't form into perfect balls. Mine didn't :)
Bake for 30 minutes. At 15 minutes flip them. I used a spatula and flattened them a bit so they weren't such a wonky shape.
---
Notes
They freeze well and refrigerate for up to a week.
Serves 4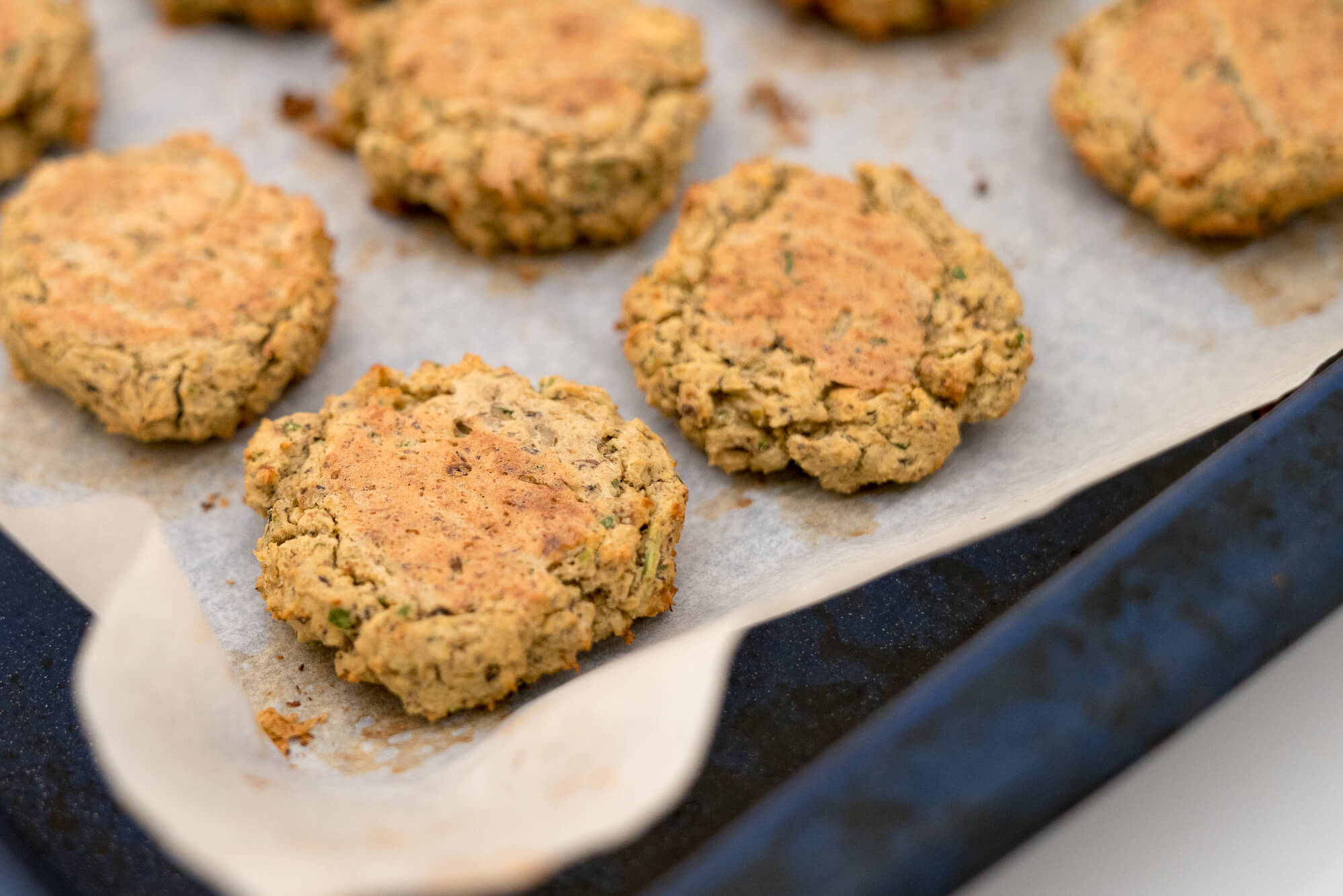 I whipped up a super quick tahini sauce that we drizzled all over them and dipped them in too. It was basically tahini, lemon juice and a bit of water to thin out the consistency. We enjoyed it with a beet carrot apple slaw.
I hope you try these and love them just as much as we do. I also have a Falafel Burger that I posted a while ago — excuse the terrible photography.
Have a joyous week!
Joy