This past Tuesday we had my Joyous Detox book launch party! It was a private event at Hotel Ocho in Toronto. It is truly a dream come true to be hearing how much people are loving Joyous Detox and my recipes. It was a joyous evening of celebration!
I wanted to share my "thank you" speech along with photos from the event with you in this post. If it reads a little funny, it's because it's literally what I said so please excuse any bad grammar.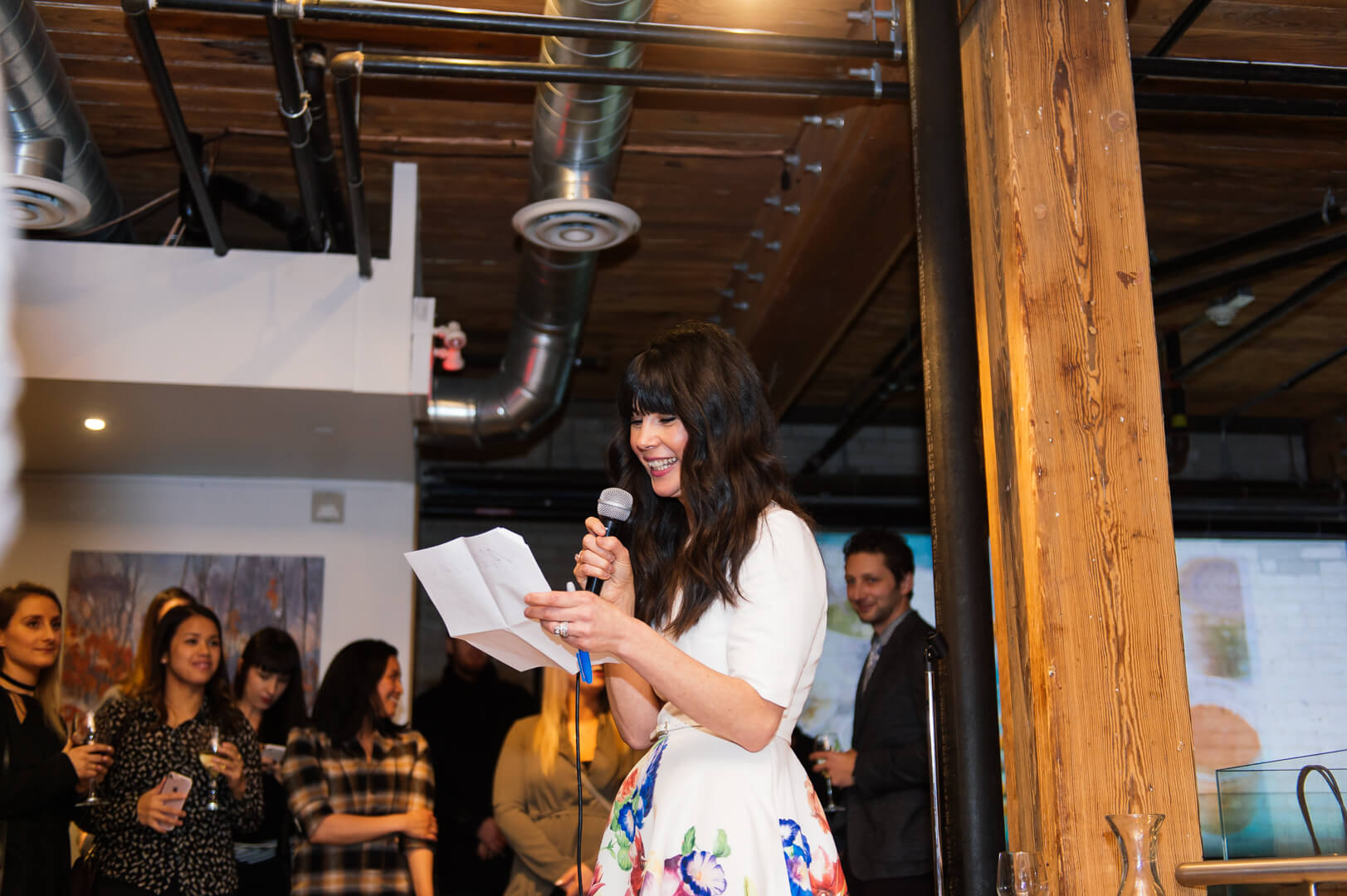 First of all, thank you to you — my joyous community! Whether you're a new reader to joyous health or you've been part of the community for a long time, I'm grateful for your comments, questions and support. I do what I do because of YOU.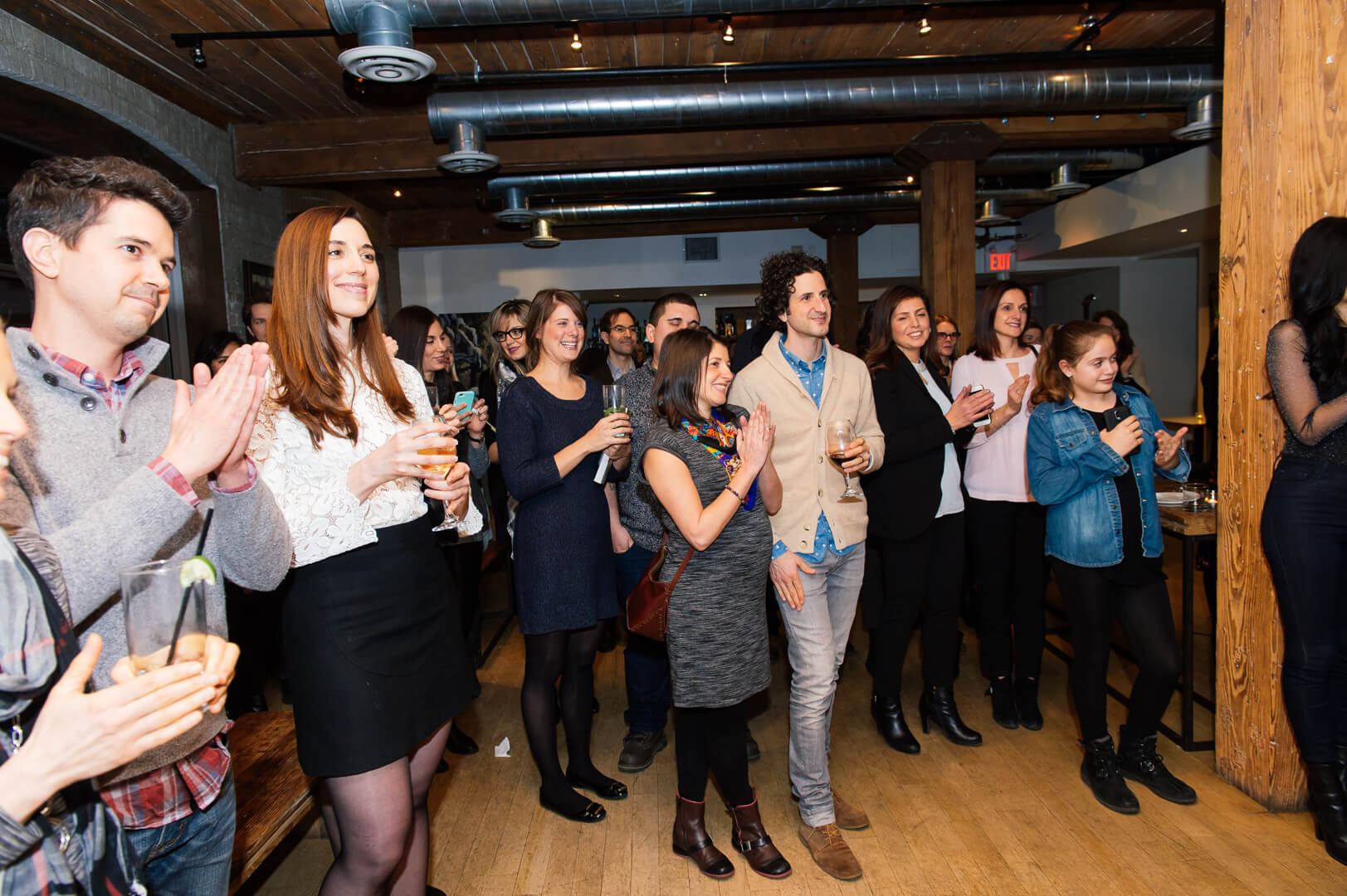 Joyous Detox was written for everyone and anyone who wants to feel better by eating damn delicious whole foods that are detoxifying. For me, detoxing isn't a time limited, forced deprivation idea. It's truly a lifestyle. I created my book to share with you daily detox rituals and recipes to live the detox lifestyle. The feedback I'm getting is that you truly see and feel a difference in your energy, digestion, skin, emotional wellness and feel well… and for lack of a better word it seems that people are feeling JOYOUS!!!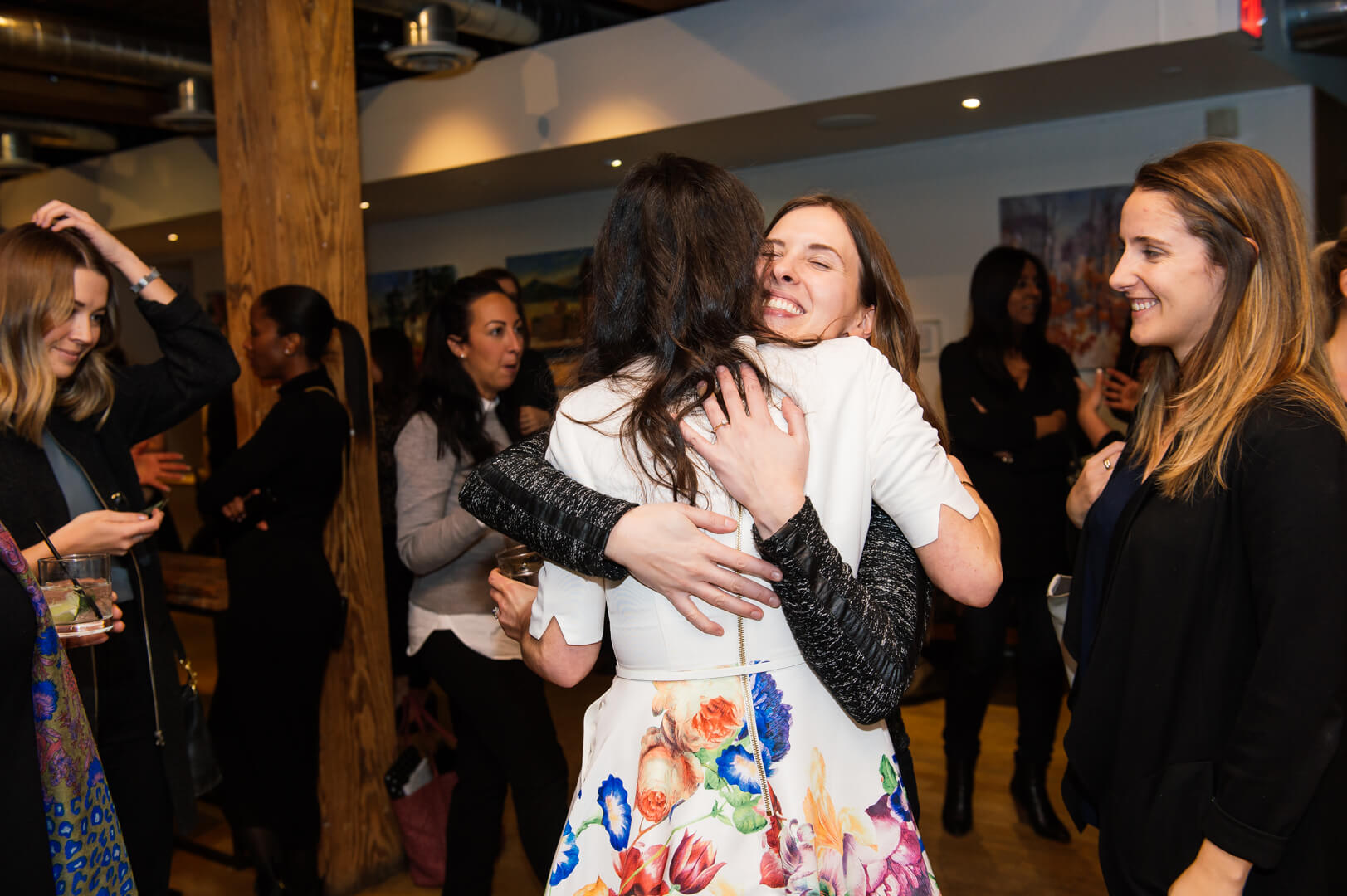 Joyous Detox wasn't written by only me. It was written by every single person who has ever inspired me, supported me and challenged me.
A book comes together not by one person, but through the collaboration of like-minded awesome people.
I've had the pleasure and luck of being surrounded by bad ass people who cheer me on when I need it and also keep me grounded.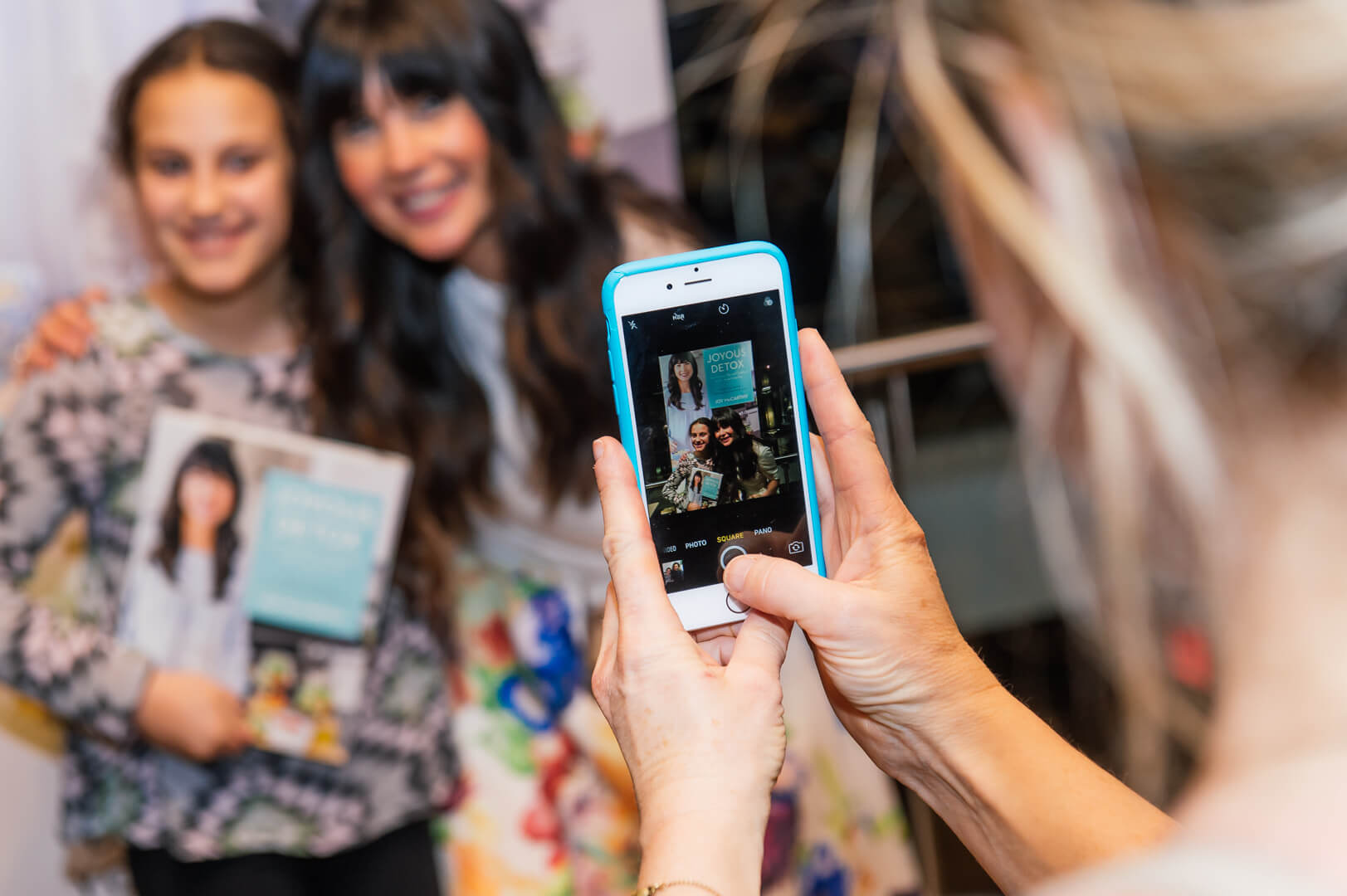 This book would not even exist if it wasn't for my editor at Penguin Random House, Andrea. Andrea is an amazing editor because she really does let the author bloom. With her guidance and vision Joyous Detox was born at the end of 2014.
And the large majority of the first half was written when I was pregnant with Vienna — which is why editing is necessary, haha! (Mama brain is real). I remember when I started writing it, I thought 2017 seemed forever away and here we are!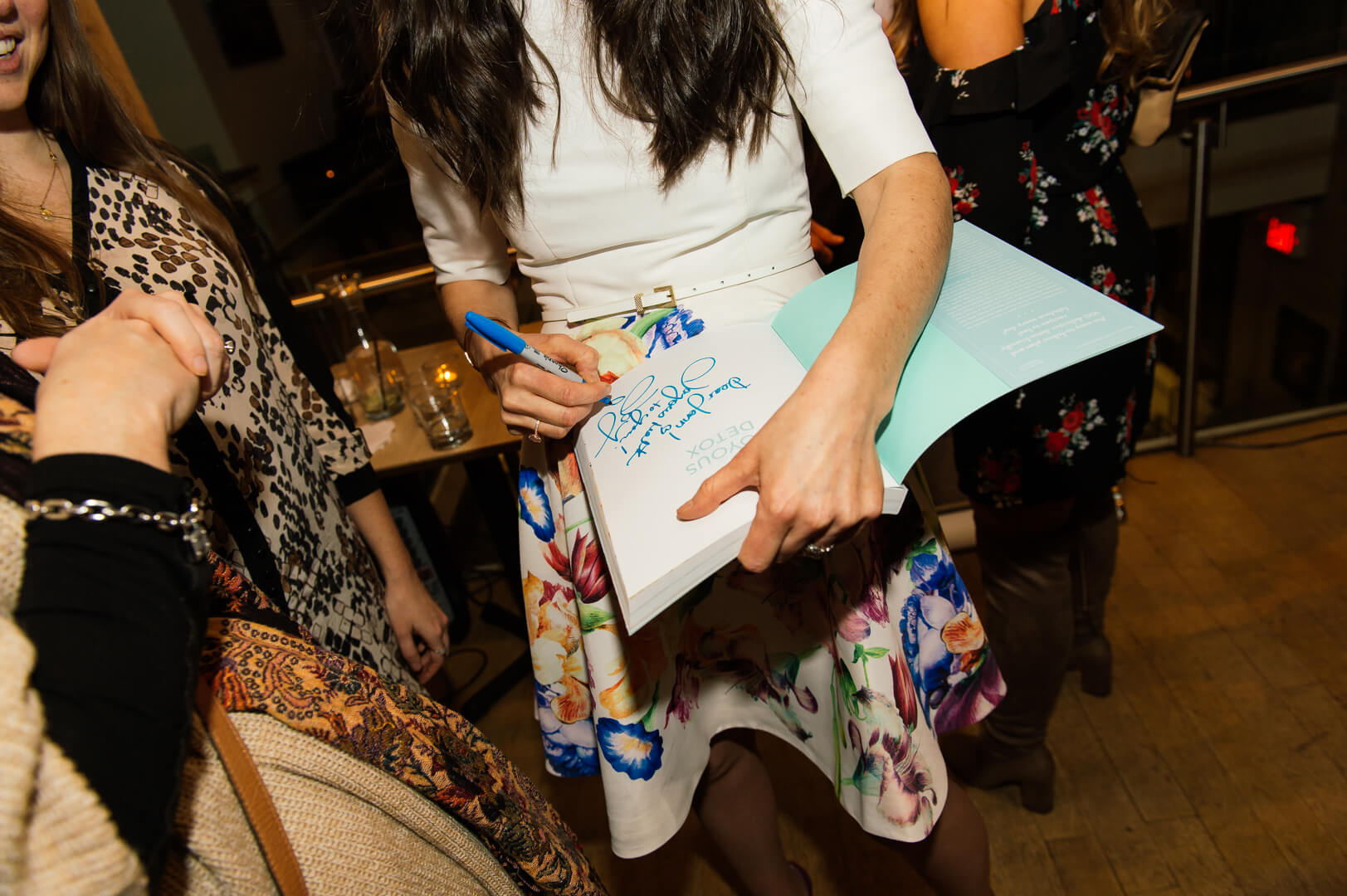 Thank you to the whole Penguin Randomhouse team, including Trish my publicist who is a ray of sunshine.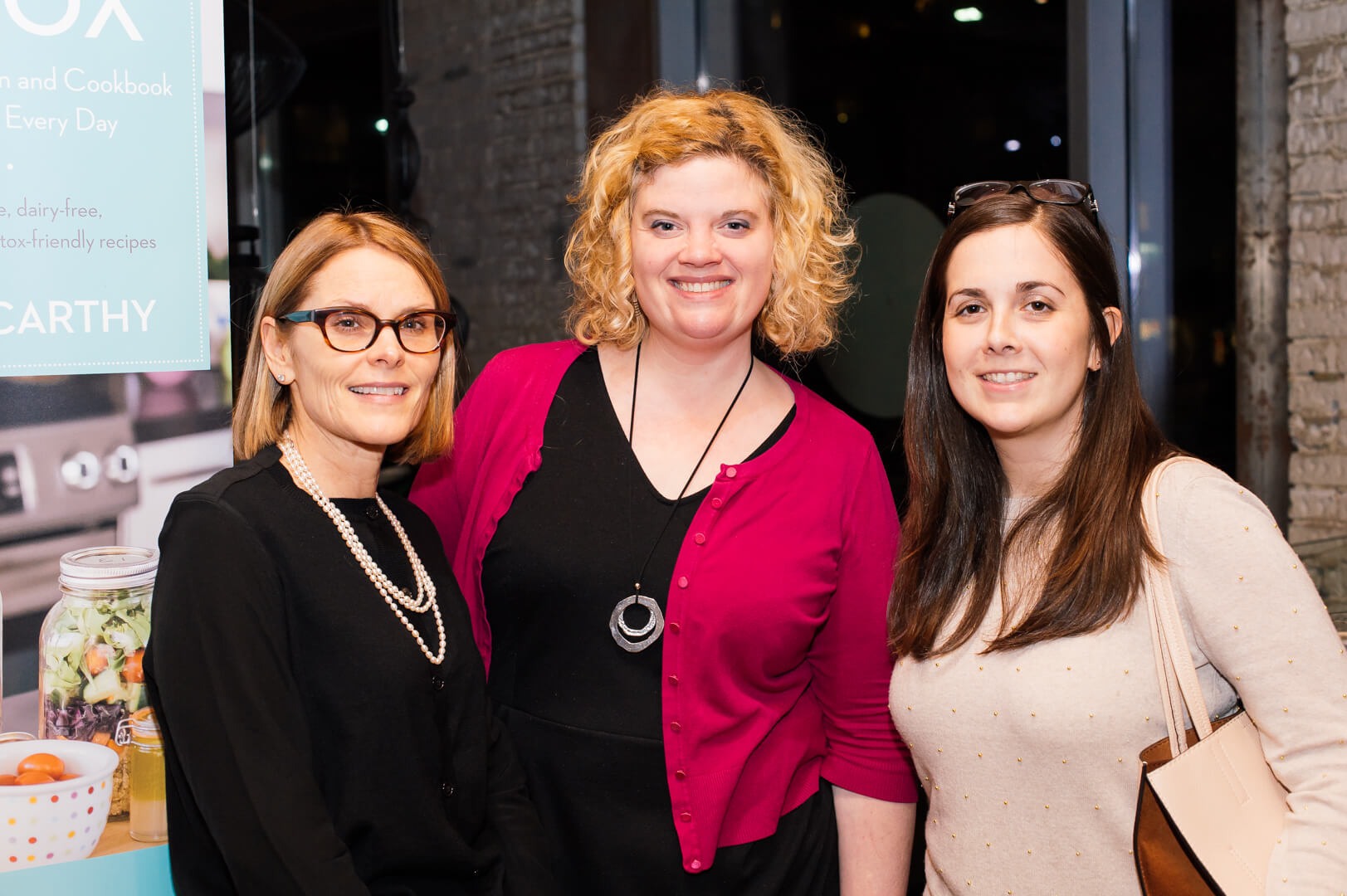 Thank you to my fierce literally agent Rick, who is always looking out for my best interests.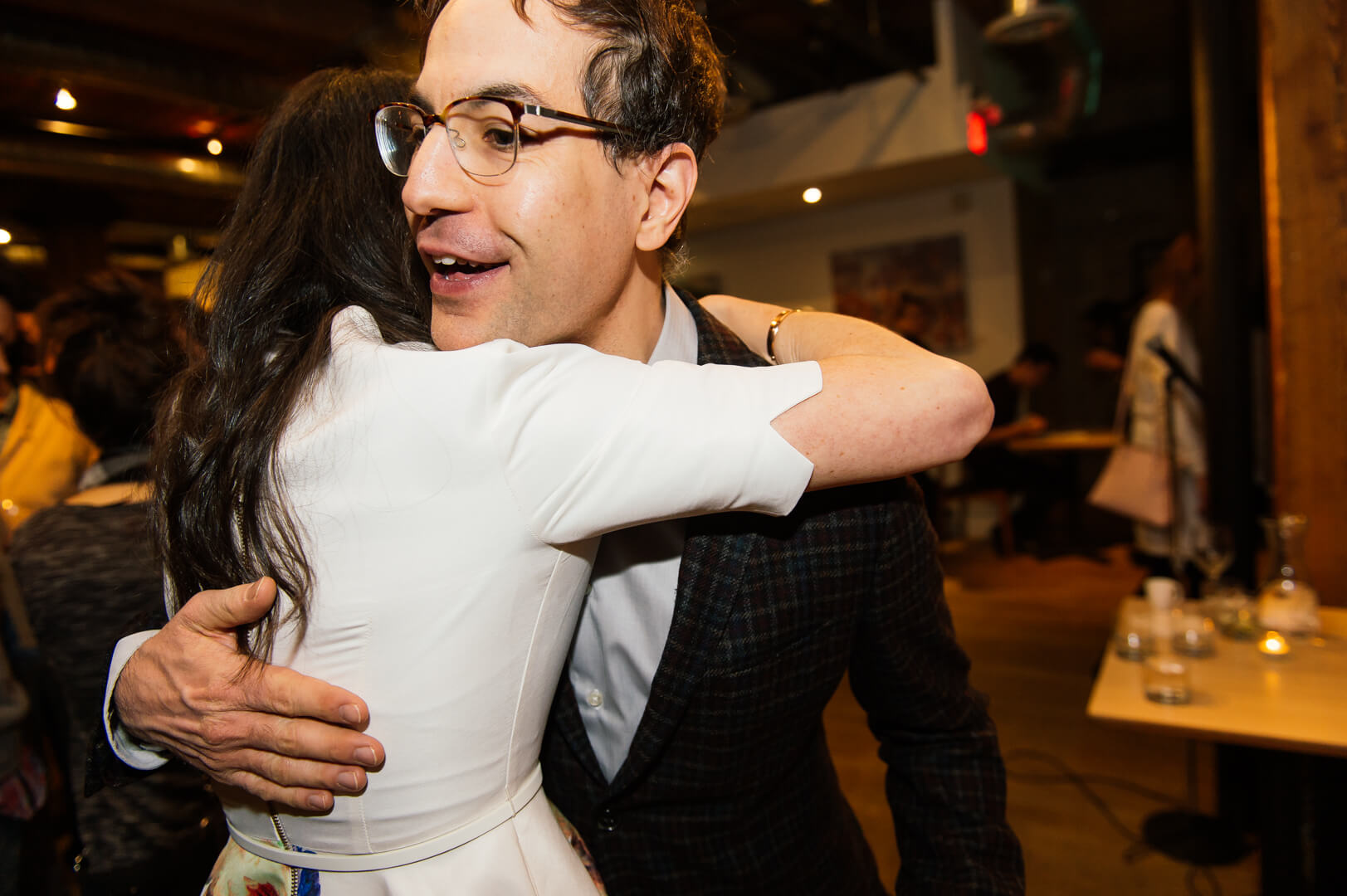 Thank you to all my recipe testers especially Laura Stolf and her beautiful family. This is her sweet daughter Julia below.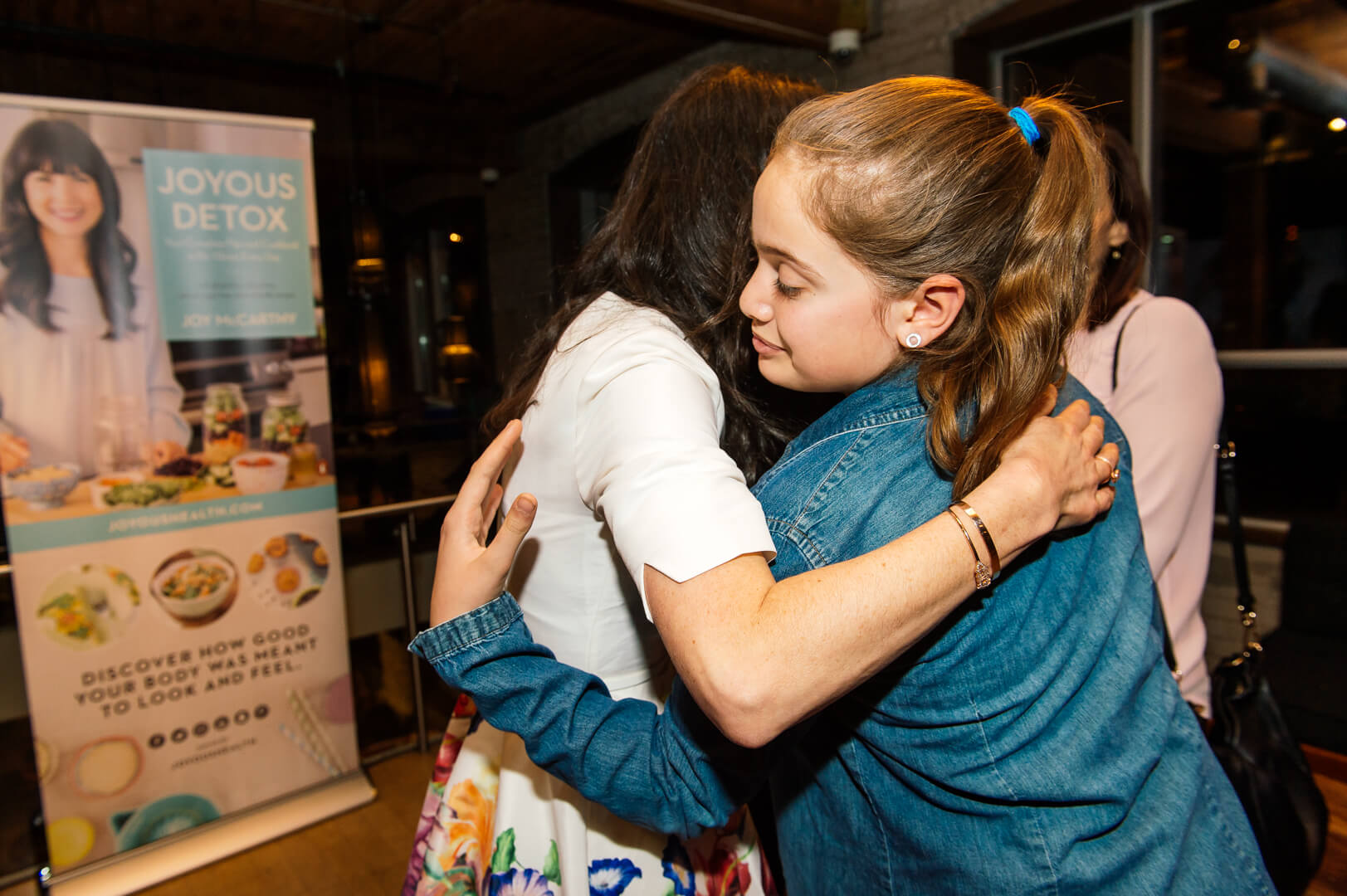 So much gratitude for my incredibly talented photographer Christopher Bodnar who is quite possibly the cheeriest guy I know, understands food and let it shine in the photography.
Walker had images from Joyous Detox projected on to the wall for the party.
The recipes are below are my Citrus Fennel Salad, Salmon Quinoa Burgers and Superfood Breakfast Bowl.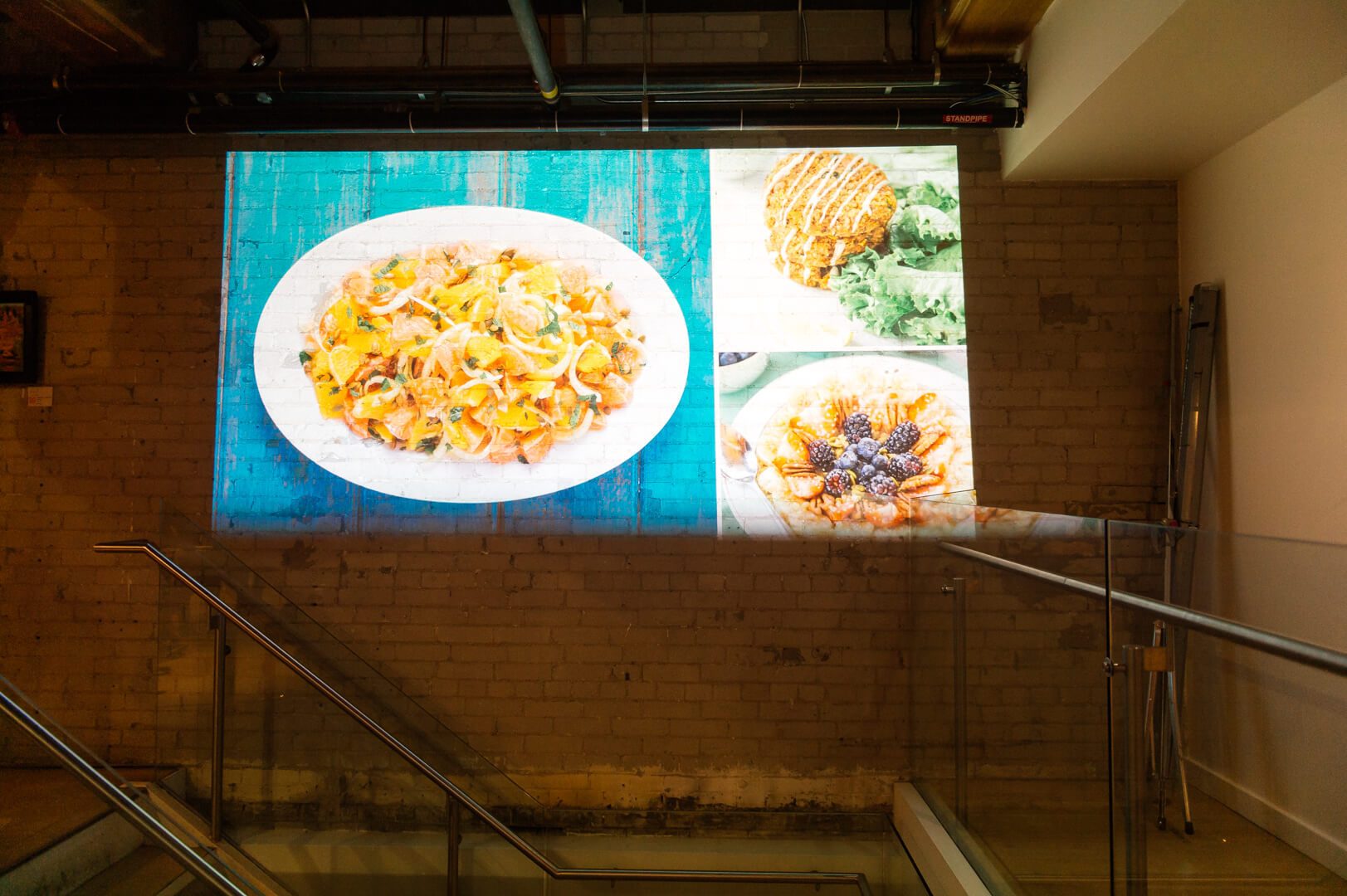 Below are my Breakfast Cookies and my No-Bake Breakfast Bars.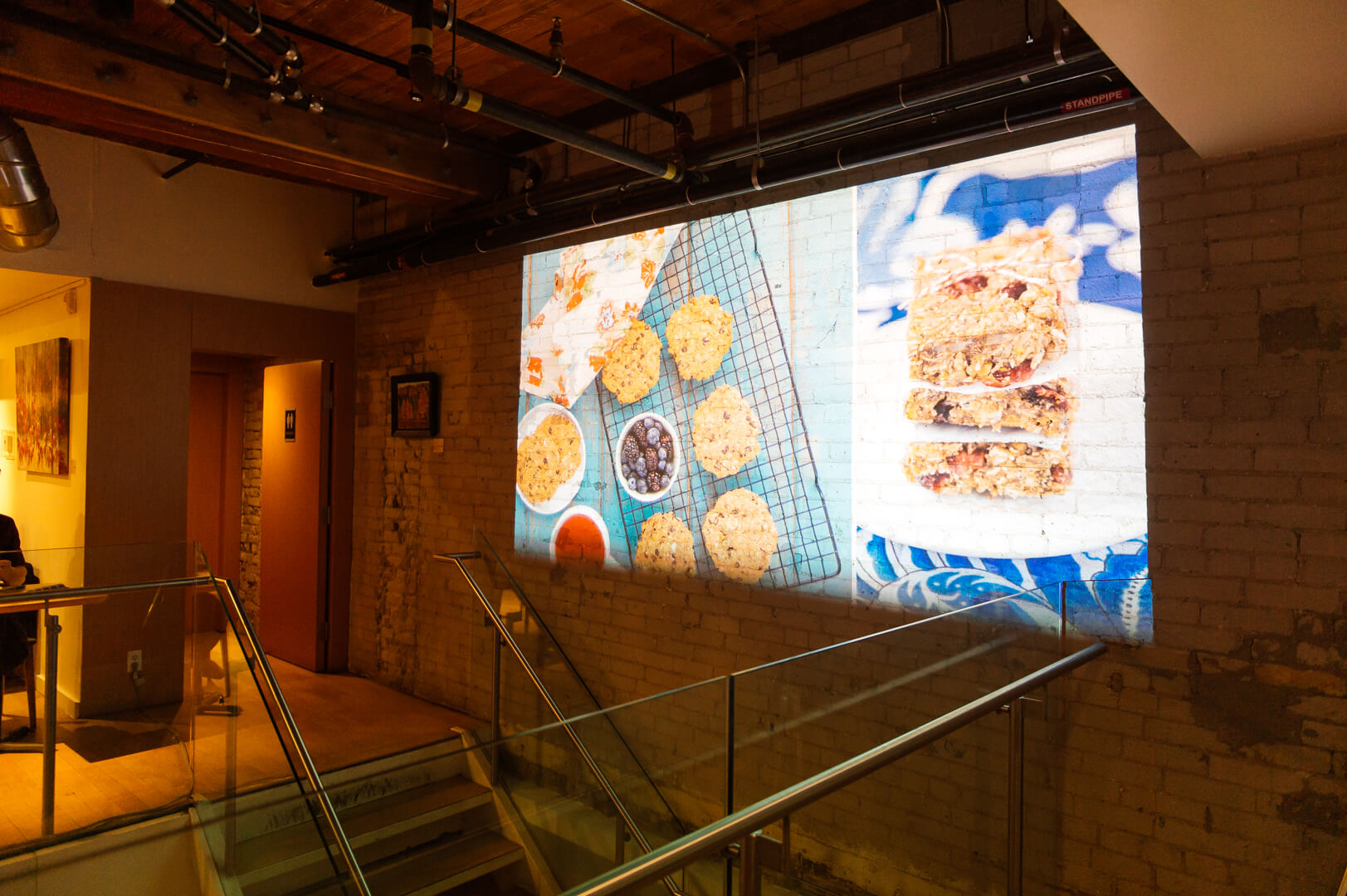 Carol, my design goddess, creative director of all things joyous, food stylist for Joyous Detox – thank you. You are like family to Walker, Vienna and I and JoyousHealth.com would not be where it is today without your creative brilliance. Thank you!
My book looks as beautiful as it does because of Carol and Chris.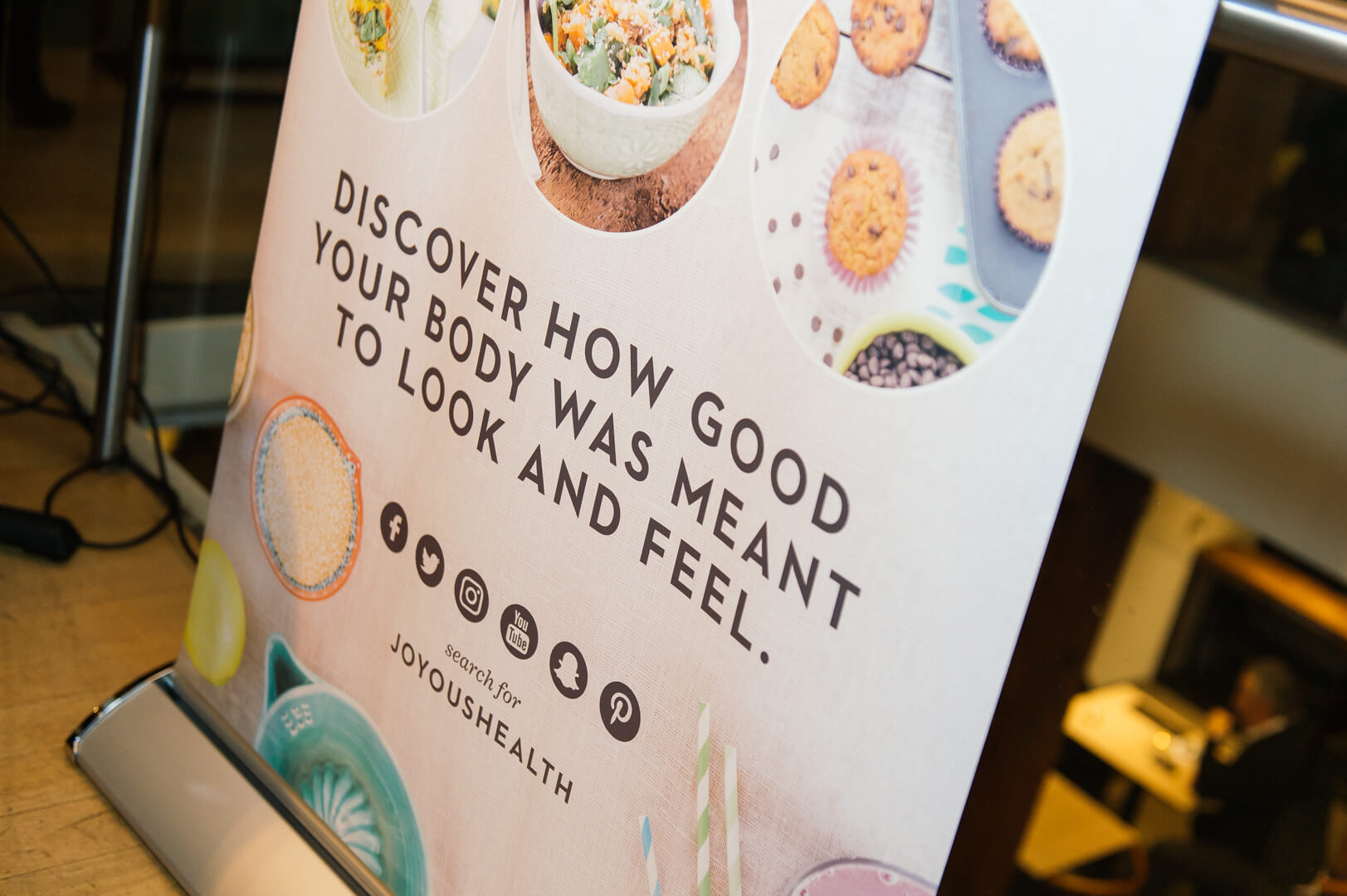 Thank you to my parents – the fiercest cheerleaders anyone could ever ask for. I don't know how I ended up being so lucky having parents like them. They have set an incredibly positive example for me for as long as I can remember… to be optimistic, loving, and enjoy the simple pleasures in life, like a good meal and good hugs. But of all the things they've taught me, the one that means the most that they've done without awareness is taught me the power of kindness through their kindness towards each other.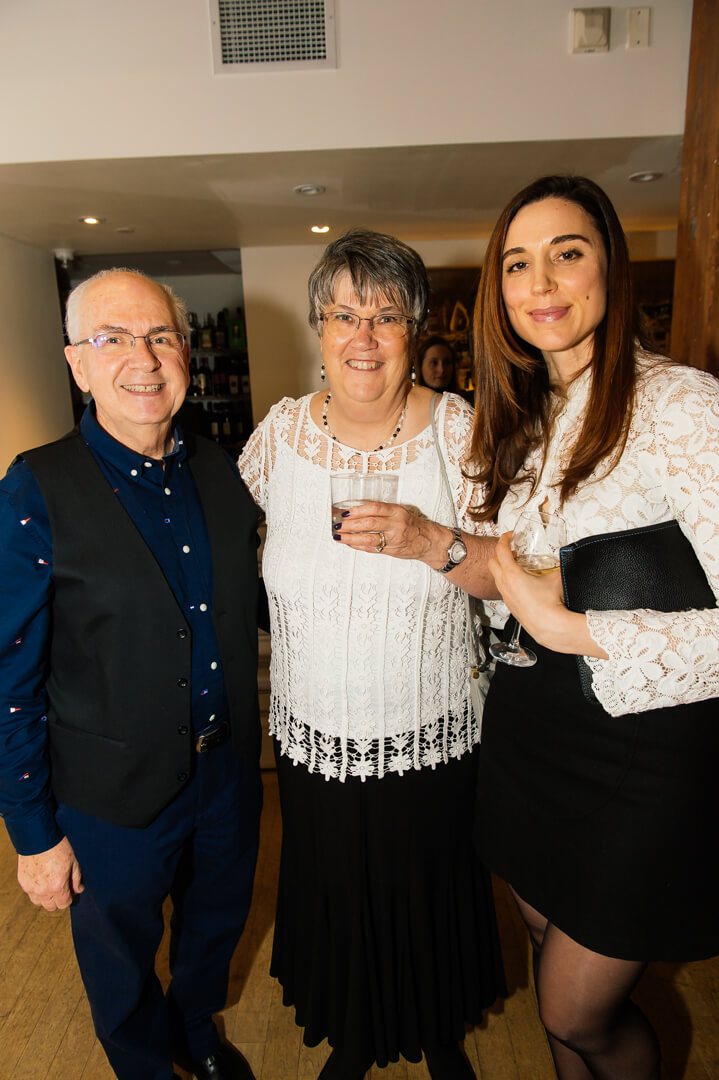 There's someone who literally co-authored every word and every recipe. She also taste tested everything and was always cheering me on with her nuzzles, pokes and dance moves. That person is small but mighty and her name is Vienna, our baby girl who is 16 months. I was pregnant with Vienna for the large majority of writing this book and creating in the kitchen and shooting all the recipes. I can't wait to create magic in the kitchen with her. Thank you Vienna for cheering me on!
Vienna wasn't at the party because it was past her bedtime :) But she was definitely there in spirit!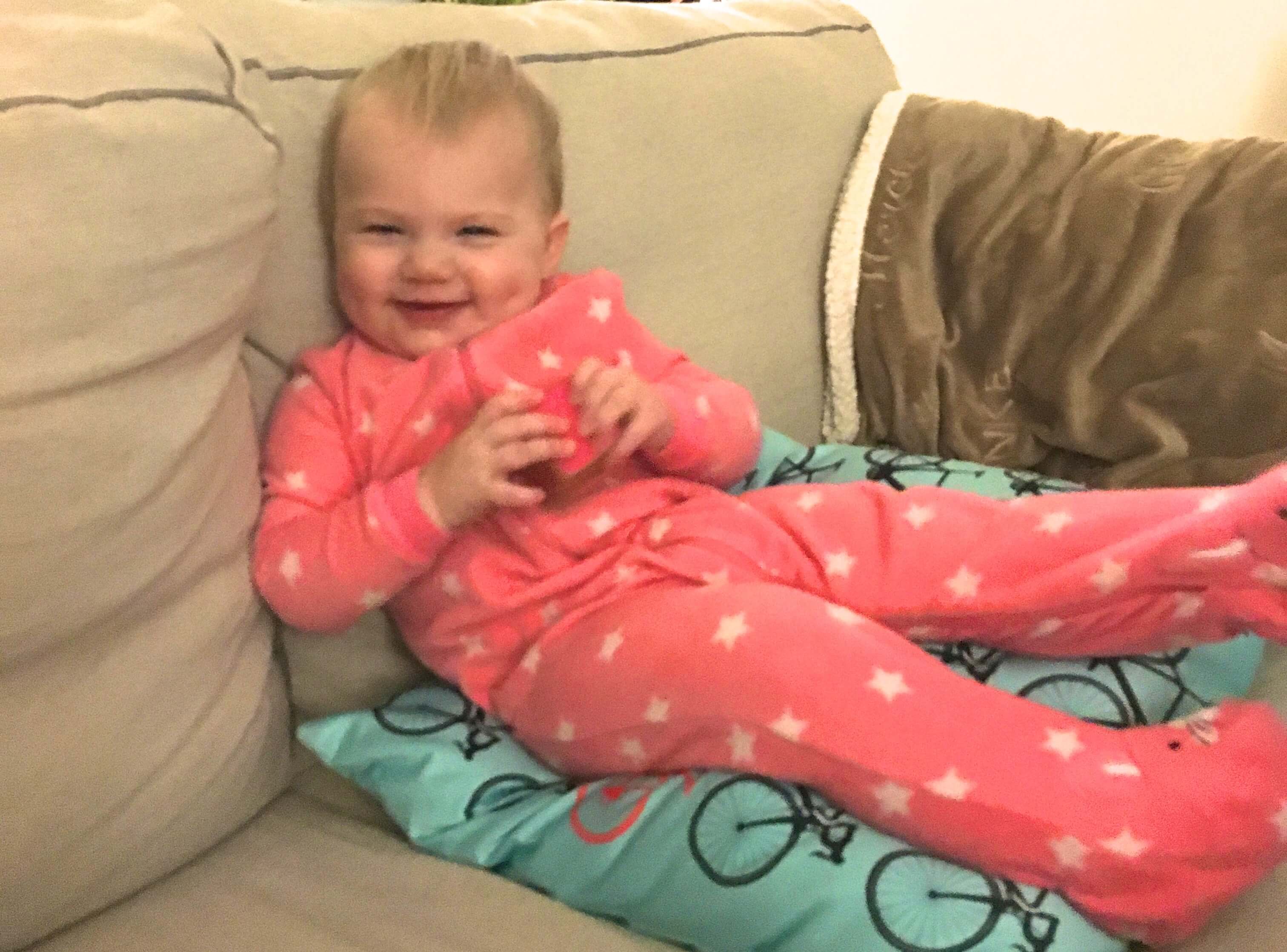 I saved the best for last and that's to my hubs, loves, business partner Walker. First off, I had nothing to do with this party (other than the recipes which were sampled) Walker did it all and never once did I detect even a single speck of stress. I don't know how he does it. Walker always makes shit happen and never ever complains.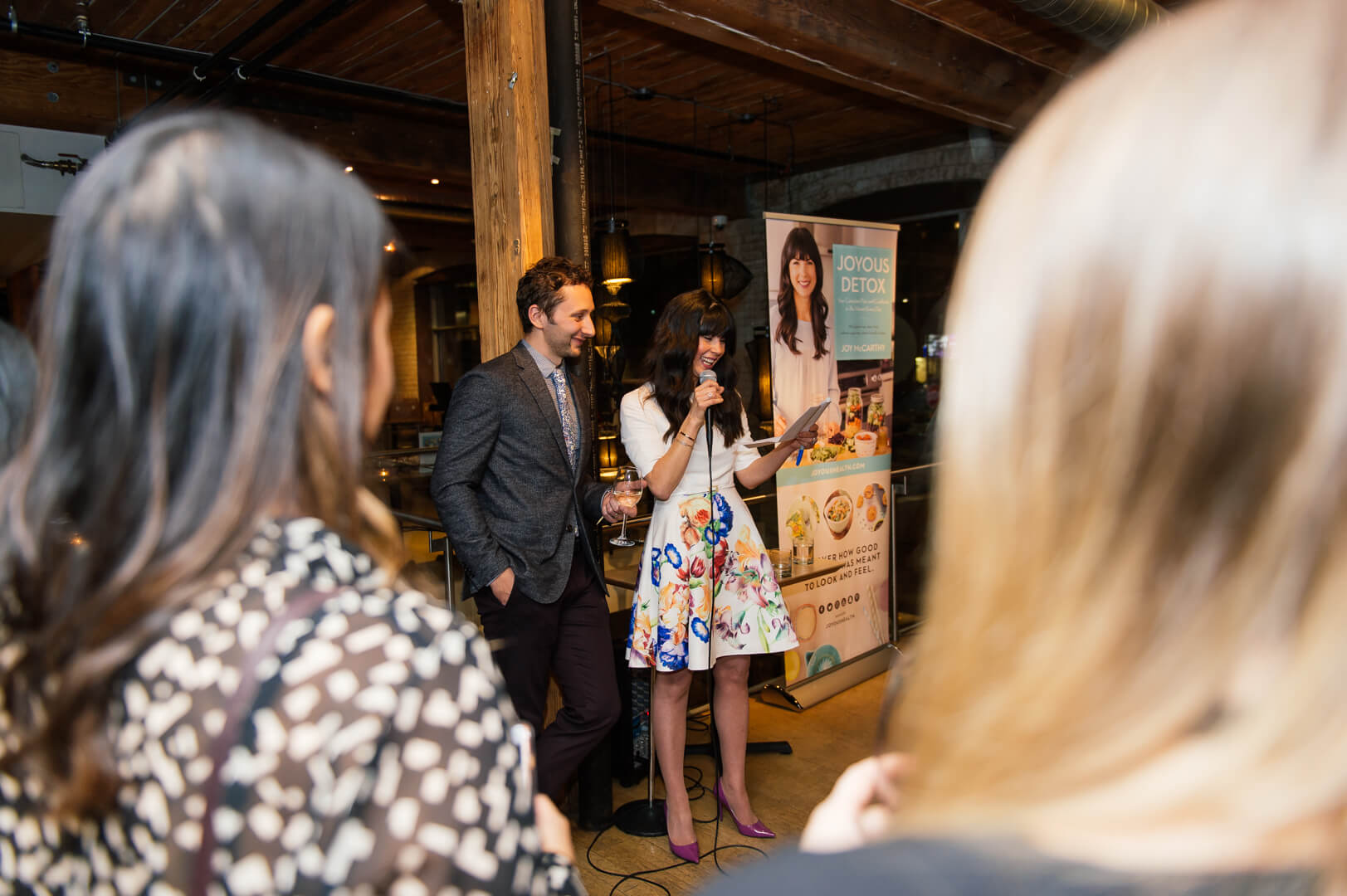 Thank you Walker for always pushing me to be my best, for giving me the best hugs, for being an incredible dad to Vienbean and for being subjected to all my recipe testing and food experiments. This book is dedicated to you because you are my sunshine.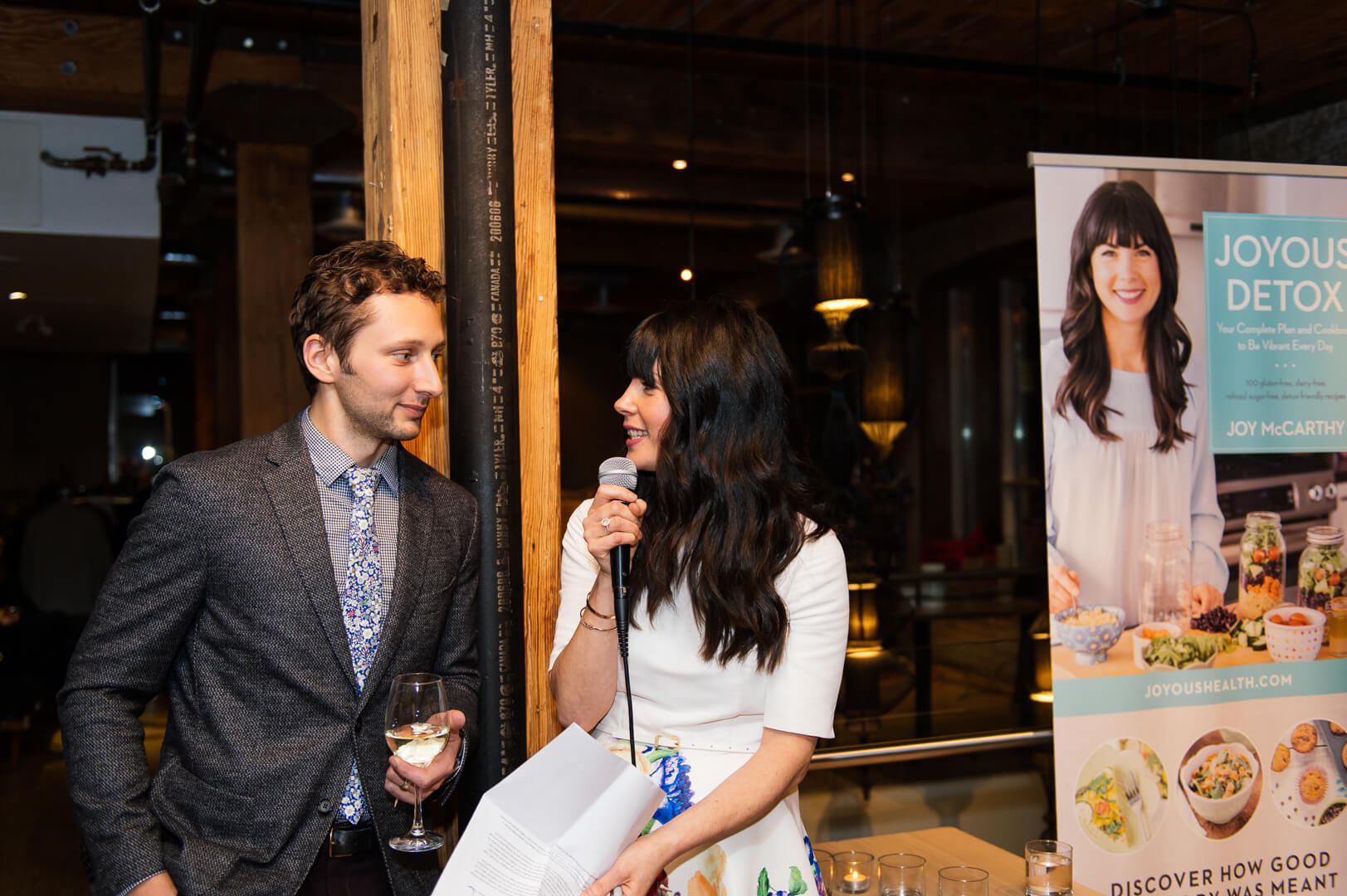 Walker is one half of Joyous Health, literally. You might know this by now if you've been a reader for a while but Walker takes all the food photos for the blog! He also manages the day to day business at JH. He's a busy guy! Aaaaaand, the website will be relaunching with a brand new look too, very soon!
We were sampling my Green Sparkle Smoothie in the photo below.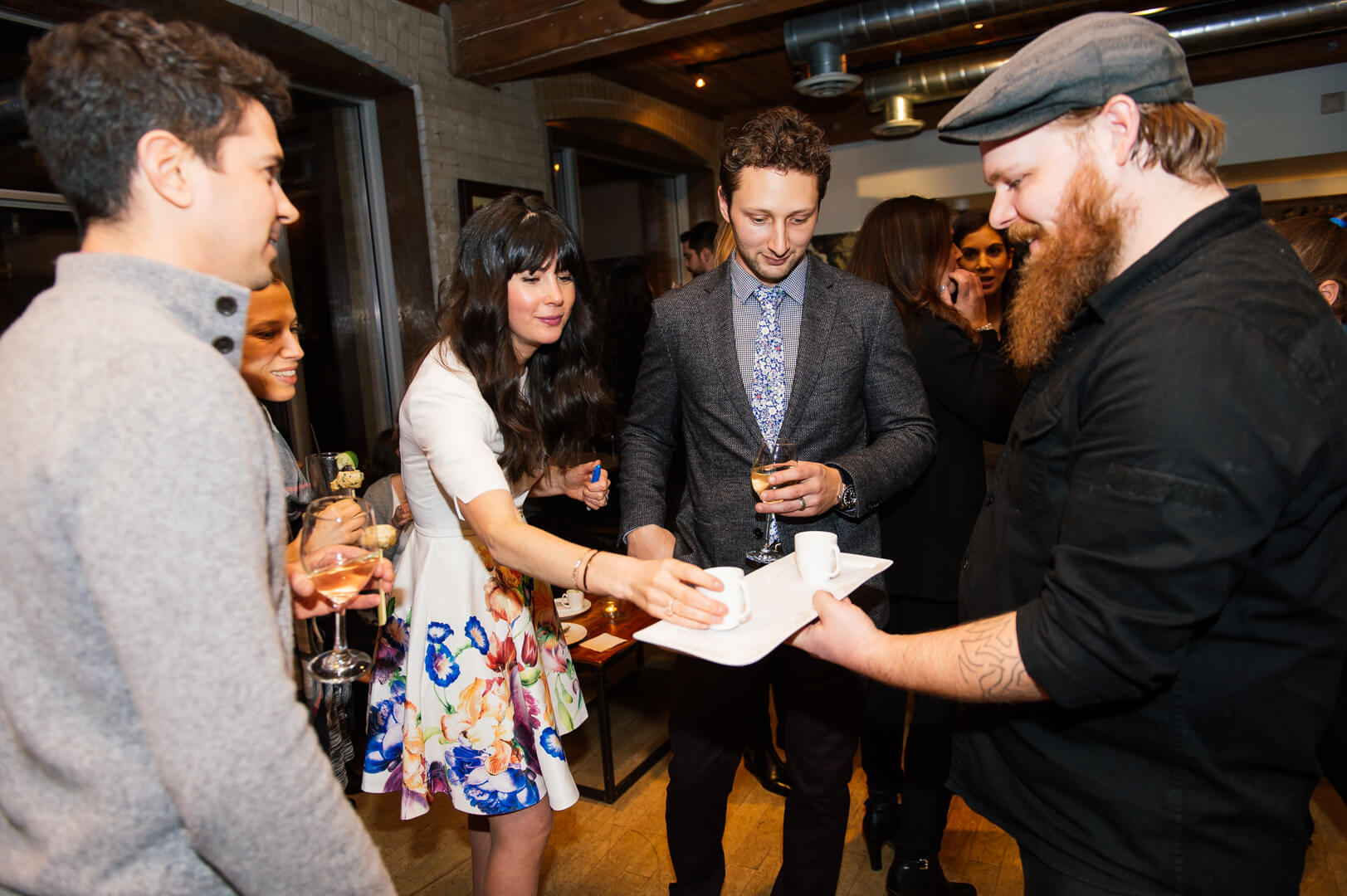 Walker always see the positive in every situation and at the same time always help me see a different point of view. Thank you for choosing me love out of the 7 billion people and thank you for bringing Joyous Detox to life with me Walkman!!!
So there you have it, that was my whole speech… now I'm just gonna share a bunch of photos with you. Enjoy!
This is Sandra from the Goodness Glow.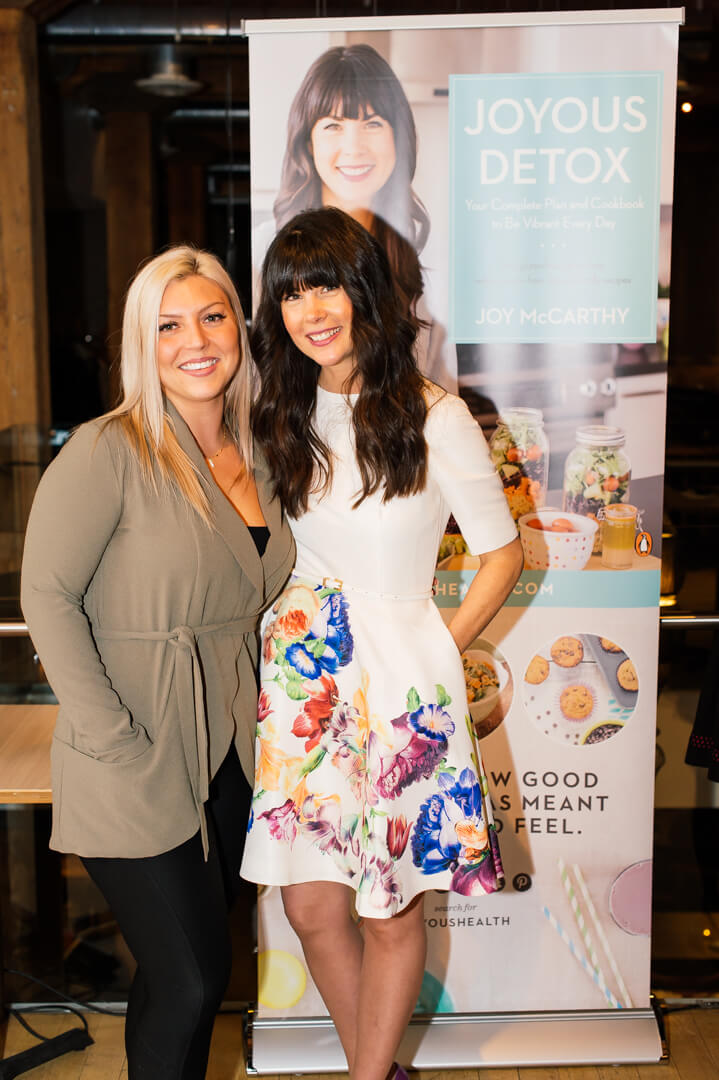 These are my dear friends Stuart and Marina and their baby girl Oliya who is only two weeks younger than Vienna!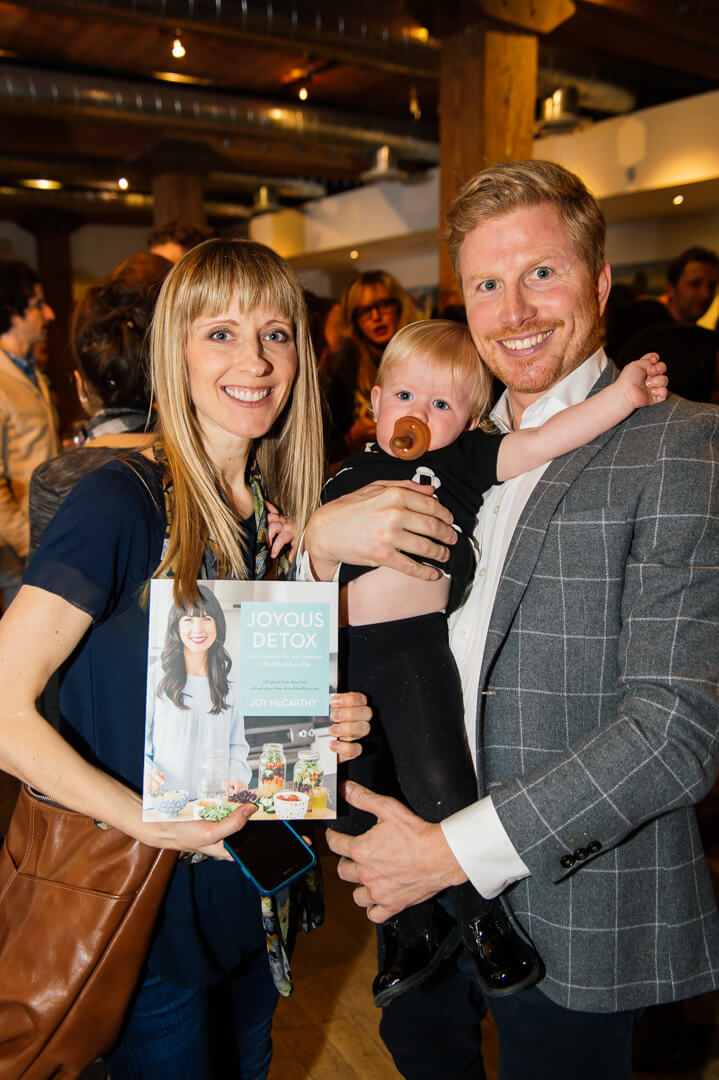 Stuart and I met about 10 years ago. He is an incredibly inspiring speaker and has been a huge inspiration for me.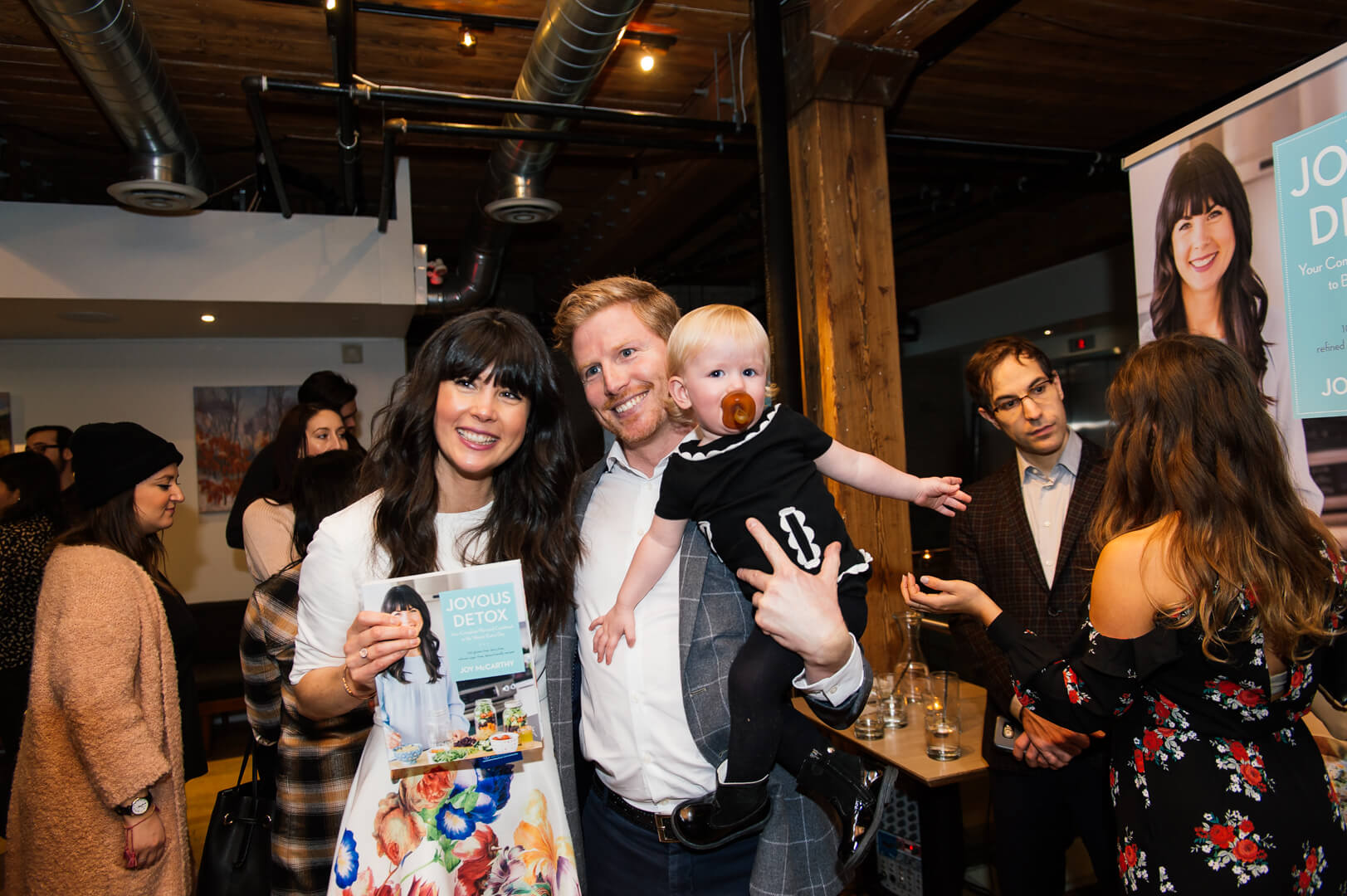 These are the lovely ladies from Kin Community the YouTube network I'm a part of.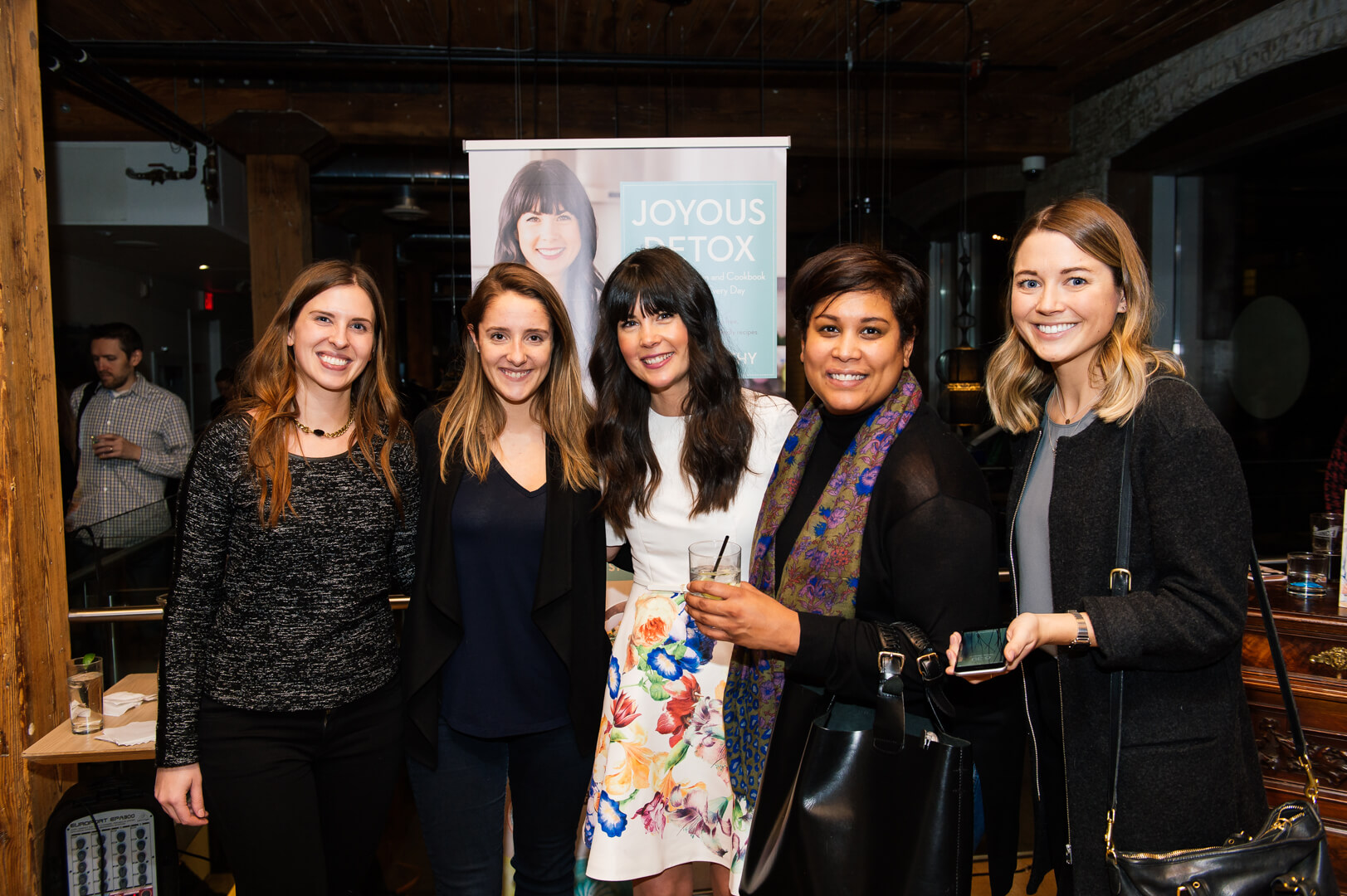 These are my friends at Genuine Health. I've been collaborating and partnering with them for several years now. I love their products, their people and their philosophy.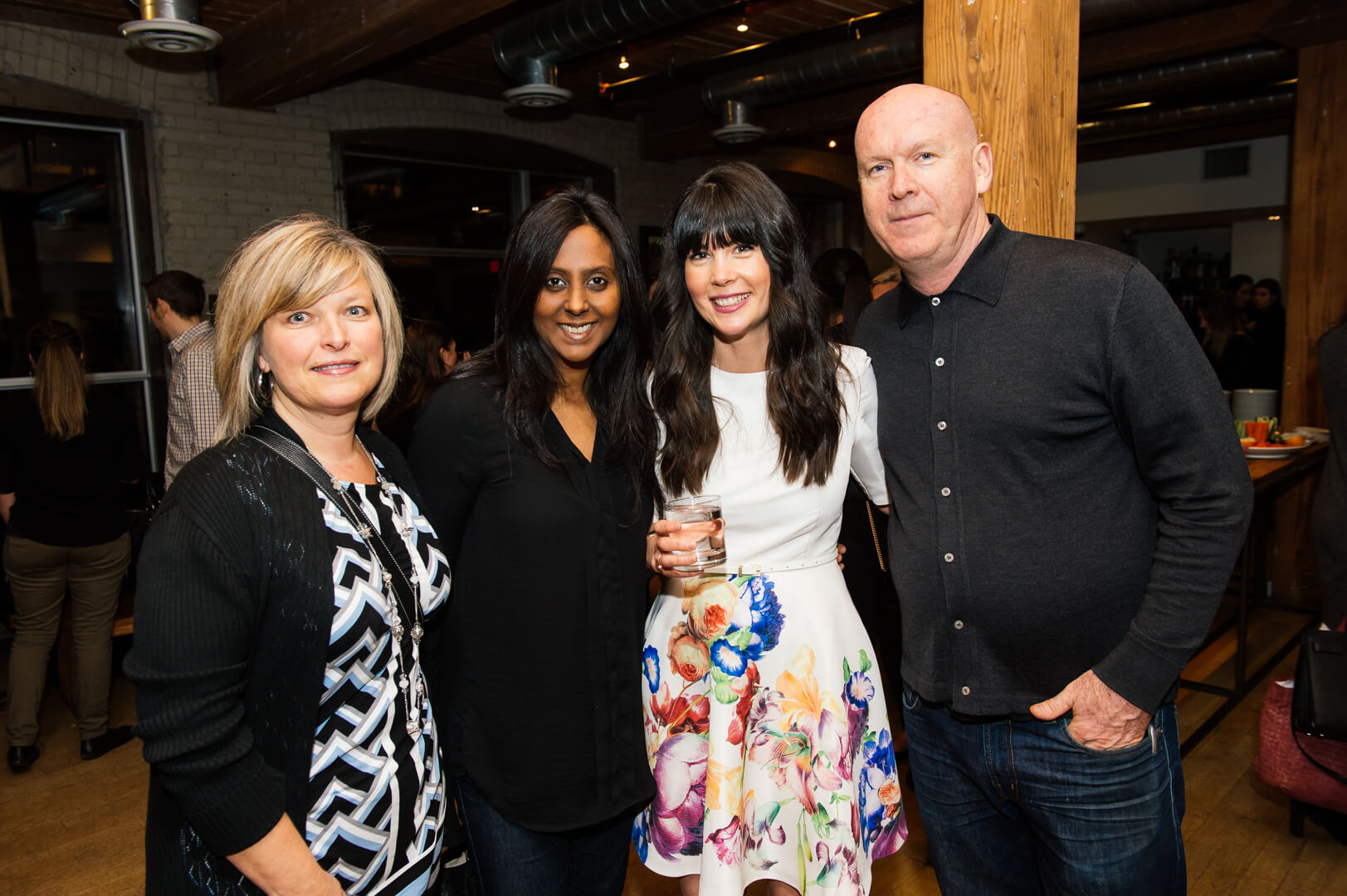 This is Walker's BFF Richie. He's a awesome DJ.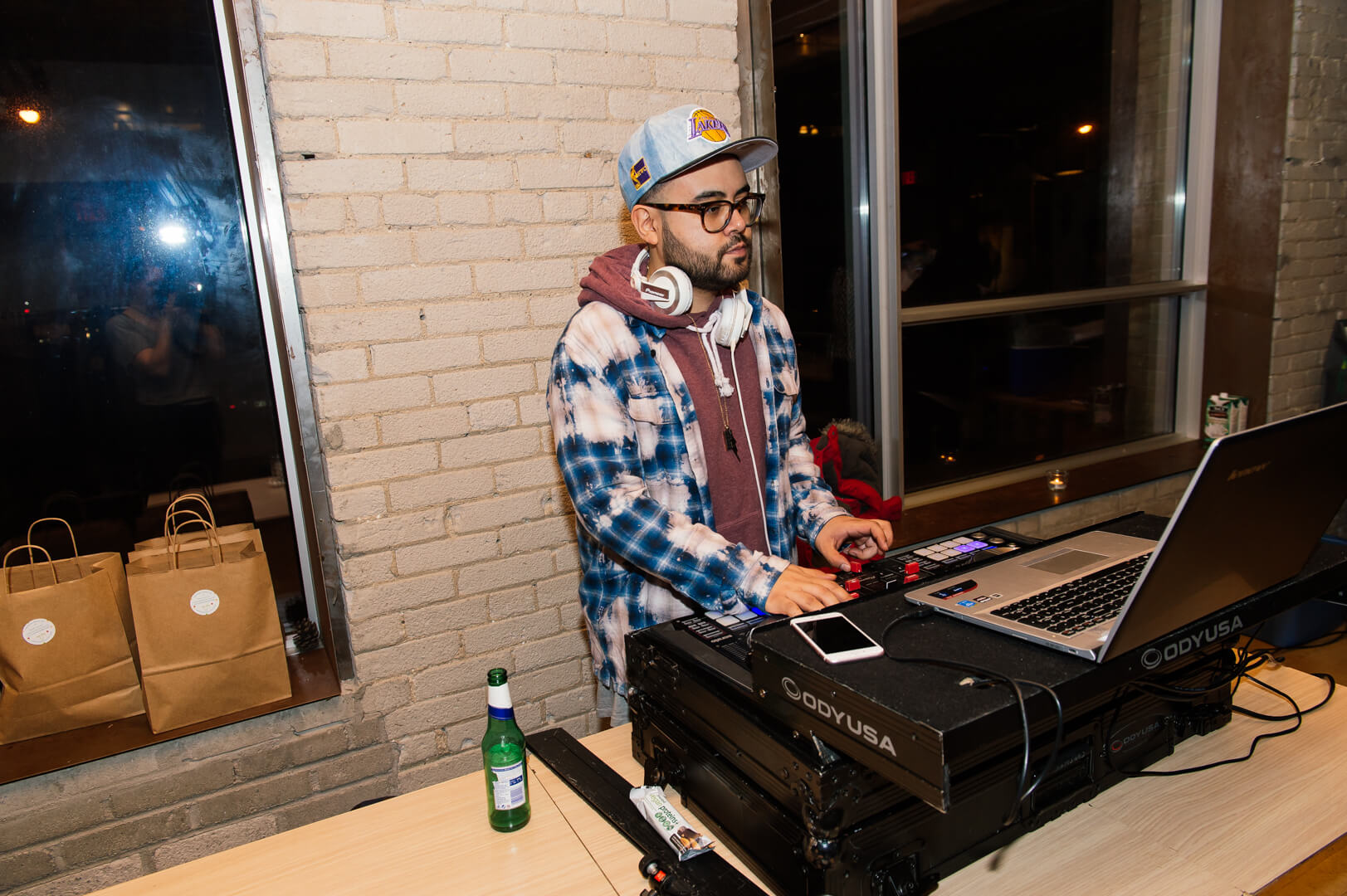 These are dear friends and colleagues of mine below. On the left is Jesse and Marni of the Ultimate Health Podcast (the BEST health podcast) and obviously you know Meghan and Josh ;) These people are a huge inspiration for me. And you already know Walker!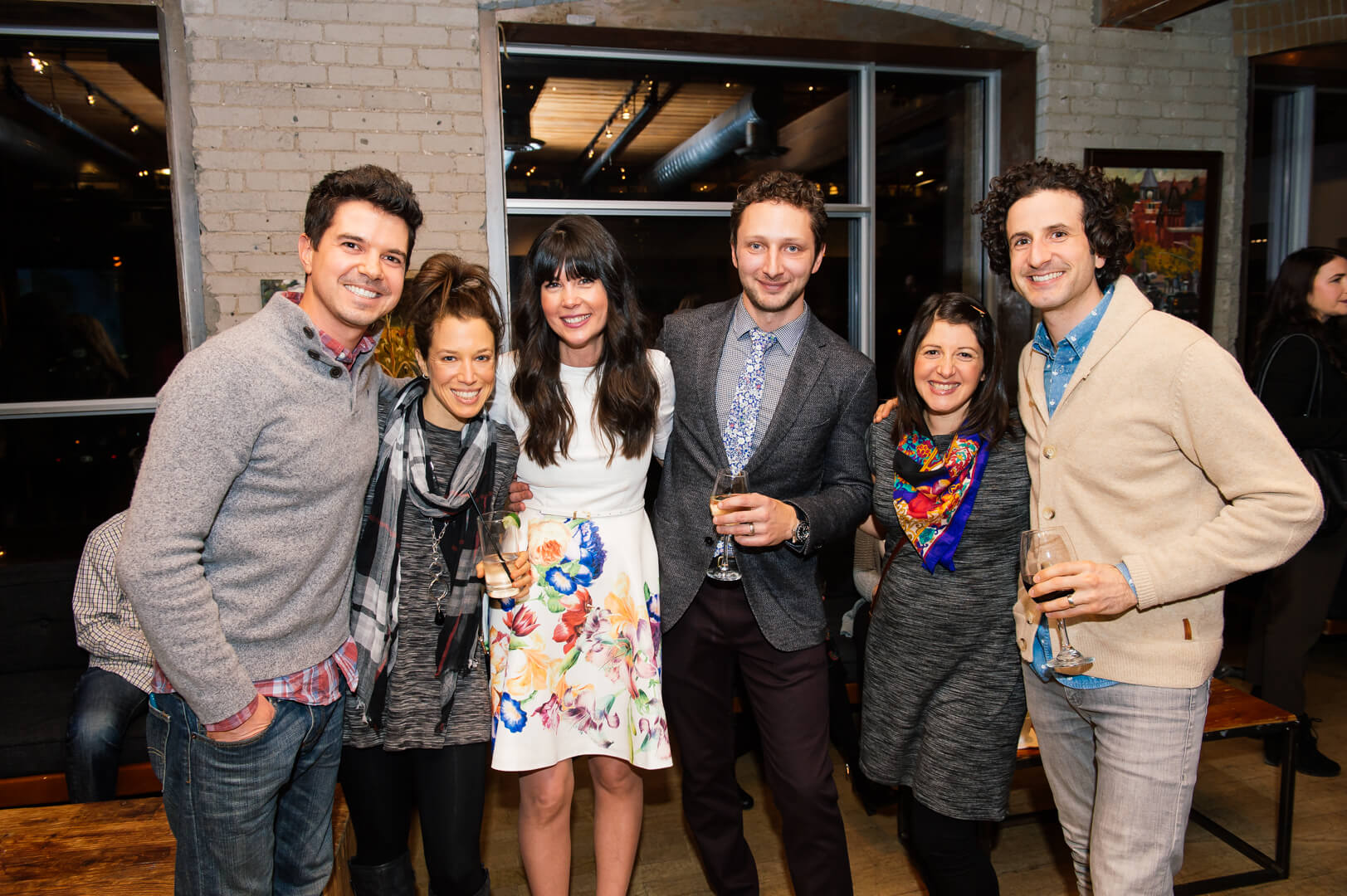 The ladies from the Detox Market.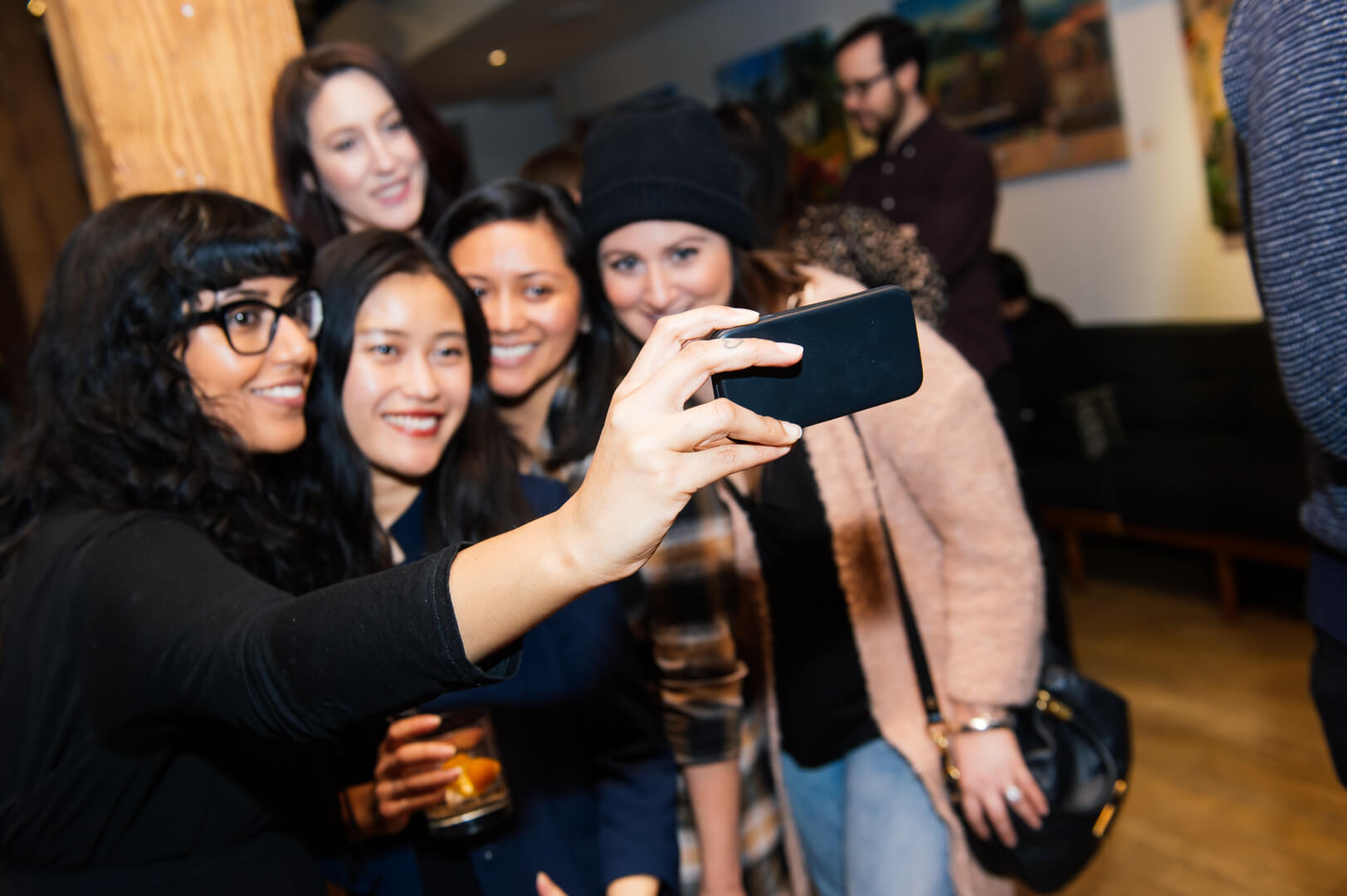 Laura on the far right was my main recipe tester for Joyous Detox with her daughter and sister on the far left. And that's the lovely Aleyda from the Dish On Healthy in the middle with her girlfriend.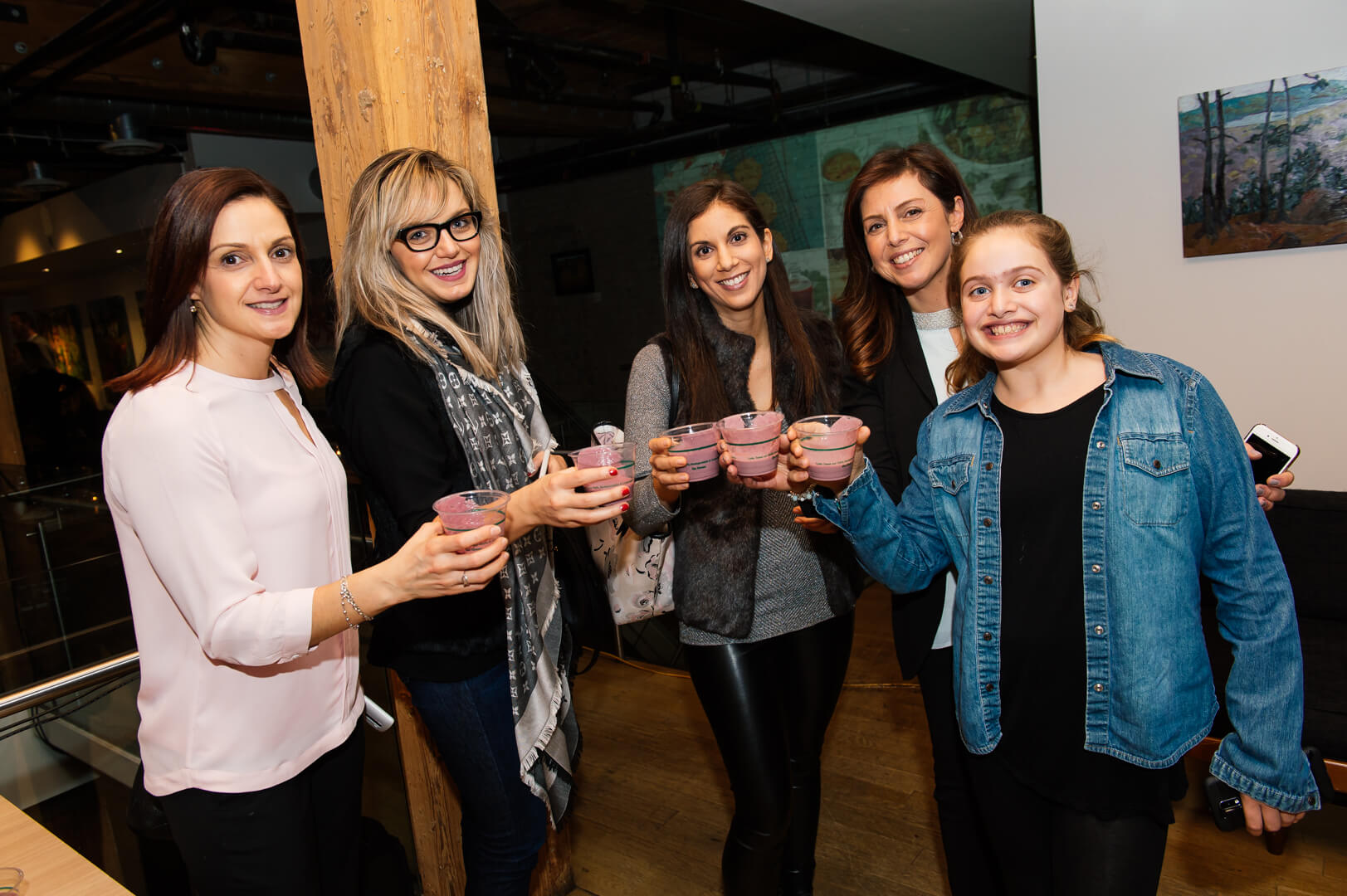 There you have it! I've got tons more pics on my Facebook page that you can check out here.
If you want to find out more about my book, then check out this video and find links to where you can purchase it here. If you buy it on Amazon I would be soooo grateful if you would leave me a comment. It really helps. Thank you!
Have a joyous weekend!
Joy