Hello again, Joyous readers!
It's been so great getting to know you over the past month. Who knew there were so many of us health nuts out there? If you read my Q&A with Joy from a few weeks back, you might remember that I promised I would share my Sweet Potato Veggie Pad Thai recipe (and I like to keep my promises!).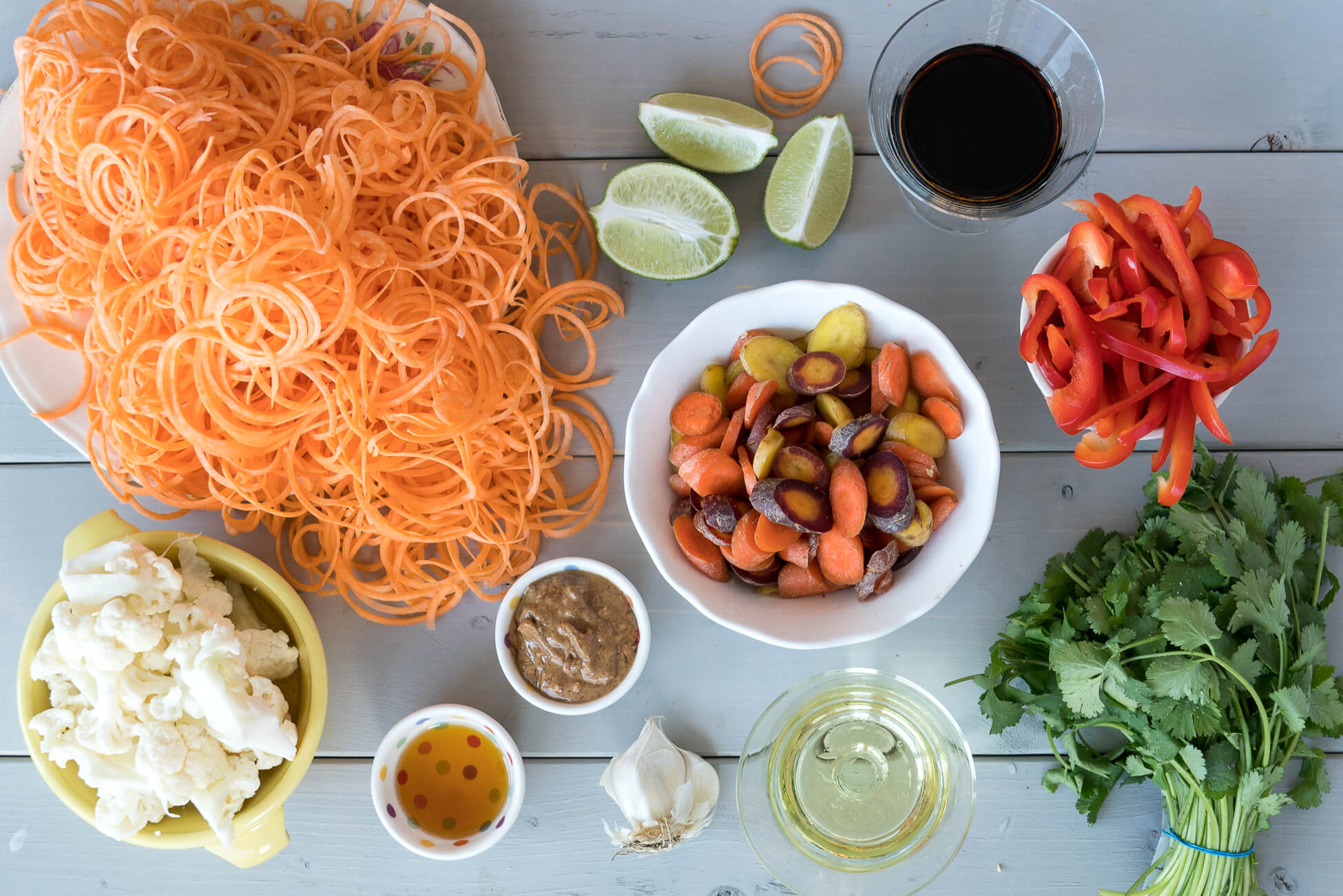 I'll be honest, I've been graced with my fair share of recipe fails. When I first made this recipe a while back, I was truly shocked that it worked out! Mainly because it usually takes me a couple of rounds of trial and error until I've perfected a recipe. One thing that's super important to me when thinking up recipes is that it's 100% whole foods-based (in true Joyous Detox style!).
When we put whole foods from nature into our body, it thanks us for it.
It shows us its gratitude through boosted energy, mental clarity, decreased bloating, improved digestion, glowing skin and of course, better poops!
So while I might be deeply infatuated with Thai food, it doesn't always love me back – but I'm not surprised. Thai food has many healthy aspects becuase it emphasizes fresh colourful vegetables, a variety of herbs and creamy delicious coconut milk, but it loses its gluten-free brownie points due to its highly refined sugar content and tendencies to contain unfermented soy in abundance (which, as we know, is typically genetically modified). I learnt this first hand when I travelled Thailand and Vietnam for three weeks this past October. My love bug and I did a full day cooking class where we learnt how to make everything from pad thai, papaya salad, fresh rolls, green curry, khao soi, thai iced tea and mango sticky rice. The common ingredient amongst them all? Sugar!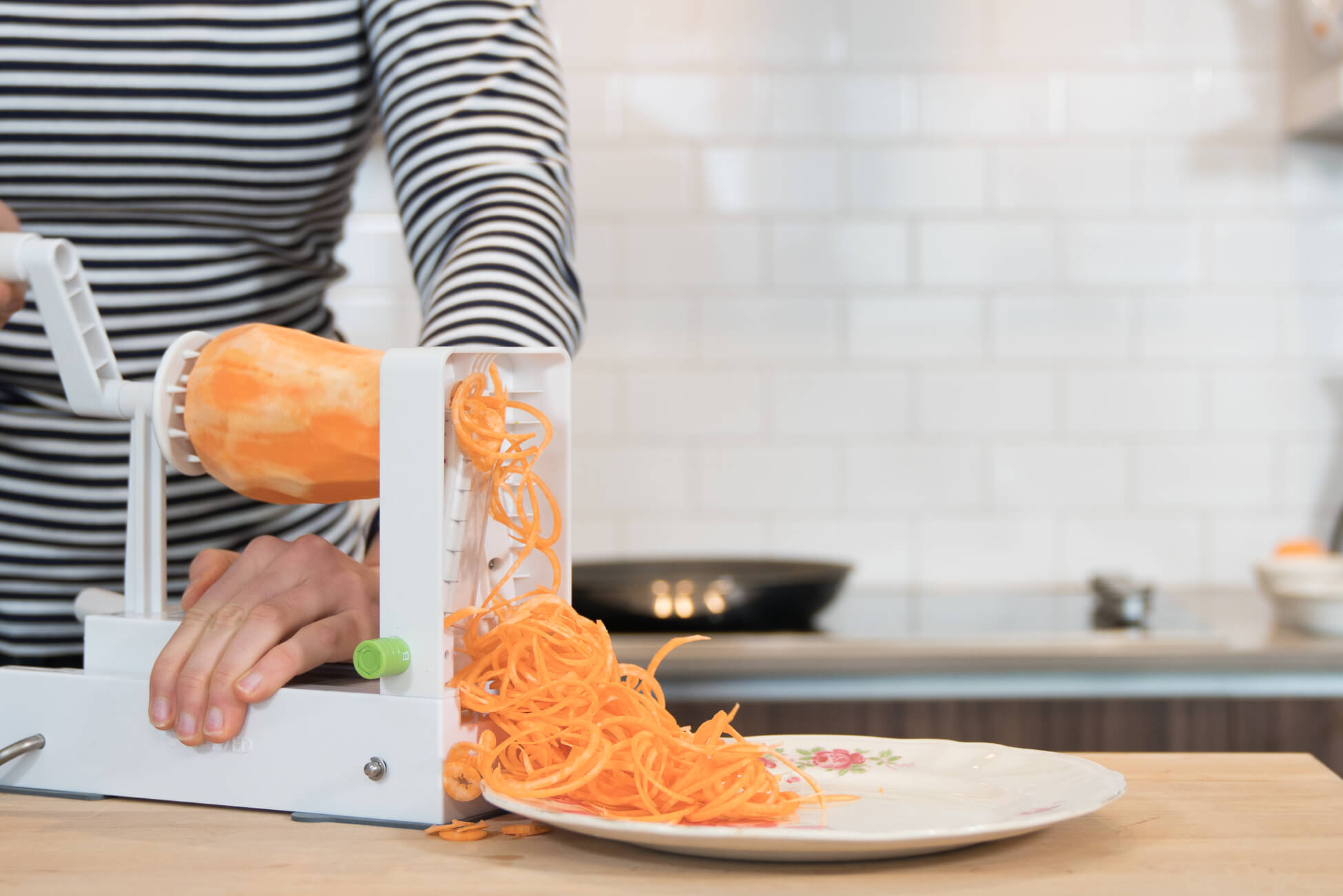 Don't get me wrong – I definitely have a "when in Rome" mentality I carry with me through my travels and I made sure to taste all of the flavours the authentic cuisine had to offer. I also came well prepared with a Greens+ powder and digestive enzymes, fully knowing that my body might experience some unpleasant symptoms otherwise. But when I returned home, I knew I wanted to continue embracing those vibrant flavours, but with a healthy boost!
In comes my Sweet Potato Veggie Pad Thai!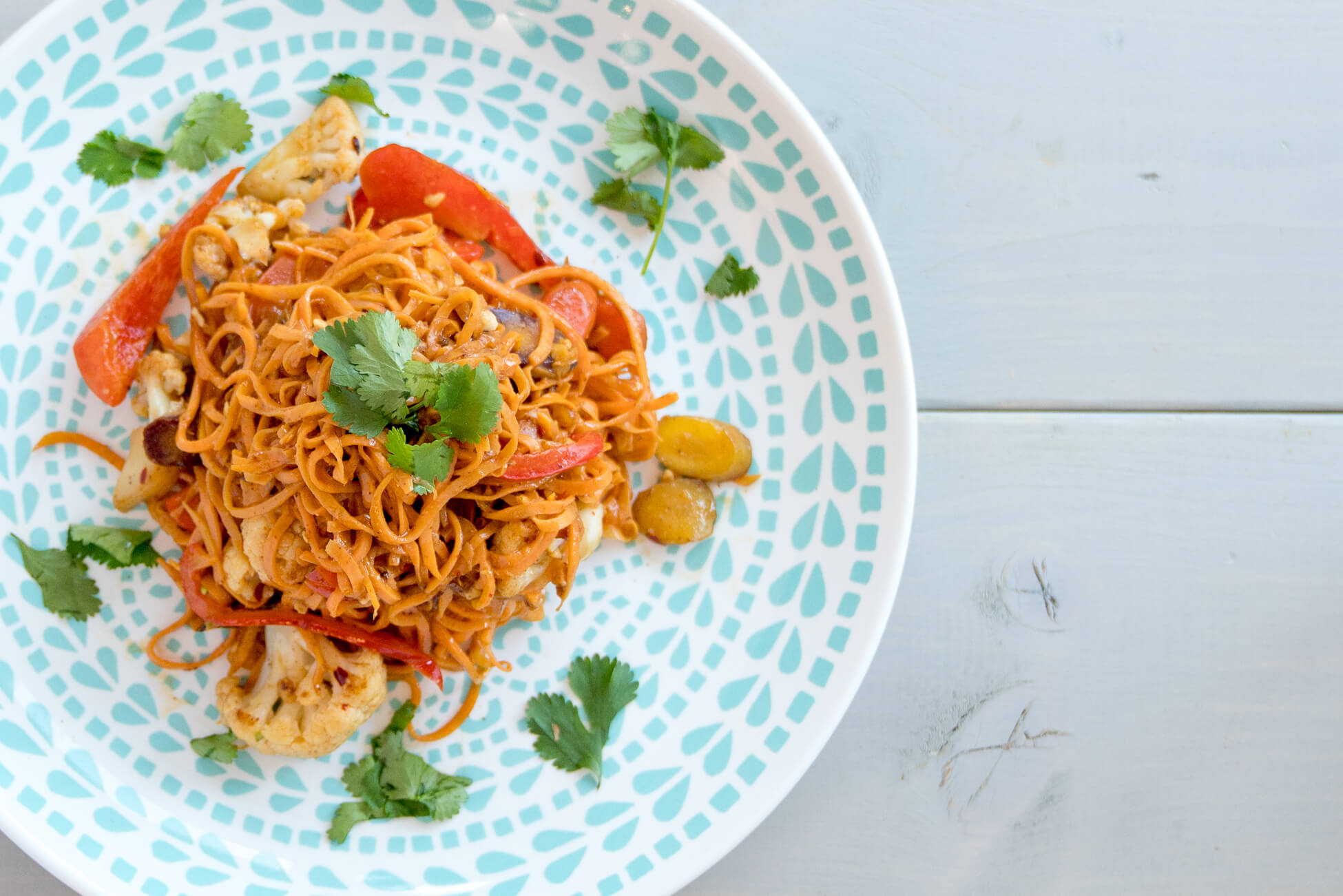 While I might typically use rice noodles (which are gluten-free) to whip up a pad thai, I thought maybe I'd give spiralized sweet potato a whirl. That way, I can be sure that every bite is offering a good hit of vitamins, minerals and healthy benefits including the following:
Vitamin A (in the form of beta-carotene) - Supports our eye health, immune system, gives us glowing healthy skin and protects us from free radicals
Vitamin C - Helps to support immunity and aid in coping with stress (Did you know vitamin C is depleted when we're in a state of stress? We wonder why we seem to get sick around stressful, busy times!)
Potassium - It works hand in hand with our dear friend sodium to maintain normal blood pressure and hydration levels.
Manganese - Have you ever heard the saying "manganese for the knees"? If you're a fellow holistic nutritionist, this might have saved you on a few tests during your school. I know it did for me! As the saying suggests, manganese helps to form connective tissue. It also helps to increase the level of superoxide dismutase in the body which has anti-inflammatory properties and helps to prevent sprains.
Fibre - Helps to slow the release of the natural sugars found in sweet potato so it doesn't cause our blood sugar to spike and later lead to a crash. Fibre is also helpful in filling us up and giving us the sensation of being full so we don't overeat.
... And that's just the sweet potato component of this dish!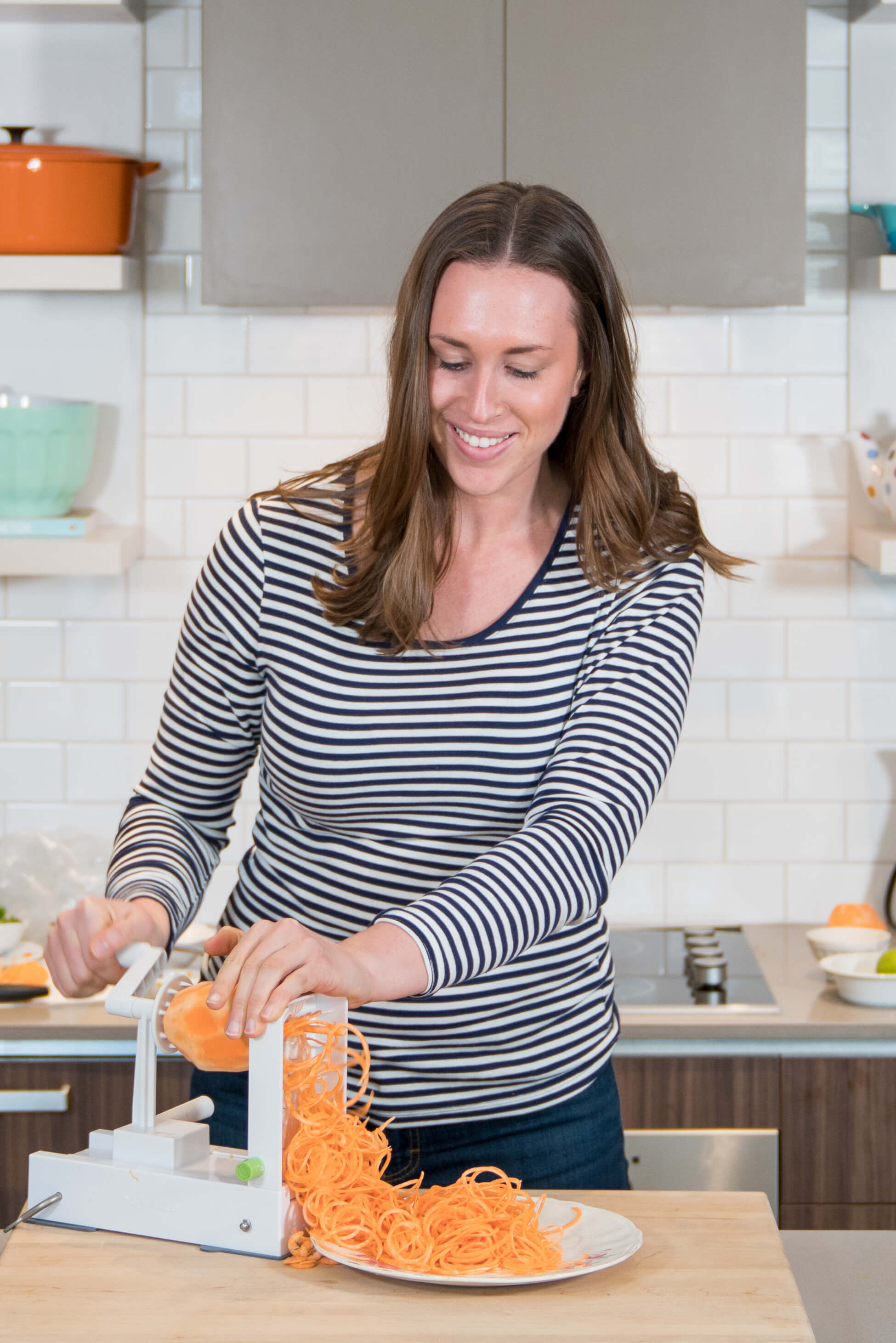 I also added an array of colourful vegetables including red pepper, cauliflower and heirloom carrots which are packed with phytonutrients and a super yummy almond butter-based pad thai sauce, free of common allergens such as peanut and soy.
I left out a primary protein source, although you could totally top this with an over easy egg, 2 scrambled eggs, 3 tbsp of hemp seeds or a sliced organic chicken breast.
This recipe is paleo, vegan, vegetarian, gluten-free, dairy-free and refined-sugar free – and yes, it is still DELICIOUS!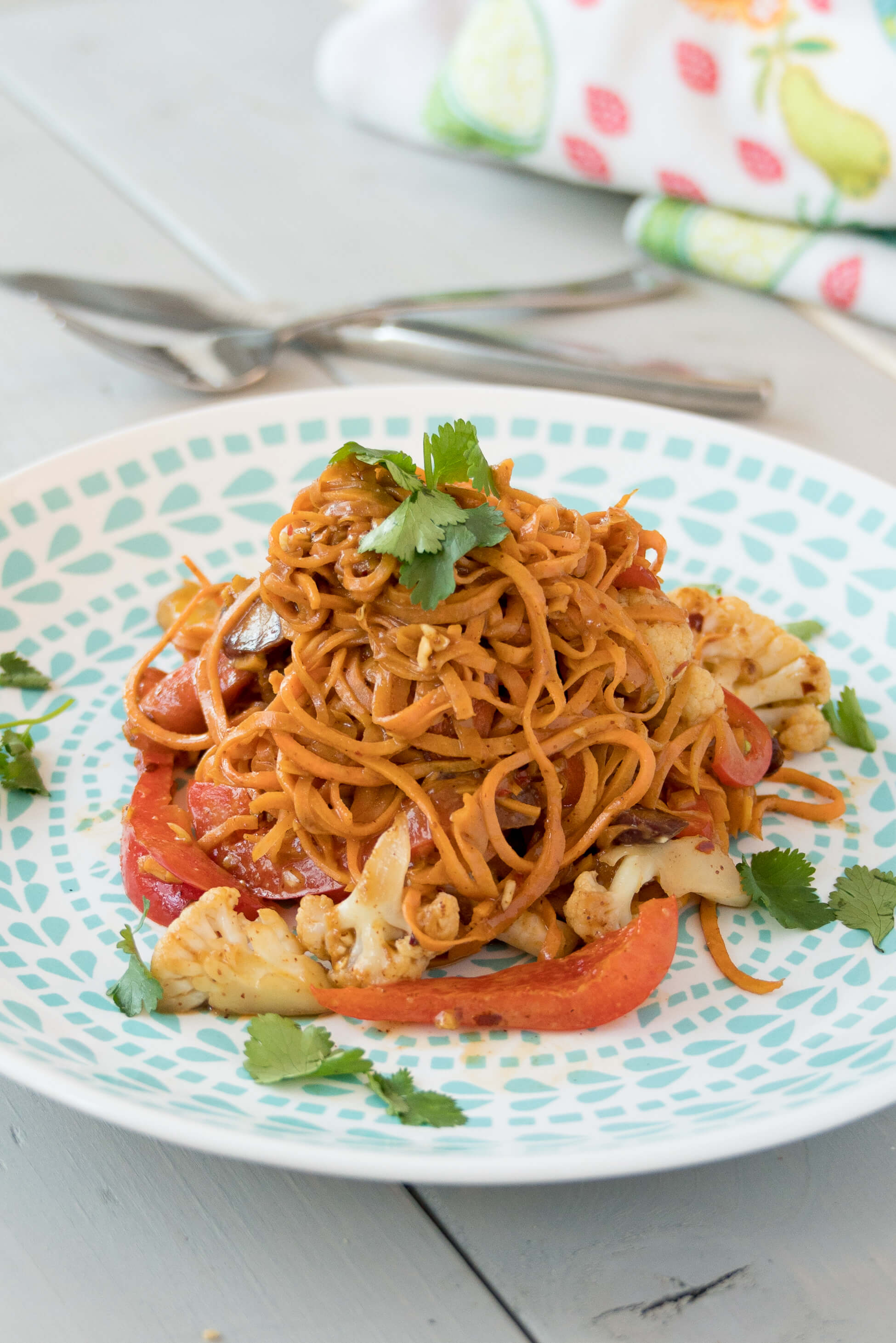 Pad Thai Noodles
1 large sweet potato, spiralized*
2 cups carrots, chopped
2 cups cauliflower florets
1 small red pepper, julienned
cilantro, to garnish
1-2 tbsp grapeseed oil
Pad Thai Sauce
1/4 cup grapeseed oil (or olive oil)
1/4 cup tamari
2 tbsp almond butter
1 tbsp maple syrup
1/2 lime, freshly squeezed
2 cloves of garlic, minced
1-inch knob of ginger, minced
1 tsp crushed red pepper flakes
Sea salt, to taste
Instructions
Prepare sweet potato, carrots, cauliflower and red pepper as stated. Set ingredients aside.
Pour Pad Thai Sauce ingredients into a medium size bowl or measuring cup and whisk thoroughly. Set aside.
Preheat a large skillet on medium heat and drizzle grapeseed oil in pan. Once hot, begin to sauté the cauliflower and carrots for 5 minutes, followed by the red pepper for 2-3 minutes. Remove from pan and transfer to a large mixing bowl.
Using the same pan, toss in the sweet potato noodles (you might want to drizzle it with a bit more grapeseed oil at this point). Toss it in the pan with tongs for 8 minutes until the sweet potato noodles look a bit glossy (but try to avoid overcooking them).
Once cooked, add the sweet potato noodles to a bowl with the other vegetables and pour Pad Thai Sauce all over it. Mix with tongs to ensure the sauce covers every part of it.
Plate, garnish with cilantro and serve!
---
Notes
Makes 2-3 servings.
*If you don't have a spiralizer you can use a veggie peeler.
I'm so excited to hear what you guys think of this one!
Be sure to let me know if you try it in the comments below and what unique spins you put on it.