This past Monday the Joyous team (Walker, Rachel and moi) went to visit nutbar, a superfood cafe nestled on a cosy corner on Yonge, near Summerhill station. Unfortunately we didn't have Vienna with us because it was naptime for her and you don't sacrifice naptime for anything!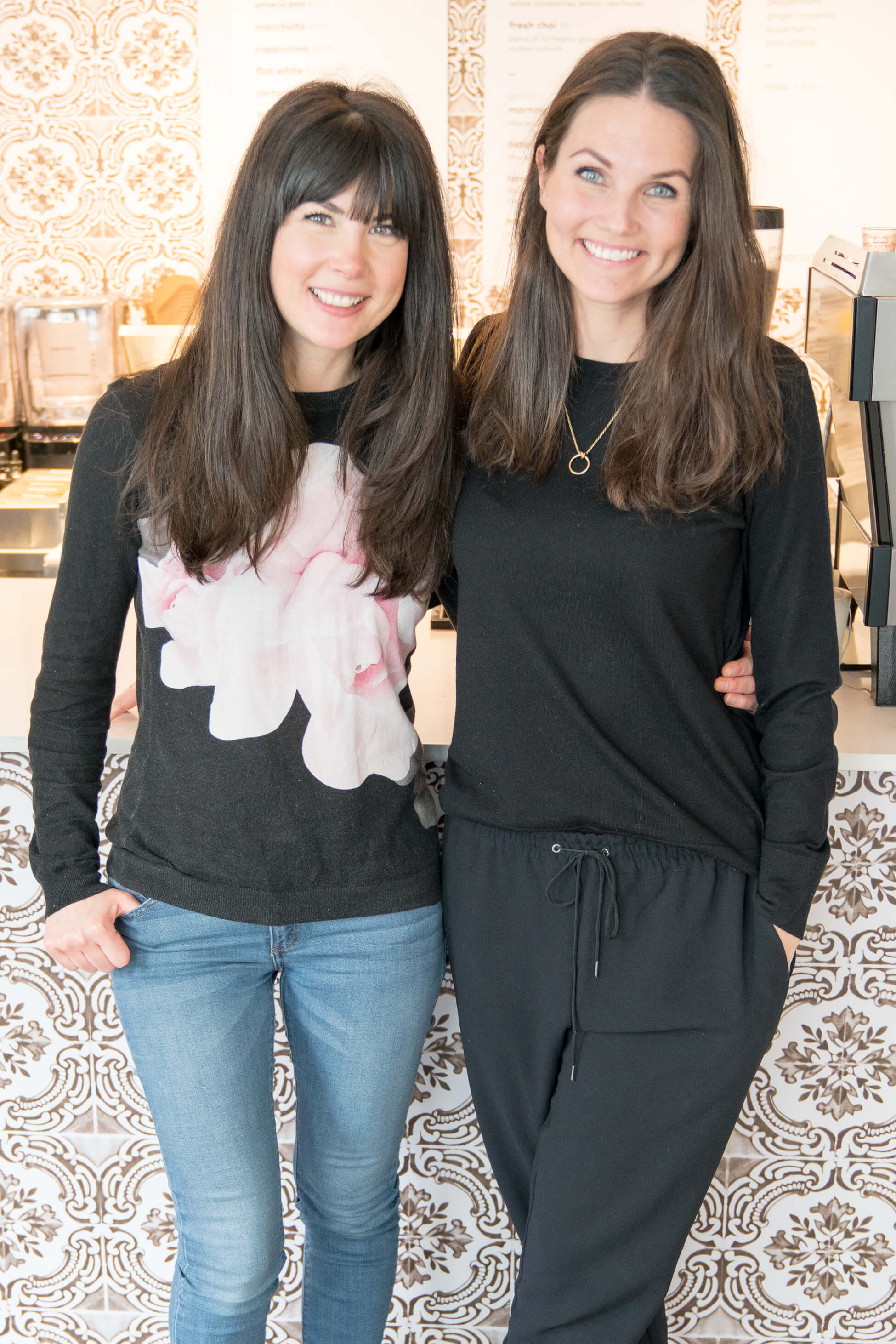 I've been really looking forward to visiting nutbar to see what the owner, Kate, had created. I had the pleasure of meeting Kate back in 2011 when she took my Eat Well Feel Well course. And more recently we met up (I guess about a year ago) and she told me about this idea she had for a superfood snack cafe in Toronto. It's truly amazing to see it come to life. Huge congratulations to Kate. It takes an enormous amount of work to open a cafe and then keep it running so smoothly!!
Nutbar isn't just any ordinary coffee-plus-pastries cafe though, it's a superfood snack bar with smoothies and small bites, from a variety of nut balls, a handful of different toast options to superfood bowls.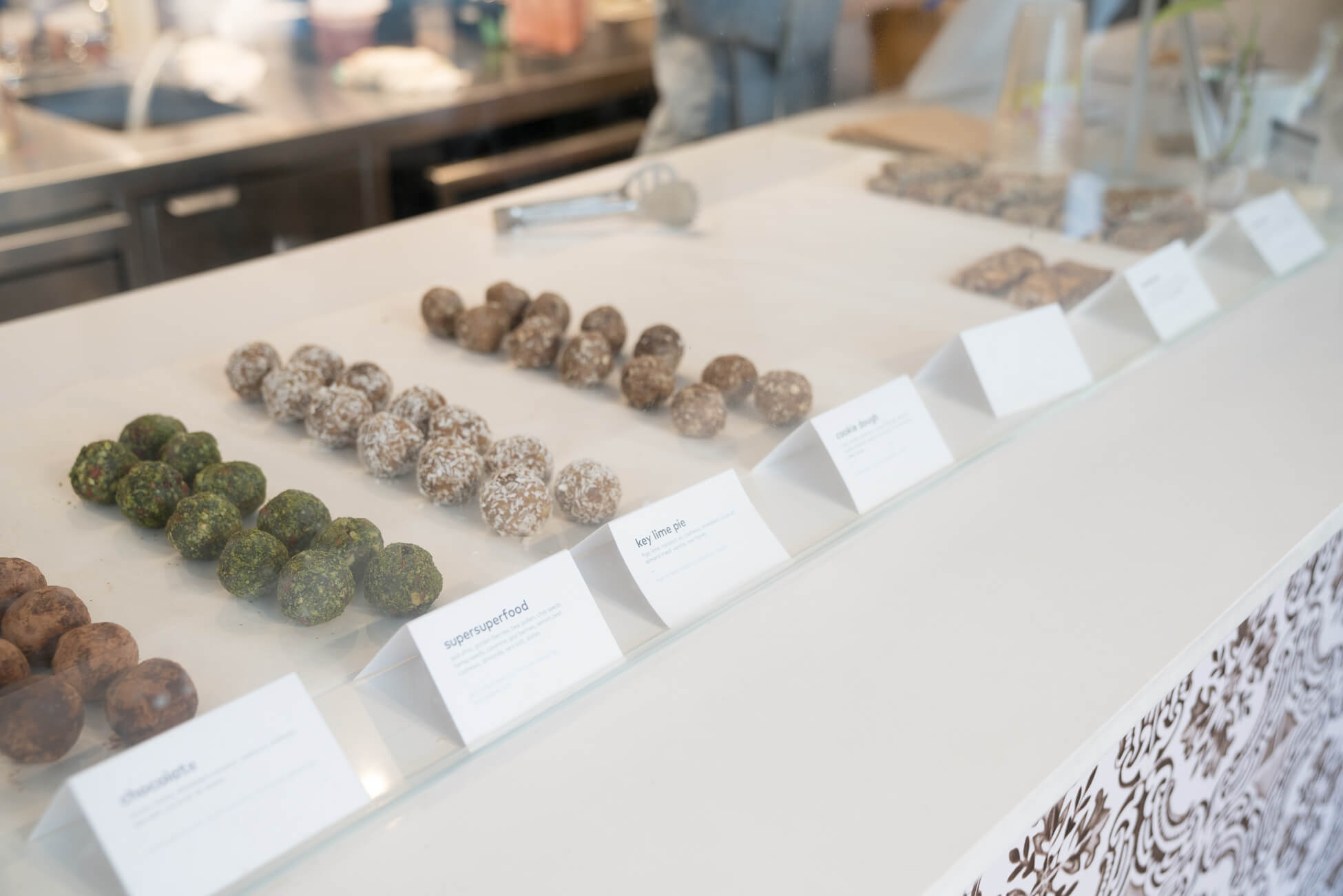 Everything was delicious, but Rachel, Walker and I will tell you about our faves.
First up was our trio of superfood hot drinks.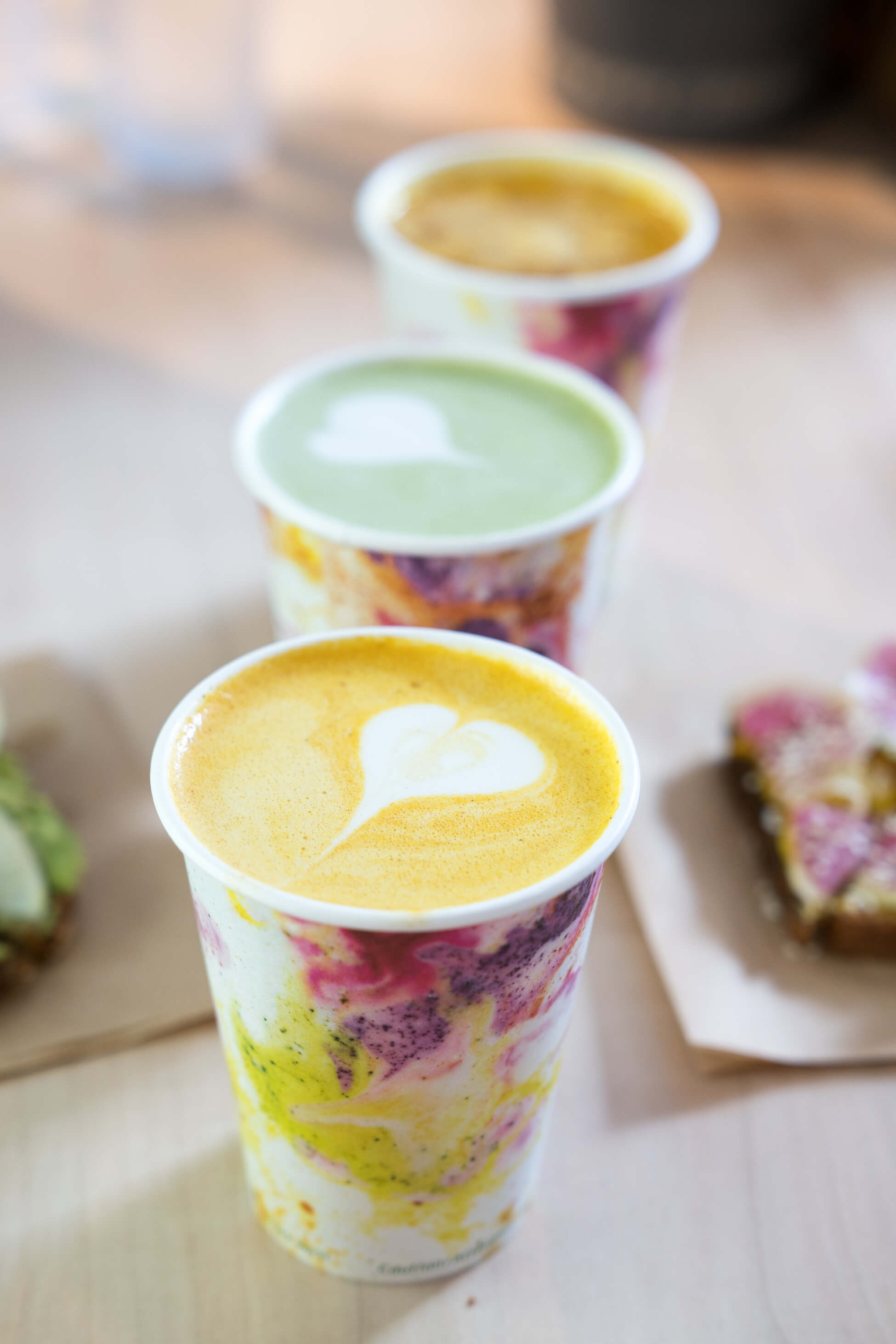 I'm kind of a turmeric latte/tea/smoothie snob because as you might have noticed, I make it all the time at home. The turmeric latte is what Rachel started with and here's what she thought: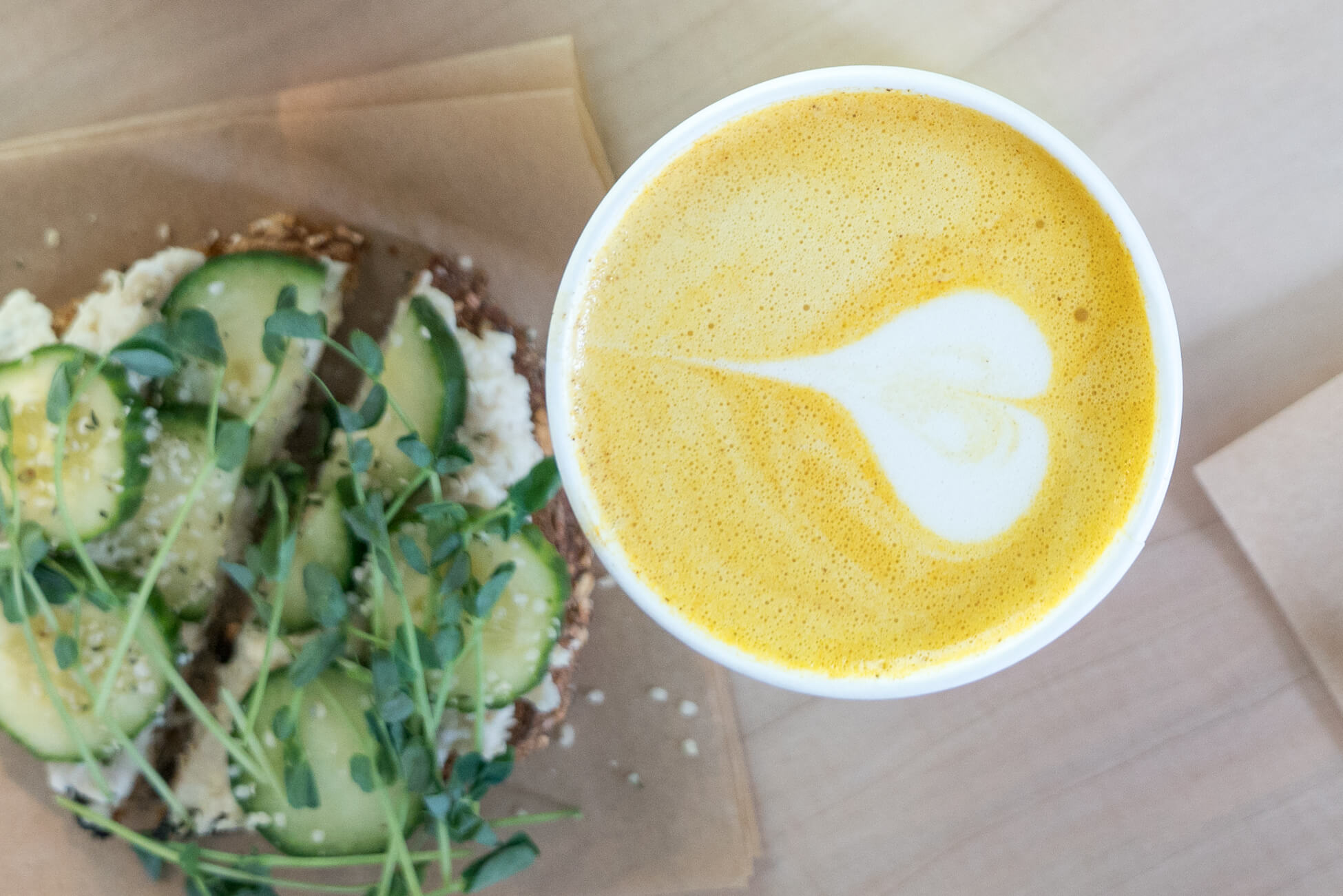 "In the spirit of our ongoing motto around here, #2017YearOfTurmeric, I couldn't not try the Turmeric Latte, especially because it seems like everyone I've been bumping into has been raving about it! The special thing about this Turmeric Latte is that it contains nutbar's housemade nut milk, which consists of blend of organic cashew, almond and coconut milk. You can really notice it in the freshness of the flavour and the creaminess of the texture. It was slightly sweeter than I usually have my Turmeric Latte at home, but for someone who's just jumping on the turmeric train, it's a great starting point!"
I had the Ginger Bomb which is quite an accurate description as it was like a ginger explosion in my mouth -- in a good way of course! Now if you saw the amount of ginger I put in my smoothie on a daily basis you'd understand that I'm no stranger to a powerful ginger flavour. However, if you're new to this flavour bomb then sip slowly. It will definitely put a fire in your belly and increase heat in your body and I was definitely feeling a little sweaty after sipping on it -- perfect for these subzero temperatures.
Walker had the matcha latte and then he ordered a coffee to-go. Matcha is not really his thing, I make them at home but he doesn't drink mine... here's what he thought about both his latte and coffee (he's kind of a coffee snob).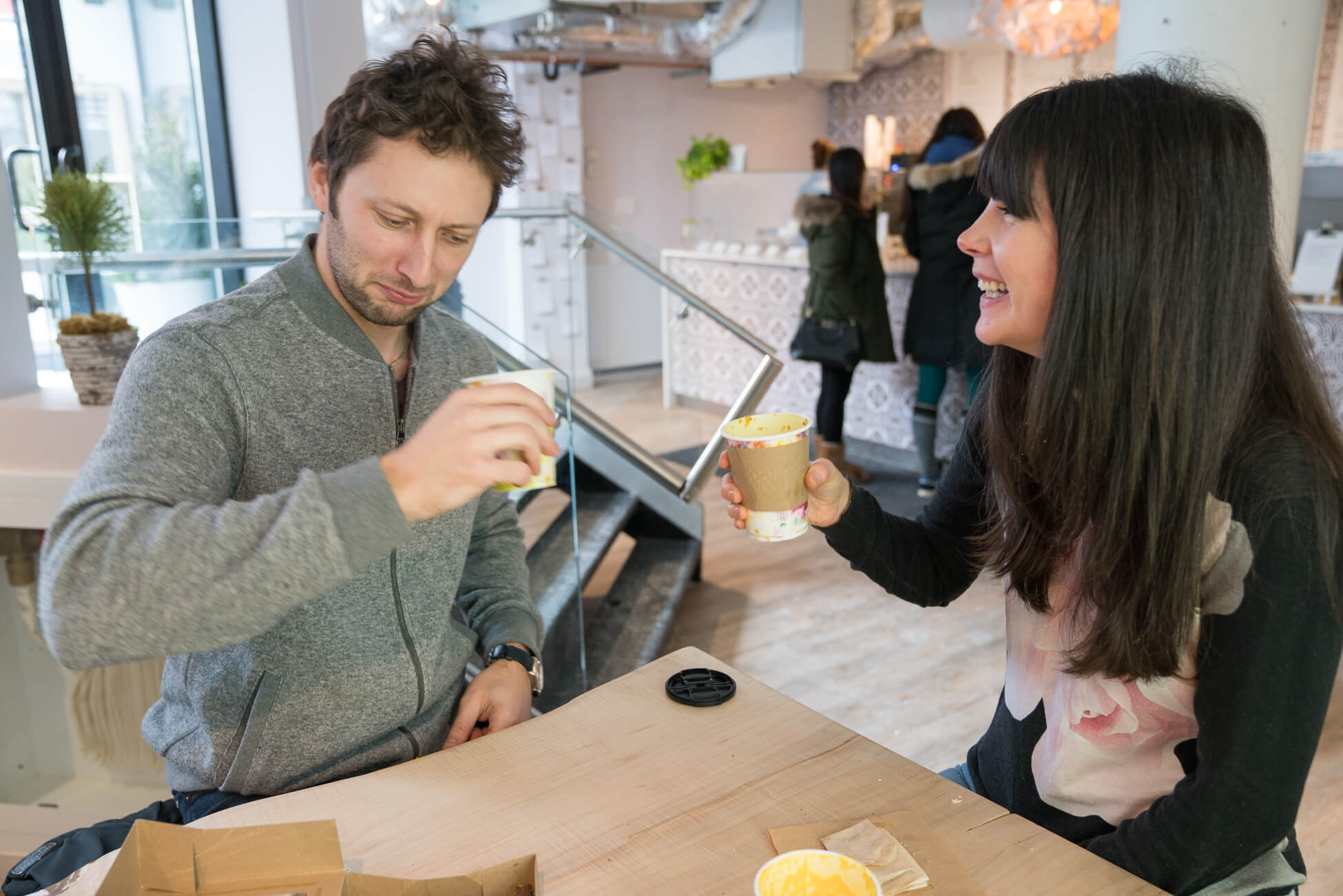 "While Matcha lattes definitely aren't my go-to, this one was pretty damn tasty!
I really appreciated the attention to detail that Kate brought to every aspect of Nutbar. From the presentation, the commitment to quality ingredients (including the coffee!), the cohesive branding (like those awesome cups) — you could tell that everything was done with so much TLC".
I also tried the Matcha latte (delicious) and learned it's made with Matcha Ninja, which is my favourite matcha to use. I love how Kate thoughtfully chose all the ingredients carefully.
Next up were the yummy toasts.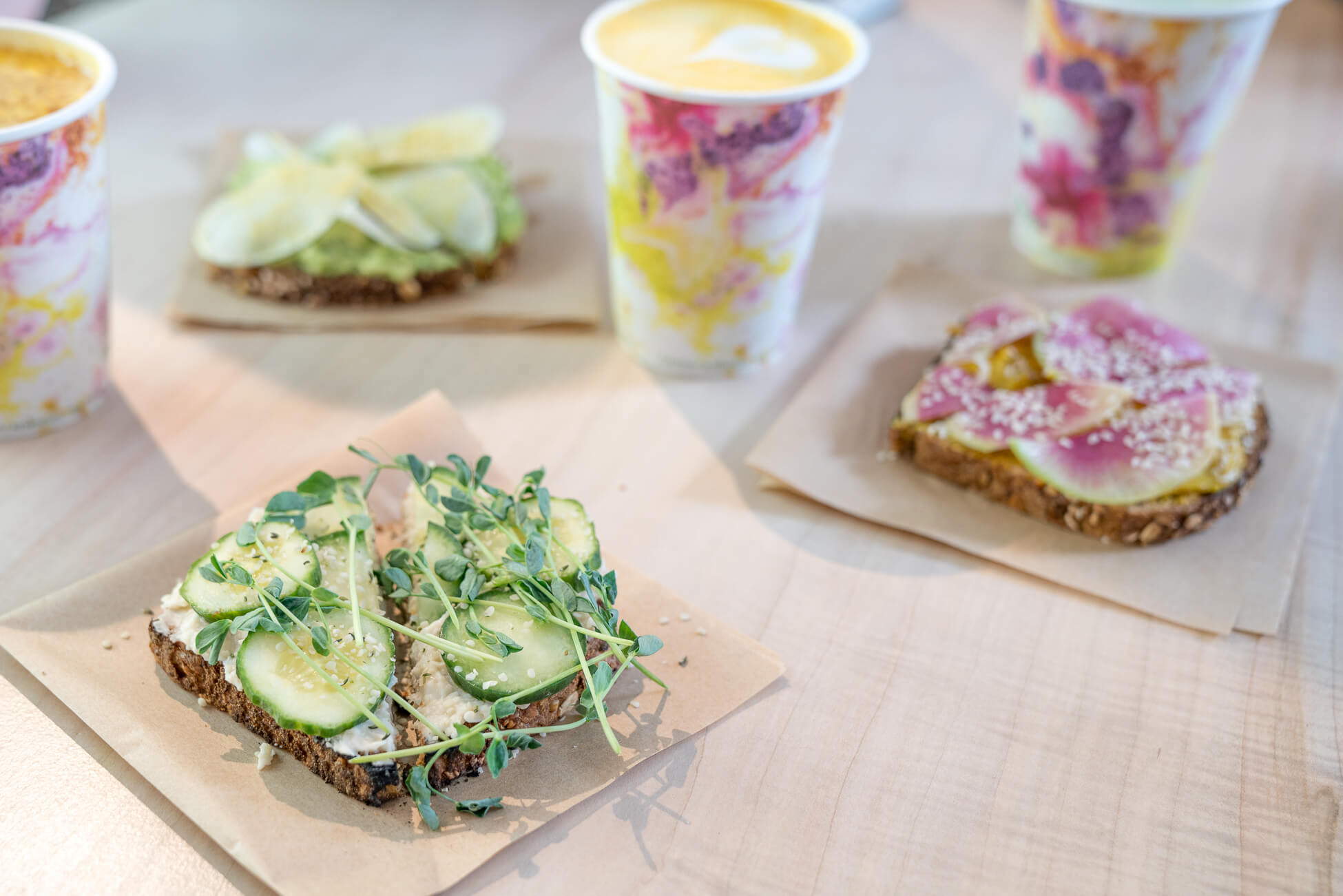 All three of us sampled the toasts and had a bite of each others. The toasts were akin to an open face sandwich.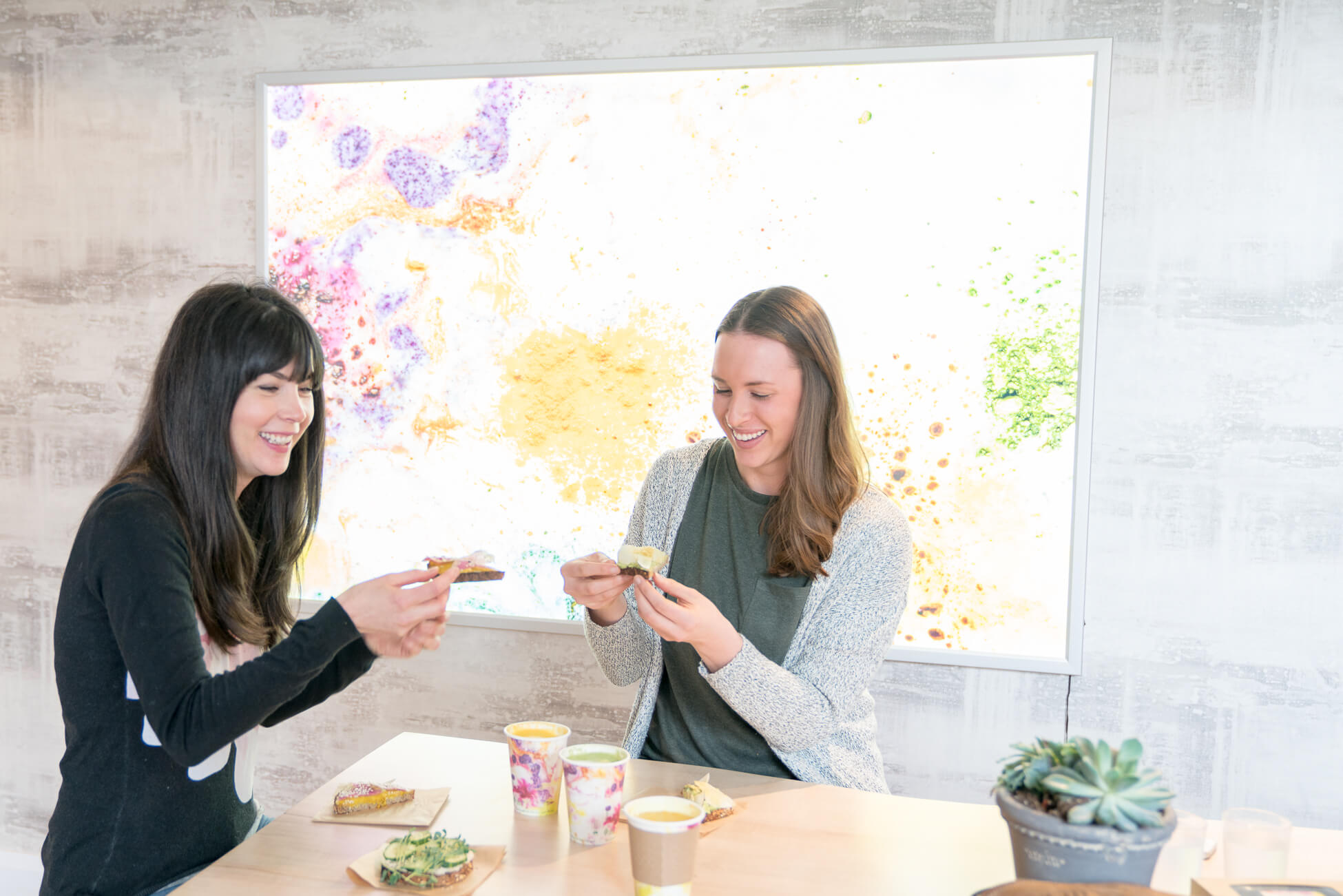 We all agreed that our favourite was the savoury toaste. This was the perfect amount for me. I was saving myself for nut balls :)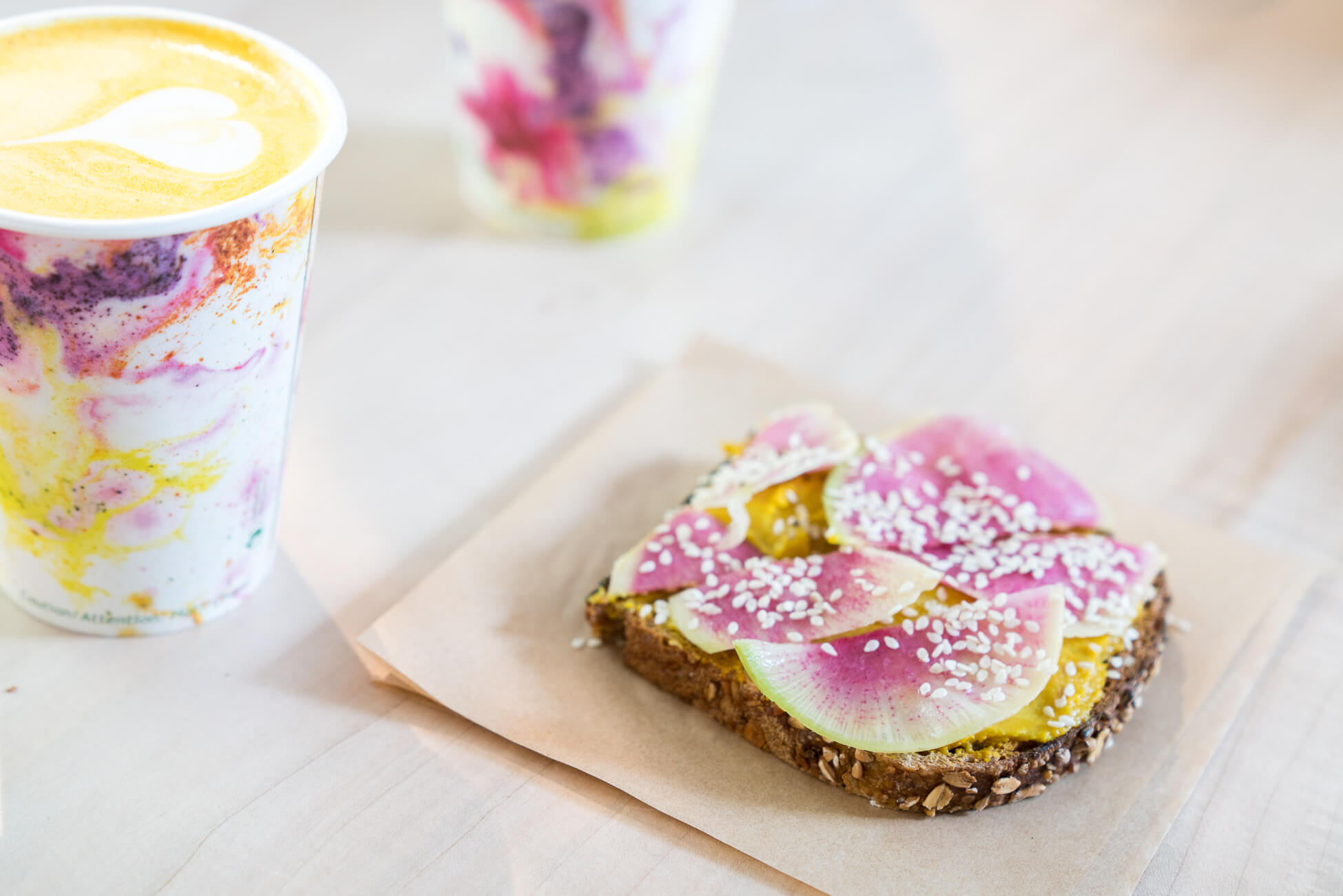 And of course we gorged ourselves on all the delicious balls! My fave was the cookie dough ball but an honourable mention goes to the green superfood ball on the right. It's packed with a lot of goodness.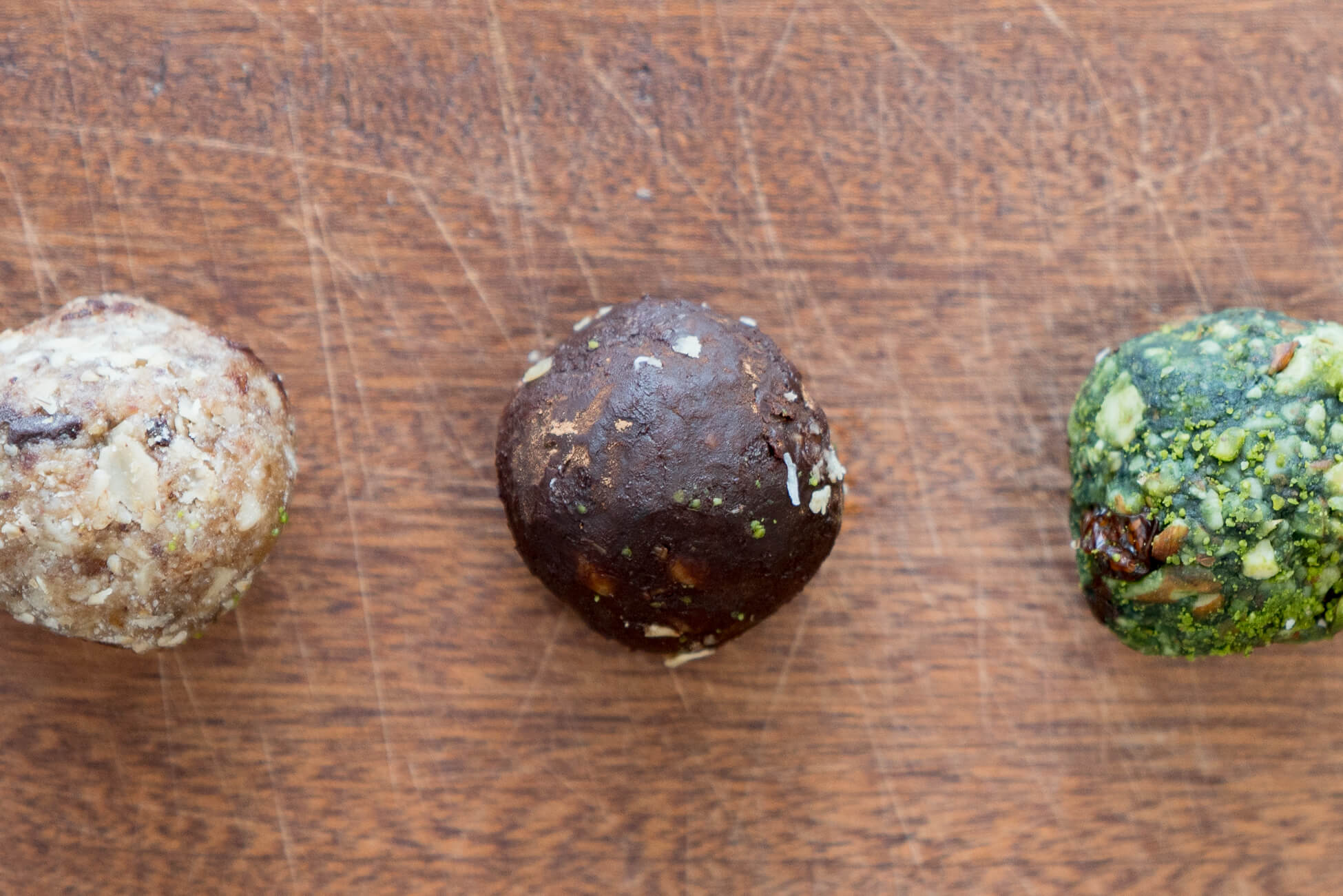 There was a beautiful piece of handmade art by Kate's brother that adorned the wall behind us but instead of paint, it was created with superfoods. It just goes to show you how vibrant and beautiful real food truly is.
In true nutritionist form, (side note: Kate is also a holistic nutritionist) there were superfood facts decorating the walls. I loved this!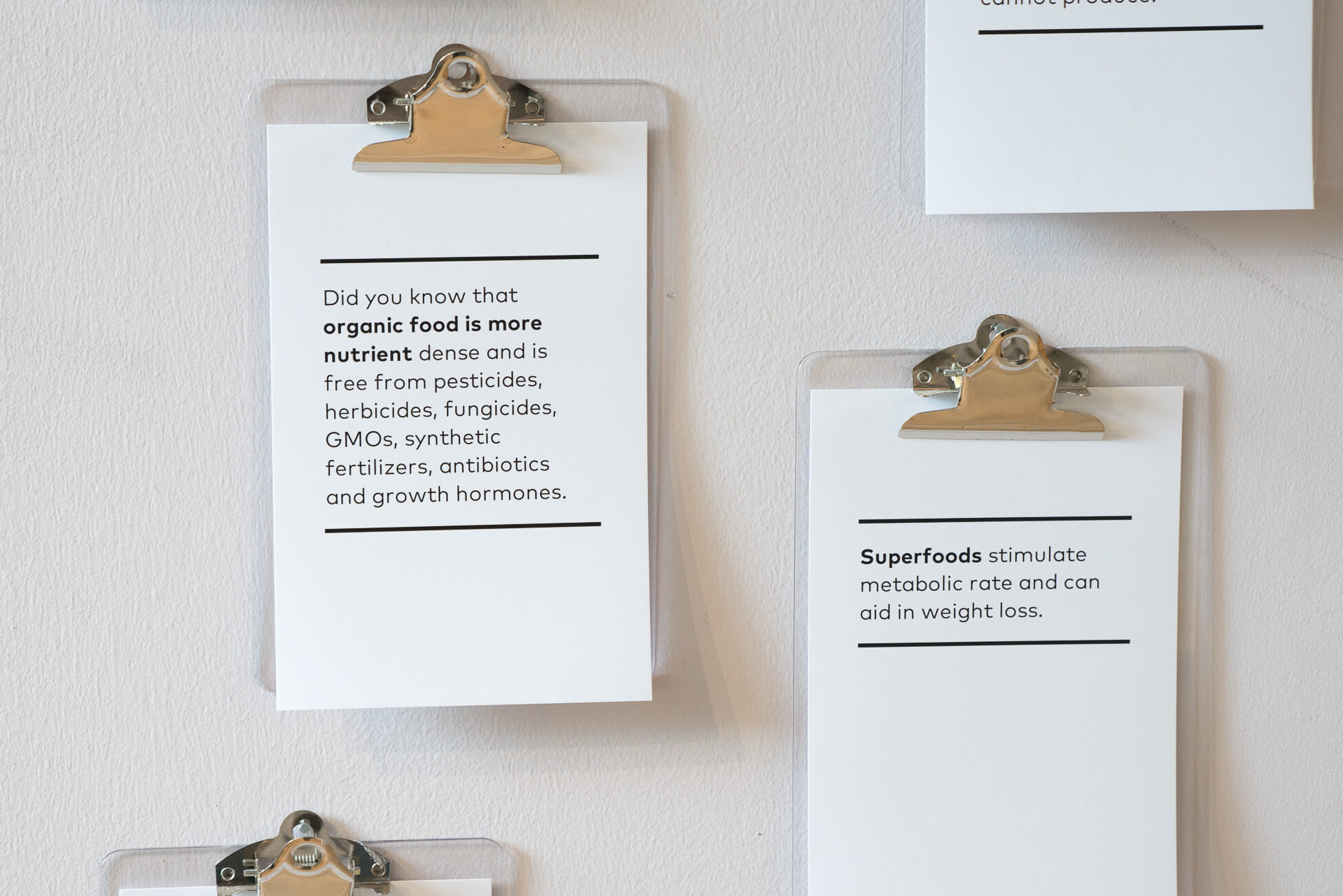 If you get a chance to check it out, comment below and share with the joyous community.
And before I go, this review kicks off a series of review of restaurants and cafes that I will be doing going forward under JOYOUS APPROVED (that will eventually link to ALL my reviews).
I'm doing this because it's such a common question I get through social media: "Where do you eat when dining out, Joy?" so I thought it was high time I shared this info. I love dining out as much as making food.
I will be in Vancouver in April so I will be sure to share some Joyous Eats when I'm there!
Have a joyous week and be sure to check out nutbar.
Joy