Happy Summer y'all!!!
This pretty in pink bowl happened by accident. I always add a variety of whole food ingredients to my quinoa bowls but recently I've been using a lot of beets because of my weekly farmer's market visits. And when this happens, everything turns pink! The name is perfect because not only is Pretty in Pink one of my favourite movies of all time but this bowl is super pretty and the quinoa turns pink!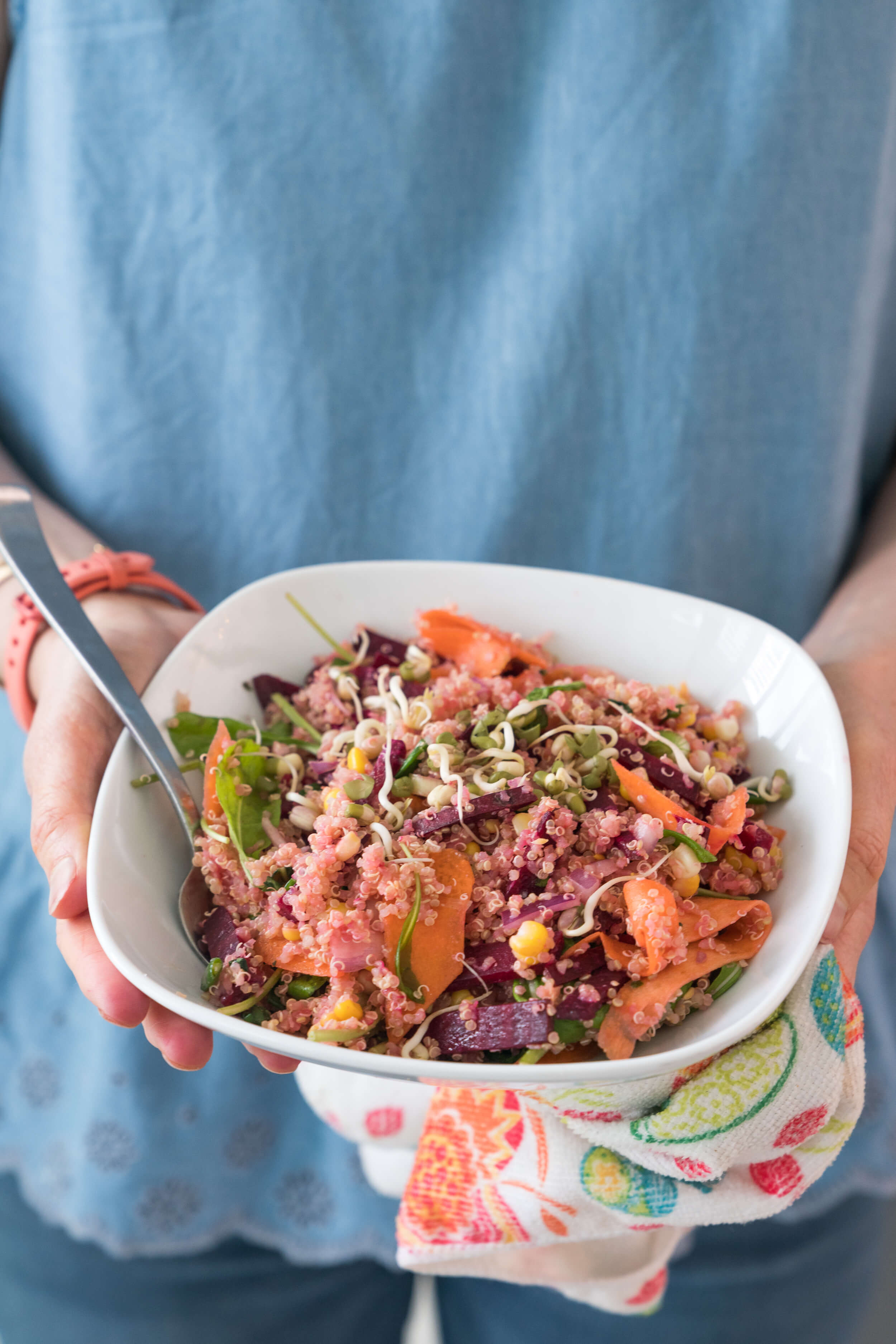 I love recipes that require very little prep and now that it's officially summer, I'm much less likely to turn my oven on. I have air conditioning, but I much prefer fresh air which means our windows are open a lot so it stays pretty warm in our home. The last thing I feel like doing is using the oven when it's boiling outside! We've been BBQ'ing a lot lately too.
Speaking of which, this salad goes perfectly with some BBQ'd fish or burgers, or whatever your heart desires. I used a very simple dressing so that the ingredients could really shine.

Since I make quinoa bowls so often, we figured it was high time I shared my recipe on the Joyous Health YouTubechannel.
As I mention in my video, this recipe is super easy, super healthy AND super yummy!

In my opinion, making tasty food is easy when you use really good quality ingredients. Most of the ingredients in this salad bowl were super fresh because I bought them at the farmers market earlier in the week. The beets were apparently picked the morning I bought them!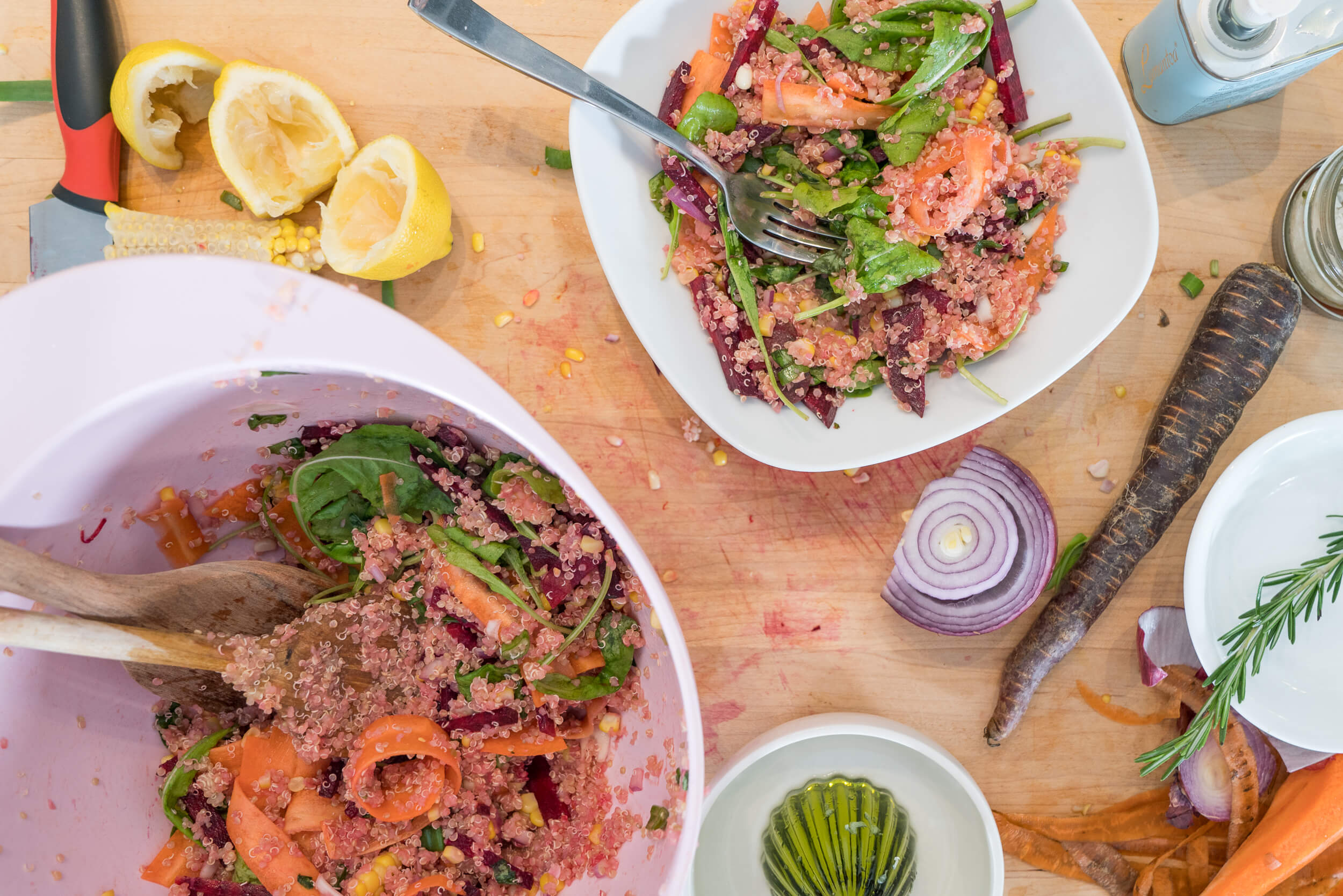 If you've had trouble getting perfectly fluffy quinoa in the past, be sure to check out this video.
Salad
1 cup quinoa
2 cups water
1 medium beet, chopped
Cooked kernels from 2 cobs of corn
1/2 red onion, finely chopped
1 carrot, grated or "noodled"
1 green onion, chopped
1 cup mung bean sprouts
Handful arugula
Dressing
Juice from one lemon
1/3 cup extra-virgin olive oil
Pinch of sea salt
Instructions
Boil water and quinoa to a boil on stove top. Reduce to a simmer and cook for 12-15 minutes until quinoa is fluffy. Set aside.
In a large salad bowl combine, beets, corn kernels, red onion, carrot, green onion and mung bean sprouts.
Once quinoa is cooked, add quinoa to salad bowl and mix. Just before serving, mix in arugula and pour dressing over top.
---
Notes
This delicious and pretty salad serves two generously.

Option: Add some chopped avocado on top!
I sprout mung beans on a weekly basis. If you have never sprouted before and want a video tutorial, I've done one!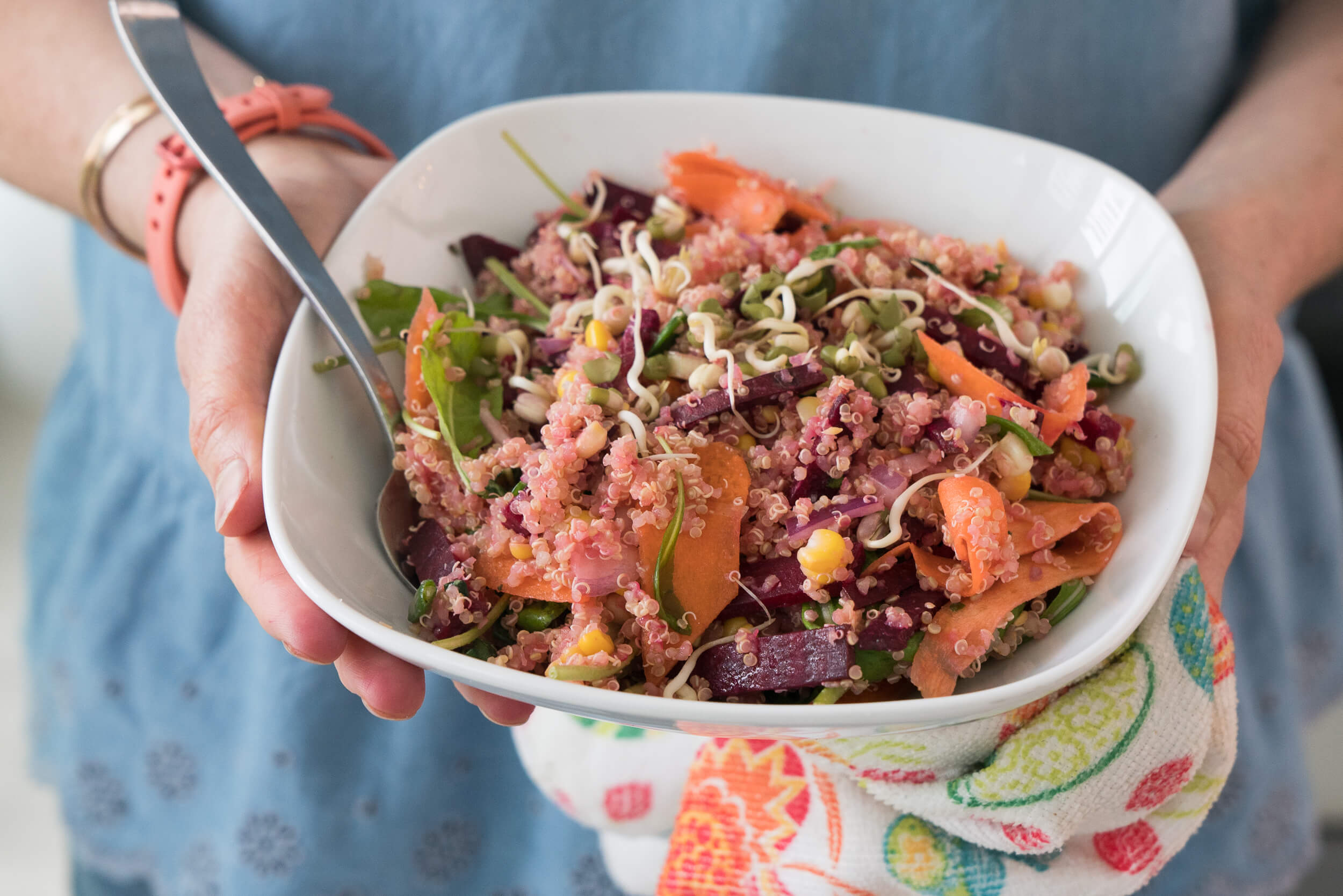 This is one of my go-to meals in the warm weather that I make regularly. Vienna LOVES eating the carrot noodles but she can't chew the beets very well (yet).
What are your go-to super easy, super healthy, super yummy meals?