We are definitely a pasta and pizza family over here. This is largely due to my hubs Walker and my daughter Vienna because their middle name is pasta-pizza, ha! I'm definitely okay with this because I've learned over the years how to make super healthy and delicious pastas and pizzas. We eat pasta and pizza at least once a week.
If you think pasta and pizza is off limits because you want to eat healthy, then you've come to the right place because I'm here to tell you this pasta recipe checks all the boxes for healthy!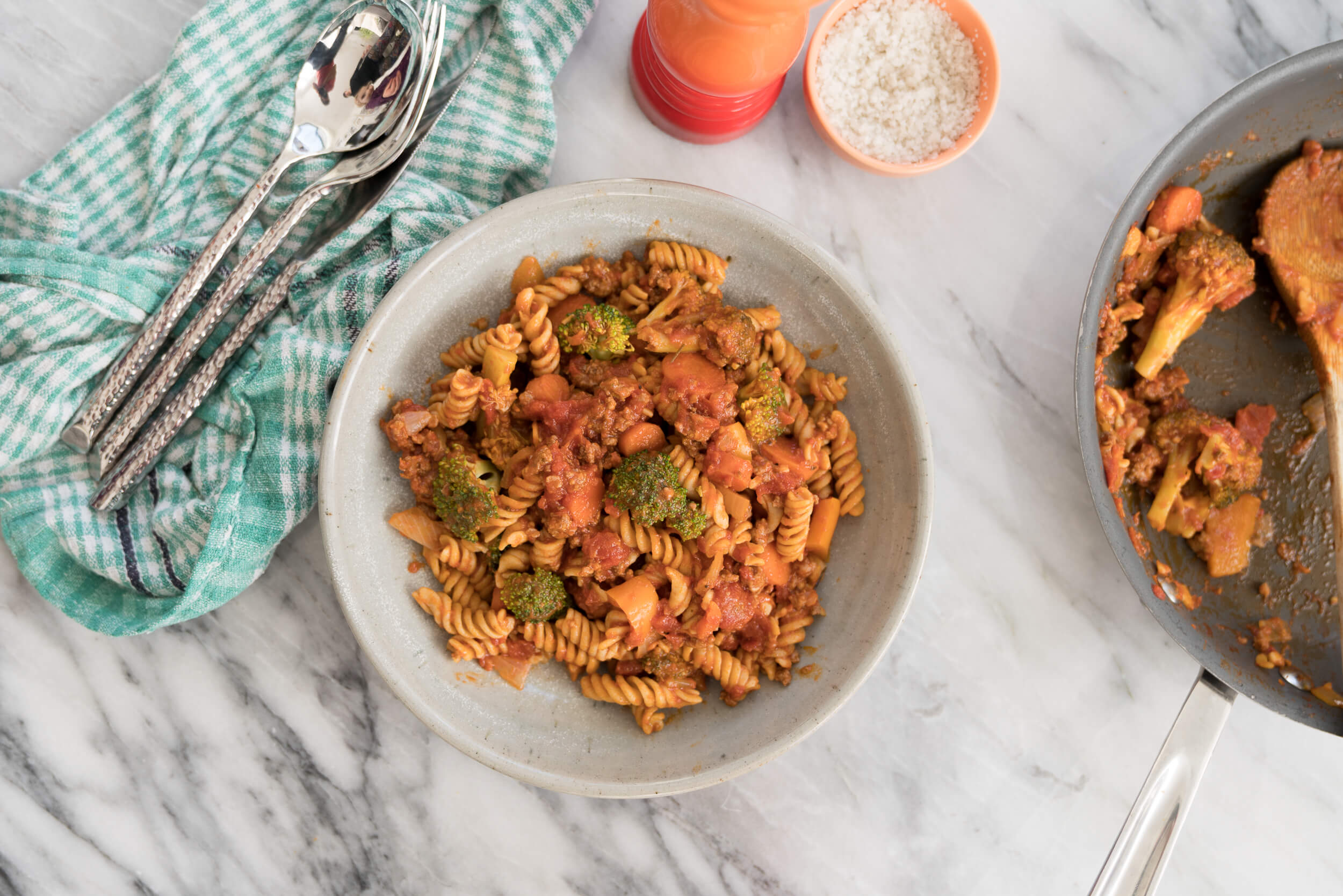 You may be familiar with the pasta I'm using because it's a favourite in our home and I recently made this Creamy Avocado Pasta Salad. It's a chickpea and lentil pasta called Chickapea Pasta.
We love the fact that this pasta has 23 grams of protein and 11 grams of fiber per serving. That's why it's so filling!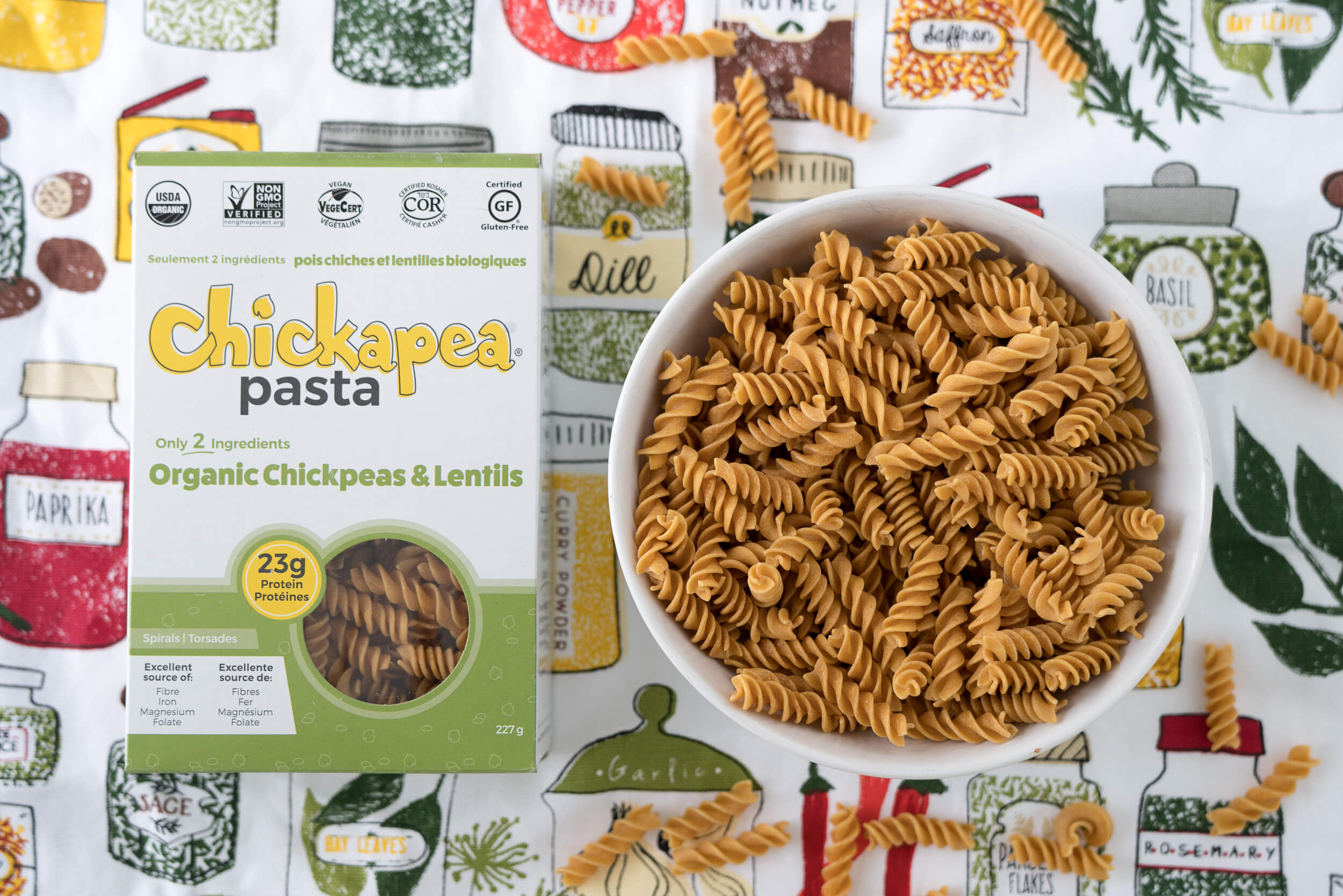 One of the many reasons I love pasta is that it's just so easy to whip up if you've already got a sauce or a pesto made. Now if you're more organized than me, I suggest you make a double batch of my recipe and freeze a batch of it for a super quick, absolutely yummy weeknight meal. If you're vegetarian or vegan and you want to try this sauce then you could crumble up some organic non-gmo tempeh for an additional hit of protein.
I loaded this pasta sauce up with a ton of veggies to really increase the vitamins and minerals and to make it super delicious too.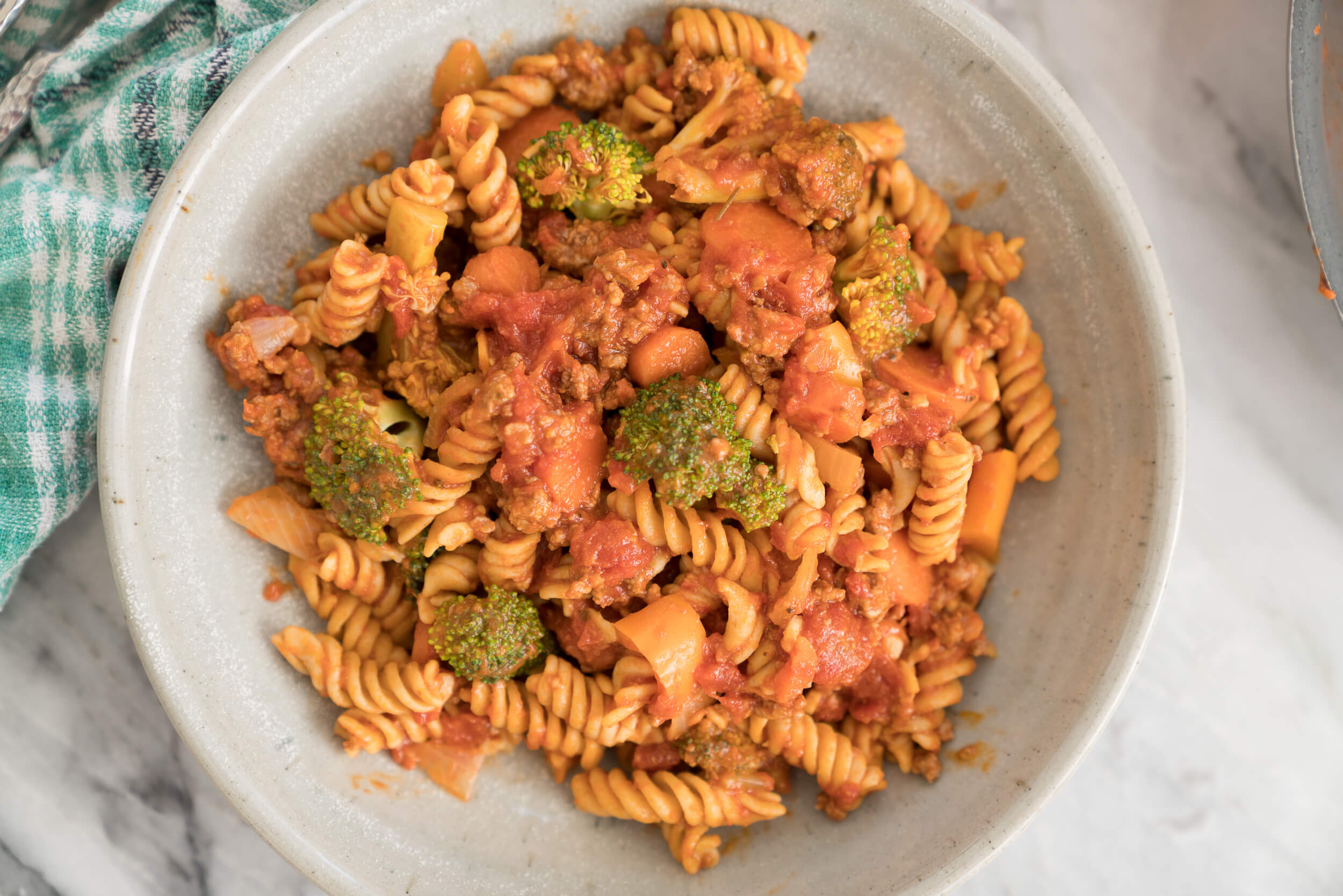 This is a great recipe for kids too. Especially picky eaters who don't want to eat their veggies. You could also take the entire sauce once it's cooked and put it in your food processor and blend it all if you're feeding a baby.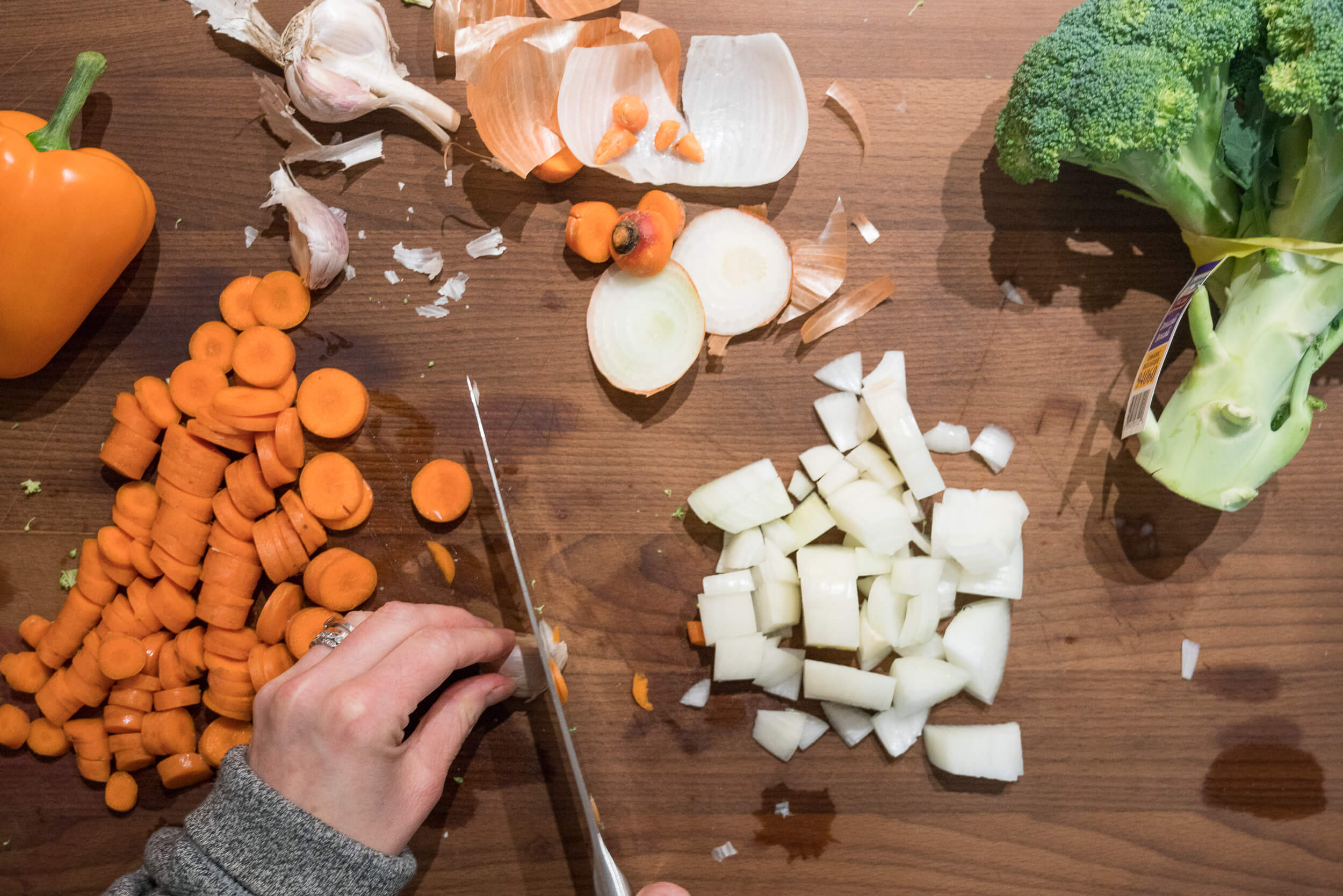 If you've got lots of fresh tomatoes you could make homemade tomato sauce as your base, or you could use canned tomatoes like we did because of the time of year and the lack of fresh local tomatoes. Vienna has been eating this pasta sauce since she was about 12 months old!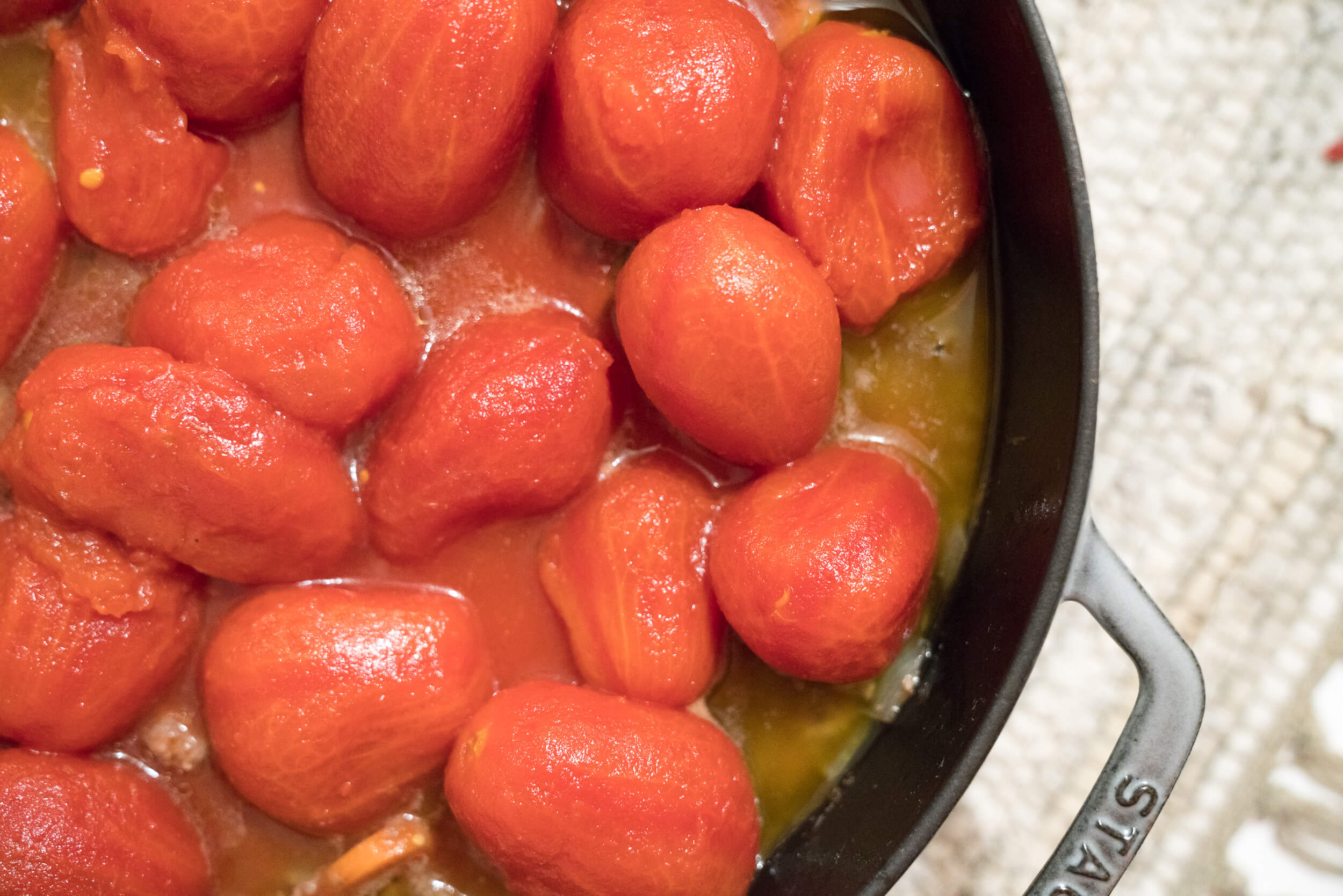 The reason I called this recipe Memories of Tuscany Veggie Bolognese is because the sauce reminds me of the heartiness of the food in Tuscany. Walker and I have traveled to Italy many times together and we always love visiting Tuscany. We spent a good chunk of time eating our way through Tuscany on our honeymoon. Originally I wanted to call it McJordan's Tuscan Pasta because Walker and I made it together but if you're reading this and you have never read a blog by me before, you'll have no idea what McJordan means! Side note: It's my last name (McCarthy) and my hub's last name (Jordan) combined. Really, it should be our daughter Vienna's last name. Don't cha think?
By the way, Walker was very against the broccoli, but I put the brocc in there much to Walker's dismay LOL!
Here's my recipe, inspired by our trip to Tuscany!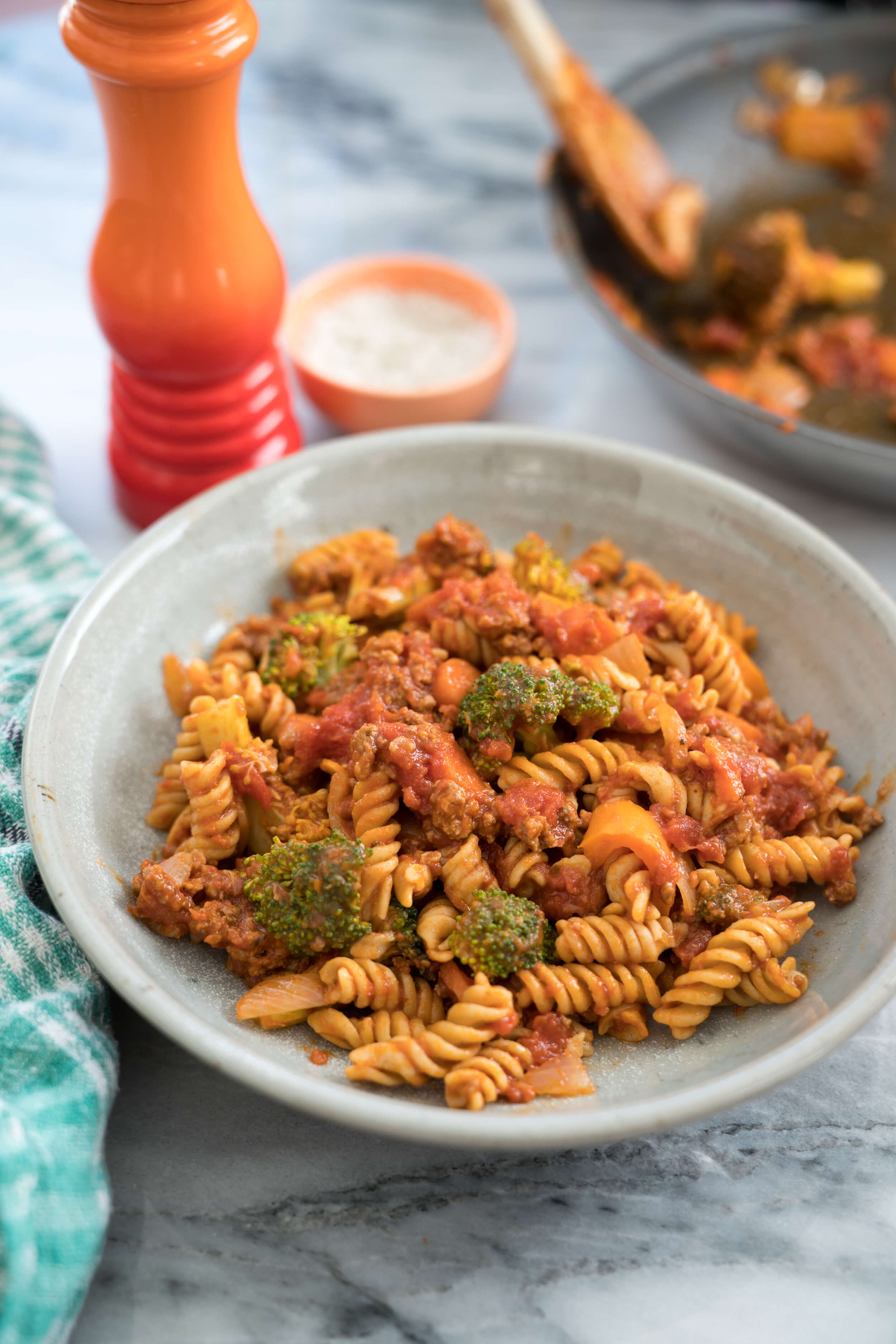 Mains + Sides
Memories of Tuscany Veggie Bolognese
Save
Print
Ingredients
1 large white onion, chopped
4 carrots, chopped
3-4 garlic cloves, chopped
1 lb organic ground beef
1 sweet pepper, chopped
2 (28oz) cans whole organic tomatoes*
1 can organic tomato paste 5.5oz
1-2 tbsp extra-virgin olive oil or coconut oil
2 tbsp organic dried Italian seasoning
Sea salt and pepper to taste
1 cup broccoli florets
1 box Chickapea pasta (227g)
Instructions
In a large sauce pan, sauté the onions and carrots for a few minutes in extra-virgin olive oil or coconut oil. Add half of the garlic and sauté for one minute.
Add the ground beef and cook until almost brown.
Add the sweet bell pepper, tomatoes and tomato paste. You can drain the whole tomatoes if you like, but you can just cook down the sauce if want it to be thicker. If you're using whole tomatoes, break them up a bit with the spoon.
Add the seasonings - italian herbs, sea salt and pepper.
Lastly, add the brocolli florets about 4-5 minutes before serving to prevent overcooking. Add the rest of the fresh garlic.
In a large pot on the stove, boil water and add a whole package of Chickapea Pasta.
Combine pasta with desired amount of sauce.
---
Notes
Makes 4-6 servings.

*You could also make your own pasta sauce! Here is a recipe that we love: https://www.joyoushealth.com/27143-blog-fresh-homemade-tomato-sauce

This pasta sauce tastes EVEN better the day after so I highly recommend you make a double batch.
If you're making this recipe, I highly recommend that you use organic or grass-fed ground beef. Factory farmed beef is simply not a food I recommend eating. If you're not a red meat eater but you do eat chicken or turkey, you could easily swap the ground beef for ground chicken or turkey and it would be just as delicious. Or as I mentioned above, you could also use tempeh.
If the weather has turned cold where you are, I really hope this recipe becomes a regular in your home because it will warm you to the core and it makes the ultimate comfort food! Maybe it will transport you to Tuscany!
Have a wonderful weekend my friend,
Joy
What's your favourite comfort food meal?