If you saw my Facebook Live a couple of weeks ago, I showed you how to make what has become a staple in my joyous kitchen. It's a super simple recipe that literally takes just five minutes to make.
Pesto is the perfect partner for a quick pasta dish, but you can also use it as a dip for flatbreads and crackers, as a spread for sandwiches or a sauce for a gluten-free pizza. You can easily personalize this pesto by experimenting with additional ingredients. (I personally adding sundried tomatoes.)
For this recipe, I'm going to keep it fairly classic with a lemon basil pesto.
No pesto's truly complete without the basil that gives pesto its signature taste. But this herb is more than just tasty, it's also chock-full of health boosting nutrients. Basil's got:
blood-building folate and iron;
antioxidant, skin health–boosting vitamins A and C;
magnesium (nature's mineral chill pill!); and
anti-inflammatory omega-3 fatty acids.
For an extra dose of super healthy plant-based omega-3s, I've used hemp hearts instead of the pine nuts you'll usually find in pesto. I love adding hemp to my recipes. Hemp hearts are shelled hemp seeds and they're a great way to add blood-sugar balancing healthy fats. You'll find me using hemp hearts in everything from my Vanilla Chai Truffles , to Spicy Hot Chocolate , to Sweet Pea and Mint Dip .
Ingredients
2 cups fresh spinach (loosely packed)
Juice from 1 lemon
1/2 cup hemp hearts
1/2-1 garlic clove
1/4 cup extra virgin olive oil
1 cup fresh basil
Pinch of sea salt to taste
Instructions
Add all ingredients to food processor (I use a mini one)
Blitz to desired consistency
Enjoy!
---
Notes
Give a taste test and add more of what ever your taste buds desire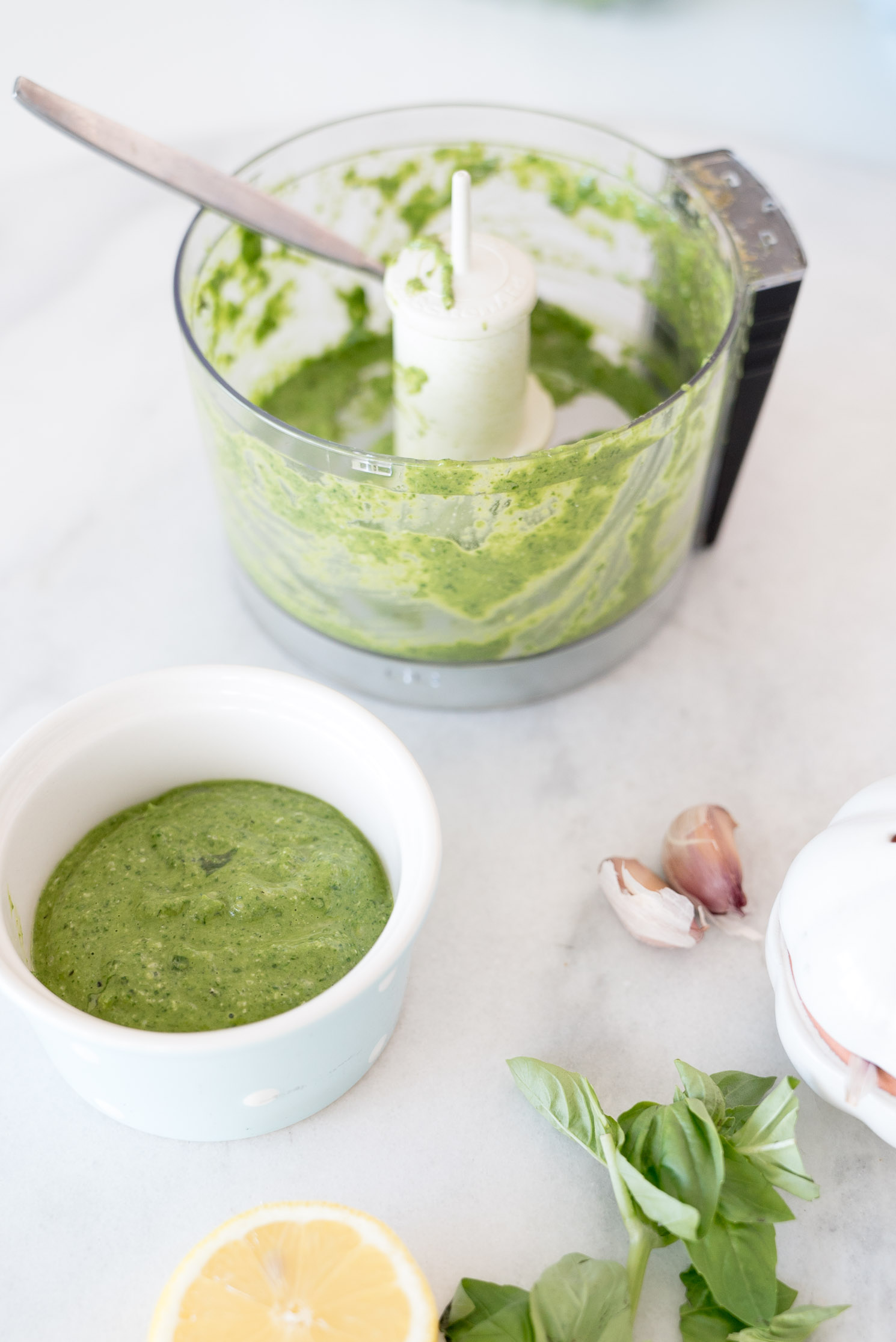 What's your go-to way to perk up a pasta or pizza? Let me know in the comments below!