I went on a little road trip yesterday with my sweet man, so I had some time to enjoy being a passenger and peruse Julie Daniluk's "Meals that Heal Inflammation" book. I stumbled upon this drool worthy recipe for "Apple Rice Bake", so I was excited to get home and try it out. It was absolutely delicious for dessert and then I had it for breakfast this morning with some cinnamon and kefir!
This recipe is loaded with cholesterol-lowering and detoxifying fibre (both soluble and insoluble), protein (from the brown rice and eggs -- which can be substituted if you're vegan) and energizing B vitamins. The only thing it's lacking is gluten -- and this is a good thing! Anything fellow Nutritionist Julie creates is amazing, as my Key Lime Pie is also adapted from an old recipe of hers.
Apple Spice Rice Bake Recipe
(Note: I made a few very minor modifications from her original recipe).
Ingredients:
2 cups cooked brown rice (or quinoa)
1 cup almond milk
1/2 cup chopped almonds
3 tbsp real maple syrup (Want it sweeter? You could also add 4-5 drops stevia liquid)
1 tbsp pure vanilla extract
1/2 tsp nutmeg
2 tsp ground cinnamon
1 tsp ground ginger
2 cups apple, chopped (about 2 large apples). Keep the skins on if organic
3 large organic eggs, whisked or 3 eggs substitutes ie. chia seeds
Method: Use a fork to mix all the ingredients together in a large mixing bowl. Pour into a greased 11 x 7 x 2 baking dish and bake at 350F for 35-45 minutes. If you are using an egg substitute, bake 15 minutes longer. Makes 8 servings.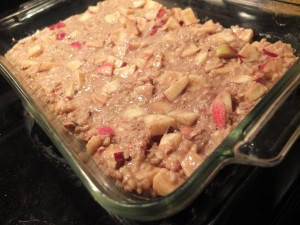 How to enjoy?
Dessert: Add a dollop of Coconut Bliss dairy-free ice cream.
Breakfast: Add some greek yogurt or kefir, like I did :) See photo.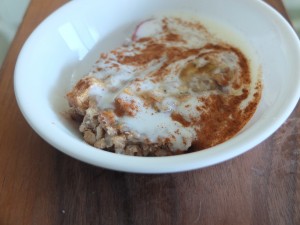 It tastes like a cross between rice pudding and apple pie.
And if you don't already have it, I recommend her book because it's an absolute wealth of information and the recipes are a HUGE added bonus!
If you enjoyed this recipe and you are either suffering from gluten-intolerance, celiac disease or just want to experiment with gluten-free eating, then register for my upcoming workshop: Gluten-free deliciously on March 10th before it sells out!
Do you have a favourite healthy dessert recipe you would like to share? Feel free to post a link below.
Or, do you have a favourite dessert ingredient that you use as a healthy substitute for something else? Do share!
Don't forget to check out Joyous Health's February deal - Sugar Detoxing.
Have a joyous week!
Joy