If you've ever read the ingredients on a protein bar package you've probably scratched your head in confusion. There are more ingredients in many store-bought bars than in a box of processed cereal, and that's a lot. I'm all about eating real food and that's precisely why I created these bars of deliciousness for you.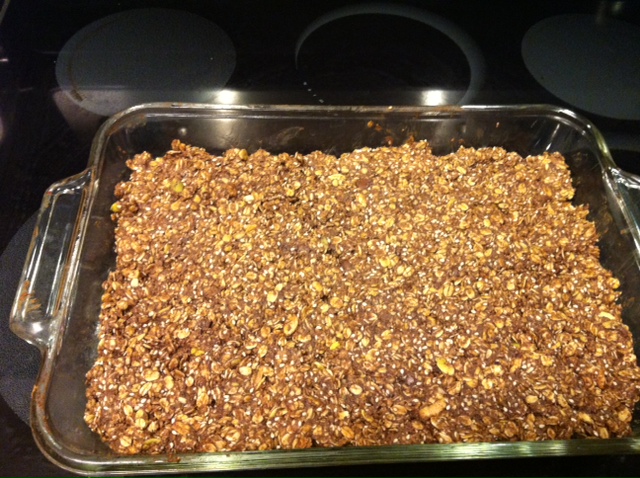 They are packed with flavour, crunch, protein and fibre. Eat them for breakfast or as a power snack before you hit the gym! One thing is for sure, they won't last long in your household because they are so tasty!
Ingredients:
3 cups organic raw oats (soaked for a few hours to increase digestibility)
1/2 cup sesame seeds
1/2 cup unsweetened organic shredded coconut (Make sure you buy "sulfite-free)
1 tsp ground cinnamon
1/4 cup organic coconut sugar
1/2 cup raw cacao nibs
1/2 cup chopped walnuts
1 cup chocolate vegan protein powder (I used this one by Genuine Health)
1/2 cup coconut milk
2 tbsp pure maple syrup
1 cup almond butter
1/4 cup organic coconut oil
Method: Combine all the dry ingredients together in a large bowl and mix. Melt the coconut oil and the almond butter in a small pot over low heat on the stove. Mix the the coco oil, almond butter and remaining wet ingredients into the dry ingredients. Mix together until fully combined. Give it a little taste test, add more maple syrup if you desire a sweeter taste.
Preheat oven to 350F. Grease a 9"x13" baking pan. Spread the mixture out over the pan and press down with your hands. Bake for 15 minutes. Remove from the oven and let cool slightly. Then cut the protein bars as you desire, place onto a greased cookie sheet and bake for 10-12 minutes more. You may find that you lose about 10-15% of your mixture as you are cutting them and transferring them to a cookie sheet, just keep it and use it as a topping for yogurt - homemade granola!
Remove from oven and let cool. Enjoy immediately! Makes 20 bars (depending on the size you cut them into).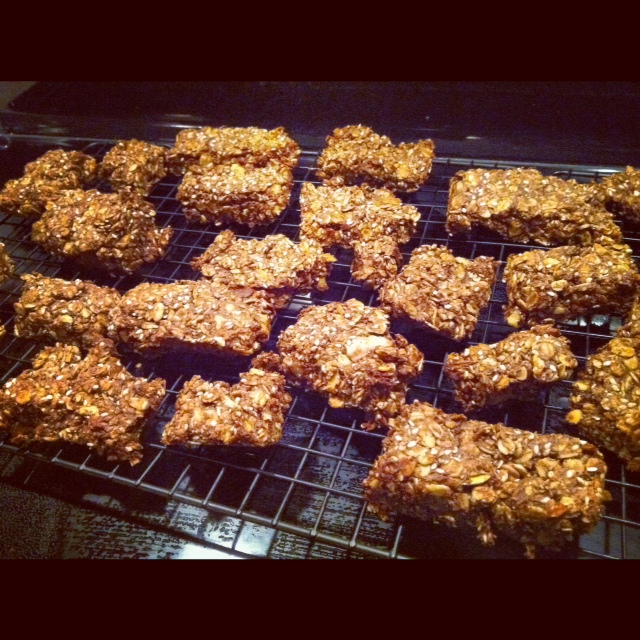 Enjoy!
Joy