PLEASE NOTE: I have updated this recipe. You can check out the new one here.
As you might have noticed from my last post, I'm on a rhubarb kick because I have a bucket of it that I picked on the weekend. So, I came home last night after having dinner at Fresh with the sassy artist/designer who is creating my joyous health book and I was feeling like something sweet to eat. I love dessert and I fully indulge myself in it as often as I can.
Now you may be raising one eyebrow at that last comment, but you won't catch me pounding back a pint of cookie dough ice cream. It's not worth the belly ache, pimples or completely empty calories with a heaping of chemicals. However, don't be surprised if you see me out in the city eating some quality homemade gelato at Terroni's (it's soooooooo good there) or creating magic in my kitch like I did last night. My point is that I avoid crap, not desserts. But this is because not all desserts are created equal.
Meet my freakin' AMAZINGLY delicious and belly-friendly dessert last night that I whipped up without a recipe (photo'd above and below). I will do my very best to get the measurements right for you here because it was really one of those "heap" of this or a "schlop" of that. Please do yourself a favour and get your cute butt over to a farmers' market this weekend (or better yet, pick em' from your garden -- not my mother's garden please) and get some rhubarb!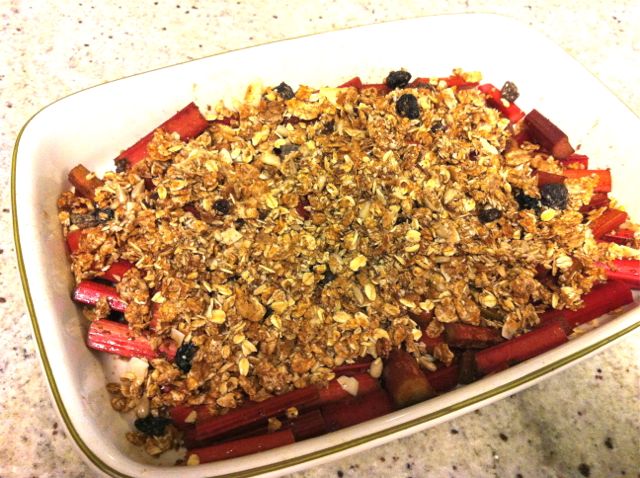 Ingredients:
For the filling:
12 stalks of rhubarb, washed and cut into 1 inch pieces
1/4 cup (or less) coconut sugar
2 tsp ground cinnamon
Topping:
3 tbsp coconut oil melted (melt on low on your stovetop if it's not already liquid in your jar)
1.5-2 cups Dorset cereal* or any granola-ish type cereal that tickles your fancy
1 tsp ground cinnamon
Method: Preheat oven to 350F. Mix the rhubarb, sugar and cinnamon together in a bowl. Place in any size baking dish. You can decide your dish size based on how thick you want your dessert to be.
In another bowl, mix all your top ingredients together. Give it a taste test. Pour over top of your rhubarb mixture and pop in the oven. Voila!
Now, rhubarb is VERY tart. So I enjoyed mine with a schlop of coconut milk vanilla ice cream. You will not miss dairy ice cream one bitty when you eat this stuff. And then I just had it for breakfast again but with Liberty Organic greek yogurt this time.
*Dorset Cereal: I buy it from the grocery store and it's a delicious high fibre muesli with raisins, dates, sunflower seeds, coconut and roasted hazelnuts. It is NOT gluten-free. If you want a gluten-free topping, then use this recipe here: http://www.joyoushealth.ca/2009/05/29/gluten-free-rhubarb-strawberry-crisp/. If I'm eating this cereal just on it's own then I soak it first, because it makes it more digestible.