A couple of weeks ago I was filming the cooking videos for Alive Magazine and this was one of the recipes we created from the November issue which is out now -- Curry Cabbage Chick Pea Soup. I loved it so much I made it the following weekend on a chilly day in Toronto. It turned out amazing and warmed me from the inside out. So I'm delighted to share it with you!
Since I'm a nutritionista, Here are the nutritional highlights of this richly flavourful soup:
Cabbage is a rich source of vitamins and minerals—including vitamins C, E, K, and A, as well as folic acid, iron, magnesium, and fibre. Most well known for its cancer-preventative compounds called "glucosinolates". These nutrients can be found in broccoli, cauliflower, kale, Brussels sprouts as they are from the same family.
The spices in the curry including the active ingredient in turmeric called "curcumin" has been extensively studies for it's anti-inflammatory, antioxidant free radical scavenging ability (especially helpful for Rheumatoid Arthritis) and cancer preventation. Read more here.
This soup is a wonderful source of plant-based protein from the garbanzo beans (chickpeas) best known for their fibre content -- keeps your belly fuller longer. In fact, one study showed those who include legumes in a meal consumed far less processed foods for the week.
Lastly, the fresh herb in this recipe makes it an phytonutrient-dense soup. Cilantro is an incredible source of chlorophyll (nature's blood cleanser/detoxifier), numerous plant medicines: antioxidants and minerals.
So let's get started! I modified a few ingredients based on what I had in my kitchen and because I can never stick to a recipe :)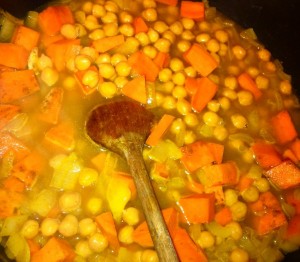 Curry Cabbage Chick Pea Soup
Ingredients:
1/2 head green cabbage
1 Tbsp (15 mL) coconut oil
1 large sweet potato, peeled and cut into 1/4 in (0.5 cm) cubes
2 Tbsp (30 mL) curry powder
3 garlic cloves, minced
1/2 large yellow onion, thinly sliced
2 cups (500 mL) cooked chickpeas (I used Eden Organic canned chickpeas)
5 cups (1.25 L) vegetable broth (Make sure your broth does NOT contain MSG).
1/2 tsp (2 mL) salt
1/2 cup (125 mL) coconut milk or almond milk (I used almond because that's what I had on hand)
Fresh cilantro, chopped, as garnish (But I used a heck of a lot more than a garnish -- about 3/4 of a cup). Use parsley if you don't like cilantro.
Squirt of fresh lime
Remove any ragged outer leaves from cabbage, then core and slice into pencil-thin ribbons. Put oil in large, heavy-bottomed pot and warm over medium heat. Add sweet potato cubes, cover with lid, and cook, stirring occasionally, until starting to brown, about 7 minutes.
Uncover; stir in curry powder, garlic, onion, and chickpeas; and cook another 2 minutes. Pour broth over vegetables and stir in salt. Bring to simmer and stir
in cabbage. Cook, stirring occasionally, until cabbage softens, about 2 minutes. Remove soup from heat, let cool slightly otherwise milk will curdle -- then stir in coconut or almond milk, and ladle into serving bowls. Toss in a large handful of cilantro and squirt with fresh lime juice. Serves 8.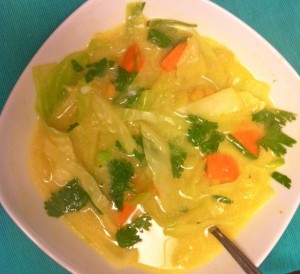 EnJOY!