My dear friend and nutritionista sista Elaine has been raving on about this cauliflower pizza crust she makes (however, she has yet to make it for me -- hint hint). So Sunday was the day I decided it was high time I buy the ingredients and make it for Walker and I -- hurray for REAL food!
Fortunately I was well briefed by Elaine that the crust can be a bit finicky, so I will give you all my joyous tips in the recipe below. Now if you want the original lovely recipe, check out her site (she has great recipes too), as I did make a few recipe tweaks to it.
As you might know if you are a twitter follower, I LOVE Pizza Libretto on Danforth in Toronto and every time I go there I order the arugula pear salad -- I'm quite predictable. In fine nutritionist form I want to stimulate my digestive juices with bitter greens like arugula and it just happens to be uberlicious so it's a match made in heaven! This is why I also made this arugula apple almond salad with an added treat, pecorino cheese. I will give you vegan substitutes below.
The pizza and salad was enough to fill two hungry bellies and leave room for dessert. I was on an apple kick so I whipped up some sauteed apples that we enjoyed with coconut milk vanilla ice cream (will leave that recipe for last).
Cauliflower Crust Pizza with Basil, Tomatoes & Goat Cheese
Crust Ingredients:
1 medium size cauliflower cut into quarters
1 egg, whisked
1/4 cup pecorino cheese or veganify it -- nutritional yeast
1/4 cup ground flax seeds
1 fresh garlic clove, minced
Dash of sea salt
Topping Ingredients:
1/2 cup marinara sauce or crushed tomatoes
1/2 tomato, thinly sliced
5-6 fresh basil leaves
1/4 cup fresh soft ripened goat cheese
1/4 red onion, finely chopped
Method:
1. Preheat oven to 400 degrees. Steam or flash boil cauliflower for a few minutes until it's tender but not soft. You could also roast it if you wanted. Remove from heat and let cool slightly -- enough so you can touch it.
2. Toss in your food processor and process until there are no big chunks. As Elaine recos, you could also use a cheese grater to grate the cauliflower too. So it needs to be firm enough that you can hold it.
3. Place in a cheese cloth or nutbag and squeeeze out all the excess water. Note: You want it to be as dry as possible. My first try at this it was a bit wetter than I wanted but still good.
4. Place the cauliflower mash into a large bowl and add the egg, cheese, flax, garlic and seasoning -- mix together. Then form into a ball and place on a greased pizza pan and flatten out with your fingers or a rolling pin. I used parchment paper which didn't need to be greased.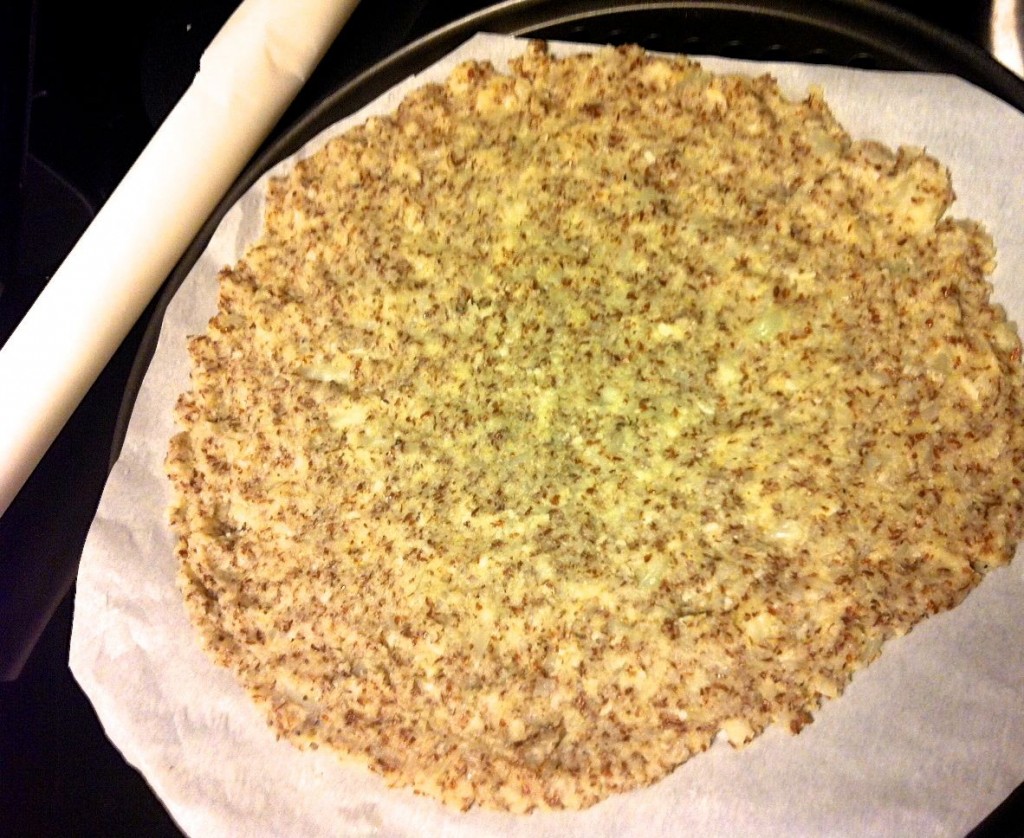 5. Place just the crust in the oven for 10 minutes to dry it out a bit. Make sure you keep an eye on it so it doesn't burn!
6. Remove from oven and add your toppings! Make it pretty! Return to oven for another 10-15 minutes at 400 degrees. Again, keep an eye on it. If you find you can't pick it up once it's cooked, that's because it wasn't dried out enough, but it will still be delicious!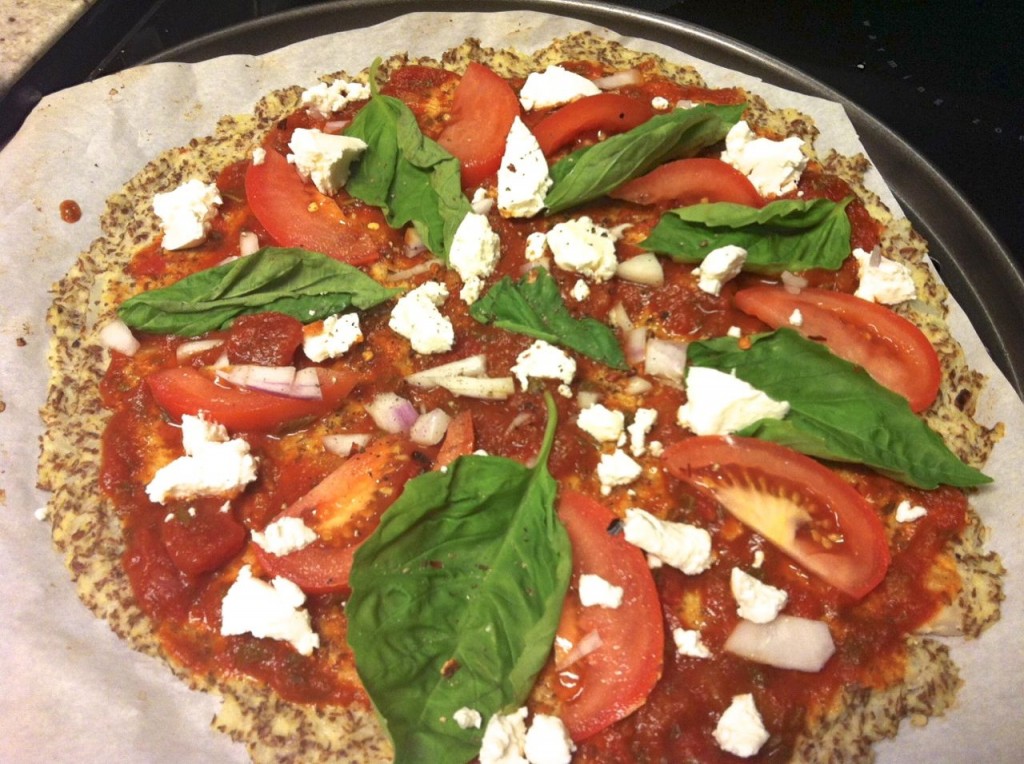 Serves 2 generously.
Arugula Apple Almond Salad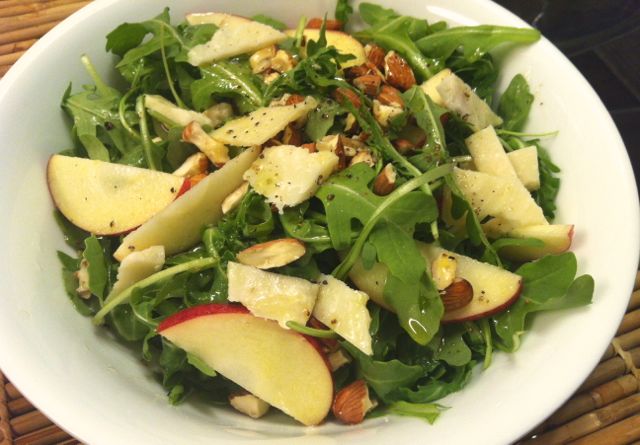 Ingredients:
3-4 cups fresh organic arugula (or any leafy green)
1 organic apple, thinly sliced
1/4 raw, unsalted almonds, roughly chopped
A bit of pecorino or parm cheese roughly chopped or veganify it with nutritional yeast
Sea salt, pepper.
Dressing:
Fresh juice from half a lemon
2-3 gluggs of extra-virgin olive oil
Combine all the salad ingredients into a large bowl and then toss with dressing. Serves 2 generously.
Now for dessert -- darn this post is long! Good thing I can type fast :) Sorry I don't have a pretty photo of the apples. I just wanted to eat them right away.
Sauteed Cinnamon Maple Apples with Coconut Milk Vanilla Ice "Cream" (dairy-free)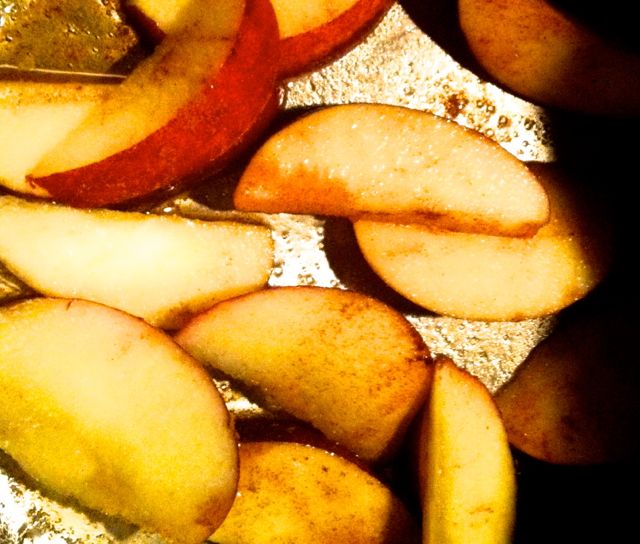 Ingredients:
1-2 tbsp organic coconut oil
2 organic apples, thinly sliced
2 tbsp real maple syrup (or you could use coconut palm sugar but you would need to add a touch of water or else it will be too dry)
1 tsp ground organic cinnamon
Method: Heat a pot and melt the coco oil on low-medium heat. Add the apples and sprinkle with cinnamon. Lastly, add the maple syrup. Sautee the apples until they are tender but not mushy. Put on top of 1/4 cup coconut milk ice cream. Serves 2.
The wonderful thing about these three recipes is that they are delicious AND nutritious!
EnJOY!