I created the Kale Sweet Potato Quinoa Bowl recipe two years ago and it's still one of the most popular (and a personal fave of mine) on Joyous Health! This makes me joyous because it is a recipe that I define as healthy comfort food. It's the perfect meal to warm your belly and your soul as the days get shorter and the weather gets chillier.
As I was riding my bike home from the office the other eve I thought to myself, I need to make that sweet potato bowl tonight. Lucky for me my Organics Live delivery came in and even though it didn't have sweet potatoes, there were beautiful organic beets organic beets just begging to be turned into something wonderful. So I revamped an old fave recipe with beets instead and it was just as deeelish!
Ingredients
3 medium beets, washed, (peeled if not organic), chopped into bite size chunks
Half sweet onion, chopped
2 tbsp organic coconut oil or grapeseed oil
6 large kale leaves, washed, remove from stems, ripped into chunks
1/2 cup hemp seeds or cooked quinoa
1 tbsp balsamic vinegar
1 tbsp extra-virgin olive oil
Sea salt & ground black pepper to taste
Optional: Sprinkle goat cheese on top just before serving.
Instructions
Preheat oven to 350F. Place beets and onion in a baking dish with oil and season with sea salt and pepper. Bake for 45 minutes to an hour, until fork tender. Check it at 45 minutes to make sure you don't overcook it.
When the beets are almost done, place the kale onto a baking sheet and drizzle with olive oil and balsamic. Bake for approximately 10-12 minutes at 350F.
Once all your ingredients are cooked, place them into a large bowl and mix together. Sprinkle with cooked quinoa (great to use leftovers) or hemp seeds.
---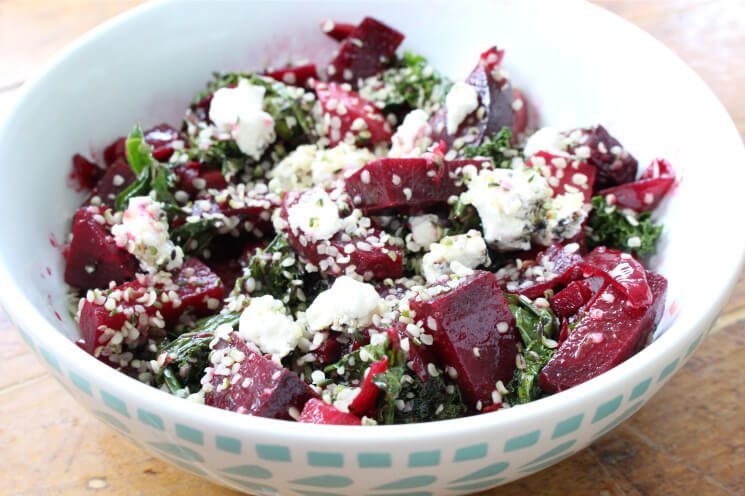 Beets are a unique source of phytonutrients called betalains which stimulate the function of liver cells and support phase 2 liver detox.
These unique phytonutrients lessen inflammation by inhibiting the activity of cyclo-oxygenase enzymes (including both COX-1 and COX-2). The COX enzymes are widely used by cells to produce messaging molecules that trigger inflammation. Some inflammation may be good to heal the body, but the problem is that most inflammation is a false alarm and can cause more harm than healing.
In recent lab studies on human tumor cells, betanin pigments from beets have been shown to lessen tumor cell growth through a number of mechanisms, including inhibition of yet again, inflammation!
As you may have read in Joyous Health, beets are an effective way to check your "transit time". What do I mean by this? You will see beets come out the other end when you have a bowel movement.
This recipe is intensely colourful and flavourful, plus mega-watt healthful!
Walker and I had it for dinner when it was warm and then I took it to the office the next day and enjoyed it for lunch chilled.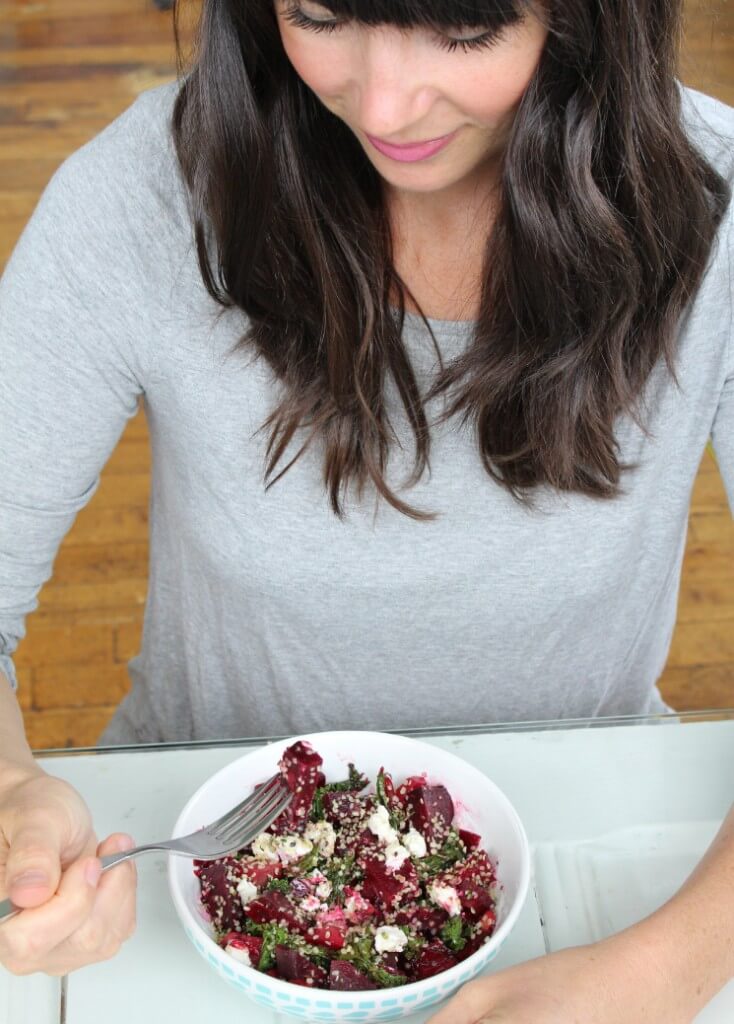 I hope you love this recipe just as much as the Kale Sweet Potato Bowl.
Have a joyous day!
Joy
Ps. Did you hear the news? After months of taste-testing, we now have a "joyous" tea blend. Check it out!