The polar vortex has arrived and this means despite my iphone telling me it's 3 degrees celsius, it actually feels like -5 when the wind whips across your face! BRRRR. However, if you've got a sweet potato smoothie in your belly then all is well in the world because comfort food keeps you warm!
We took this photo in our final days at our condo (yes we've just moved and yes I'm in my robe). And by the way, it's FREEZING.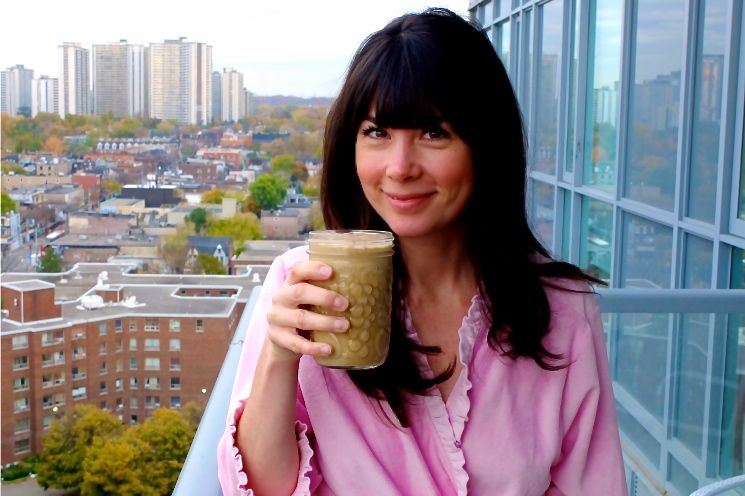 I'm all about healthy comfort foods in case you might have noticed from my recent recipe posts -- Pumpkin Chickpea Coconut Soup , Pumpkin Chocolate Chip Muffins and Ginger Cranberry Granola. If you have leftover sweet potato like I did, then it's time for a sweet potato smoothie.
The spices in this smoothie including cinnamon, ginger and nutmeg make it warming and very anti-inflammatory. It is fiber-rich to keep you fuller longer and adds bulk to your stools for joyous BMs.
This smoothie tastes like a warm hug feels like on a cold day!
Ingredients
1/2 cup baked sweet potato
1 banana
1/2 tsp cinnamon
1/2 tsp ground ginger
1/4 tsp nutmeg
1 tsp love
1 scoop plant-based vanilla protein powder
1 cup coconut or almond milk
Water to your desired consistency*
Instructions
Toss all your ingredients into a high power blender and pulse until smooth. Voila - sweet potato smoothie deliciousness!
---
Notes
*Want it warm it up? Boil the water just before adding it to the blender.
Serves 1 generously, or shared between 2 people.
What's your favourite way to use sweet potato?
Have a joyous day and stay warm!
Joy