Clean and non-toxic personal care products are super important to me and if you're a regular reader here at Joyous Health, I hope they are to you too! This is why I created this DIY, super easy body scrub that I know you'll love.
We are exposed to hundreds of chemicals from various sources on a daily basis.
Sure, some of these chemicals are completely harmless, but what about those that aren't. What about those sneaky hormone disrupting chemicals that mimic our own bodies hormones that are hiding in our perfume or body wash, or those that settle in our fat cells as toxic waste from the foundation we use to cover up our blemishes?
This happens because our detox systems do not have the capacity to effectively eliminate every single chemical we come into contact with because of the volume of chemicals at which we are assaulted with every single day, unknowingly.
I think many of us have the misconception that we are only exposed to chemicals if we live beside a toxic waste dump or a factory or we are exposed to hazardous chemicals at our place of work. This is a HUGE mistake to think it's only those people who need to worry. I'm not the first one to be talking about this problem in personal care. There are numerous and well-respected health experts who have been telling us loud and clear for years that we need to take action and avoid the toxic mess that is the personal care industry today.
There is one very simple way to lower your exposure to hormone-disrupting ingredients – avoidance. Which is why I created this amazing body scrub recipe. And the best part is you get to feel like you've visited a spa because this scrub is AMAZING!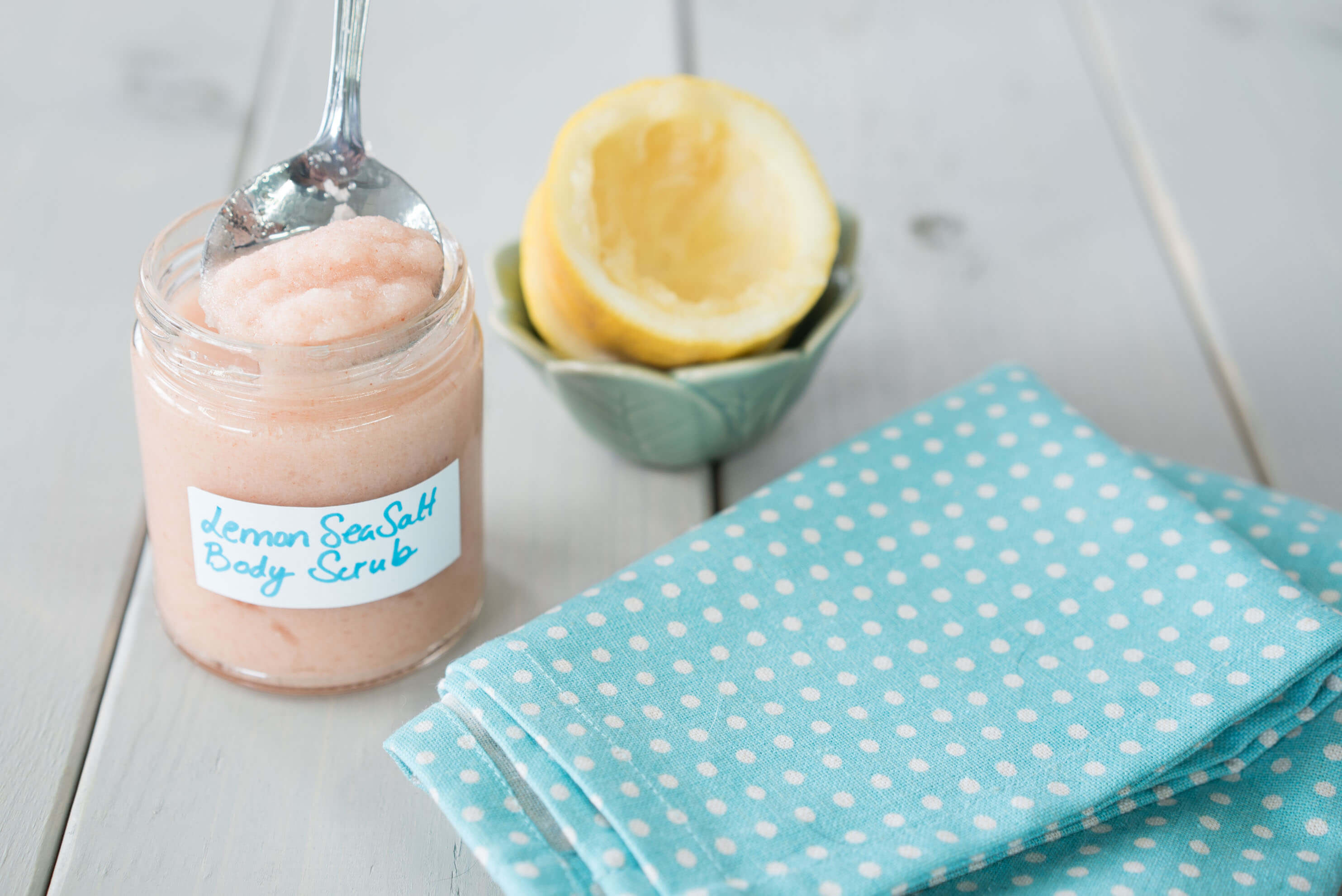 NOTE: You'll notice the label on the bottle says "sea salt." I actually used himilayan rock salt but you can use sea salt or rock salt – both are great!

This body scrub will not only make your skin incredibly silky, but the scent will make you feel refreshed and bright. You'll seriously feel like you've just had a spa treatment after doing this scrub! It's fantastic because it really exfoliates and nourishes the skin with vitamins and minerals. The naturally occurring acidity of the lemons helps renew skin and it's vitamin C rich so it's also like food for your skin. Whether you use sea salt or rock salt doesn't really matter because they both are super rich in minerals, plus they provide a bit of a scrub to remove those dead skin cells.
You'll feel vibrant and sunshine-y the first time you use this in the shower. I'm totally addicted to it. If you google DIY sea salt scrubs, you'll find most of them add herbs or essential oils. I personally LOVE the smell of lemon so I don't add anything else because it is so vibrant as is.
The ingredients are simple: salt, lemon and oil of your choice.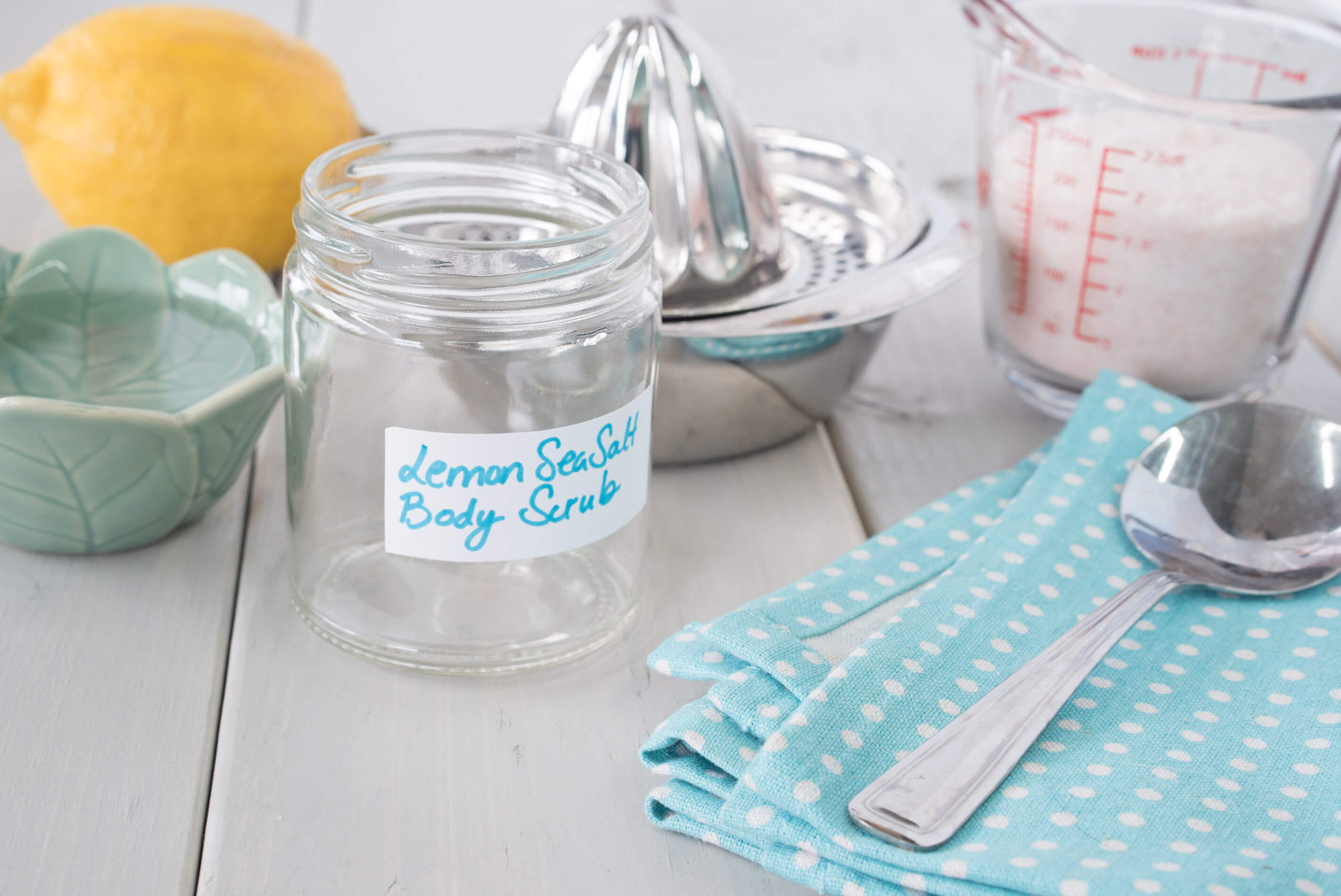 Ingredients
1 cup pink salt (aka Himalayan rock salt)
1/3 cup of your choice of oil*
juice of 1 lemon
Instructions
Juice one fresh lemon
Measure out sea or rock salt into a medium sized bowl
Add the lemon juice
Add the oil of your choice and mix all the ingredients together
---
Notes
*I sed MCT oil because it is essentially liquid coconut oil. But you could also use sweet almond oil, extra-virgin olive oil or any other liquid oil of your choice.
You may wish to add an essential oil, but you don't have to. Lavender or rosemary would both be lovely with lemon but I personally like the freshness of the lemon as is.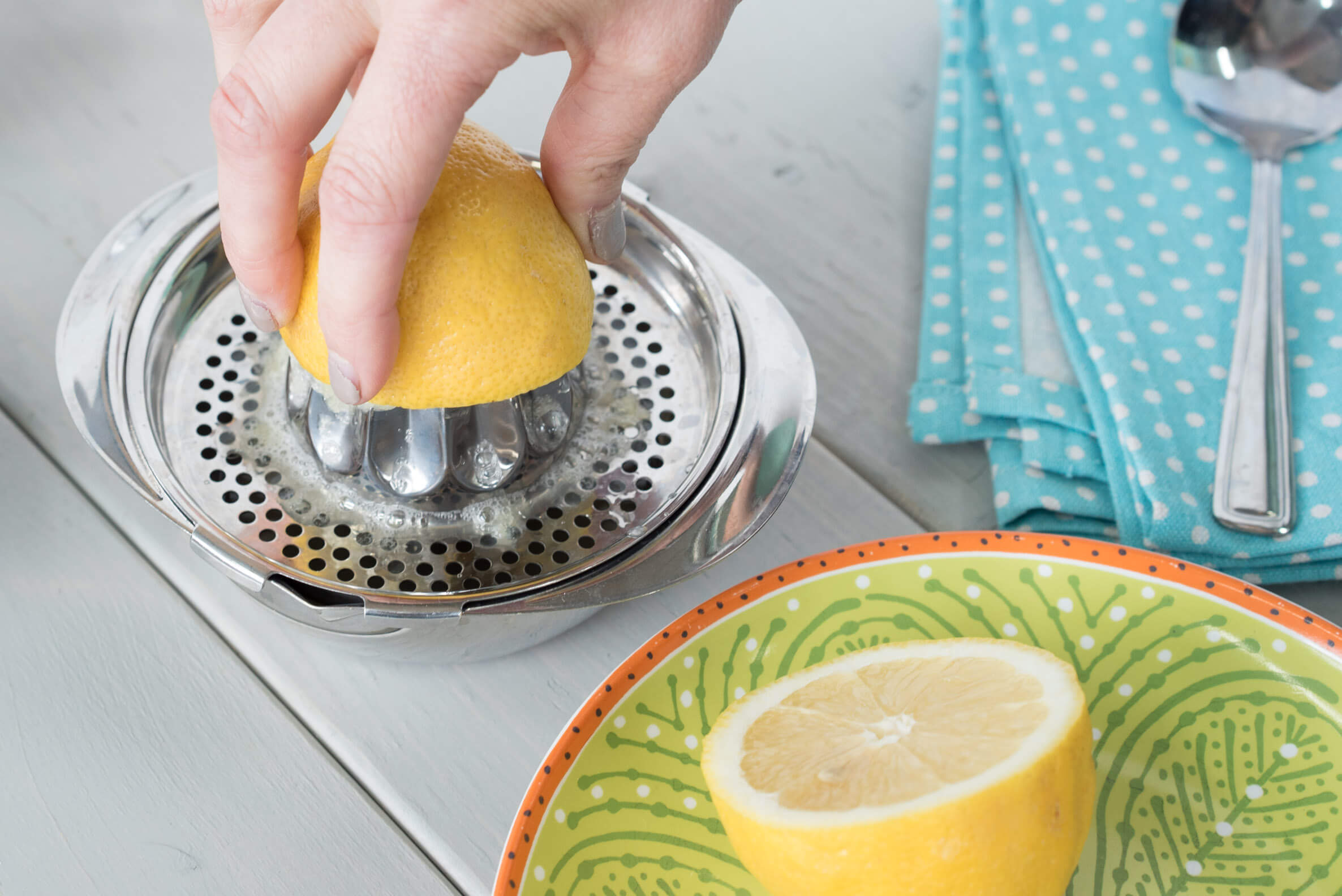 The next step is the besst one of all – slather it on your beautiful body!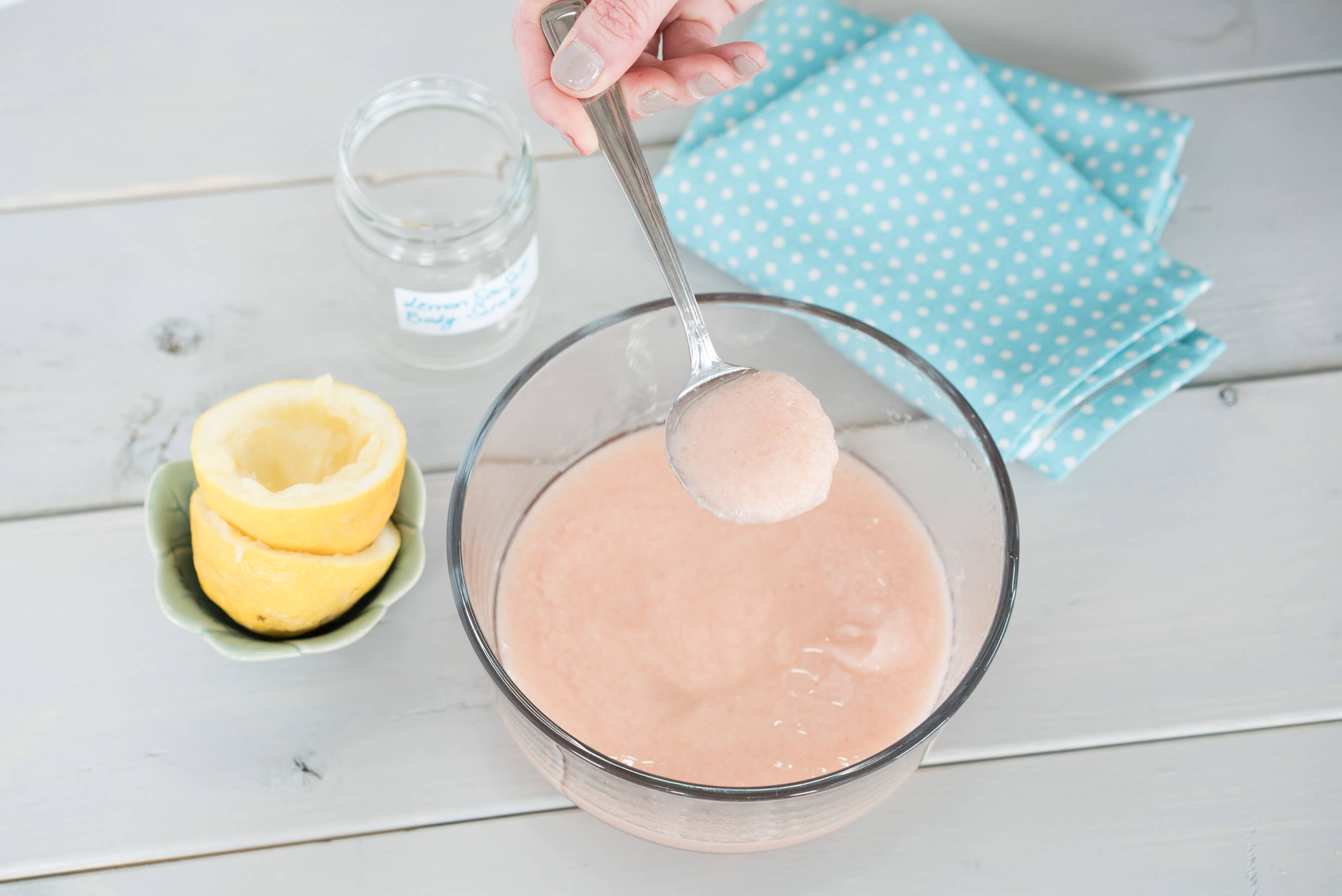 I suggest doing this while in the bath or shower. And take some time to enjoy it, reminding yourself that self-care is important and be mindful and appreciative of your beautiful body. You deserve this time just for you. When I do it, I remind myself that my freckles (they've gotten MUCH darker since being pregnant) are a wonderful sign that I'm growing a sweet human being and I'm grateful for the changes that are happenign to my body. I have to remind myself of this otherwise I'm cursing those darker freckles LOL!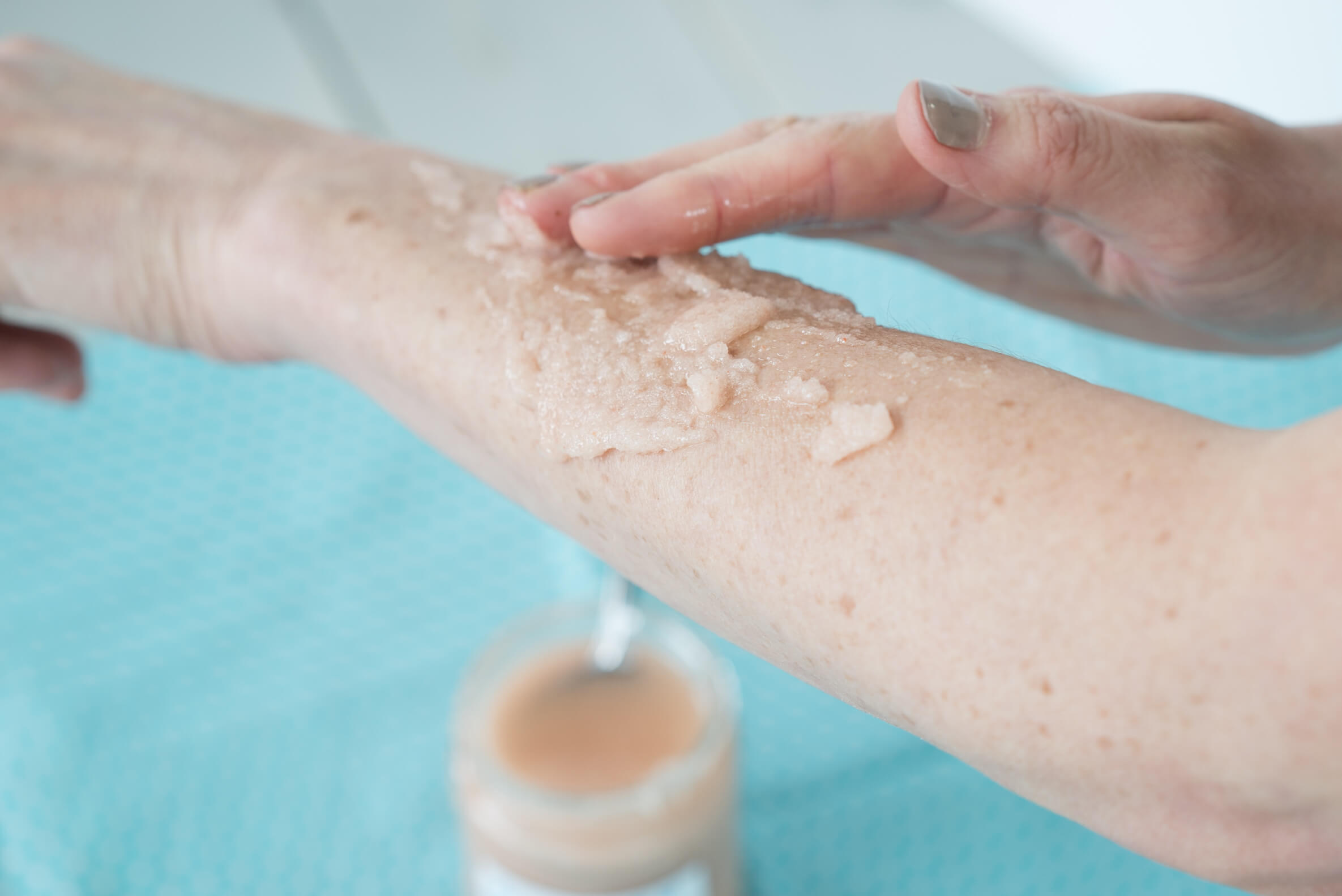 There you fave it. I've just saved you $250 for a half day at the spa! This is also a great gift for someone you love.
By the way, it should keep for quite a few months. The salt is an amazing preservative. My only caution is for you is that you don't want to use if you have any cuts or scrapes as it will sting. Also be careful if you psoriasis or eczema. It may be irritating to an existing inflammation of the skin. Here are some wonderful natural solutions for dry skin.
For more DIY recipes check out:
Have a joyous day!
Joy