Ever make a smoothie too thick to slurp from a cup so you add more liquid and toss it back in the blender? You don't have to do that anymore because this is a smoothie you eat with a spoon!
Instead of granola with some sort of milk... (insert: boooring), this recipe will turn your granola/smoothie upside down -- right into your cereal bowl. I love making super thick smoothies and then adding one of my favourite granolas as a topper for some crunch. I also personally find it more fulfilling.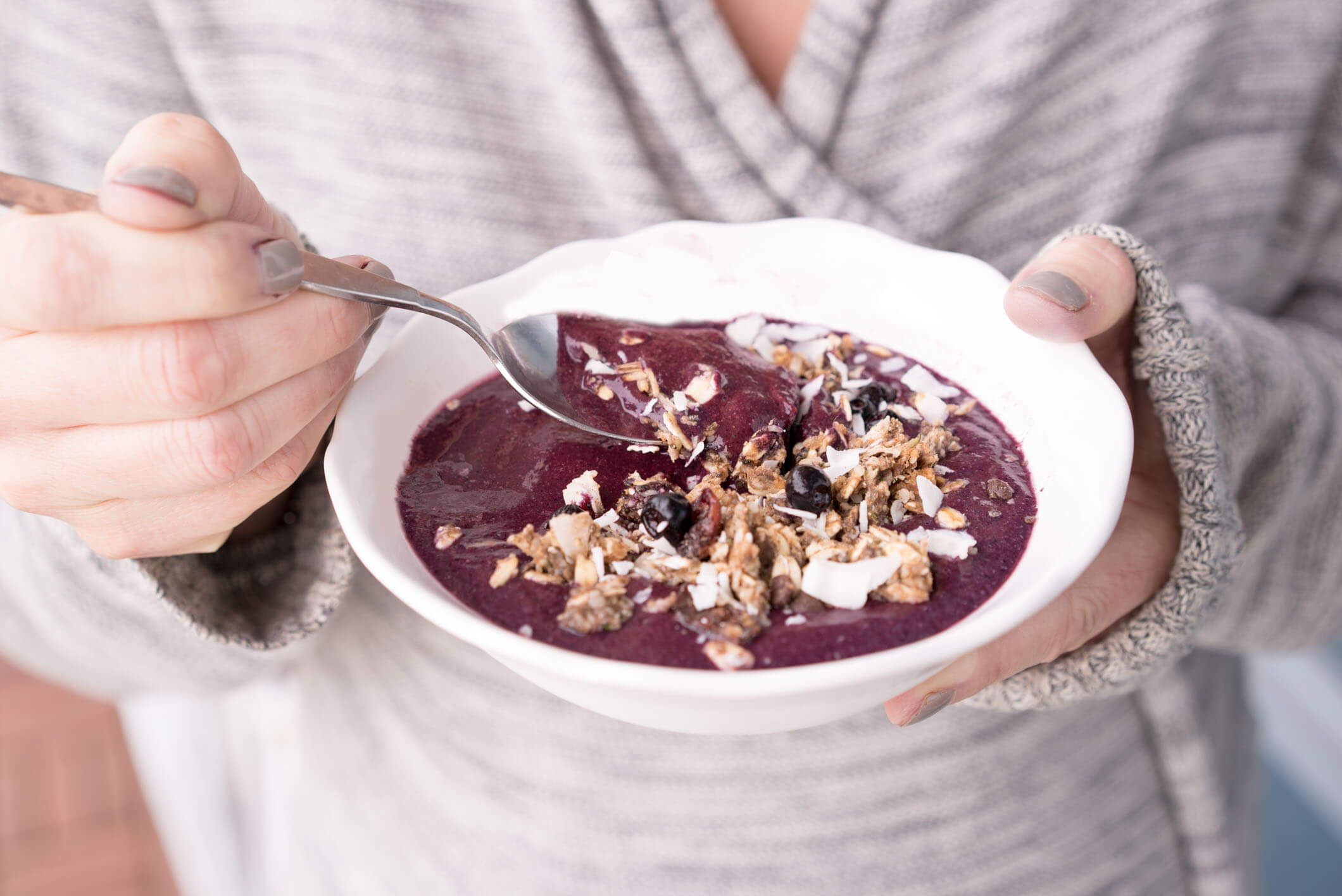 (And yes ... my nails are blueberry stained! Those colour pigments are potent!)
Part of healthy eating is actually chewing your food.
I have probably mentioned this in previous blog posts, but the act of actually chewing food both prepares your gut for better digestion and promotes feelings of satiety.
I called this recipe "blissful" because this smoothie will definitely make your belly happy and be kind to your digestive system too.
The ingredients are pretty simple and if you're lucky, fresh blueberries are in season where you live! If not, you can use frozen blueberries too. I prefer wild blueberries over cultivated when they are in season because they are superior to cultivated ones nutritionally-speaking.
Blueberry Health Benefits
Very high in anthocyanins, a flavonoid that gives blueberries their rich deep blue

colour

. Wild blueberries contain more than cultivated (larger blueberries). These potent plant chemicals act as

antioxidant

protection to the brain and nervous

system,

and even improve memory.

Freezing blueberries does not damage their anthocyanin content which is why you can buy them year-round from the frozen aisle at your local grocery store.

Relatively low on the glycemic index (under 50, glucose is 100). And if you combine blueberries with other foods that are lower in the G.I. as well like protein and good fat, then this lowers the overall glycemic load of the meal. So this smoothie is very blood sugar balancing.

Research shows that organically grown blueberries have higher phenols, anthocyanins and overall antioxidant capacity than conventionally farmed blueberries – more reason to purchase certified organic!

Here are some tips for shopping organic on a budget.
I also addedcoconut butter for good fat, fiber and protein, avocado for their beautifying anti-inflammatory fatty acids (and more fiber), bananas for B6, potassium and a natural sweetness and finally protein powder for a healthy dose of plant based protein to boost metabolism and keep my belly satisfied.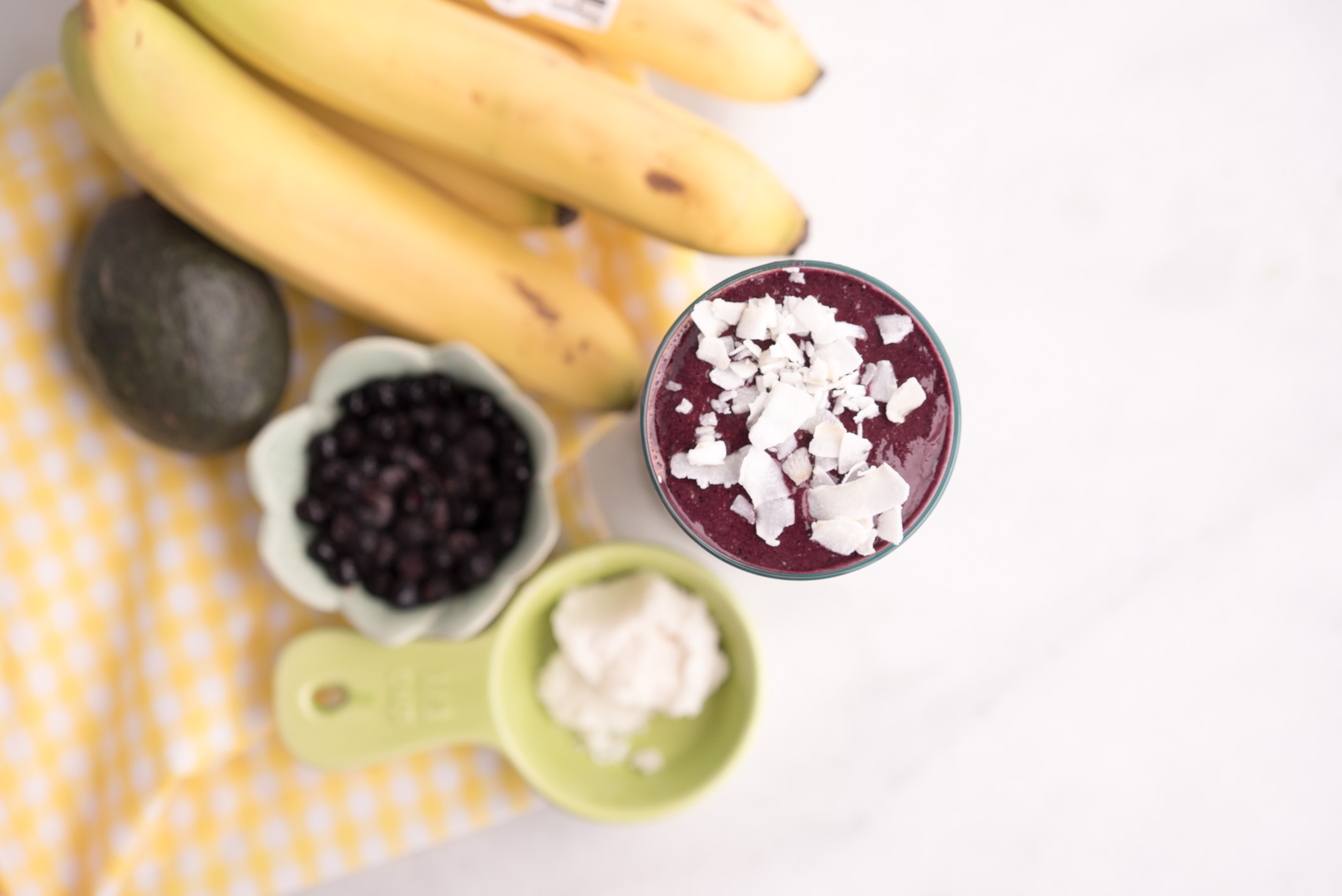 It serves 1 to 2, depending on how hungry you are.
Ingredients
3/4 cup fresh or frozen wild blueberries
1 scoop your favourite protein powder
2 tbsp coconut butter
1/2 ripe avocado
1 banana
Cashew milk or coconut milk as desired (see recipe below)
Ice
1 tbsp coconut flakes for garnish and taste!
Instructions
Place all ingredients into a blender (excluding coconut flakes) and give it a whirl until creamy and blended.
Pour into a cereal bowl and top with your favourite recipe. See recipe links for granola in the 2nd paragraph above if you want to make your own granola.
---
Of course, if you prefer, you can totally enjoy this blueberry bliss smoothie in a glass. It is incredibly refreshing and energizing!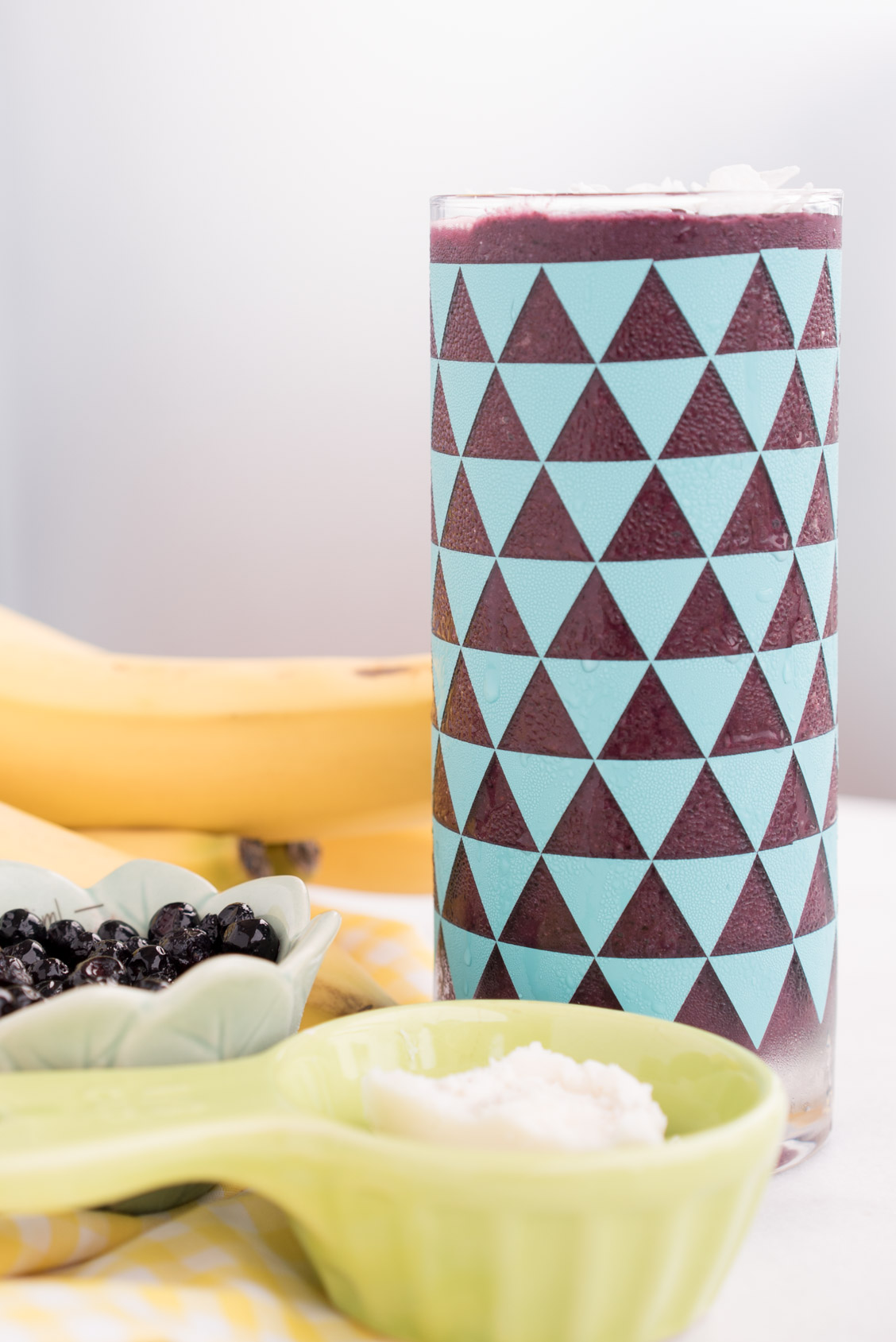 So remember, the next time you make a smoothie too thick, just eat it with a spoon!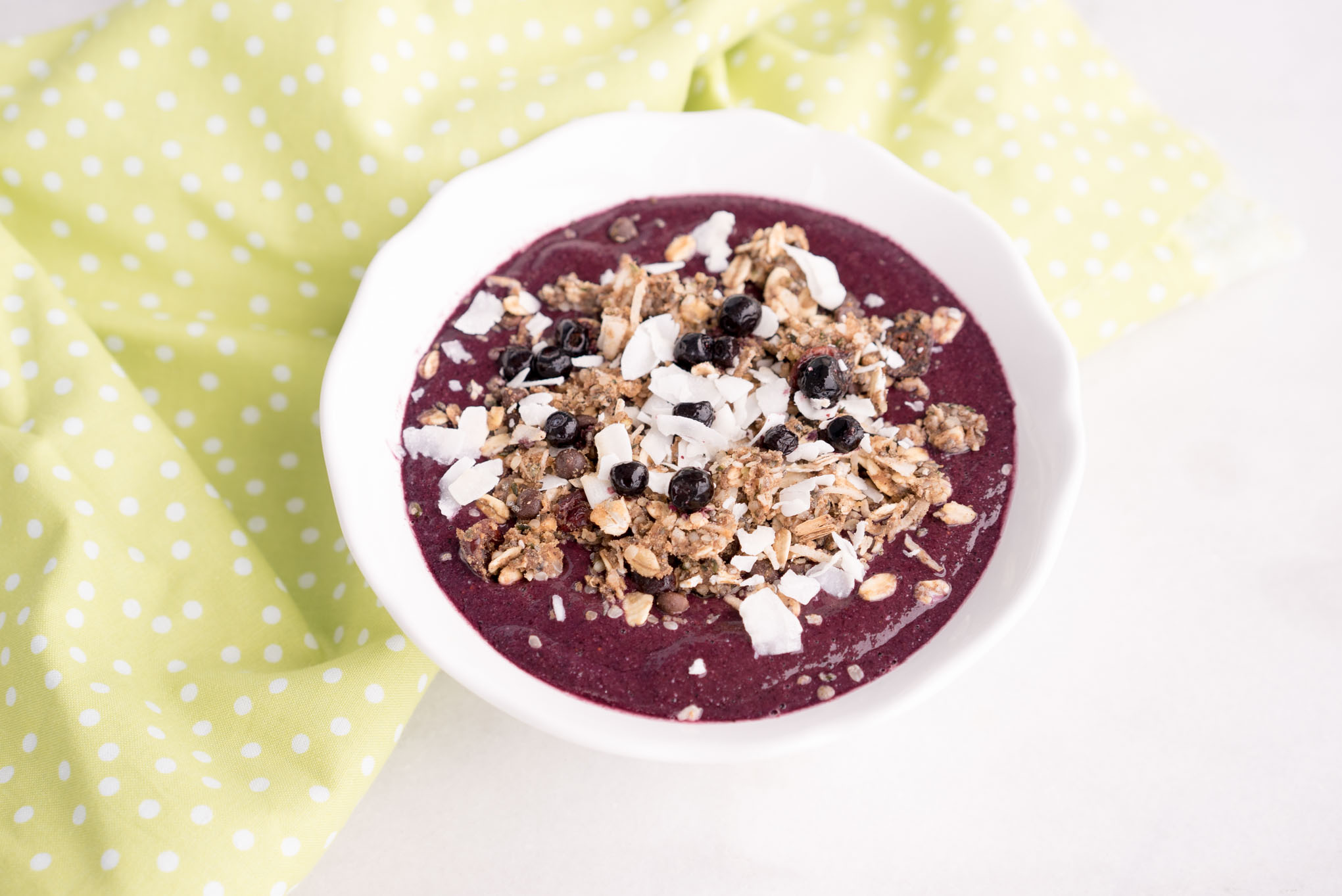 What are you adding to your smoothies these days?