This applesauce was absolutely delicious! Walker wanted to slather it on everything we ate and Vienna slurped it back like it was her job -- another food success, yes! She loved it as much as the bone broth.
Once you make your own applesauce, you'll never want store-bought again. The taste is just SO MUCH BETTER!
Apples are one of the most highly sprayed fruits. It doesn't matter if they are local, I still recommend certified organic. It is especially important to choose organic if you are making this for your babe. Tiny bodies are not well-equipped to deal with pesticides.
It didn't take very long to prep at all because I didn't peel the apples. I recommend you don't peel them because most of the fiber and nutrients are contained within the peel. Plus when you blend it, it really doesn't matter because it will be smooth. And this is fine for babes too!
Here's what the apples look like when they are perfectly cooked. As you can imagine, our home smelled AMAZING!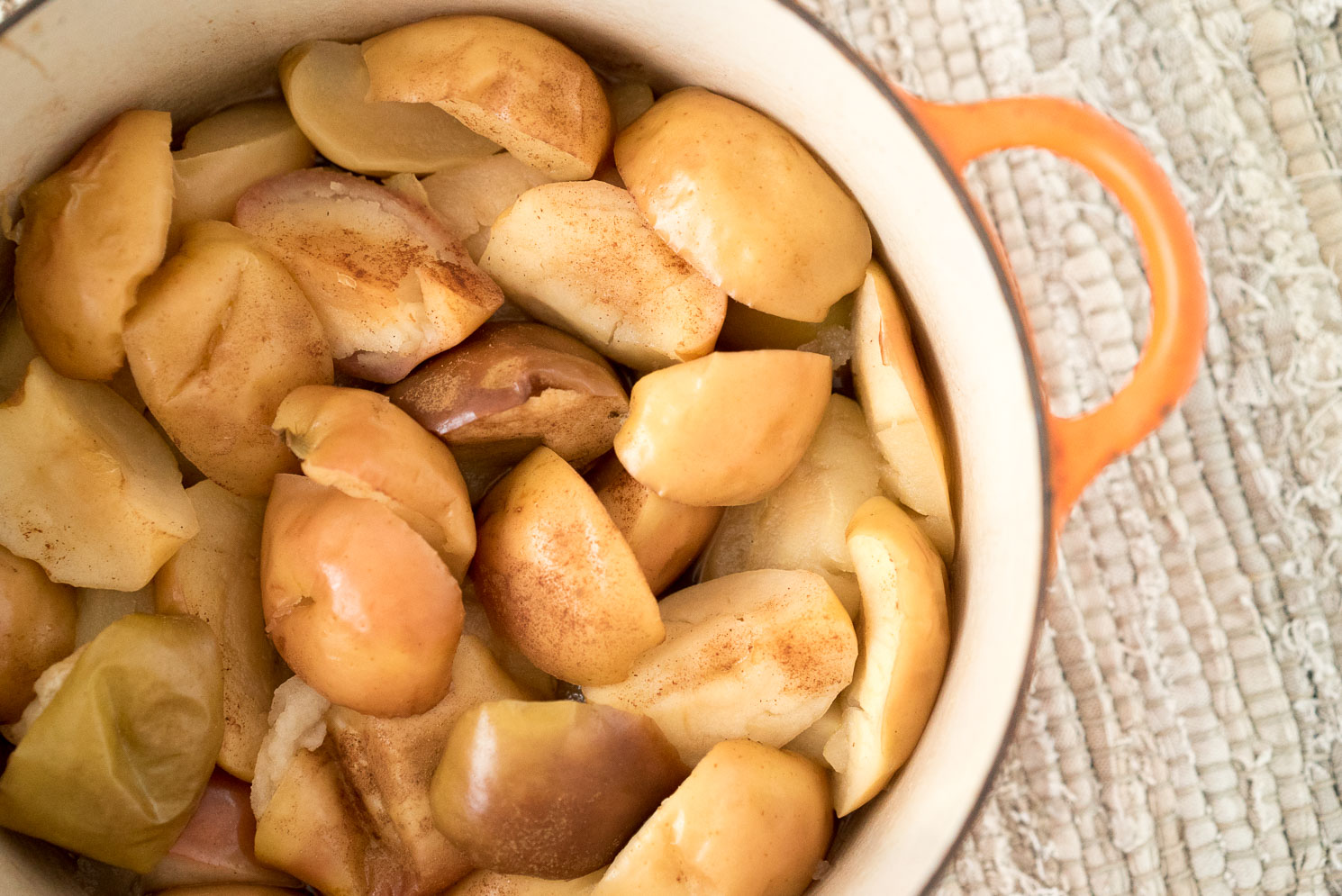 Ingredients
10-12 organic apples, cored and sliced into chunks (any kind -- royal gala, pink lady, honey crisp, fuji)
1 tsp organic ground cinnamon
Filtered water (see below)
Instructions
Preheat oven to 350F degrees.
Place apple slices in a large baking dish. I used my Le Creuset pot.
Sprinkle apples with cinnamon. Add enough water to the pot to come up about a quarter of an inch on the sides. This is to help bake the apples by creating steam.
Bake covered for 35 to 40 minutes or until apples are soft.
Once finished baking let cool slightly then transfer to a blender or a food processor and blend until smooth*.
Refrigerate for 1 week or freeze for a few months.
---
Notes
*I blended until the applesauce was super smooth because I'm using it as a baby food for my 6 month old. If you are making it for yourself or an older child then you could blend less to have some nice chunks.
I wanted to lick the Vitamix bowl!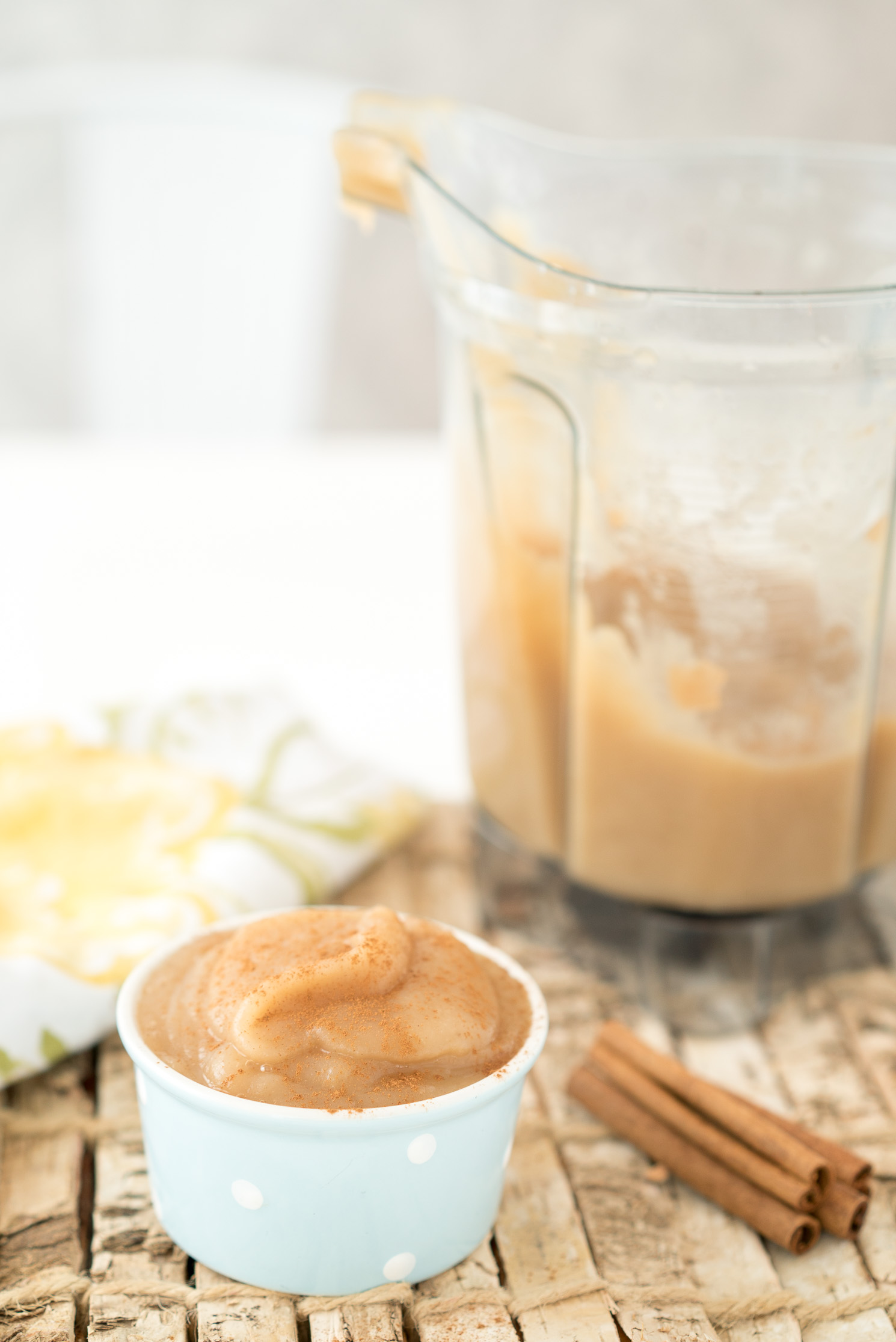 We've been enjoying applesauce all week long and so has baby V. I'm having so much fun introducing solids to her. We are doing it really slowly and she's only getting 2 meals per day about 30 minutes after I nurse her. I will do a blog post about this since I know a lot of you have been asking me.
I also made chia applesauce. I took a 250mL size mason jar, filled it almost to the top with applesauce and then added 2 small spoonfuls of whole chia seeds. I didn't measure, you don't really have to. It was perfect the next morning. I just love chia applesauce because it is so great for digestion (aka joyous poops!), hehehe! I should have taken a photo for you -- the chia applesauce that is. I will post it on my Instagram :)
Anyhow, to be honest I have NO idea what I'm doing with it but I'm sure I'll turn it into something delicious!
Writing this post makes me want to eat some more applesauce. It was as delicious as the photos look. Nice job loves! My hubs takes all the photos for Joyous Health and I'm very grateful for his hard work.
Have a joyous weekend!
Joy