Due to popular request through the blog and social media, I am posting about introducing solid foods to your baby. I'm also going to share some great advice for new mamas on baby food introduction from Dr. Jonah and Dr. La of the Toronto Centre for Naturopathic Medicine.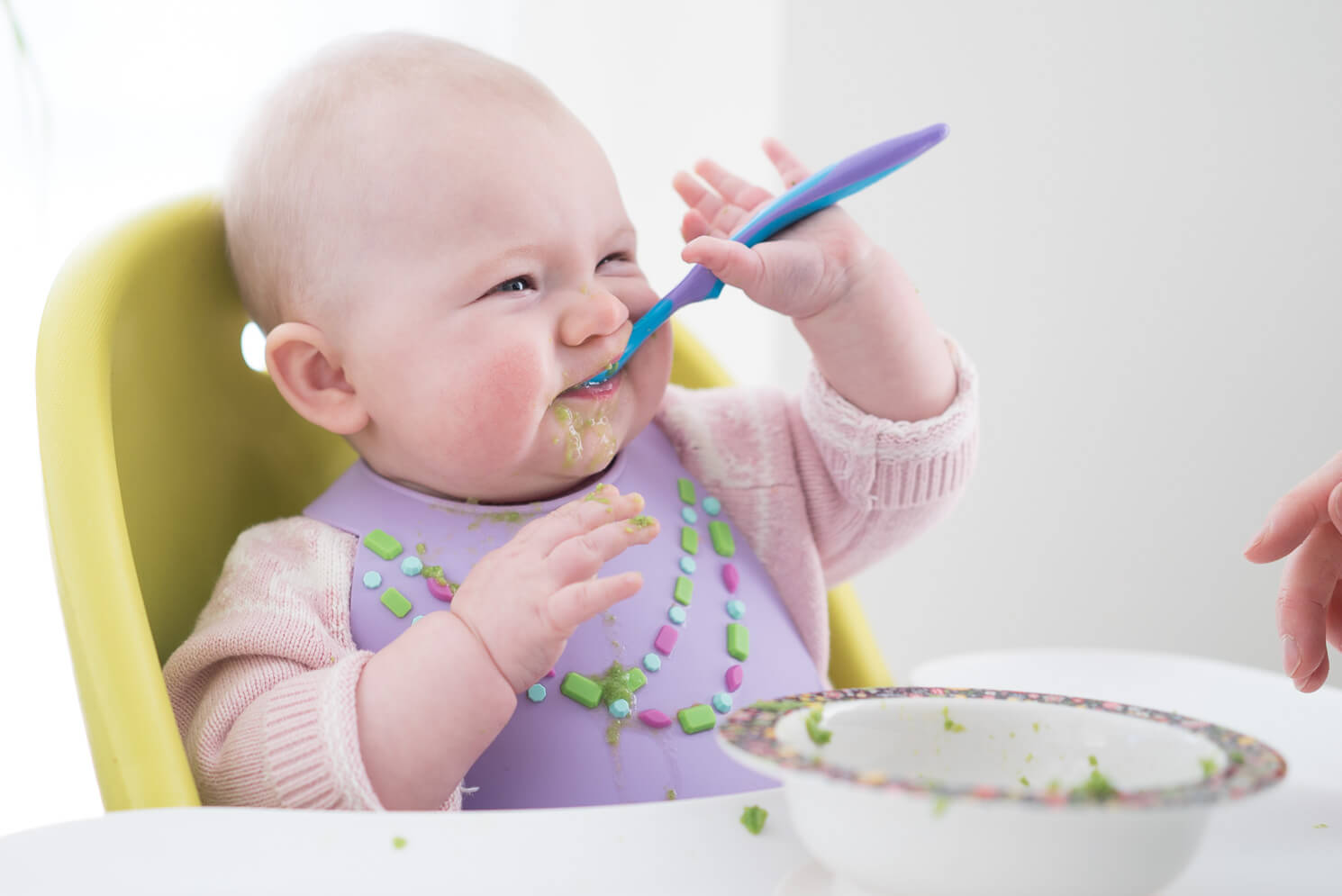 I've been having so much fun introducing foods to Vienna! I started at about five-and-a-half months because she got her two bottom teeth in and she had been grabbing at my plate. For about a month prior to her first food, she was watching me like a hawk every time I ate and imitating me chewing, as well as grabbing my plate at every opportunity. I figured it was high time to let her chow down on something aside from mama milk once she was sitting upright and could hold her head up really well.
You're probably wondering "how will I know when my sweet babe is ready for solids?"
As I mentioned above, it was pretty obvious for me with Vienna, but Dr. Jonah says you'll know your baby is ready when:
• they can sit upright with support
• they can hold their head in a steady, upright position
• they show interest in foods they see you eating. (This may happen before they are ready to have solid foods – this sign alone is not enough to begin solid food introduction!)
Most babies are ready by about six months of age.


Here are some first foods I've introduced to Vienna (please do not feel limited by this list, this is just what I've chosen to do so far):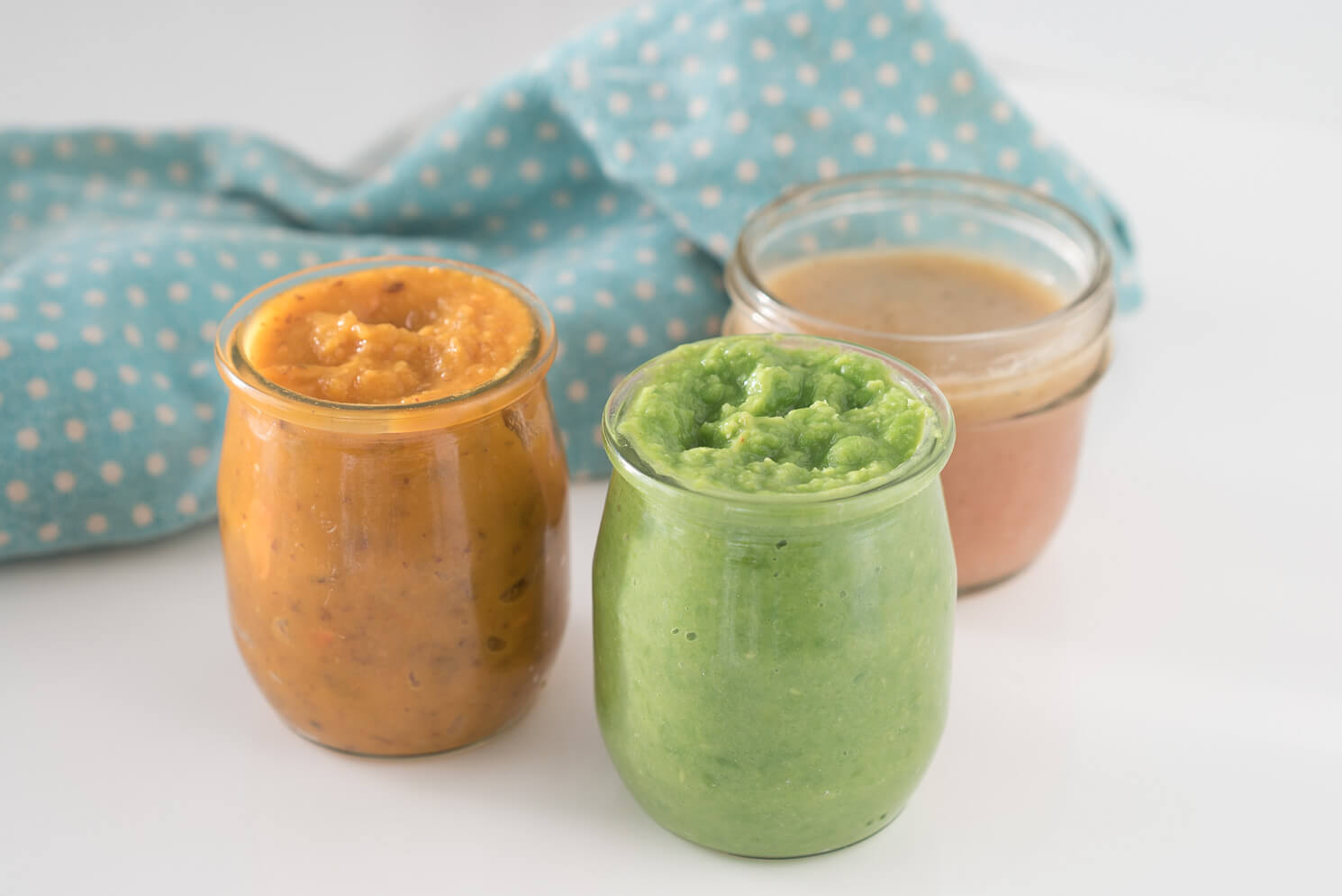 Mashed avocado
Sweet potato
Winter squash purees: sweet potato, acorn squash, butternut squash
Mashed green peas
Pureed spinach and kale
Banana
Apricots
Pureed steamed broccoli
And she's trying hard boiled eggs for the first time this week!
If you're not sure about a particular food, check with your primary care practitioner for advice (e.g., your pediatrician, naturopath or certified nutritionist).
You may have heard that the latest research advises introducing potentially allergenic foods earlier, rather than waiting until your child is older. Are you scrunching up your eyebrows, wondering how can this be when the original advice was to delay introduction of foods to prevent allergies? Well, things have changed!
New evidence is challenging what we once thought, including research showing early introduction of potentially allergenic foods actually decreases likelihood of developing allergies later on.
Based on the research available, Dr. Jonah advises introducing these foods early on: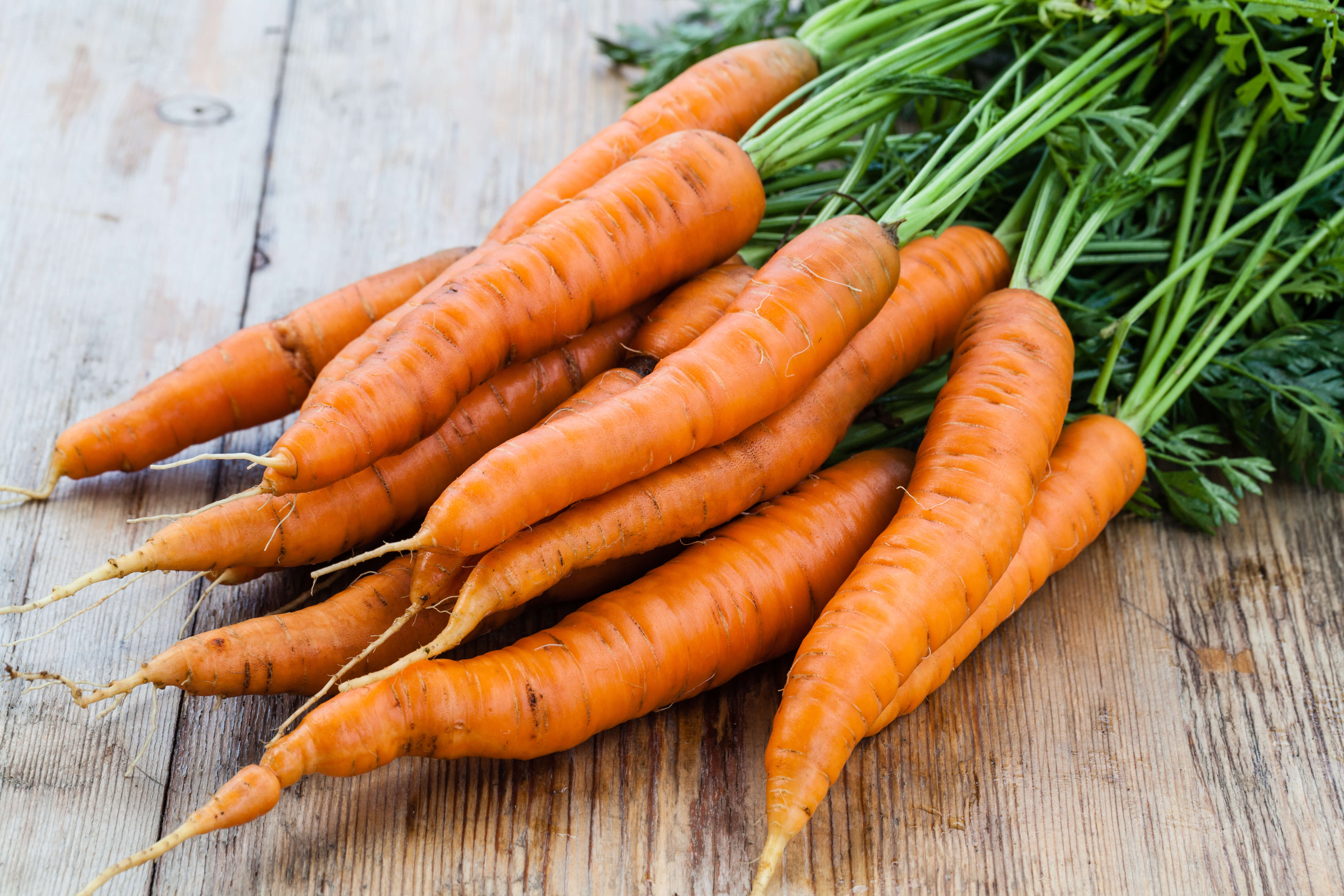 • Peanuts (as soon as is safe, using a natural peanut butter)
• Potatoes (as soon as is safe)
• Carrots (as soon as is safe)
• Cabbage (as soon as is safe)
• Meat (as soon as is safe)
• Oats (as soon as is safe)
• Wheat (as soon as is safe)
• Rye (before seven months)
• Fish (before eight months)
• Eggs (before ten months)
If you have a severe allergy to any food, I would recommend you first discuss with your paediatrician or naturopath before introducing that food to your baby regardless of the above recommendations. Also, observe your baby for signs of allergy immediately following introduction of a new food.
Should you choose organic?
Yes, absolutely. Non-organic foods contain pesticides that can disrupt hormones, negatively impact the immune system, and more. Babies weigh much less than adults and are not equipped to handle pesticides. It is really important that you chose organic as often as possible to avoid exposure to unnecessary and potentially harmful chemicals. You can find out which foods have the highest and the lowest level of pesticides here.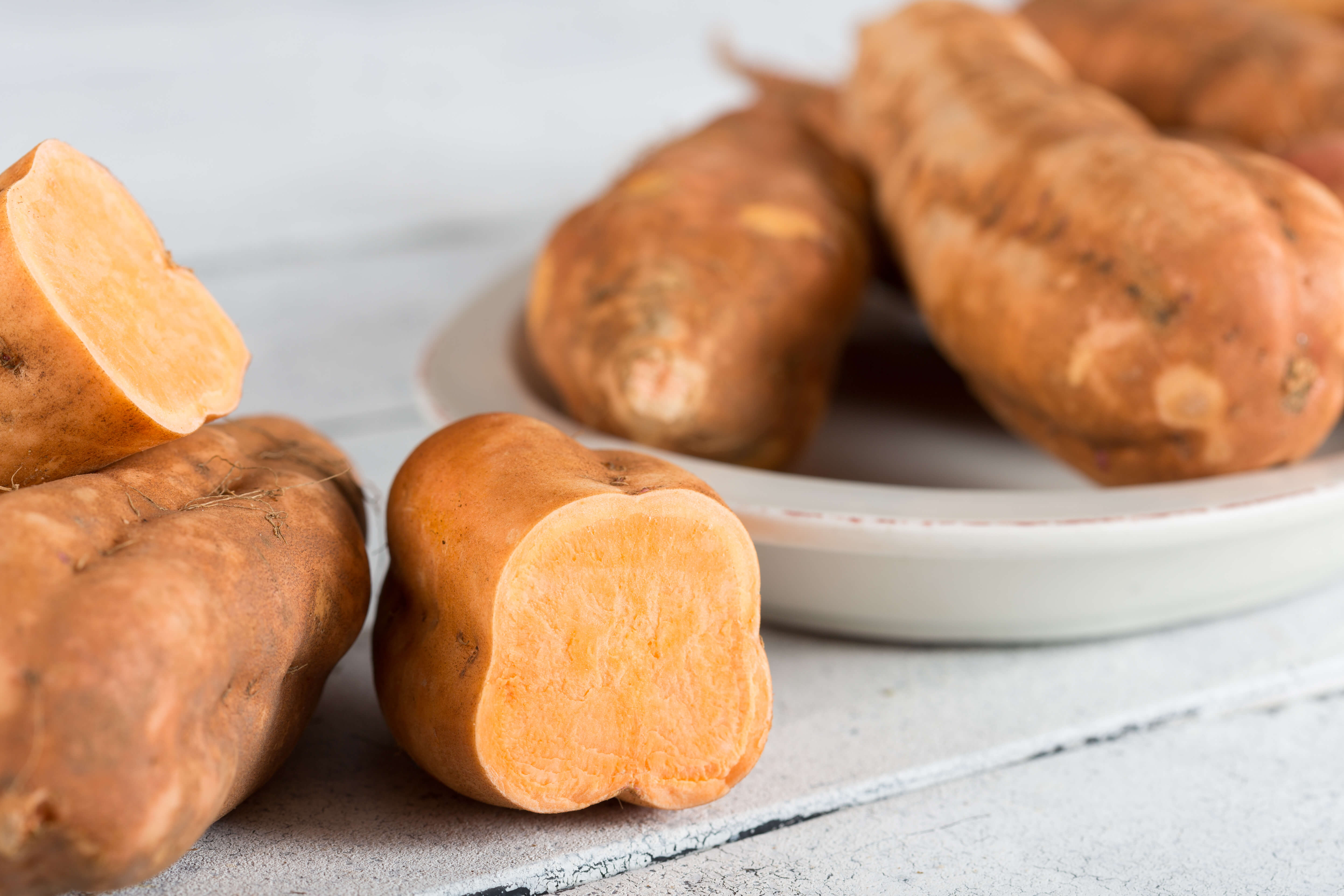 If the skin is edible – such as is the case with apples, pears and sweet potato – then yes, you can just puree the food with the skin on after it's cooked. However, if your babe has a sensitive tummy, you might want to peel the skin off first. Vienna was fine, but if your baby is gassy, constipated or generally fussy after you feed them foods with the skin on, you may want to try them without skin and see if there is a difference. Keep in mind, this could also be a reaction to a whole food not agreeing with your babe.
How much should you feed your baby?
Let your little on take the lead. Remember their stomach is still teeny tiny so don't be surprised if they are satisfied after a tablespoon when you first start. Plus, when you are beginning intro of foods it's totally normal for your baby to not be interested right away. Never force your baby to eat. Let them lead the way. Offer the food and stop when baby is showing signs they are finished such as turning away.
Vienna started out eating only a few spoonfuls and now at 7 months she's eating 2 solid meals per day and less than a 1/4 cup of food total at a meal -- mind you, she's eating maybe half of that when you consider how much is on her face, bib, and high chair haha!
Here are some of Vienna's favourite foods so far and their health benefits: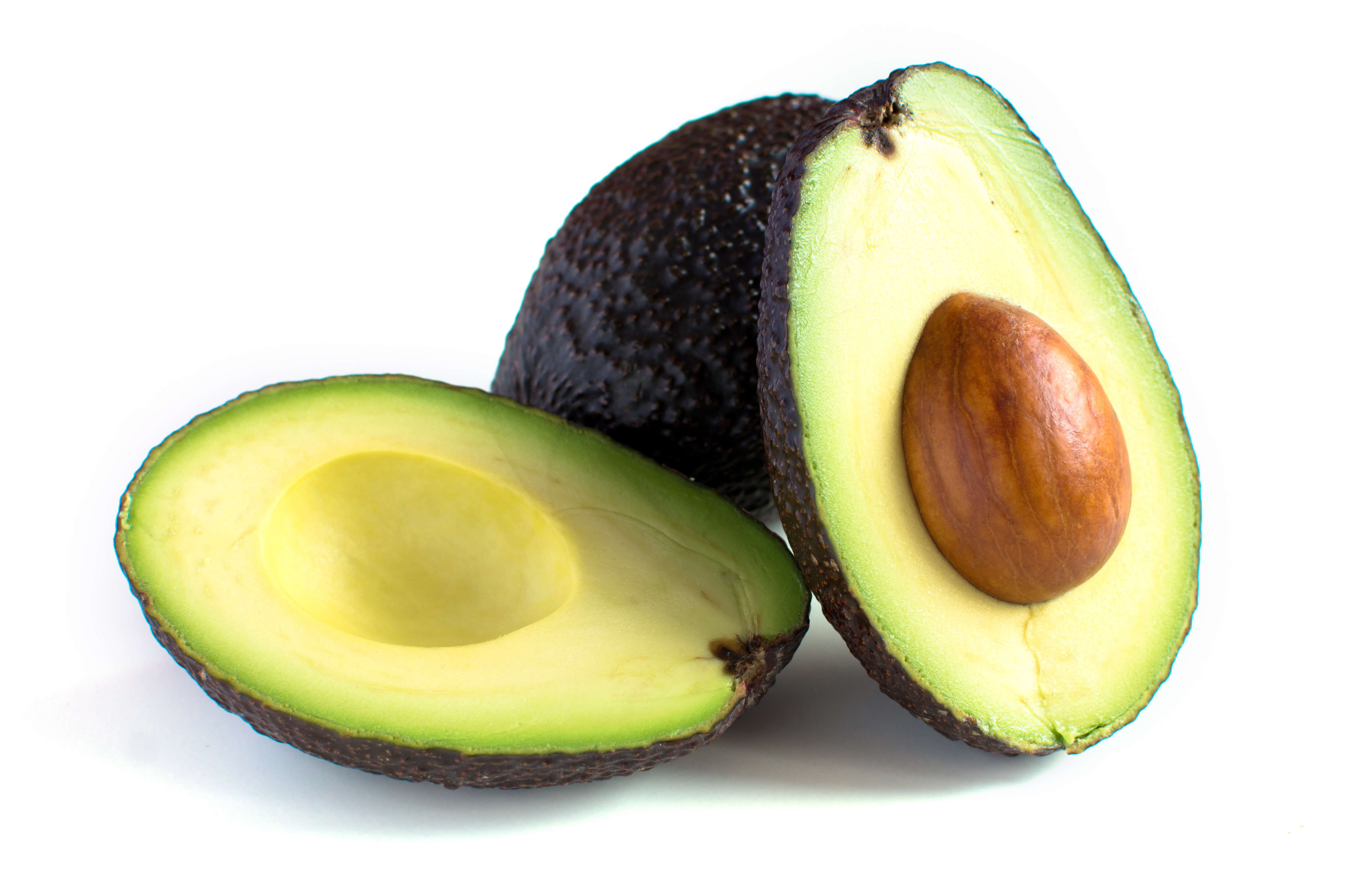 This was the very first food I ever gave Vienna when she was 5.5 months because it is nutrient-rich and super easy to prepare. It is a great source of both soluble and insoluble fiber and fat (rich in calories). It is also rich in B vitamins, vitamin A and minerals such as magnesium and potassium. It is a wonderful first food to support growth and development.
When introducing solids, many babies get constipated so avocado is a great choice because the fiber helps prevent constipation. Vienna wasn't thrilled about avocado but a few days later I added banana and she enjoyed the combo of banana and avocado together. She was teething in the photo below, hence the very red cheeks!
All you need to do is mash it with a fork. Avocados freeze really well too.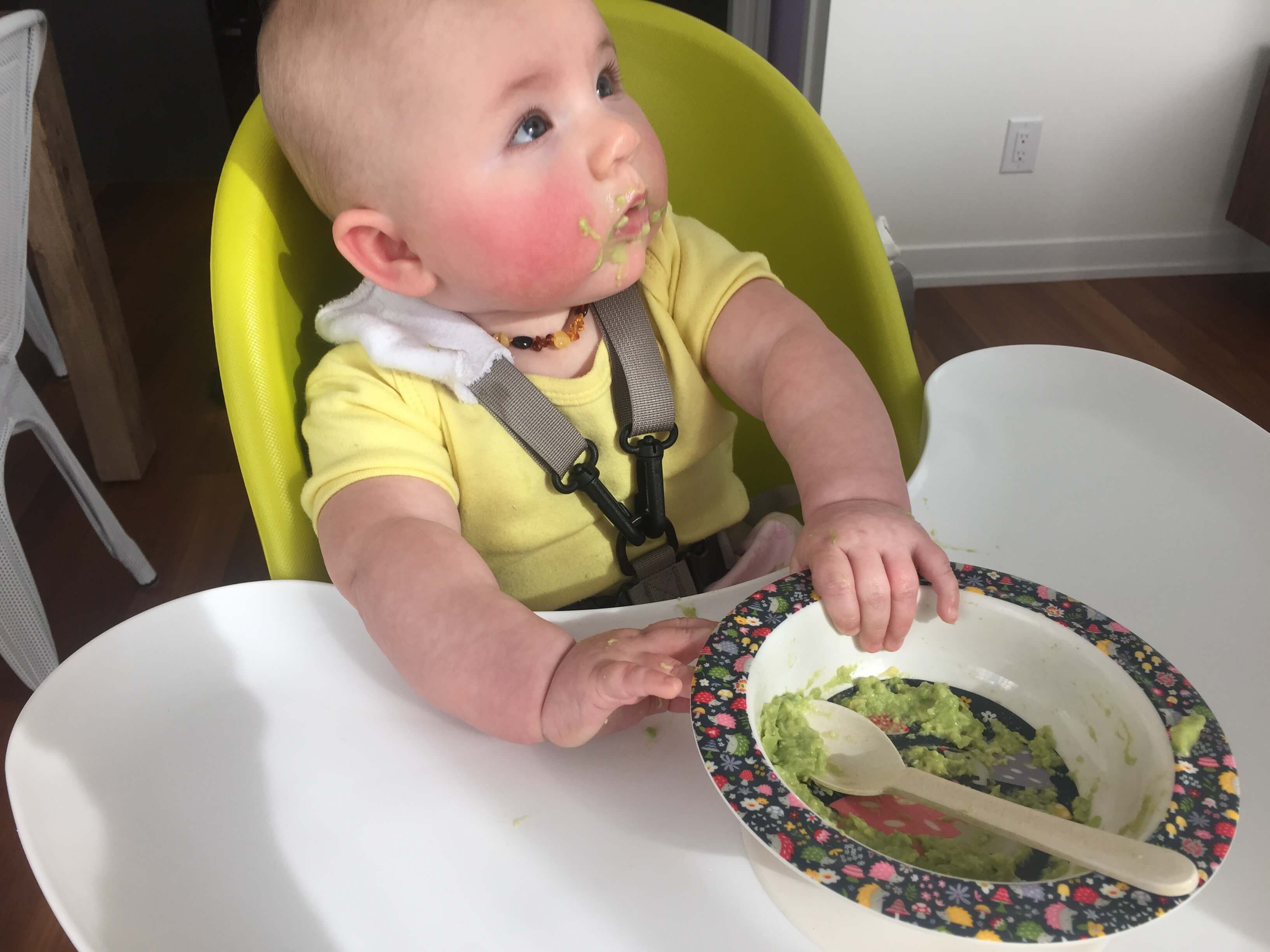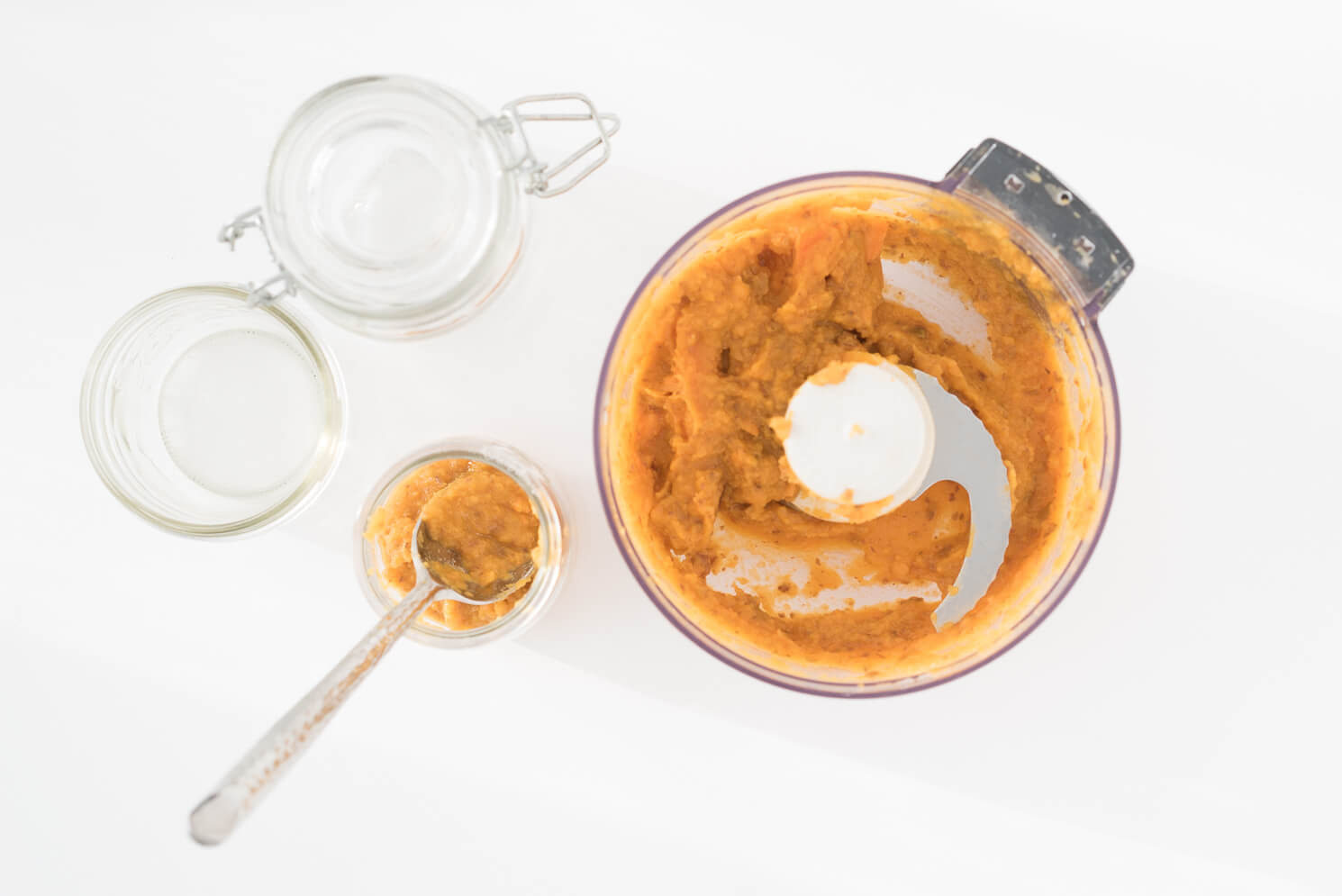 Sweet potato is another incredibly nourishing food. It is a naturally sweet vegetable making it an ideal first food because babies are used to the sweetness of breast milk or formula. Full of nourishing vitamins and rich in minerals such as calcium, magnesium and more. Just like avocado, it is also very high in fiber. I chop it and then roast it for 35-40 minutes or steam it for 20 minutes, then puree it. I leave the skin on for more fiber and phytonutrients (plant chemicals).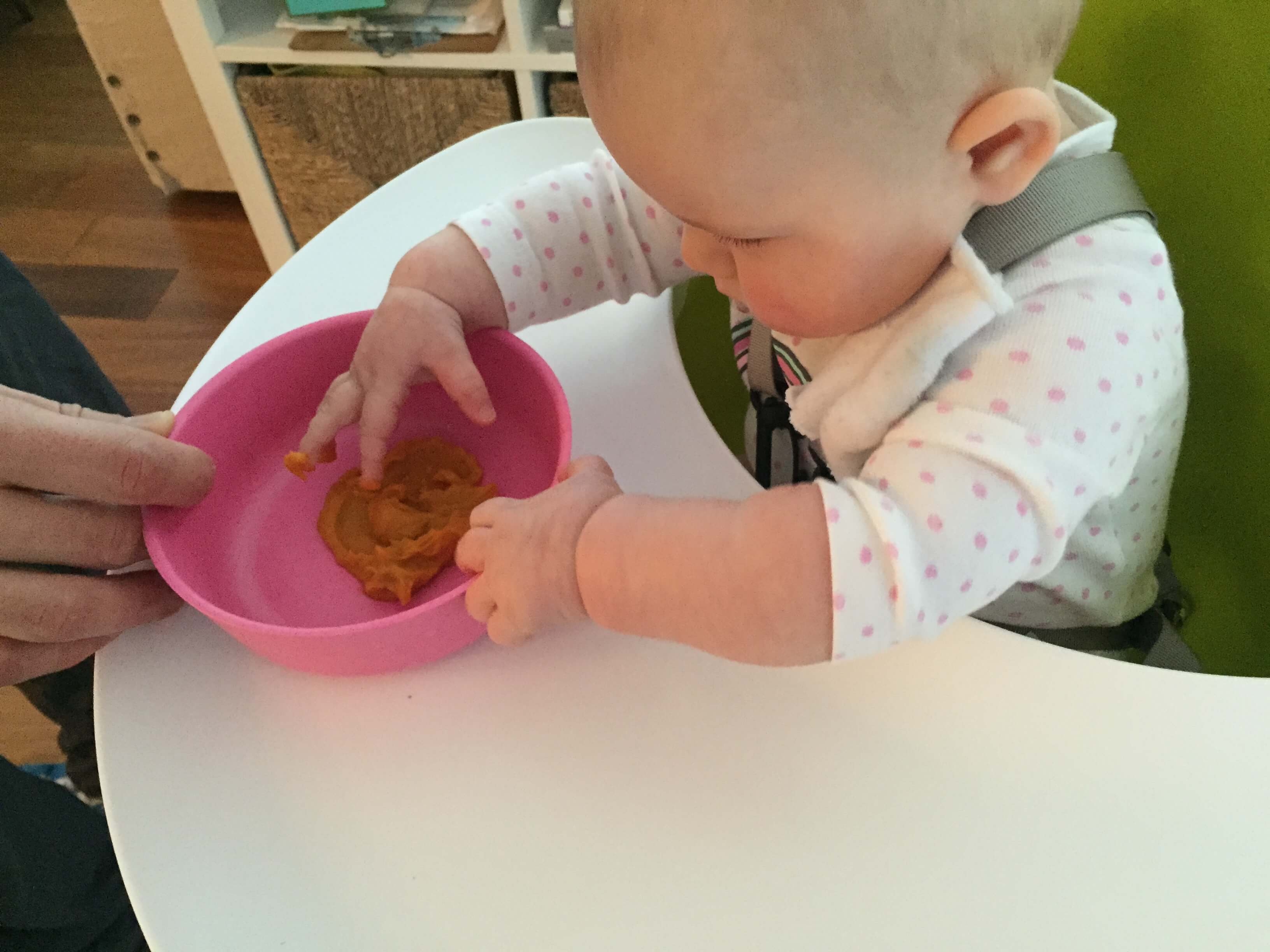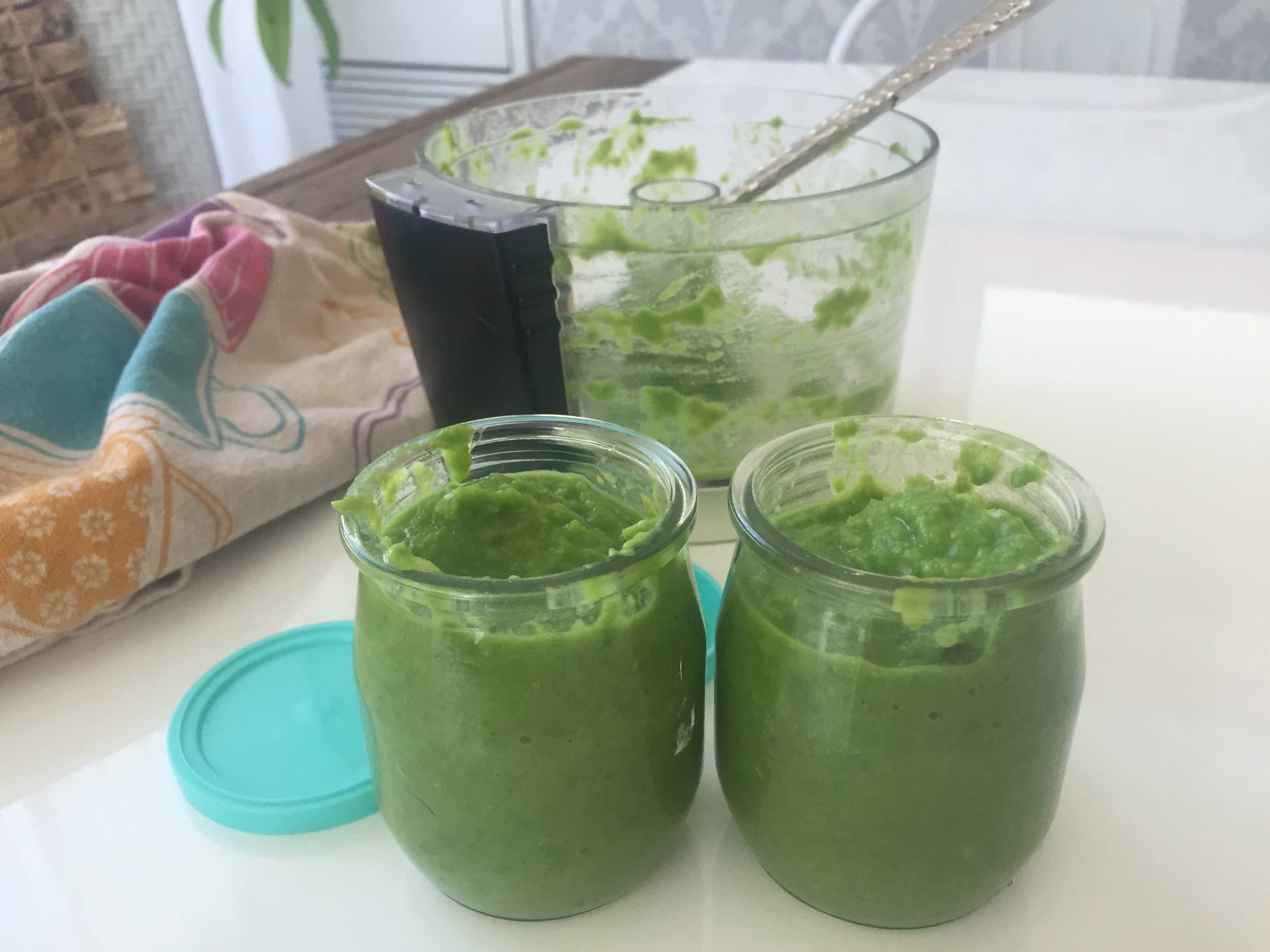 I love green peas so it's not surprising that Vienna also loves them :) The vibrant green is the colour of health! Green peas are rich in antioxidant vitamins such as vitamin C and vitamin E, and a good amount of the antioxidant mineral zinc which is important for a healthy immune system. Recent research has shown that green peas are a reliable source of omega-3 fat in the form of alpha-linolenic acid (ALA). This makes it an ideal food for brain development.
Peas are also a surprising source of protein. Their naturally sweet taste makes them an easy food to introduce to baby. I buy frozen organic peas and lightly cook them in some filtered water for about 2-3 minutes just to soften them up enough to puree them. I puree them with the same water.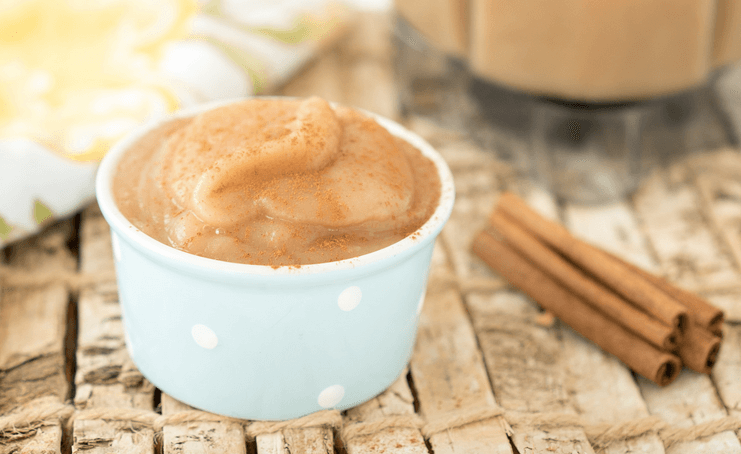 I highly recommend you make your own applesauce for your baby. Your kitchen will smell amazing! Just like sweet potato, I recommend you leave the peel on to get the most nutrition bang for your buck into your baby. Apples are a source of many different nutrients including vitamins A, C, folate and choline and minerals such as potassium, calcium and phosphorus. They are a source of soluble and insoluble fiber which is wonderful for your baby's gut health. Be sure to try my organic applesauce recipe.
Ingredients
10-12 organic apples, cored and sliced into chunks (any kind -- royal gala, pink lady, honey crisp, fuji)
1 tsp organic ground cinnamon
Filtered water (see below)
Instructions
Preheat oven to 350F degrees.
Place apple slices in a large baking dish. I used my Le Creuset pot.
Sprinkle apples with cinnamon. Add enough water to the pot to come up about a quarter of an inch on the sides. This is to help bake the apples by creating steam.
Bake covered for 35 to 40 minutes or until apples are soft.
Once finished baking let cool slightly then transfer to a blender or a food processor and blend until smooth*.
Refrigerate for 1 week or freeze for a few months.
---
Notes
*I blended until the applesauce was super smooth because I'm using it as a baby food for my 6 month old. If you are making it for yourself or an older child then you could blend less to have some nice chunks.
If there is a food (like broccoli -- Vienna hates broccoli!) your baby doesn't like, combine it with some applesauce, it may just win him or her over!
Additional Joyous Tips on Food Introduction
• Don't rush when you're feeding your little one. Schedule enough time to make it an enjoyable and mindful experience for you both. Mess is totally fine!
• Allow your babe to get their hands in and on the food so they can immerse all their senses in the act of eating.
• Let your babe take the lead and grab the spoon if it is safe and they want to feed themselves with your supervision.
• If at first your child rejects a food, try it again in a couple of days. Vienna does not like broccoli (yet). But so far, she's made a funny face when eating most foods for the first time, and then the next time she loves them! Remember, every baby is different!
• Rice and grain cereal can wait. These are foods that are often recommended as a baby's first food but I do not recommend this. These foods are taking the place of something far more nutrient-dense like sweet potatoes. Make every morsel count! ?
• If you notice that after introducing a new food your baby has digestive problems like gas or constipation, wait a few days before introducing it again.
• Introduce foods one at a time and wait a few days before introducing a new food.
• Make sure your babe is actually hungry before feeding them solids. I often give Vienna solids right after a nap. Right now she is eating two solid meals per day and all her other meals are breast milk.
If you are breastfeeding, solids should be complementary to your milk. Aim to breastfeed as long as possible. Dr. Jonah recommends a goal of at least two years because the immune system benefits of breastfeeding are greatest in the second year. Doesn't this make you wonder about the current breastfeeding guideline of six months?!
Thank you so much to Jonah Lusis, Naturopathic Doctor, and Du La, Naturopathic Doctor, Acupuncturist, Birth Doula for the information you shared in this post.
I hope you found this post useful mamas :) Have fun and be sure to post any questions you have for me below!