You might be surprised to know that I found yet another delicious way to enjoy beets: burgers! If I haven't already turned you into a beet lover yet with my Beet Cashew Dip , Beet Detox Juice or Beet Strawberry Muffins, I'm convinced this is the recipe you fall head over heels in love with one of my favourite detox superfoods, beets!
I mean what's not to love about the BBB? These tasty burgers meet the criteria of being both healthy AND incredibly delicious.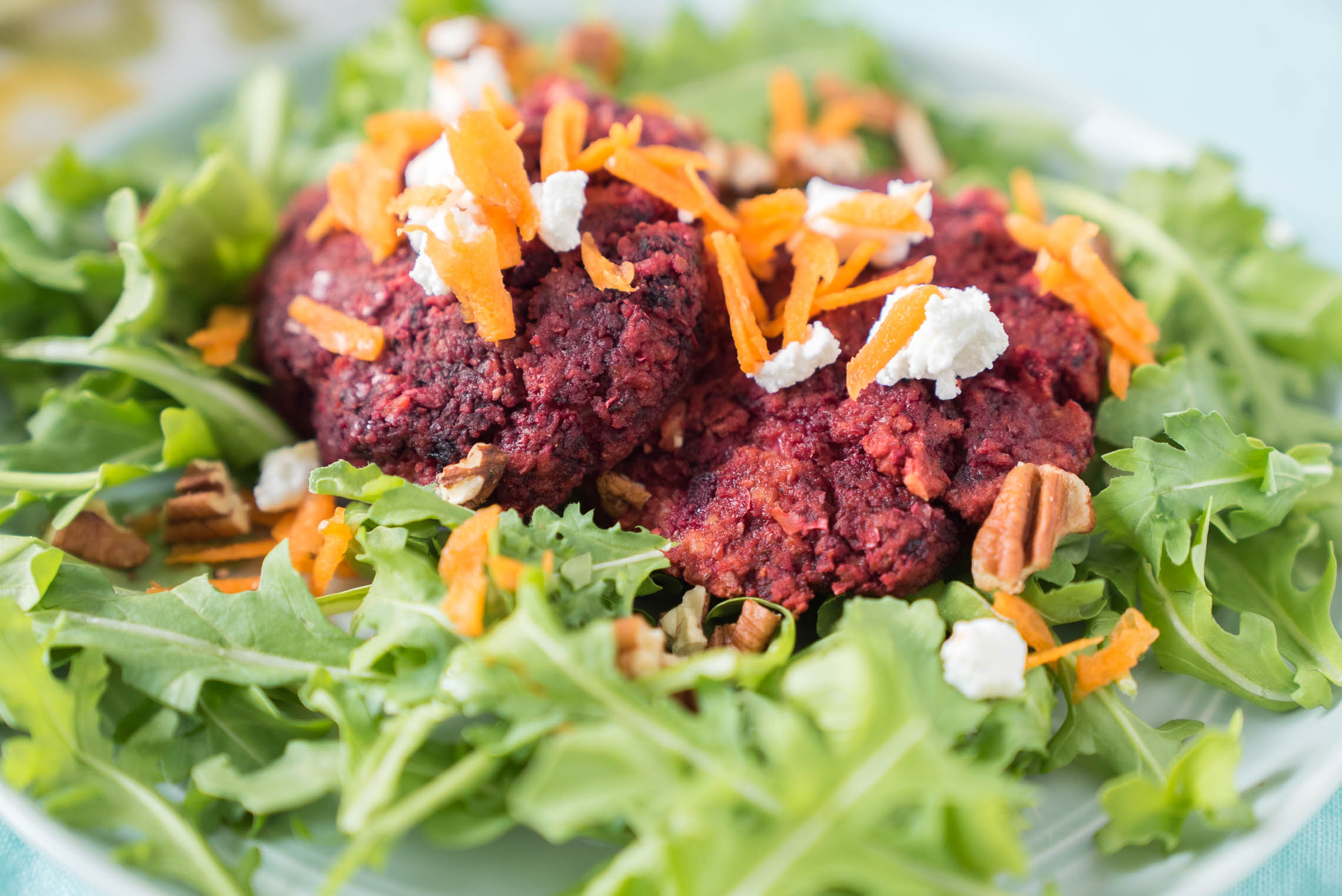 Each burger has at least 10g of fiber each and is rich in vitamins like folate and vitamin C, as well as minerals like calcium, iron, potassium. They're also rich in many phytonutrients. In fact, the phytonutrients in beets are what give these burgers superfood star power (and their gorgeous colour, I mean, look at that photo above!). Beets contain specific phytonutrients that increase both phase 1 and 2 liver detox. When you support liver detoxification, you better eliminate chemicals from the body such as alcohol, caffeine and prescription drugs.
Since I love these burgers so much, I wanted to share them with the YouTube community so I posted them on my channel (and below). If you're not already subscribed to my channel, be sure to hit the "subscribe" button so you never miss a video! After the video, you'll find the recipe and tips for storing beets below because you don't want to be tossing out those nutrient-dense beet greens.
I'm happy to report the BBBs are burger-bun-worthy.
I know a lot of veggie burgers don't make the cut because they fall apart easily, but these stick together, as you can tell by my photo.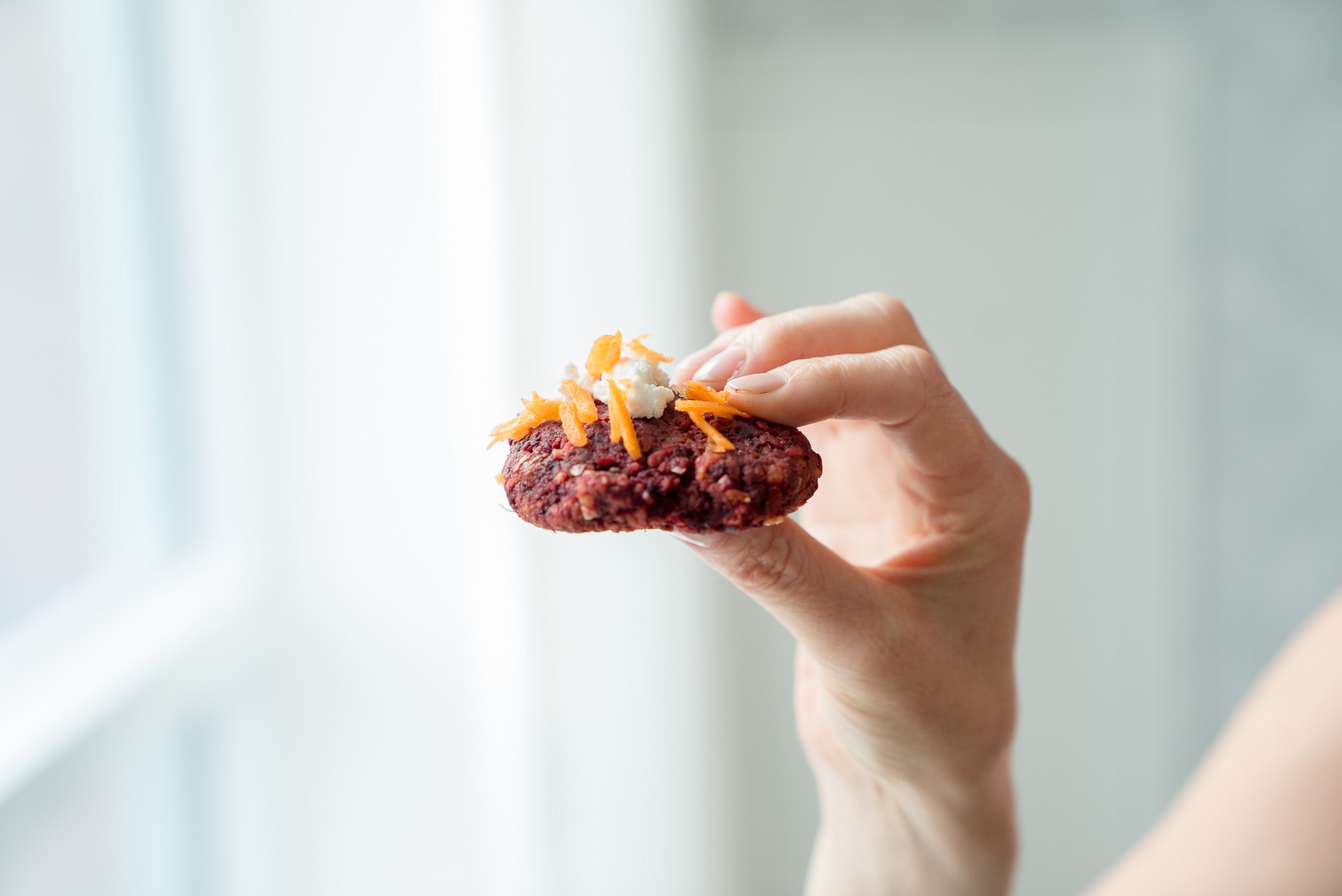 Don't be alarmed if your pee turns red temporarily, this is called "beeturia" and it's completely normal!
Ingredients
2 medium beets, grated
1 egg
1/2 cup almond meal flour (ground almonds)
1 garlic clove
1 tsp cumin
1 tsp chili powder
1 can 15 oz / 425 g organic navy or garbanzo beans
1/2 cup feta cheese (I used goat feta)
Handful or 1/2 cup fresh parsley
Instructions
Toss everything in your food processor or blender and blitz until blended, OR Grate beets and then mash beans with a potato masher. Combine all ingredients together in a big bowl.
Preheat oven to 350F degrees. Form the burger mixture into 3-4" diameter patties.
Grease a cookie sheet or cover with parchment paper. Place burgers on sheet and bake for 25-30 minutes.
---
Notes
Makes 6-8 burgers.
Top with grated carrots and feta.
There you have it? How gorgeous are these burgers??! Before I go, I've got some joyous storage tips below.
Joyous news! If by the time you get around to eating the beets, the tops have gone slimey, don't worry, this does not affect the nutrition of the beetroot.
If you do need to chop off the tops, when you store them in your crisper leave 1-2 inches of the stem to prevent the root from "bleeding" (i.e., turning everything else in the fridge pink).
Don't wash beets before storing, just place in an airtight container or plastic bag (squeezing as much air out as possible); when stored properly, beetroots should keep in the fridge for up to three weeks.
Store beet greens separately the same way you'd store beetroots; they'll keep in the fridge for up to four days.
Raw beets don't freeze well (they turn mushy once thawed), but cooked beets will freeze fine.
BTW, if you are interested in more detox-friendly and insanely delicious recipes, be sure to check out my NEW book JOYOUS DETOX!
Have a joyous day!
Joy