This is a no-fuss, crowd-pleasing, absolutely delicious dish that I make all the time. I have to admit, when Walker took these photos, I felt really excited about sharing it with you! It's been such a dark month (thank gawd February is here) that the vibrancy of colours made me feel very joyous.
Not only is it absolutely gorgeous but all those colours indicate a high level of phytonutrients, "plant-medicines".
More than ever before, we need to eat more plant-based foods because we are in dire need of phytonutrients as evidenced by soaring cancer, obesity and cardiovascular disease rates. These plant medicines have literally hundreds of roles in the body. Some support our immune system, others support detoxification of the liver and keep our cells healthy and strong.
Colour is a cue for health and this oven-roasted root veggie dish is sure to make your cells smile with JOY and your taste buds dance :)
The last time I roasted a whack of veggies was this evening! If you saw my insta stories I roasted parsnips, beets and potatoes. We enjoyed it with some roasted chicken and kale. I made a batch big enough that we've got leftovers to give Vienna for lunch tomorrow, yay!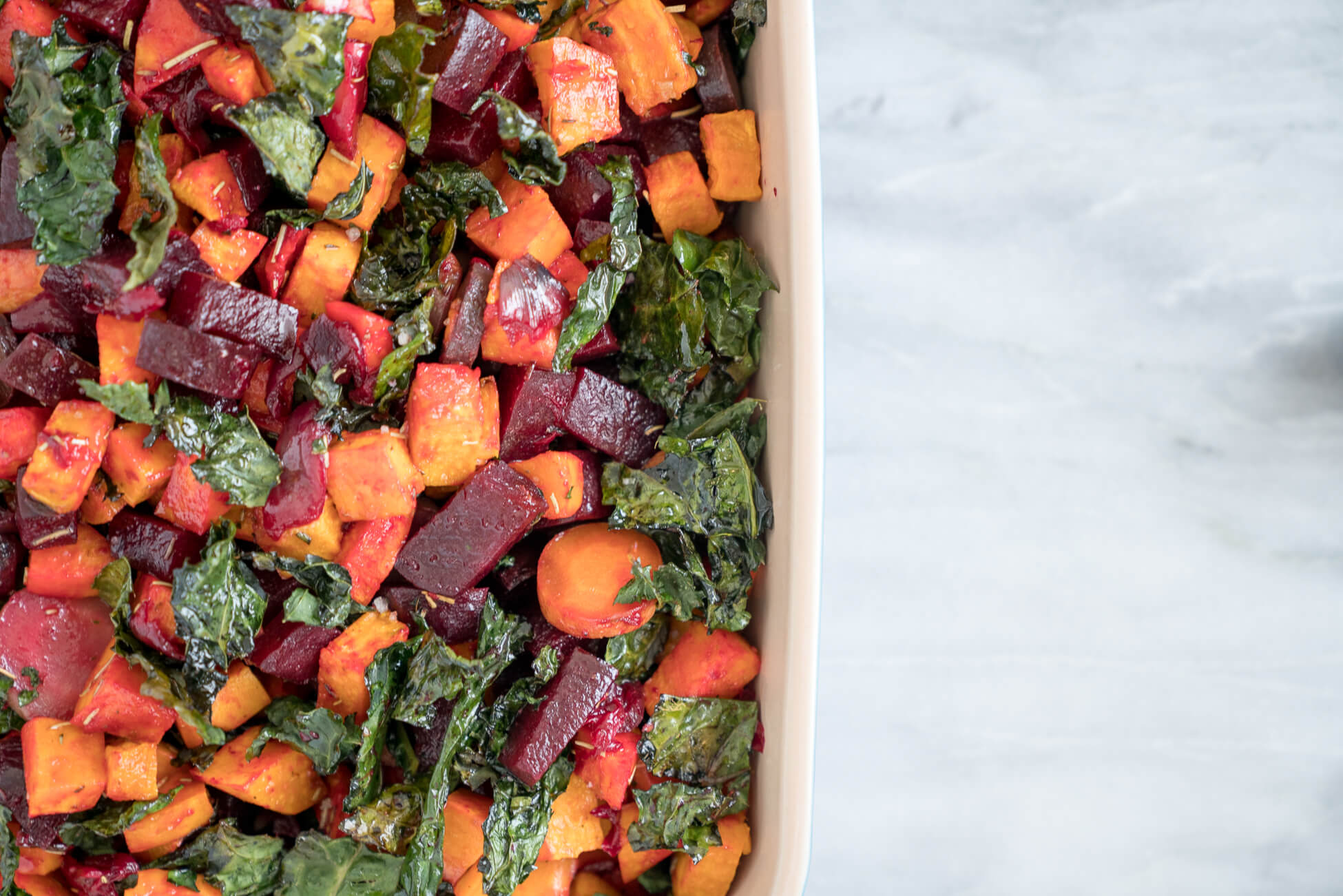 Before this evening, I made it for a dinner party potluck with four other couples (my nutritionist-crew) plus Vienna :) It always amazes me that we can find a time in between everyone's work and travel schedules for us to all get together and share beautiful food. By the way I'm referring to my girlfriends who all have cookbooks too (not intimidating at all -- eek)!
Our potluck was a crazy good feast and everyone loved this dish.
I hope you try this dish and it becomes a regular in your home too!
Ingredients
5 organic beets, chopped
5 sweet potatoes, chopped
6 carrots, chopped
1 red onion, chopped
5 garlic cloves, chopped in half
2 tbsp extra-virgin olive oil
1/2 tsp coarse sea salt
1 tbsp dried rosemary
2 bunches of dino kale, chopped
1 tsp balsamic vinegar
Instructions
Preheat oven to 350F degrees. In a large bowl, combine beets, sweet potatoes, carrots, onion, garlic, extra-virgin olive oil, sea salt and dried rosemary.
Place this veggie mixture onto a large baking dish with a lid. If you don't have one big enough you can use a cookie sheet, you'll just have to be careful they don't burn. Also, they will dry out more easily if they are on a cookie sheet.
Bake for 50 minutes or until the veggies are fork tender. Meanwhile, drizzle kale with balsamic vinegar and spread evenly on to a cookie sheet.
Bake kale for 8-10 minutes. Watch it very carefully to ensure it doesn't burn!
Combine roasted root veggies and kale into a large dish, drizzle with some more olive oil and serve immediately. Enjoy!!
---
Notes
SERVES 10.

For the beets, sweet potatoes and carrots, you do not have to peel them if you are using certified organic. I recommend giving them a good wash and peel off any bruises, but leave the skin on for all that extra fiber.

Also, if you don't want the entire dish to turn red from the beets, then cook the beets separate from the other ingredients.
Root vegetables really shine when they are oven-roasted. Their bitter properties soften and their natural sweetness comes alive. If you eat dairy, they would be lovely with some goat or sheep feta sprinkled on top.
I recommend including root veggies in your diet because they are detox superstars.
Beets stimulate and support detoxification of the liver due to their phytonutrient content.
Beets are a source of vitamins A and C, folate and minerals like calcium, magnesium and potassium. These nutrients support skin health, heart-health and they are a blood-building, baby-making food.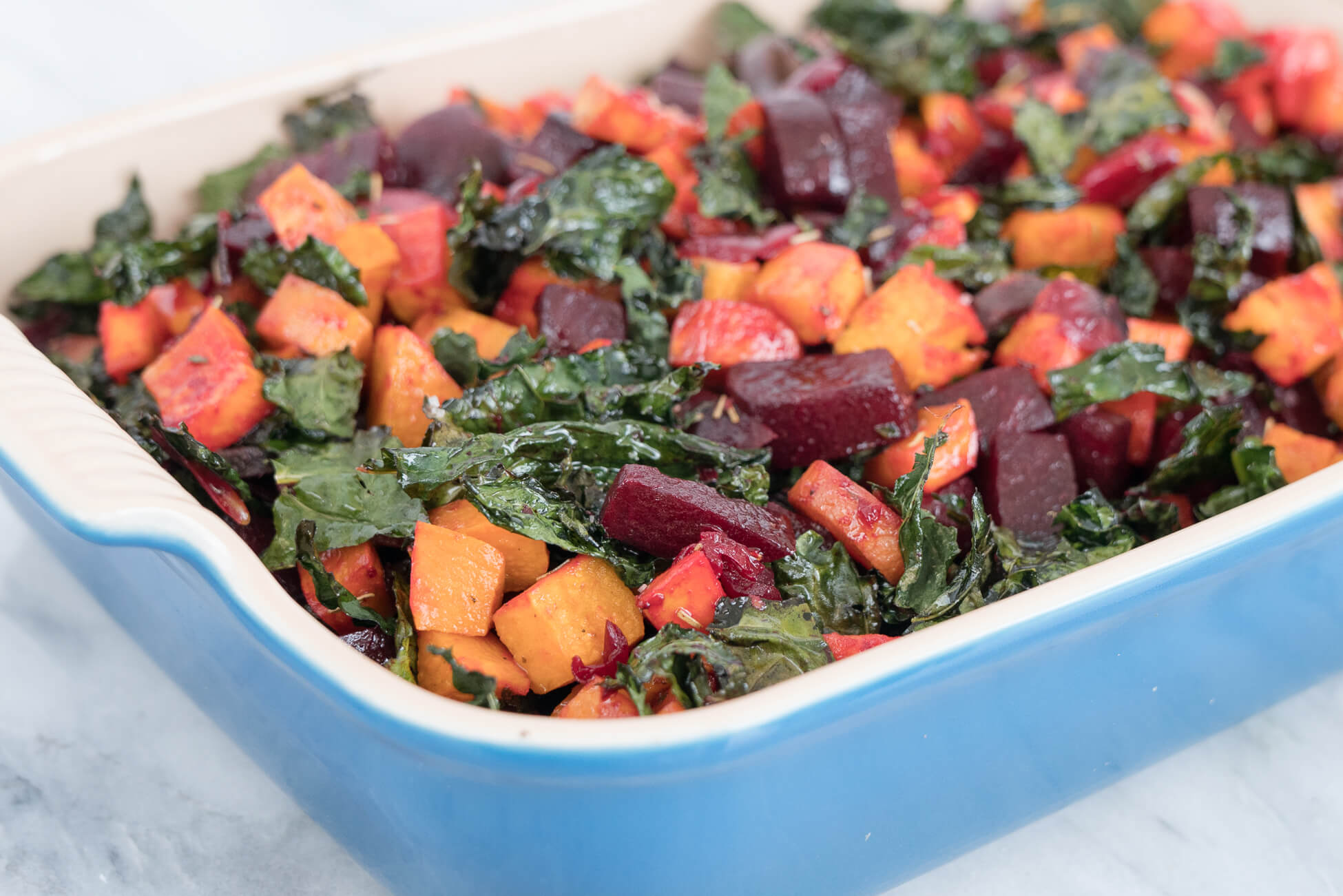 If you want to include more beets in your diet, try my Beet Bean Burgers, Beet Cashew Dip or my Beet Strawberry Muffins.
Have a joyous day!
Joy