As evidenced by my swarm of my Instagram pics and "mountain" hashtags you might already know that we spent a few days in Lake Louise and we've just come back to balmy Toronto.
I would have posted more pics on Instagram, but I thought I would share the rest here on the blog so I don't annoy anyone who doesn't care for mountains! So if you came here from Instagram to feast your eyes on more beautiful photos, then welcome! I'm so glad you stopped by.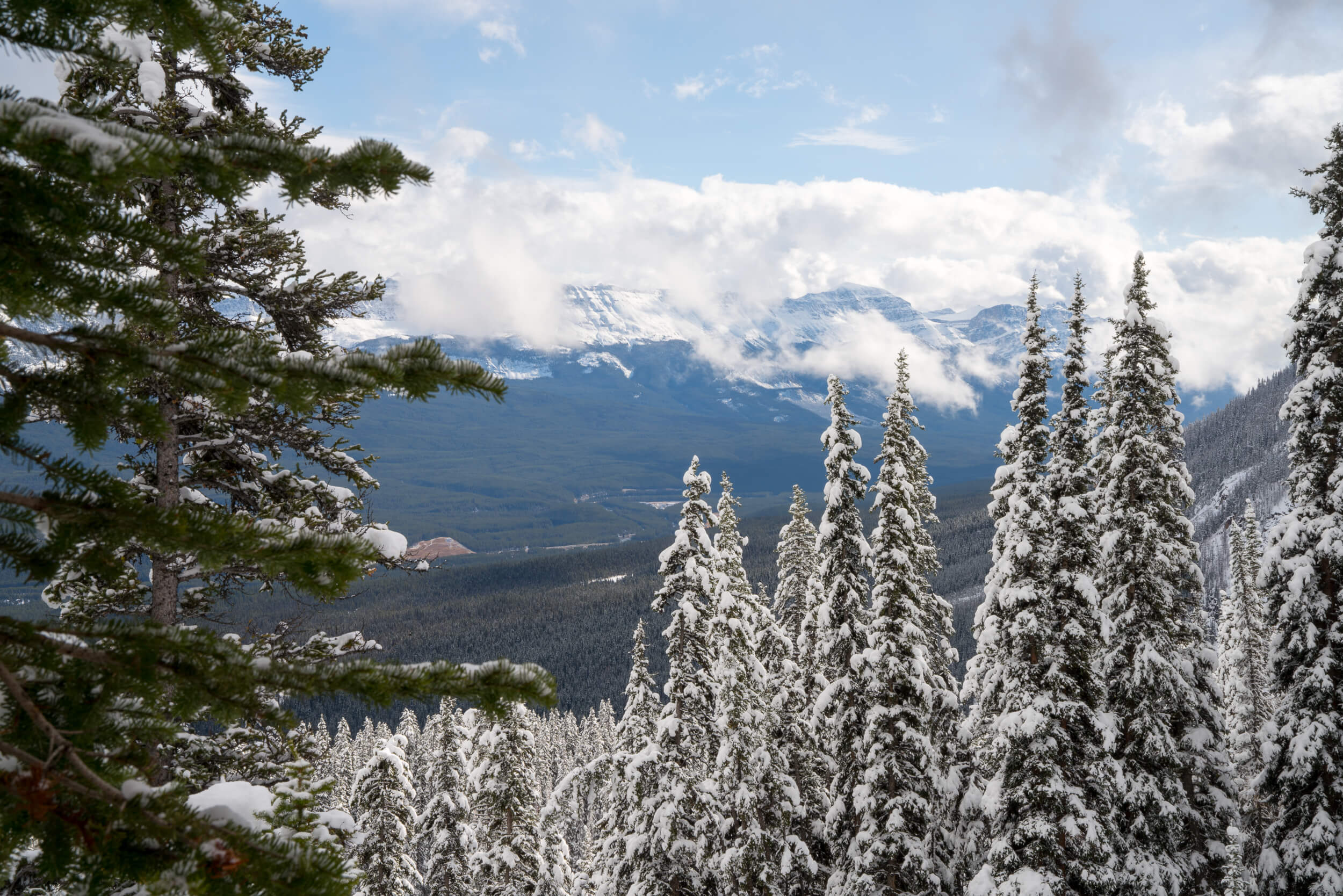 Let me begin telling you the Canadian Rockies are absolutely spectacular. I've traveled many places around the world and seen many mountain ranges, but there's no place like the mountains at home, in Canada. And… staying at the Fairmont Chateau Lake Louise was icing on the cake.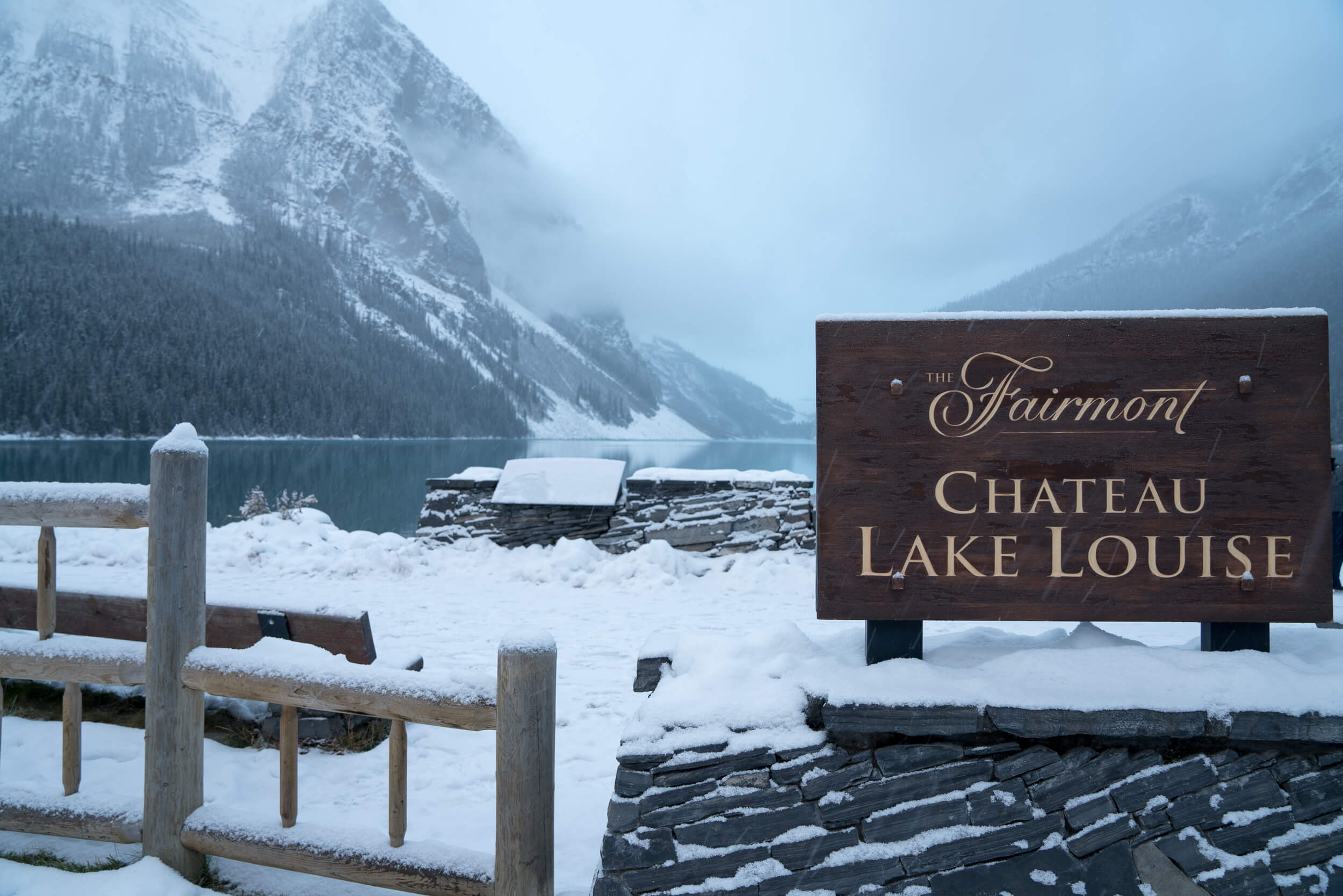 The reason we went out west was because I had three seminars booked with a natural health food store in Calgary, Community Natural Foods. So of course I had to take advantage of the fact we were there and spend an extra couple of days hiking in the rockies. We took Vienna out of daycare for a couple of days because she had to come with us of course. I've only ever spend max 2 nights away from her and not by choice (our flight got delayed coming back from Chicago recently) and I really don't think I can spend more than that away from her when she's still so little. I don't think she minds one bit though, she gets to hang out with Grandma and Grandpa... but I'm getting off track here!
Okay so after my workshops in Calgary, we drove straight to Lake Louise to stay at the luxurious Fairmont Chateau Lake Louise.
Since it was my second time staying at a Fairmont hotel I kinda had a feeling it would be pretty outstanding.
But I had no idea we'd have huge windows with an epic view of the mountains, the food at all the restaurants in the hotel would be epic (it was like a mini resort!!) and the service would be epic too.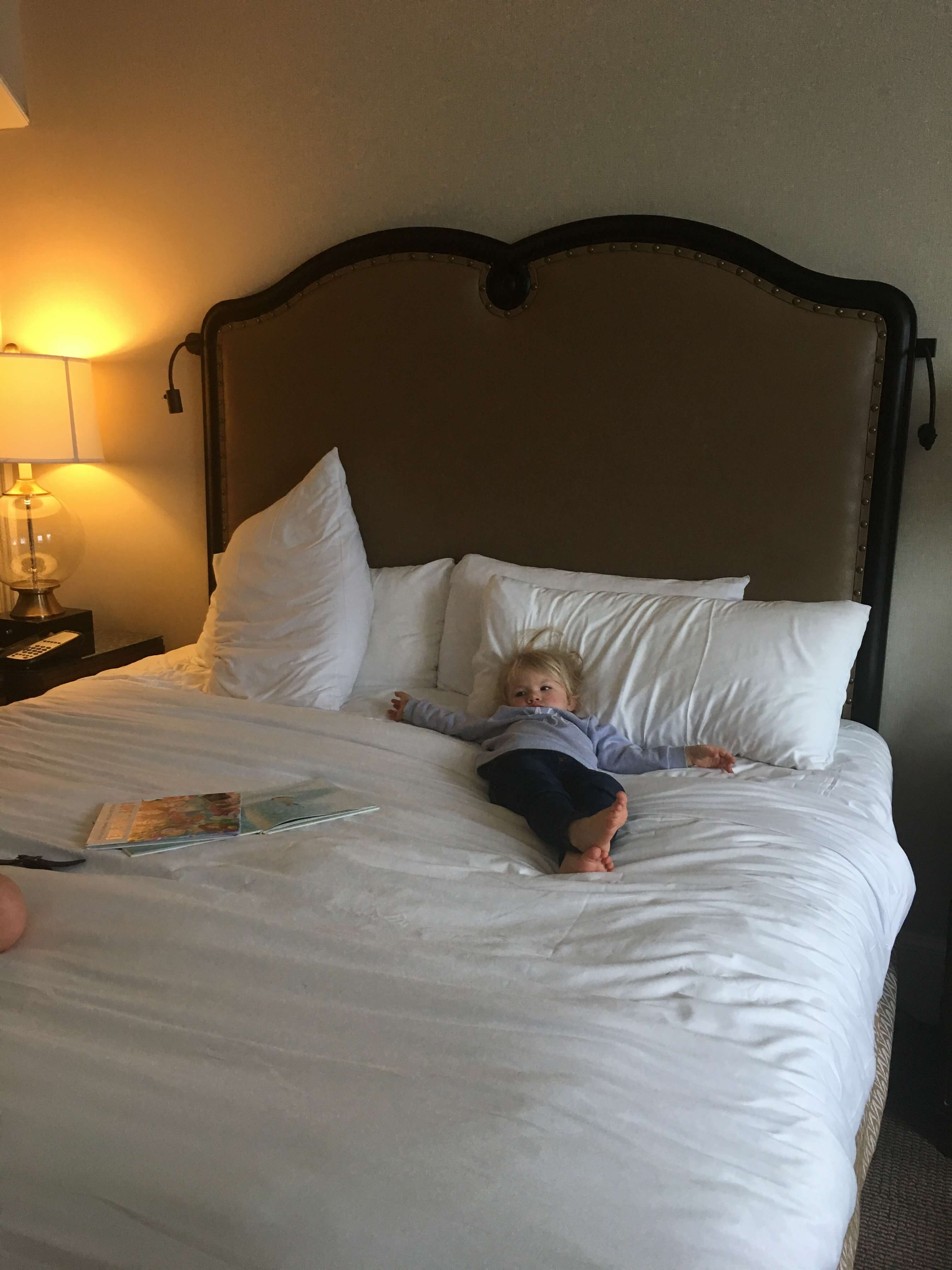 Okay that was a lot of "epics" in one sentence but deservedly so. Now even if you don't like the cold snowy weather, you could have just lazed in bed all day gazing out the window at the majestic mountains. Like Vienna did hahaha. Oh and the bed was obviously incredibly comfortable too. As you can see, Vienna-approved.
However, she didn't sleep in our bed. Whenever we travel with her we bring her playpen and she's happy as a clam to sleep in that, then we don't have to worry about her falling out of bed.
So I love the ocean, but for me, there's nothing like the mountains. They are truly magical. There's no other word to describe them that fits like "magical". They have this incredible affect on me!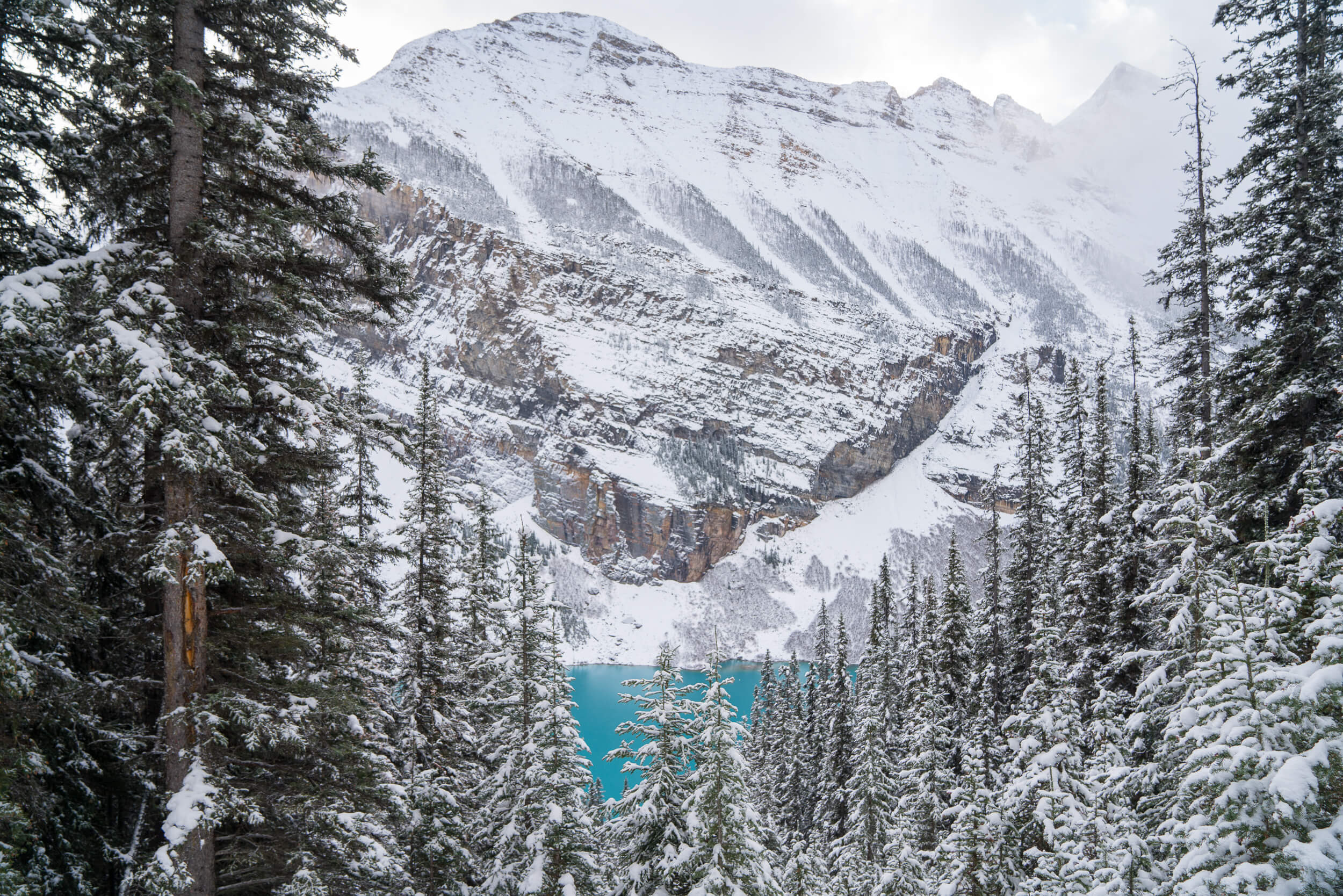 We did a couple of hikes but we were only there two nights so next time we go back we will do more.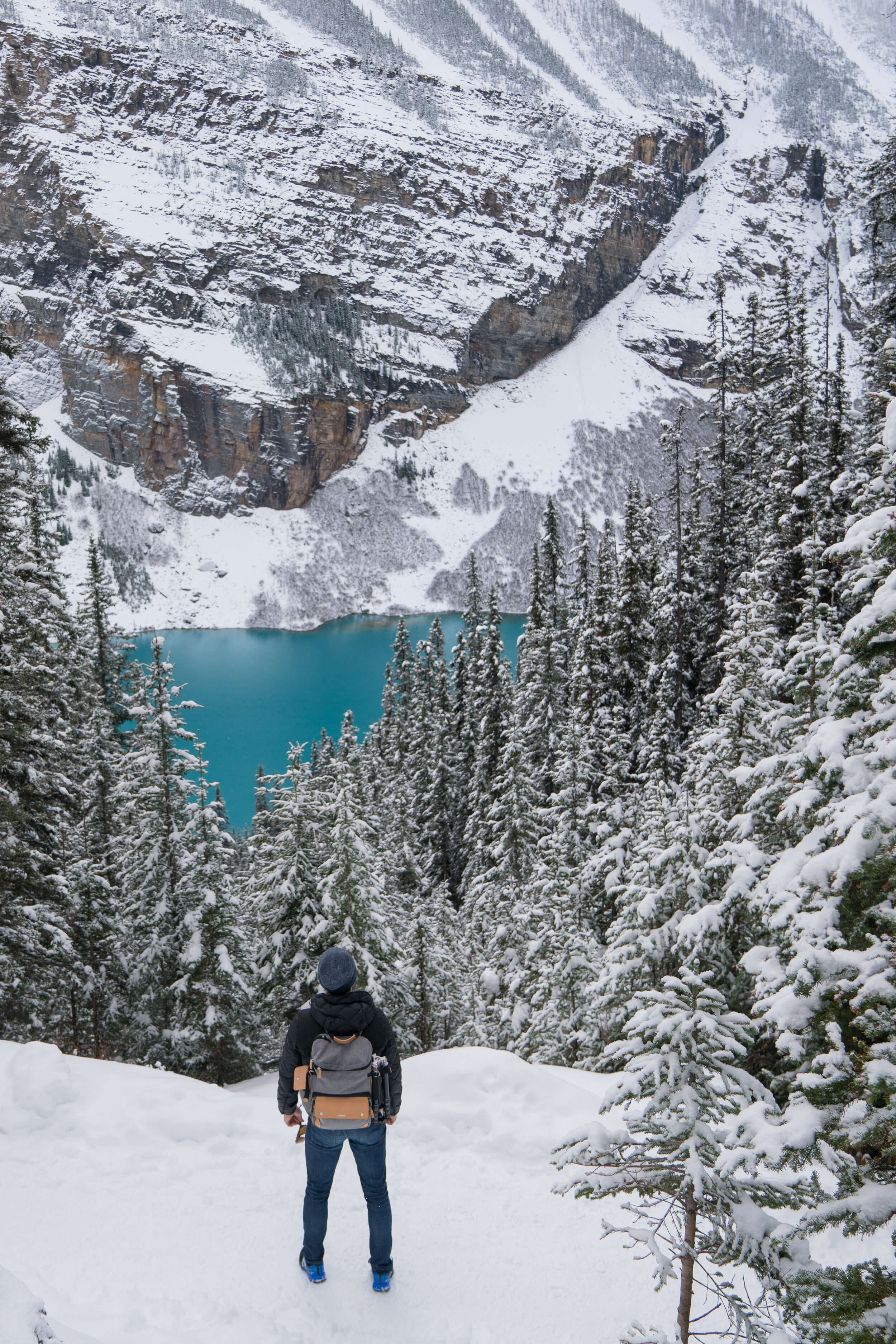 See this photo above, I took it! I'm kinda proud of myself because if it's not my iphone, I'm clueless when it comes to taking photos. Walker gave me some good direction from down below for our SonyA7rii - that's the kind of camera we have in case you're wondering.
We did the Lake Agnes Tea House hike and as you can see it was completely snow covered. Walker and I shared the Vienna-carrying-duties.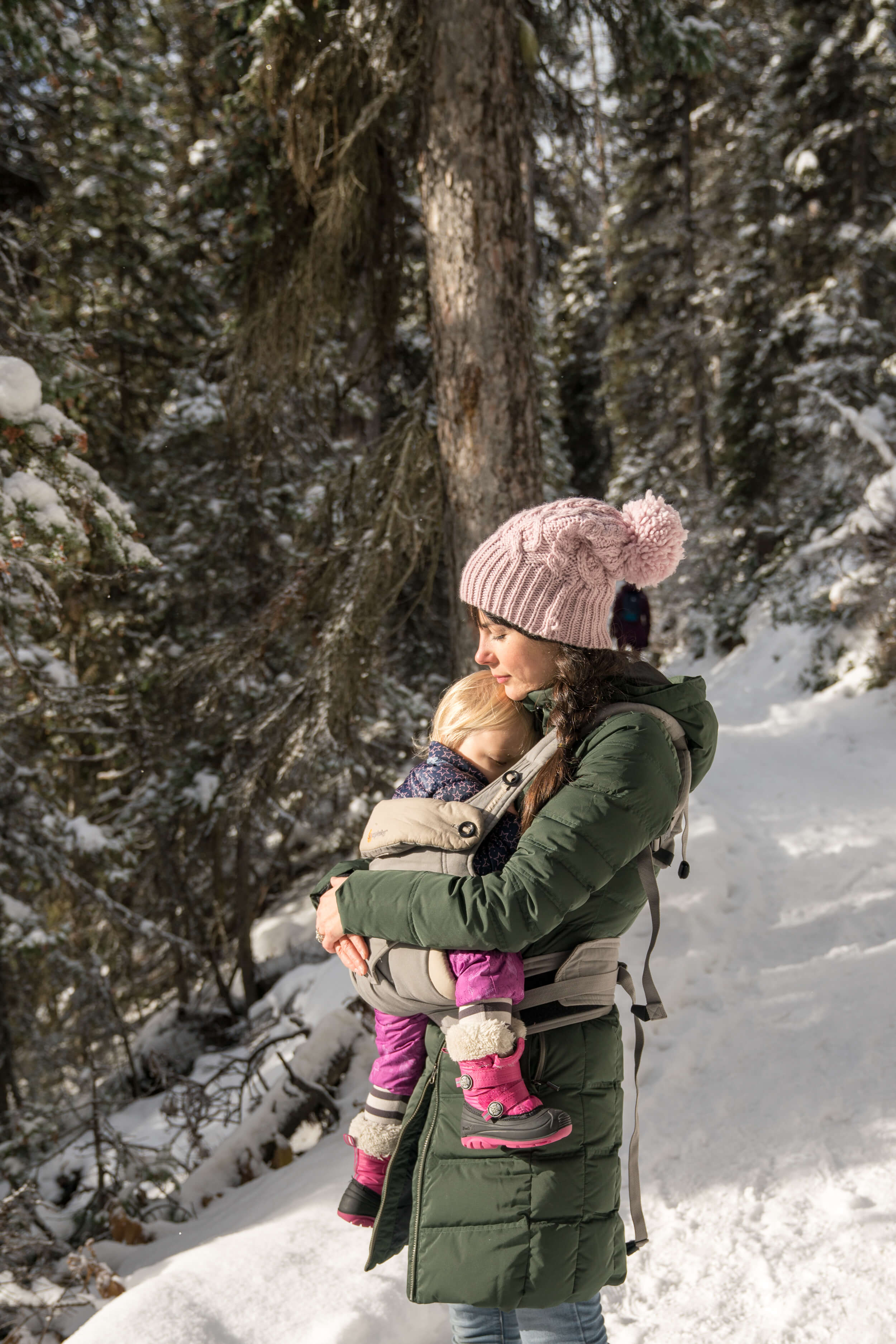 I actually really love carrying her because she's so cuddly and always falls asleep in the carrier, but my back was kinda bugging me so Walker took her when we got to the first switchback the mountain trail.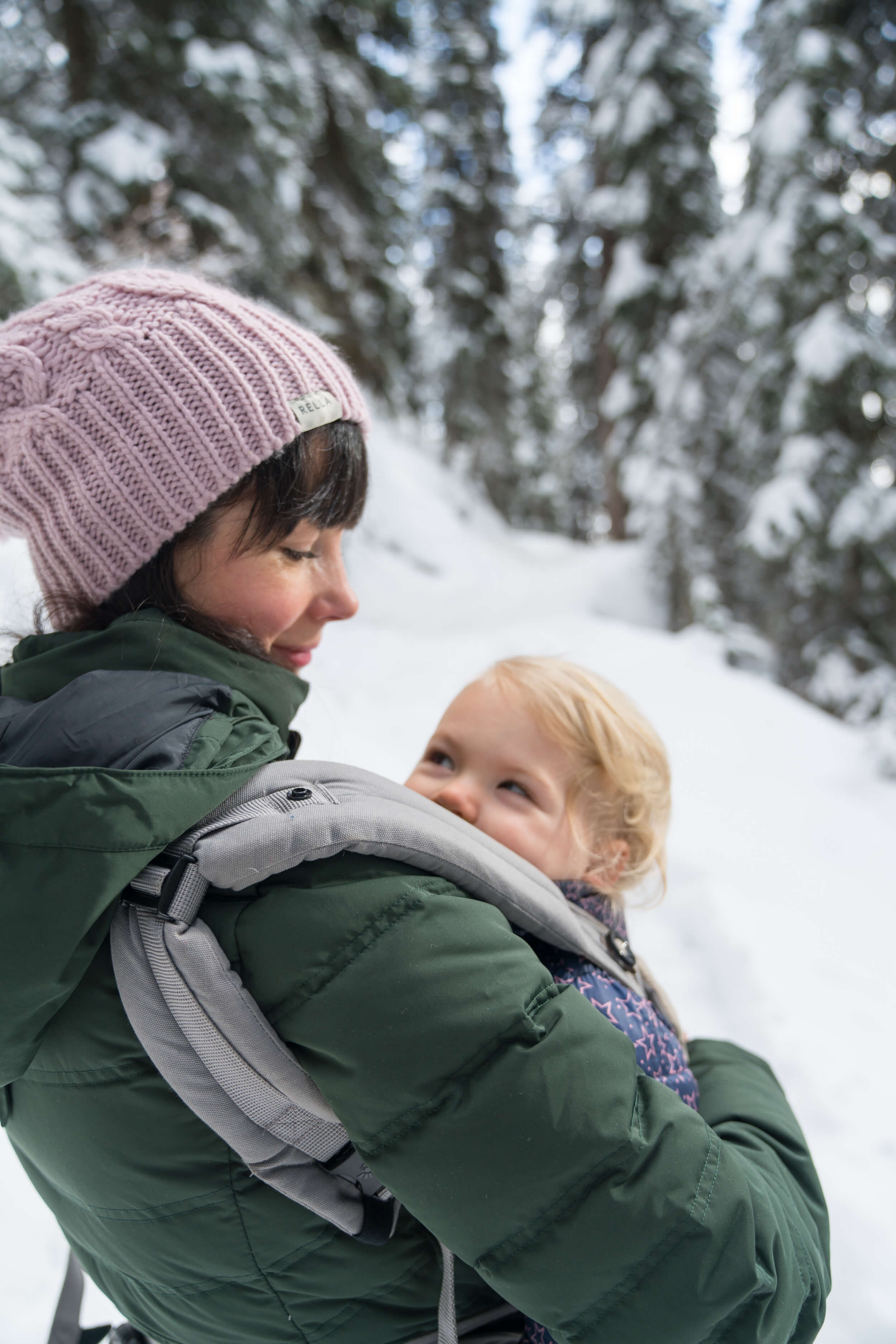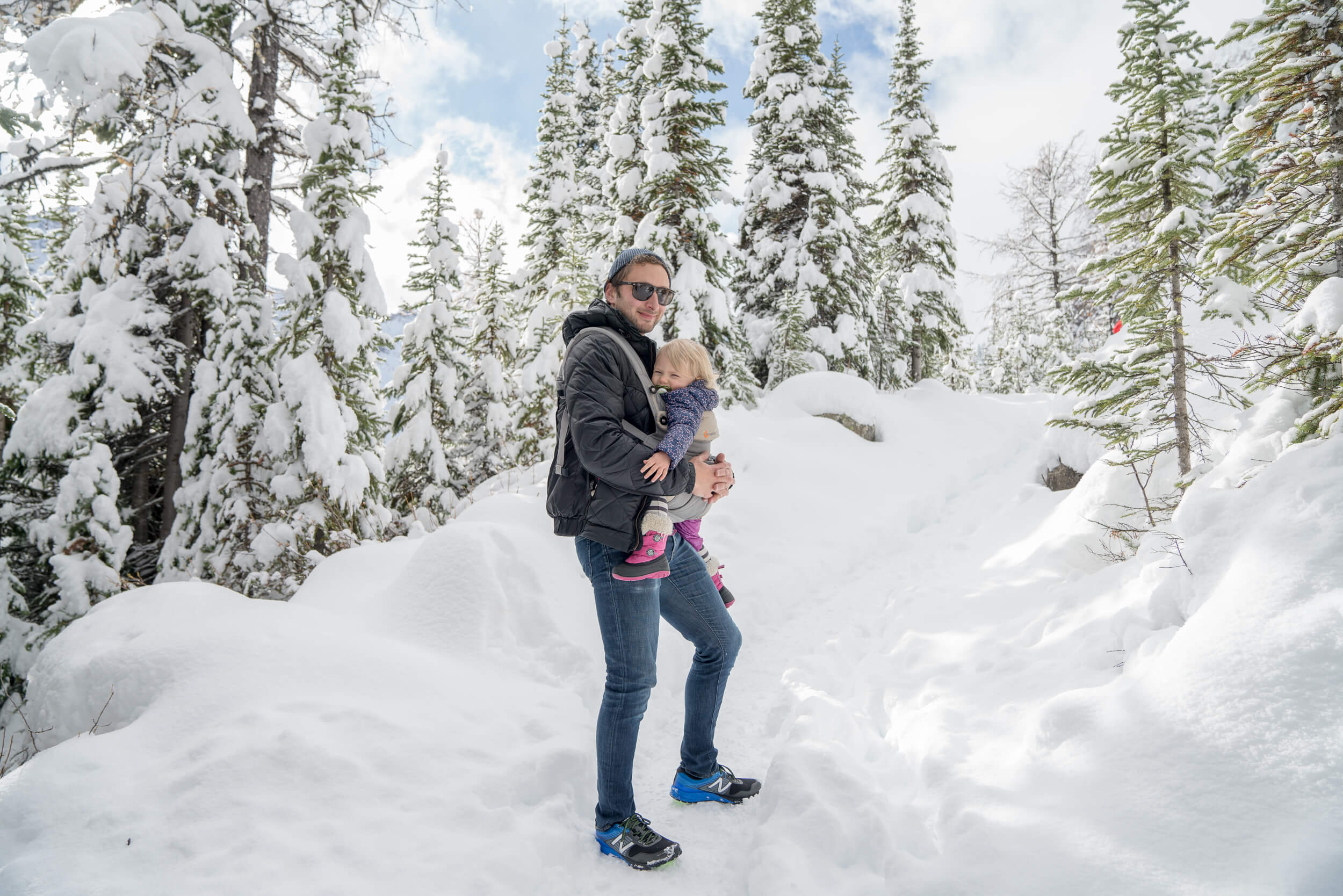 And when we got to the top we were visited by this beautiful bird. Any idea what kind of bird this is?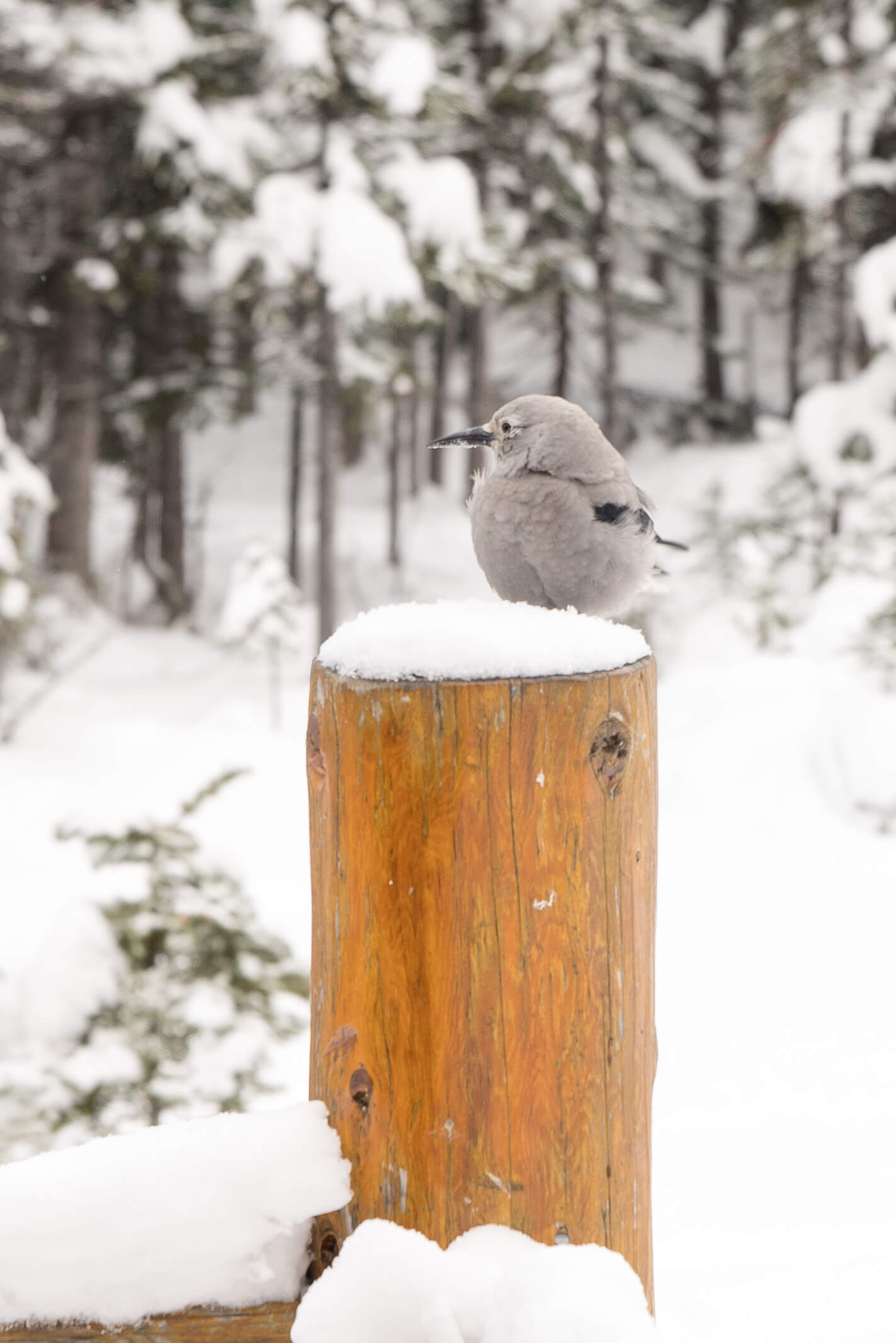 Oh and Vienna had some snacks too at the top once we took her out of the carrier. I packed some Love Child bars for her. All that hiking really makes you hungry ;)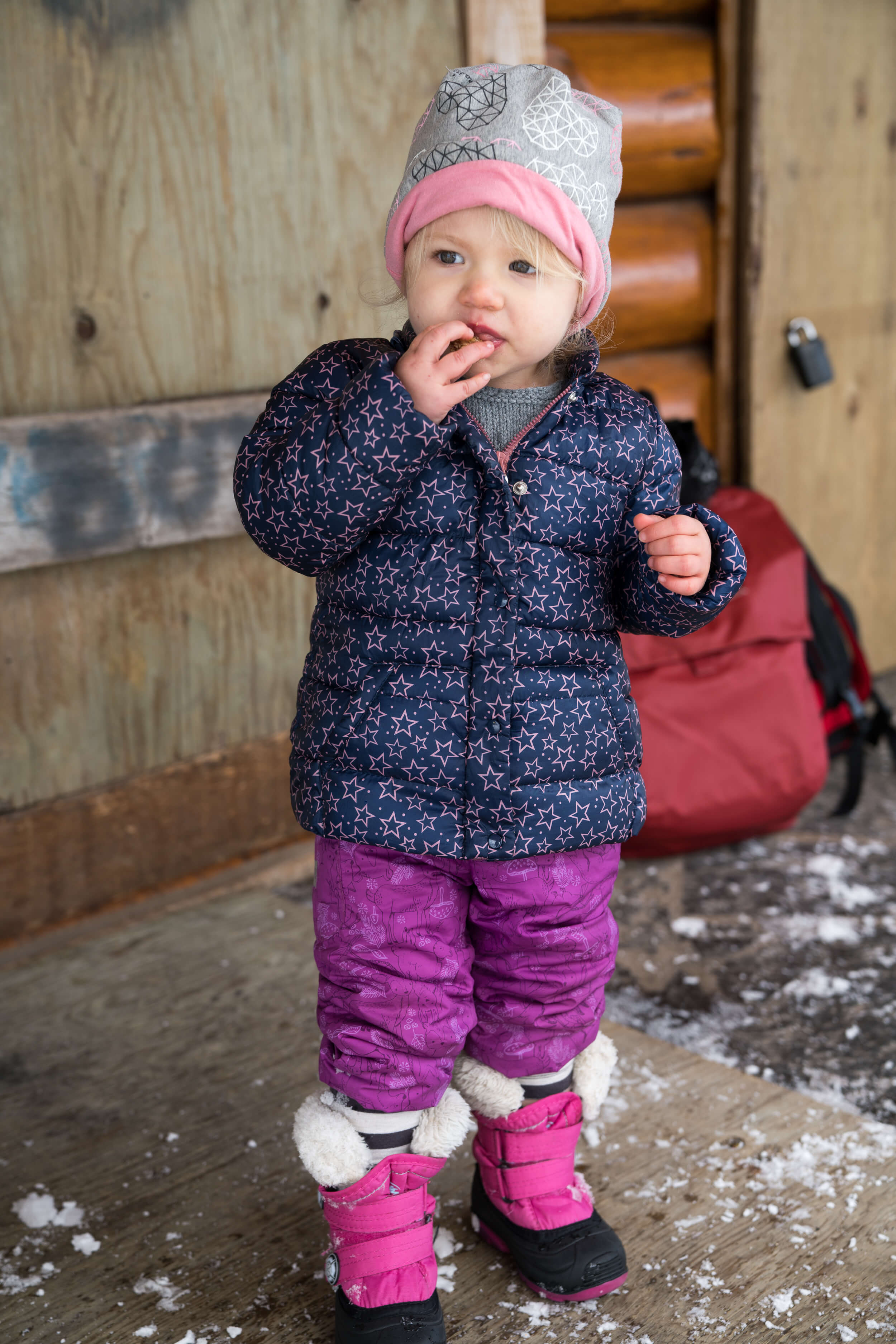 Then we managed to get a family photo just before she whipped off her winter boots!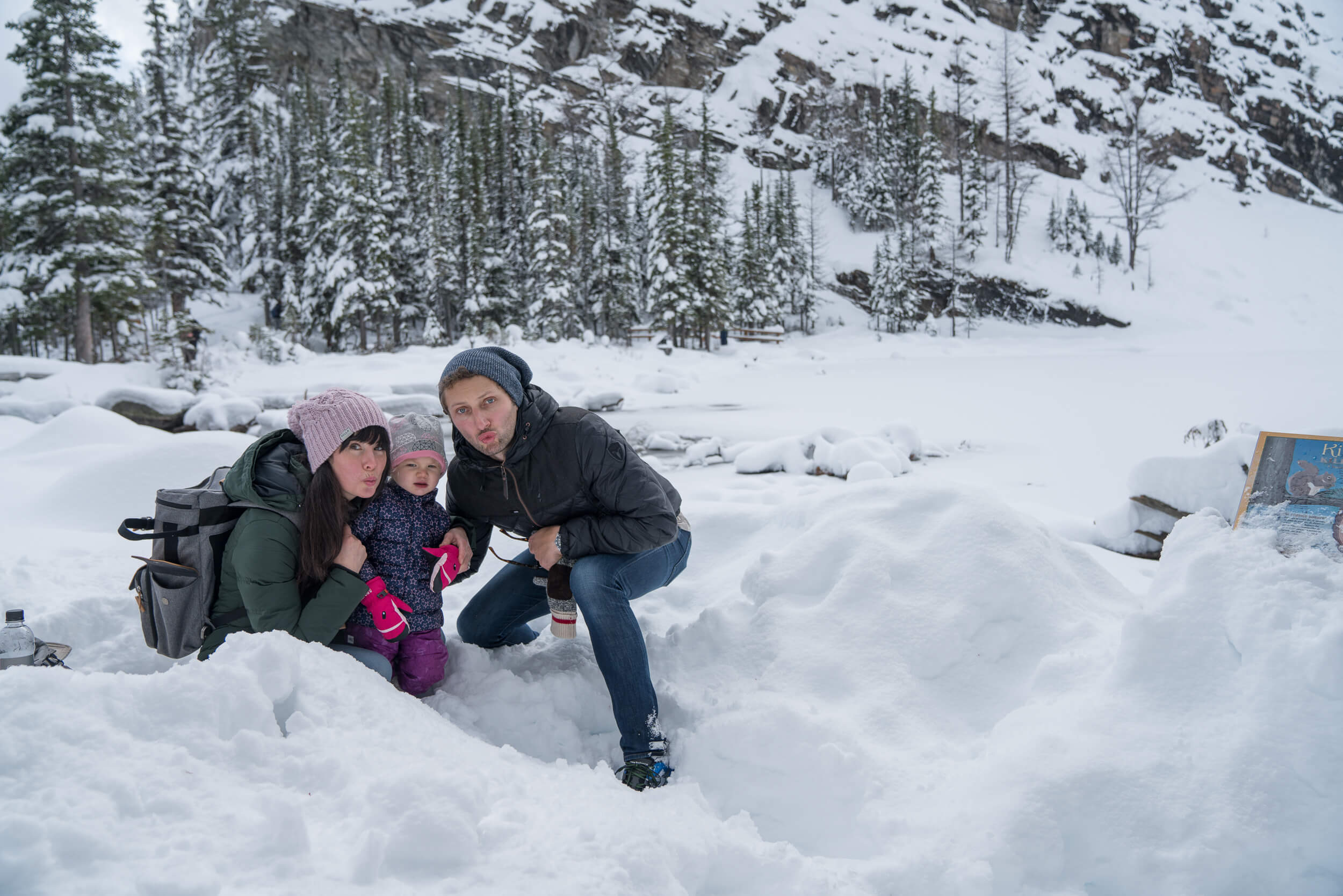 Our last trip to Lake Louise was September 2016 and we did the "other" tea house trail called the "plains of six glaciers". It's a little longer but less of a climb up than the one we did on this trip. The view at the top of the tea house trail is mind blowing, awe inspiring and you can see lots of pics as we hiked up but I also love hiking over glaciers and the wide open space with the mountains framing everything, which is what you get with teh other tea house trail. So my suggestion if you have time, is to do both tea house trails. Just keep in mind the tea house is actually closed for the season now.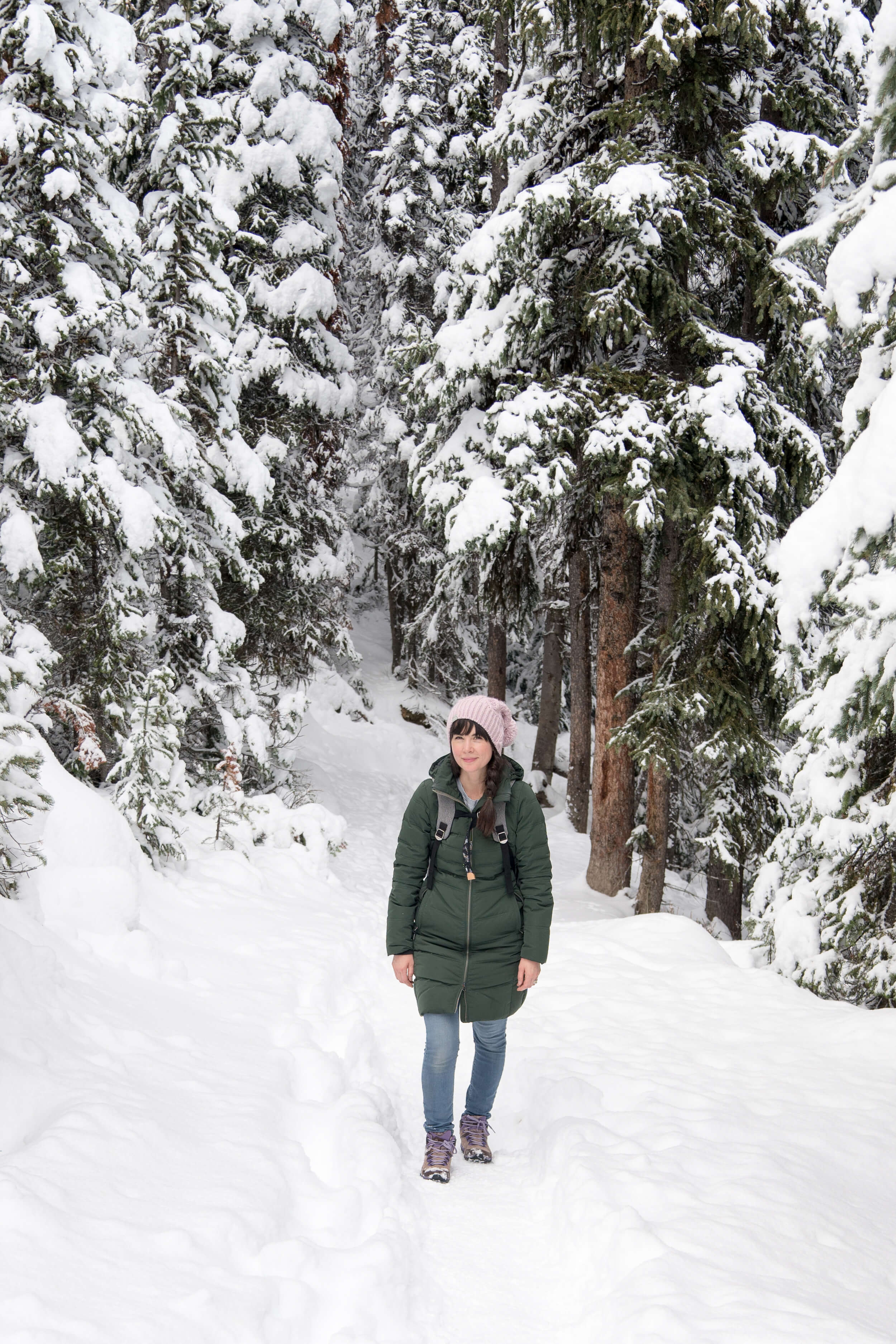 However, you honestly don't even need to hike to take in the views. This photo below was literally standing on the Fairmont Lake Louise property. Doesn't it look like we are photoshopped on top of it?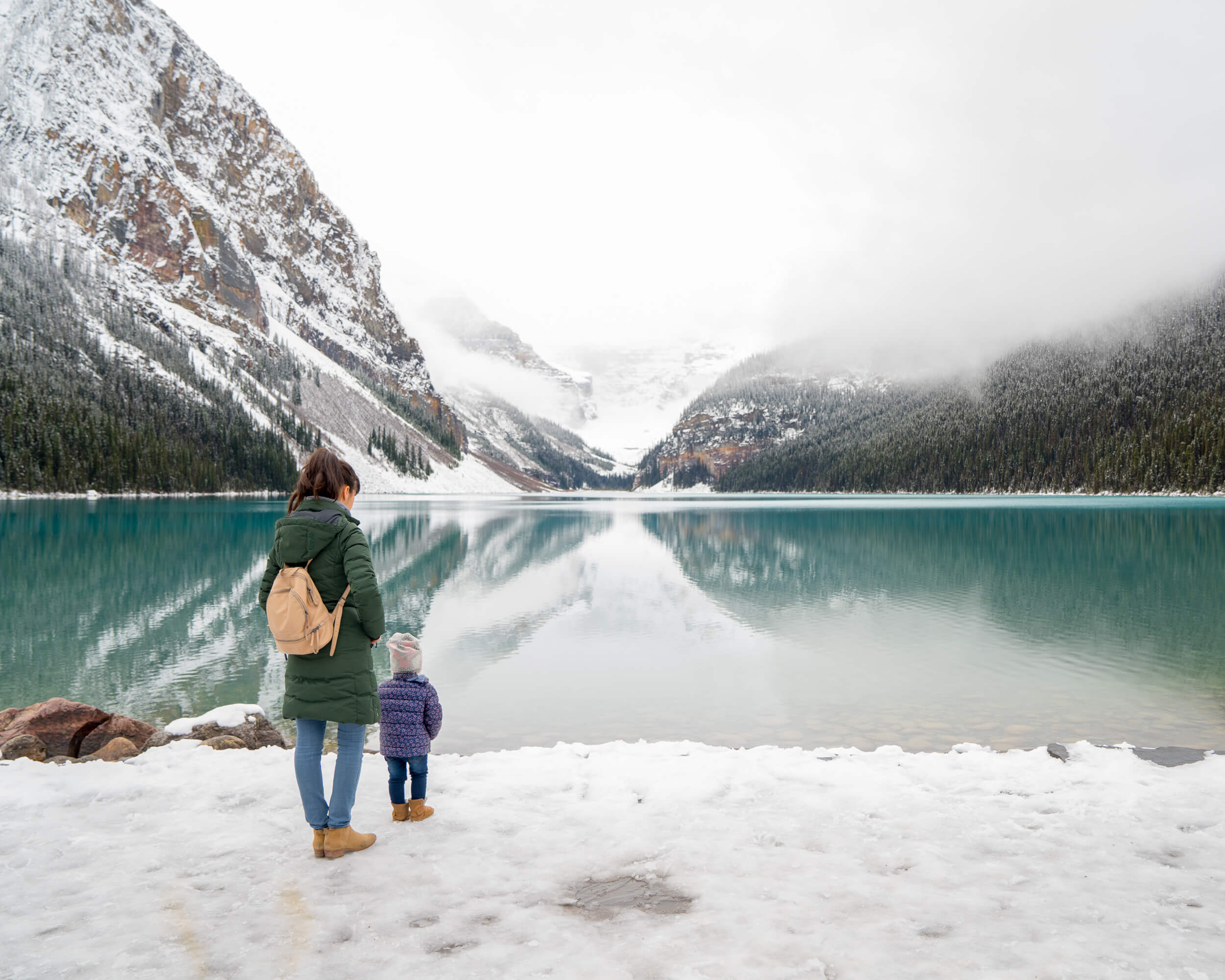 Now let's discuss the weather we had. If you know anything about me, you'll know that I really DO NOT LIKE SNOW OR COLD. I've always been that way, and I am that person who actually doesn't mind when it's so hot there are "heat warnings". If I could just be comfortable naked all the time, then to me, that's the perfect temperature LOL. No, I'm not a nudist or anything…just emphasizing the fact I love warm weather. I tell you this because on this trip as you can see, it was pretty much full-on winter and I absolutely loved it.
In fact, I think I like the rockies even more in the winter than in the summer. It's truly magical.
From a pure photography standpoint, it makes for dang gorgeous photos! And the fresh crisp air as we were hiking and still working up a bit of a sweat, was awesome.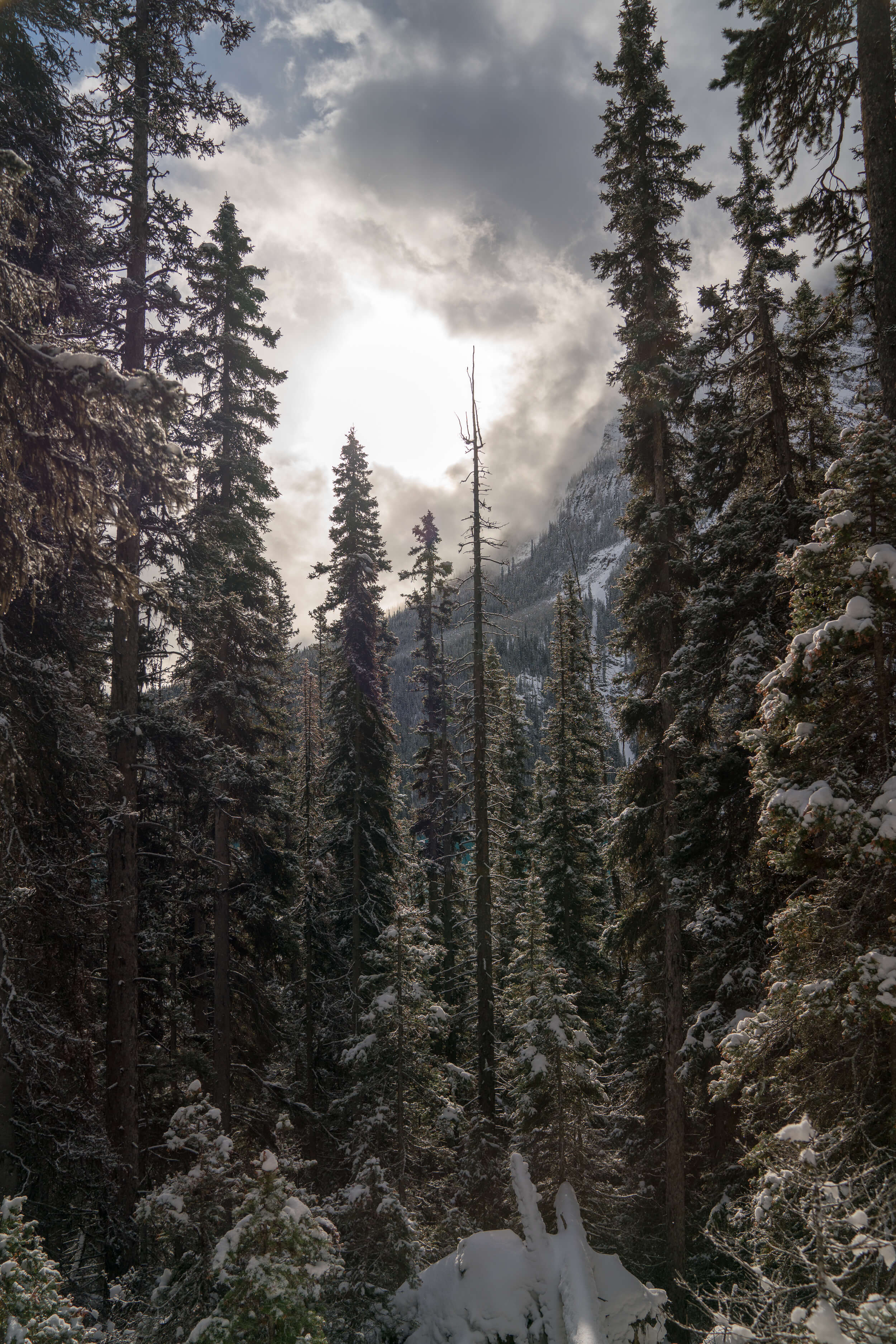 Before I finish off this post, I must tell you about the food at the Fairmont Chateau Lake Louise, because it was thoughtful and delicious! Food is pretty darn important to me as you might have guessed being a nutritionist/food-lover and all. We ate at three of the five restaurants at the Fairmont and all of them were excellent. My fave was definitely just the lounge restaurant where we had this meal after a 2.5-3 hour hike.
Like seriously, can you believe this view?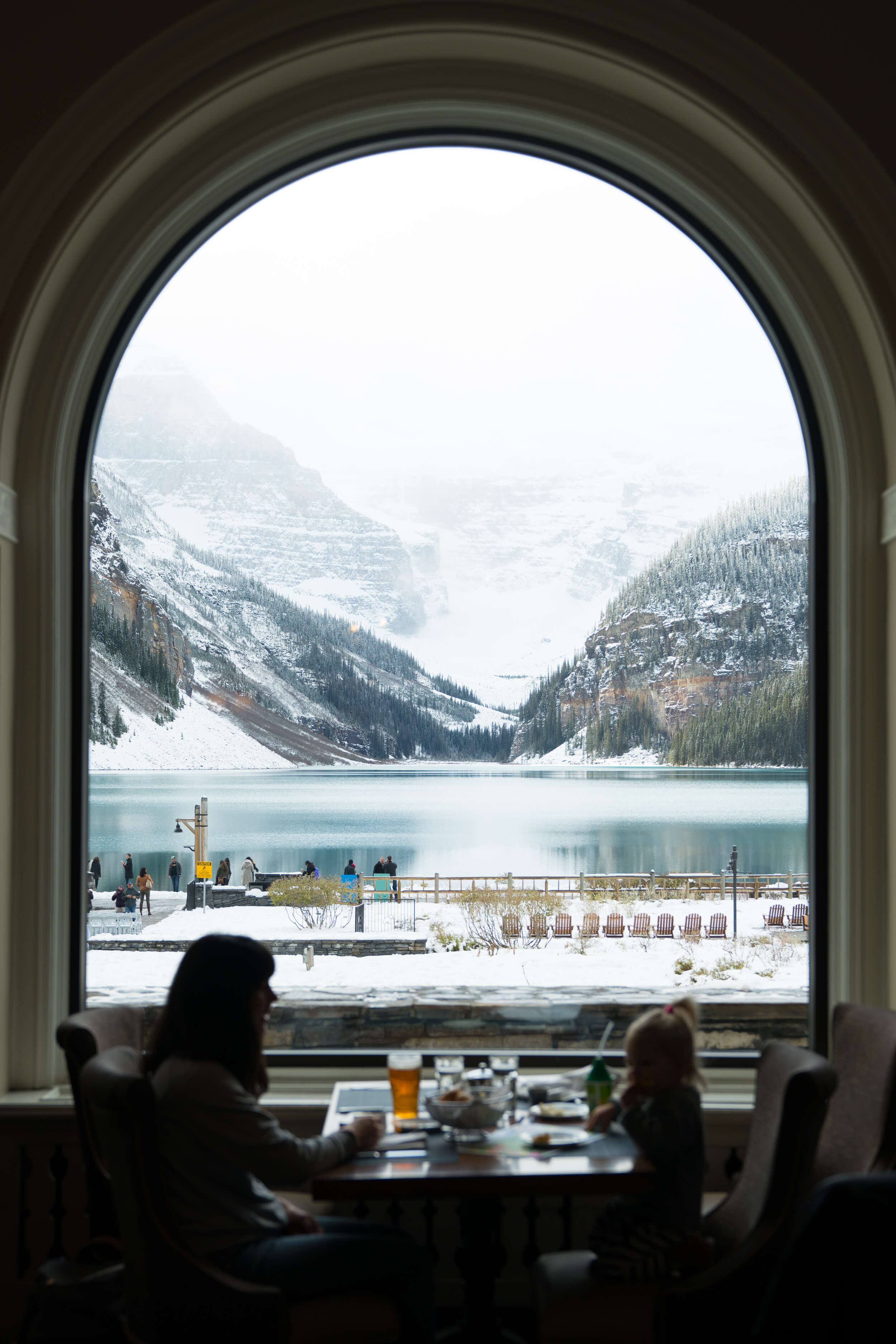 Walker had the French onion soup, and then we shared the goat cheese asparagus flatbread and the caprese salad. If I had more room I would have ordered dessert, but I was pretty full so I just had a peppermint tea instead – great for digestion.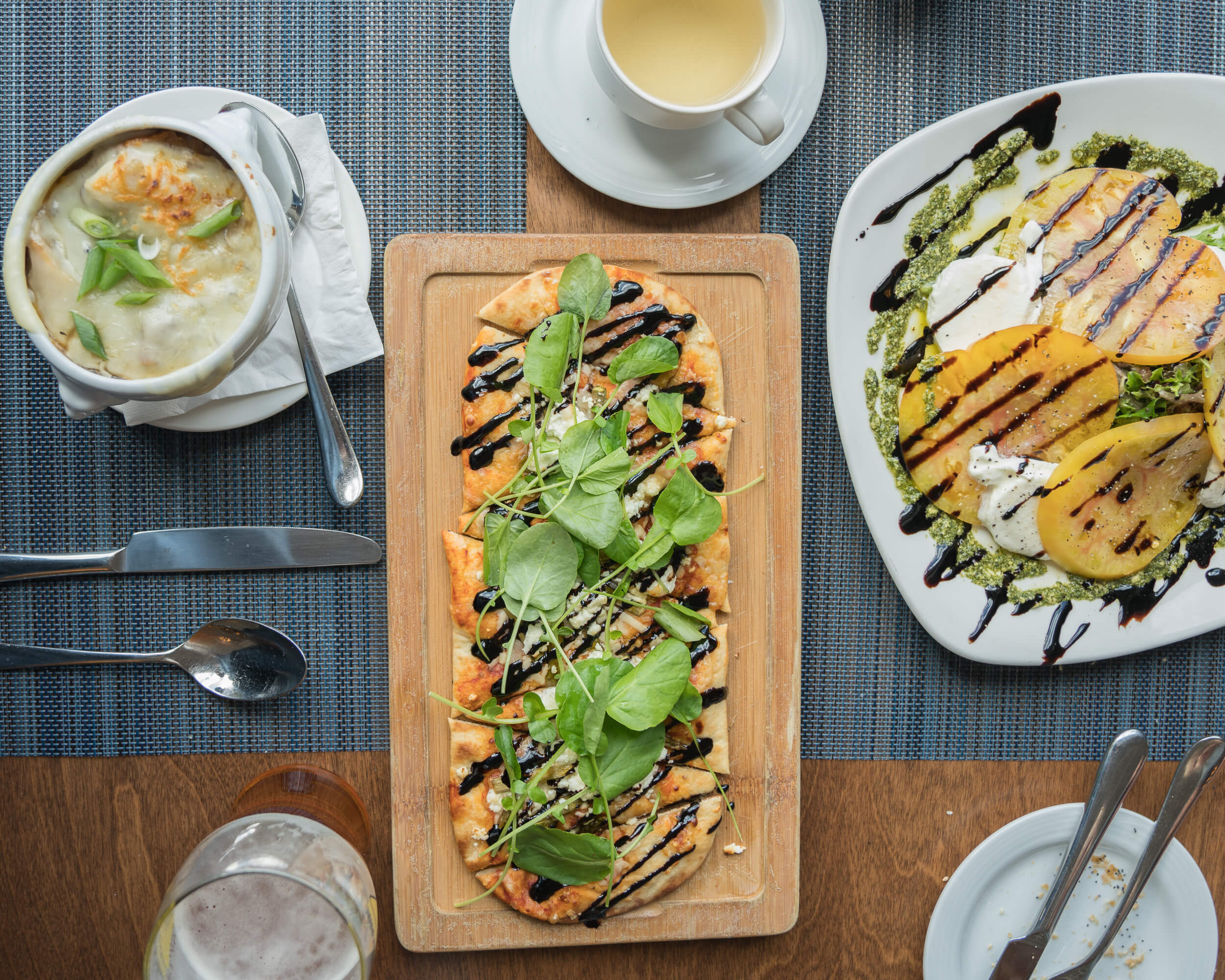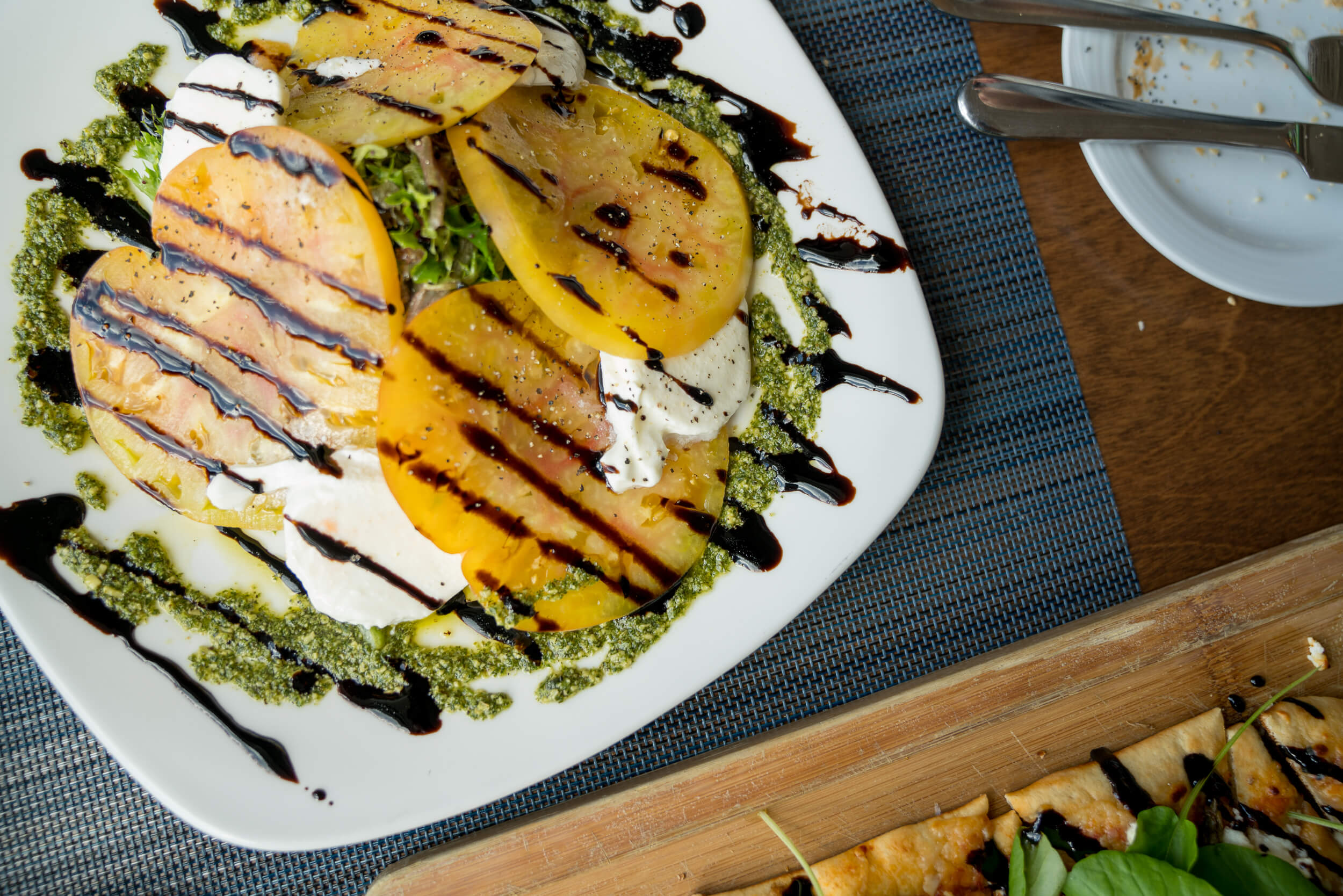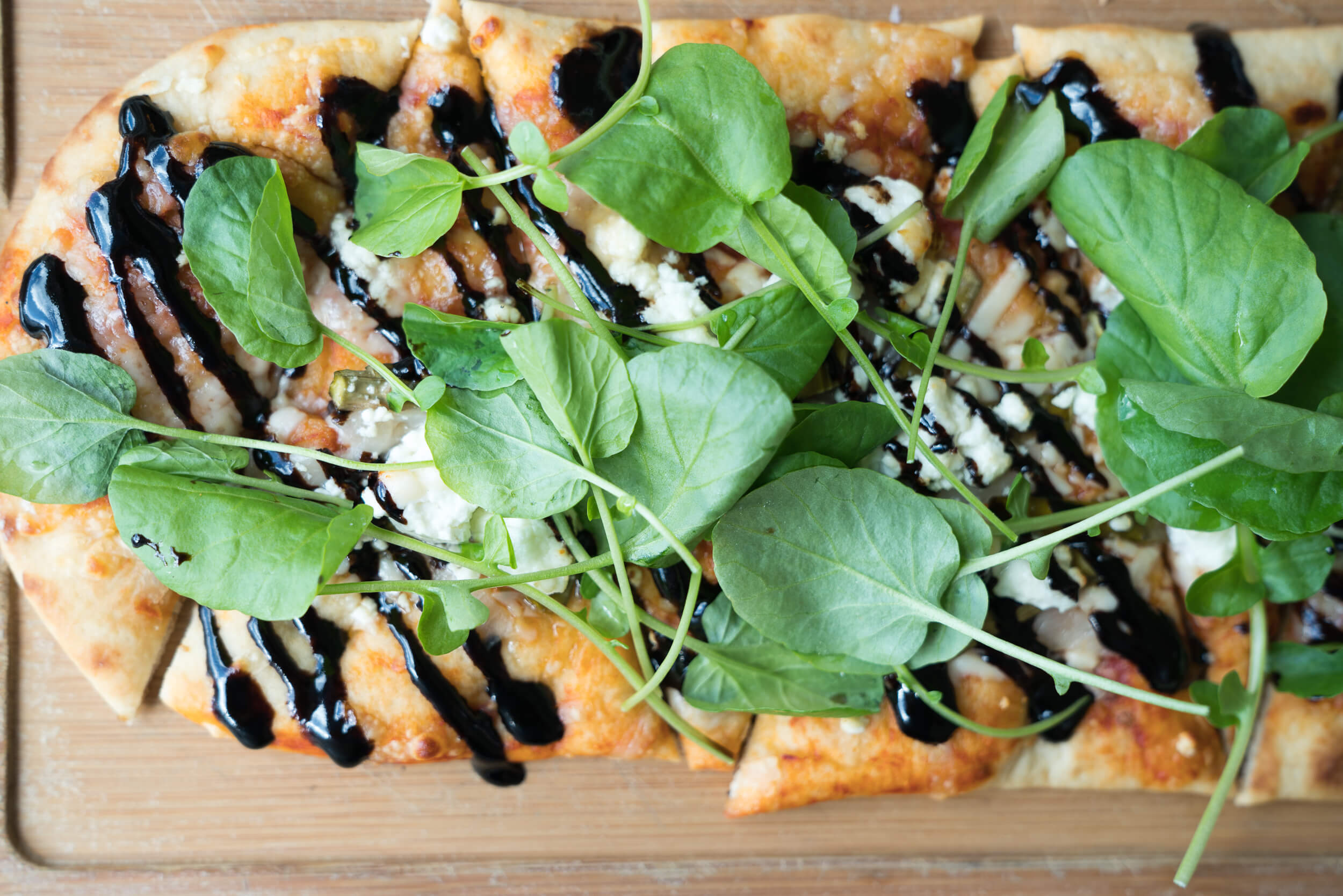 The only problem with this trip is that I didn't want to leave. We would have stayed longer but right now we have the Joyous Health Business Program in full swing, so it was important to come back and get back to work!
I would also like to take advantage of one of their wellness retreats or programs on my next visit. They had some incredible retreats in 2017 and it's a good excuse to go back in 2018.
Before I go, I know you're probably wondering because you guys always ask me on Instagram what it's like travelling with a toddler so I'm gonna quickly bullet point some considerations travelling with a little one. We've had lots of practice with Vienna Here goes:
Don't expect your little one to sleep on the plane even if it's nap time. They are way too excited! Planes are super interesting for them. It will be more stressful for you as a parent if you're trying to get them to settle down and nap and they just won't. Okay you may have to deal with a crabby toddler later on, but it's less frustrating than dealing with an unhappy toddler on a plane – TRUST ME!
Bring lots of snacks with you for flying and for when you get to your destination. When there's a time change involved, their hunger is all over the place so avoid a "hangry" child at all costs. I bring V's favourite porridge, fruit, hummus, crackers, veggies, granola bars and squeezies. And make sure they have something to drink or suck on when the plane is descending to ease the pressure in their ears. Have a boob? That's the easiest solution.
At bedtime, follow the same bedtime routine as at home. If you're flying and going back in time, then put them to bed later. I always try and adjust Vienna to a time zone right away. Now since we were away for 5 days I could have kept her on Toronto time, but it just worked out that she ended up on mountain time. Now we are in the process of trying to get her back to Toronto time cause she's a little off right now. Oy vey.
As much as you want to explore, if your toddler is still napping at home, make sure they nap while you're on vacay. No one has fun on vacay when you've got a sleep deprived baby or toddler. For other info on travelling, I did this youtube about our travels to Austria and how I stay healthy while traveling.
As always, any questions please ask me below! I hope you enjoyed these photos!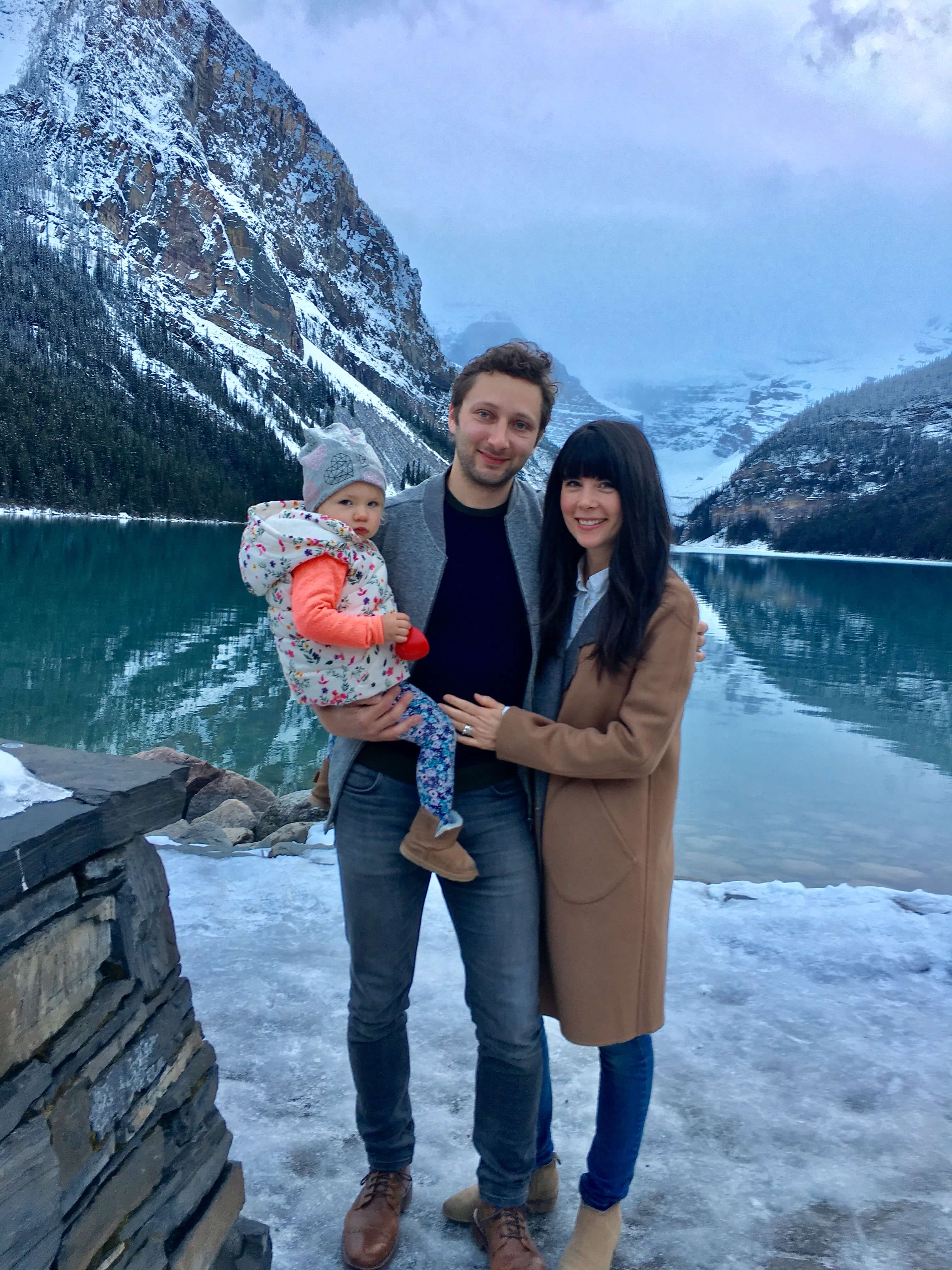 Joy
Ps. Thank you to my amazing hubs for taking most of these photos!
This post was created in partnership with the Fairmont Chateau Lake Louise, however all opinions are always my own. Read more about partnership ethos here.