Due to reader request and people asking me through social media I thought it was time I did an update on what Vienna's been eating for the last few months since my last post on Baby Food Introduction and Best Baby-Friendly Snacks. She's now 14 months and although things haven't changed drastically, she's definitely become a pro with finger foods!
From six months to one year Vienna was quite an adventurous eater but the last couple of months she's become much pickier. If it was up to Vienna, she'd be happy to eat carbs for every meal and snack.
After talking to my girlfriends with babe's the same age, it sounds like V's carb-mongering is not unusual because their little ones are the same. She definitely takes after her dad who would never turn down a baguette or croissant!
Fortunately, between the carbs, carbs and more carbs I manage to get her to eat some super nourishing foods.
Not that carbs are bad of course, but it's important for her to get fat and protein too.
If all else fails, then my go-to is always a smoothie. If I can manage to get one good smoothie a day then I feel confident she's getting some decent nourishment. Oh and I'm still breastfeeding which means three to four times a day she's getting mama milk. I plan on nursing until Vienna is two for theimmune boost benefits and of course, the bonding.
So here are Vienna's favourite foods these days, I'm sure this will change soon though!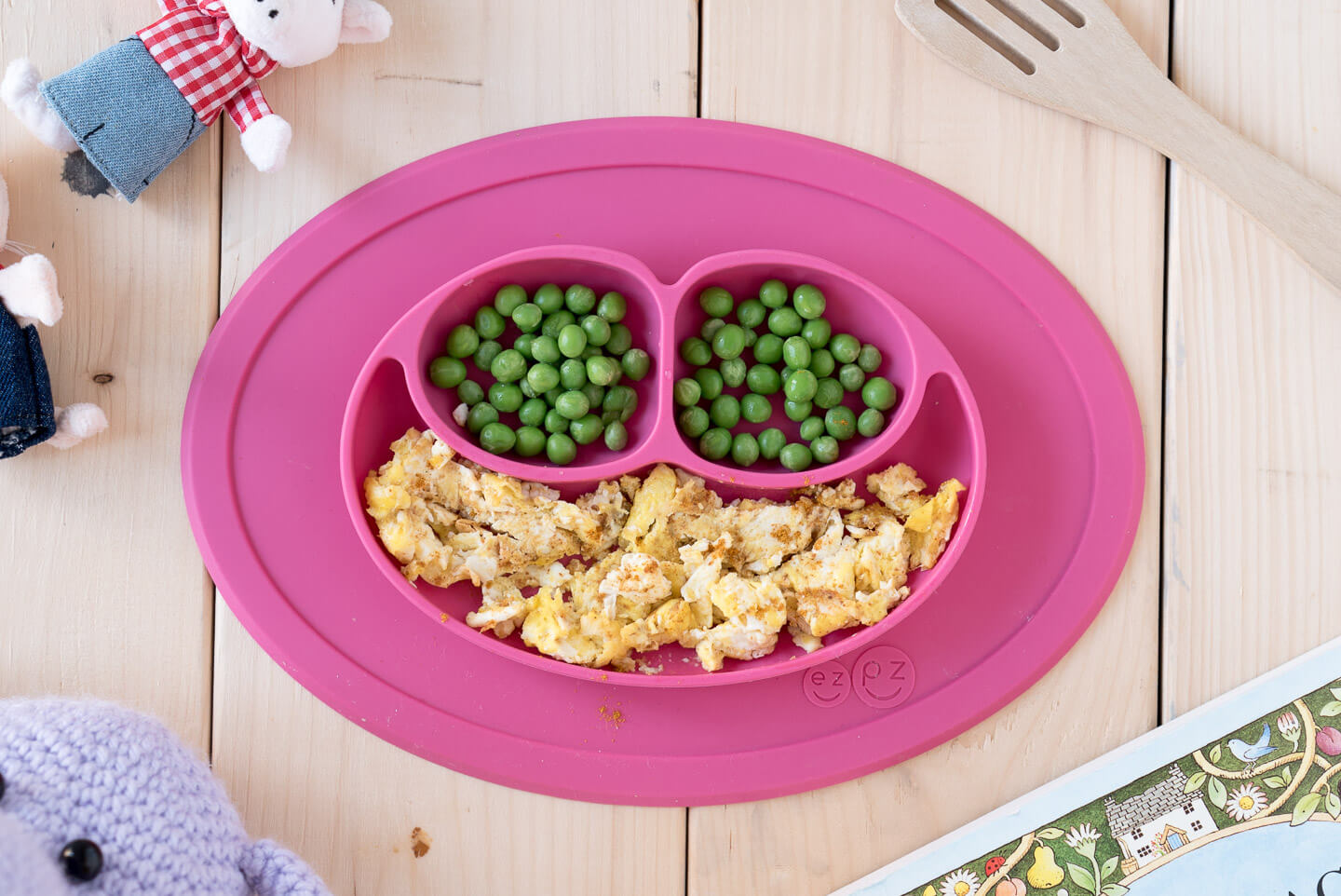 You may have heard me talking about Vienna's love for curry in other posts or through social media. One of the first spices Vienna ever had was turmeric and then I went full on and started sprinkling my favourite organic curry powder on her scrambled eggs. She LOVES curried scrambled eggs as much as any carb ... for now. I thank my lucky stars because eggs are an incredible source of nutrition, they are high in iron, B12, vitamin D and choline. Eggs are a total brain superfood and goodness knows, that little noggin of hers doubled in size the first year.
She also loves these mini frittatas. By the way that mat is from EZPZ.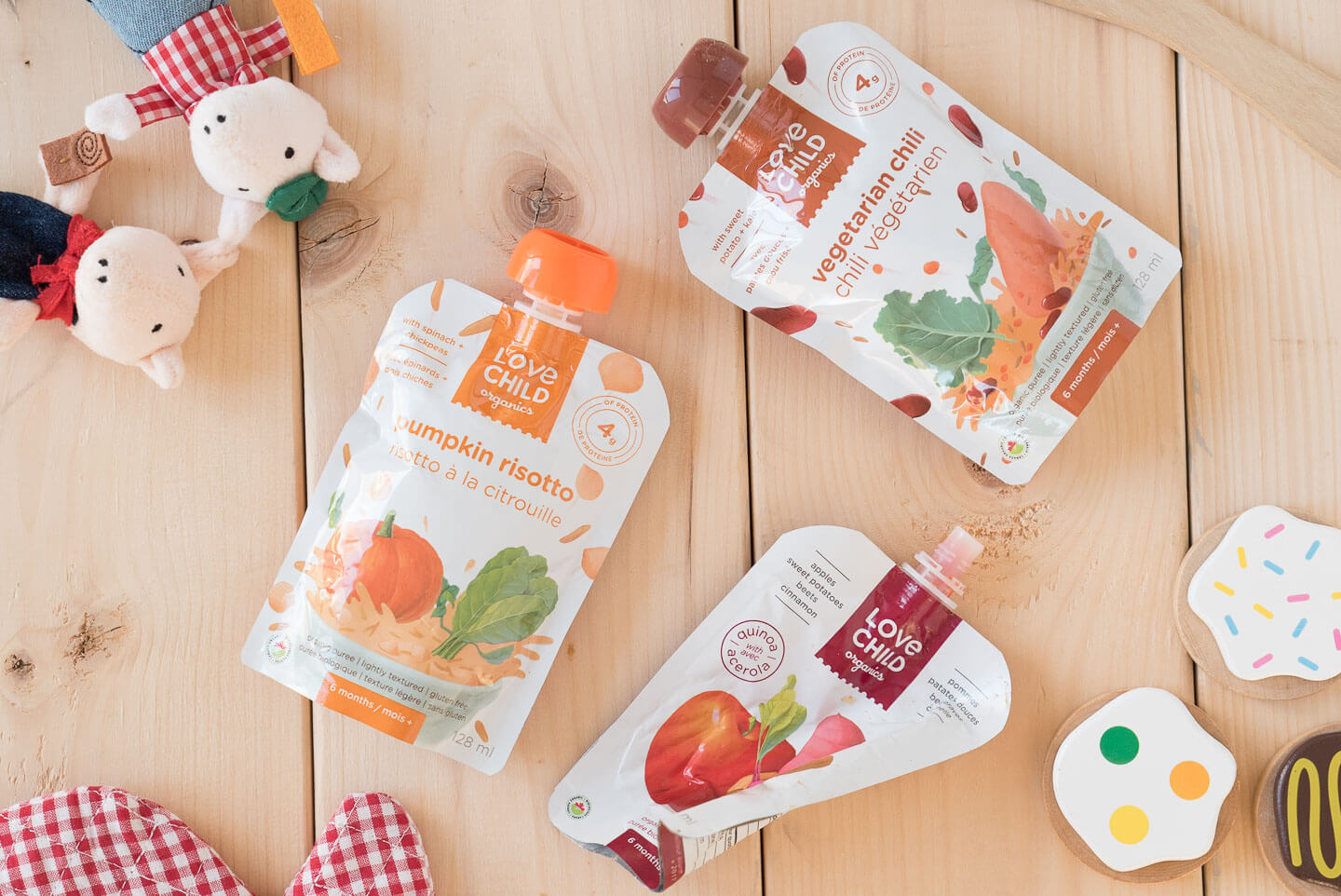 Even though Vienna is 14 months, she still gets these once in a while because life is crazy busy and as much as I would like to make 100% of her meals from scratch that's just not a reality when you're an entrepreneur. Before I had Vienna, my business was my baby, so now I feel like I have two babies haha!
Love Child makes them and they are all organic, very pure and I feel good giving these to Vienna because they are the next best thing to homemade.
I really love these purees, in fact, if they made them in adult size, I would be eating them too!


Pasta with Lemon Basil Pesto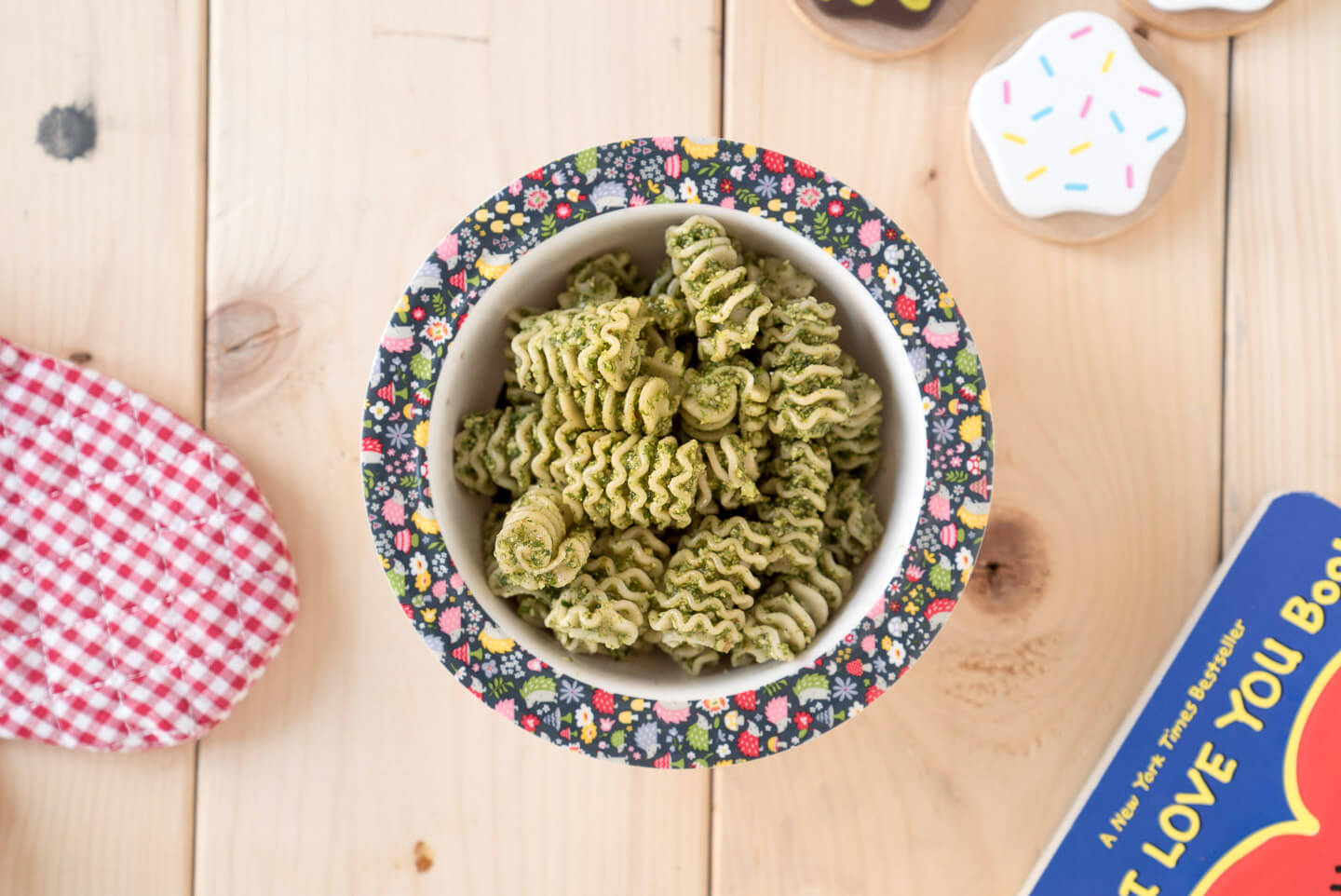 I've really had to come up with creative ways to get Vienna to eat green veggies because so far, I've had zero luck with broccoli. She will chew on sliced zucchini and cucumber but I don't know how much actually ends up in her belly because a lot of it is on the floor! This is when pesto pasta comes in handy.
I mixed this pesto with fermented sourdough pasta. I don't add as much garlic as I would if making it for just Walker and I and no salt or pepper. She loves it and I feel really good knowing that she's getting a super easy to digest grain that is incredibly nourishing.
If you're gonna give your babe grains, fermented is a wonderful choice for ease of digestion. Now, this may bring about a question you might be wondering "But Joy, I thought little ones could not digest starches well". It's funny how we hear something once and accept it as the truth. The truth is that by five to six months of age babies produce a lot of salivary amylase (the enzyme that digests starches) and they swallow it too which means it ends up in their digestive system helping with digestion. Additionally, if you are breastfeeding then your baby is getting approximately 25X more amylase than cow's milk formula. Amylase will survive in the digestive system several hours after ingestion.
Does this mean I'm recommending grains, grains and more grains? No. There are many nutritious foods like vegetables to give your baby. I'm not against grain cereals for babies and toddlers and Vienna definitely loves her buckwheat chia porridge from Love Child, but variety is very important for babies and adults alike! Variety helps prevent food sensitivities.
The topic of grains and gluten is something I will delve deeper in an upcoming post so I will keep you in suspense! ;)
Blueberry Coconut Yogurt Smoothie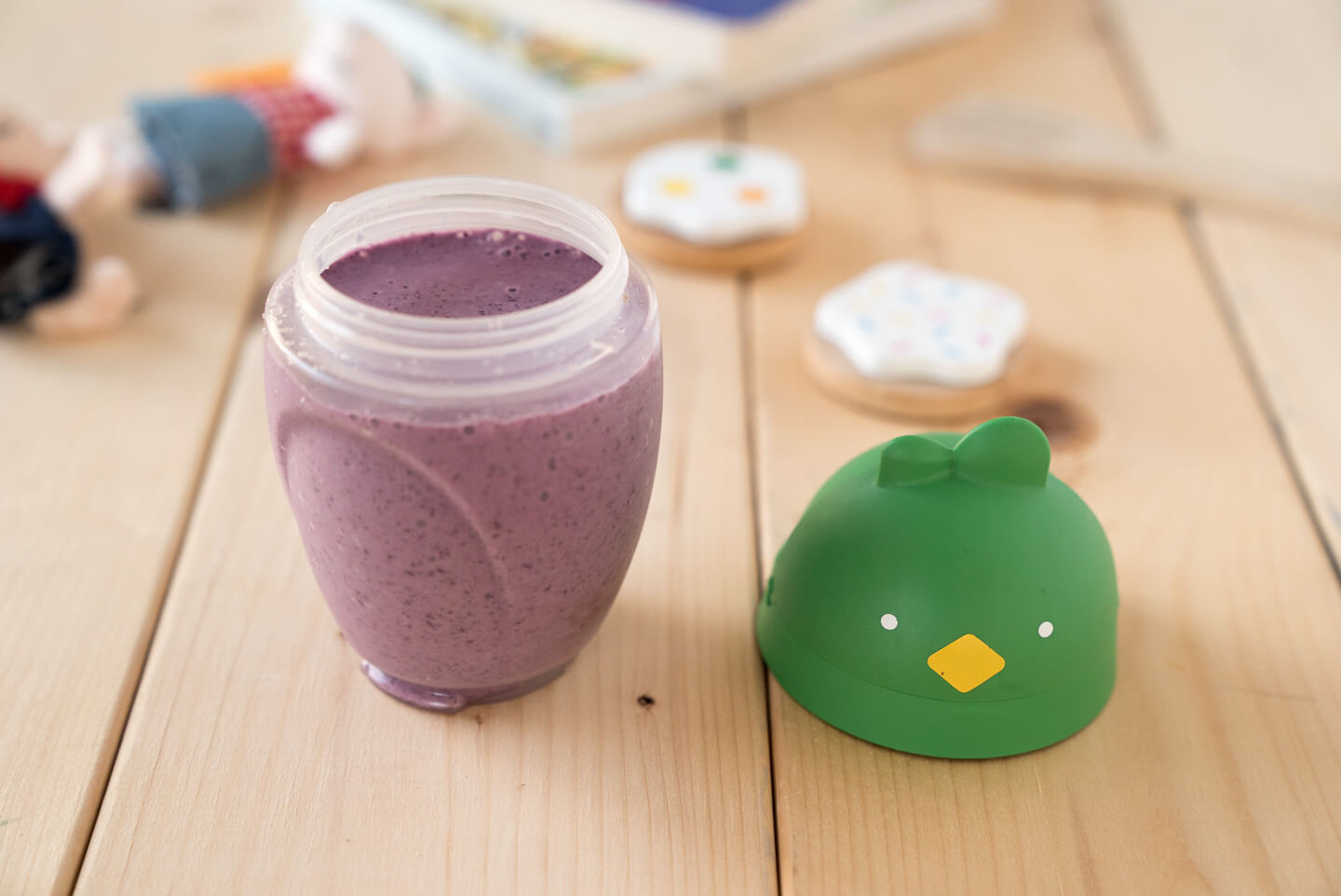 Ingredients
1/2 cup Frozen Blueberries
1/4 cup Coconut yogurt
1 tbsp ground flax
1 tbsp hemp hearts
Small handful fresh spinach
Pinkie size fresh gingerroot
Goat milk or nut milk to desired consistency
Instructions
I actually never measure anything so these are approximations. It yields a couple of smoothies so I just refrigerate what's left over for another meal. If I've added chia seeds then when I give her leftovers I add a bit more liquid because it will have become jello-like after a few hours.
---
Notes
I use all organic ingredients.
Smoothies are an easy way to get protein, fat and complex carbs into Vienna's growing body. Now that she's figured out how to properly use a straw thanks to the Lolla Cup, I'm having some fun with different ingredients. She loves blueberry smoothies, pumpkin smoothies ... basically any ingredient I can toss into a smoothie I can usually get her to drink it. Unfortunately, we had to take a break from adding Greens+ Kids to her smoothies and the Berry Green Bites because she has developed a sensitivity to strawberries. This super common and she will likely grow out of it.
OMG, Vienna loves hummus -- the more the better! I'm beginning to wonder if hummus is the secret to getting her to eat anything I want. Hummus a fantastic source of fiber (great for pooping), iron, protein and good fat. Plus it's a food that satisfies.
She will eat salmon but only if it's warm -- forget next day leftovers. I love love love the Salmon Quinoa Burgers from Joyous Detox which I made last night but Vienna will only eat them the day after they are made. Perhaps if I smothered them in hummus I could trick her to liking the leftovers.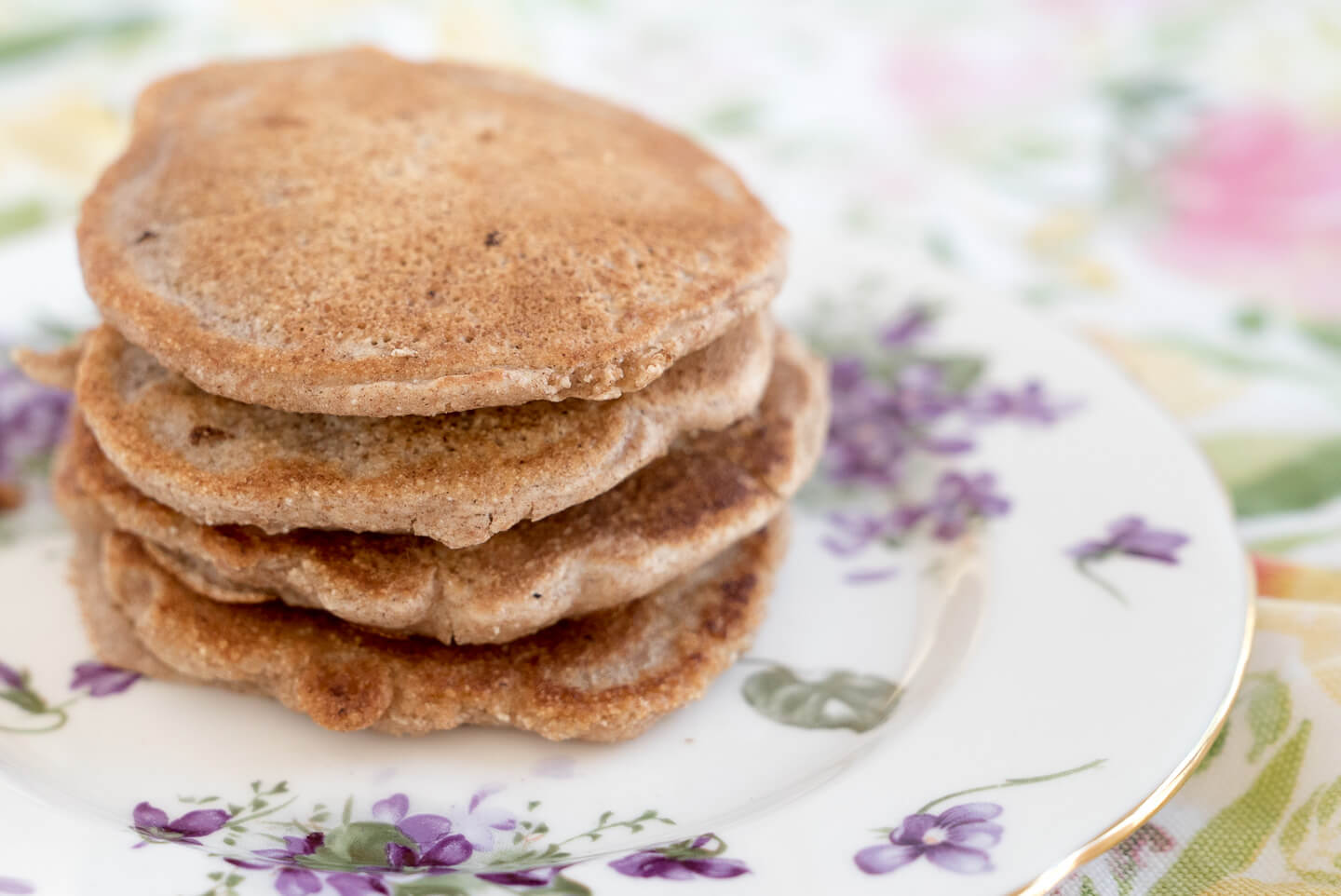 Just like her mama, Vienna is a pancake monster. I made these Apple Spice Pancakes for her the other week and she gobbled up 3 of them! I was in shock but also very happy knowing how nutritious these p-cakes are.
I make buckwheat pancakes for her often as well but it's in my second book Joyous Detox so you'll have to wait another month before trying that recipe. ;) If you've watched my insta stories you've seen how much Vienna loves pancakes. They are perfect for little hands, super soft and nourishing. In the meantime, the coconut flour pancakes in Joyous Health are always a hit but as you know coconut flour can be finicky.
Sweet Pea Hemp Dip with Mint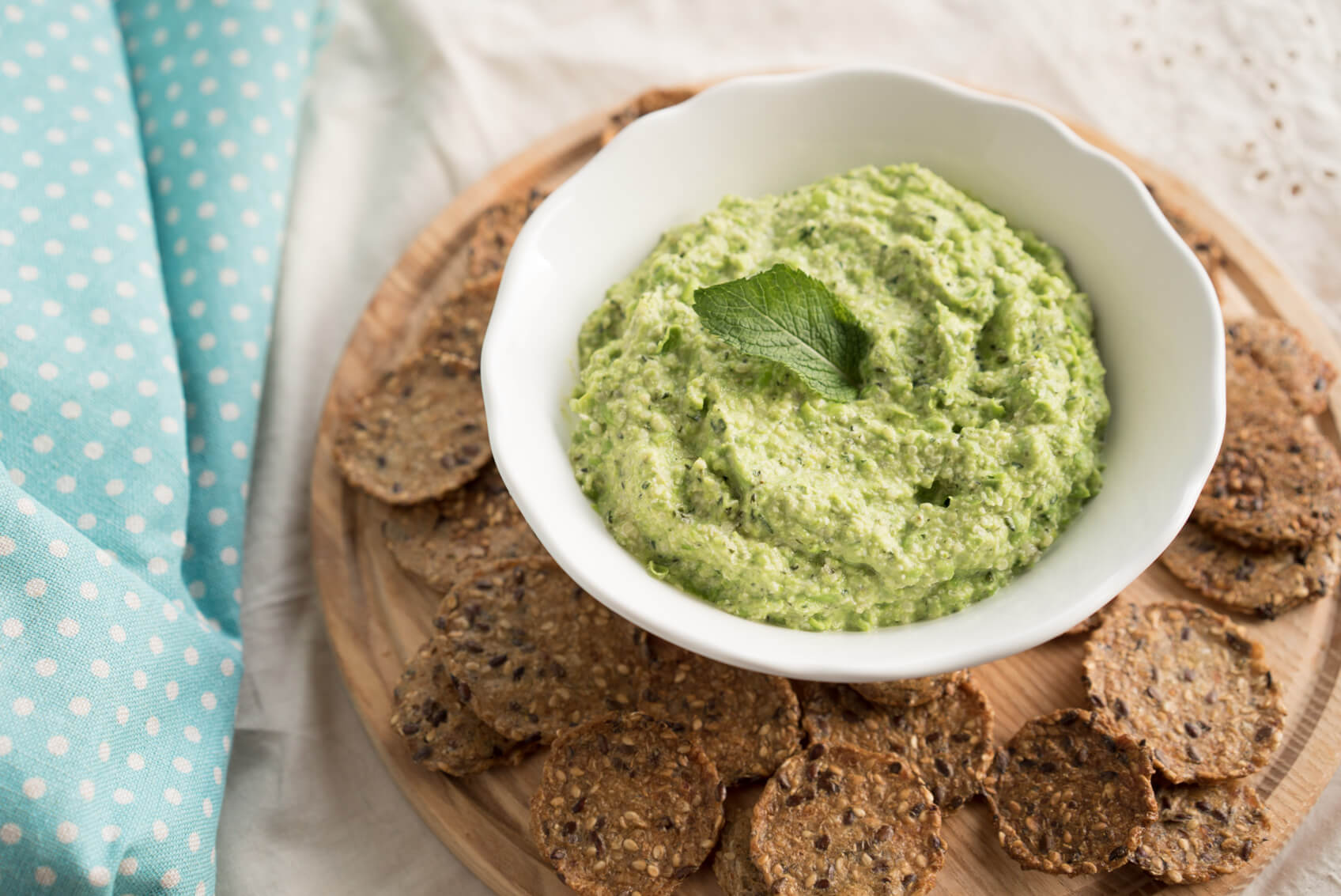 This may seem like a weirdo combo but it's amazing! I stick it on a cracker (usually a Love Duck). Vienna adores this Sweet Pea Hemp Dip with Mint! I don't give her these crackers in the photo because they are too hard for her. Giving Vienna this to snack on is a great way to keep her occupied while I make her dinner. She also loves my Beet Cashew Dip.
Pumpkin Muffins(minus the chocolate chips) and Coconut Flour Banana Spice Muffins are hits as well! And super easy finger foods.
So there you have it! Those are V's favourite foods. Now, if could just get her to eat kale... lol. Little does she know she's still eating it when I give her Love Child's Kale, Peas and Pears Super Blend.
And these "squeezies" as I call them are super convenient when I take Vienna to her music class. She's always hungry after the class so I give her a little snack and one of these squeezies. It's nice she just sucks it out herself while I'm pushing her in the stroller.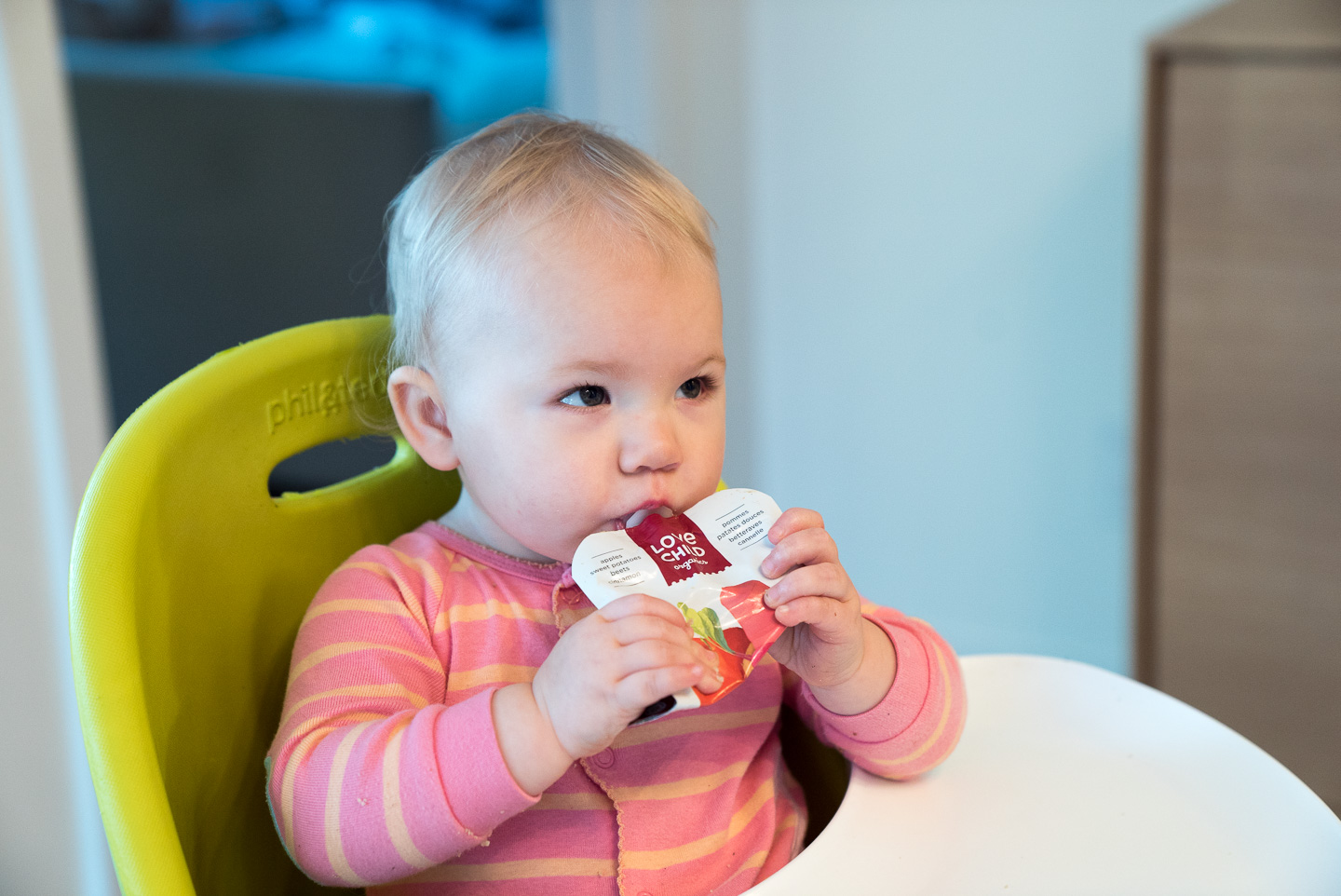 Check back next week for my post on the most Frequently Asked Questions I get as a mama and holistic nutritionist when it comes to feeding babies and toddlers.
Until then, have a joyous week!
Joy