Rice pudding is one of those desserts people either love or hate. I'm definitely in the camp of being a rice pudding lover and so are Walker and Vienna. However, most rice pudding recipes are full of refined sugar and made with white rice. These are not ingredients I recommend because they spike your blood sugar and will promote the storage of fat.
If I was forced to eat only one dessert for the rest of my life, it would definitely be this Sweet Potato Brown Rice Pudding. It checks all the boxes for a joyous-approved treat, making it both healthy and delish!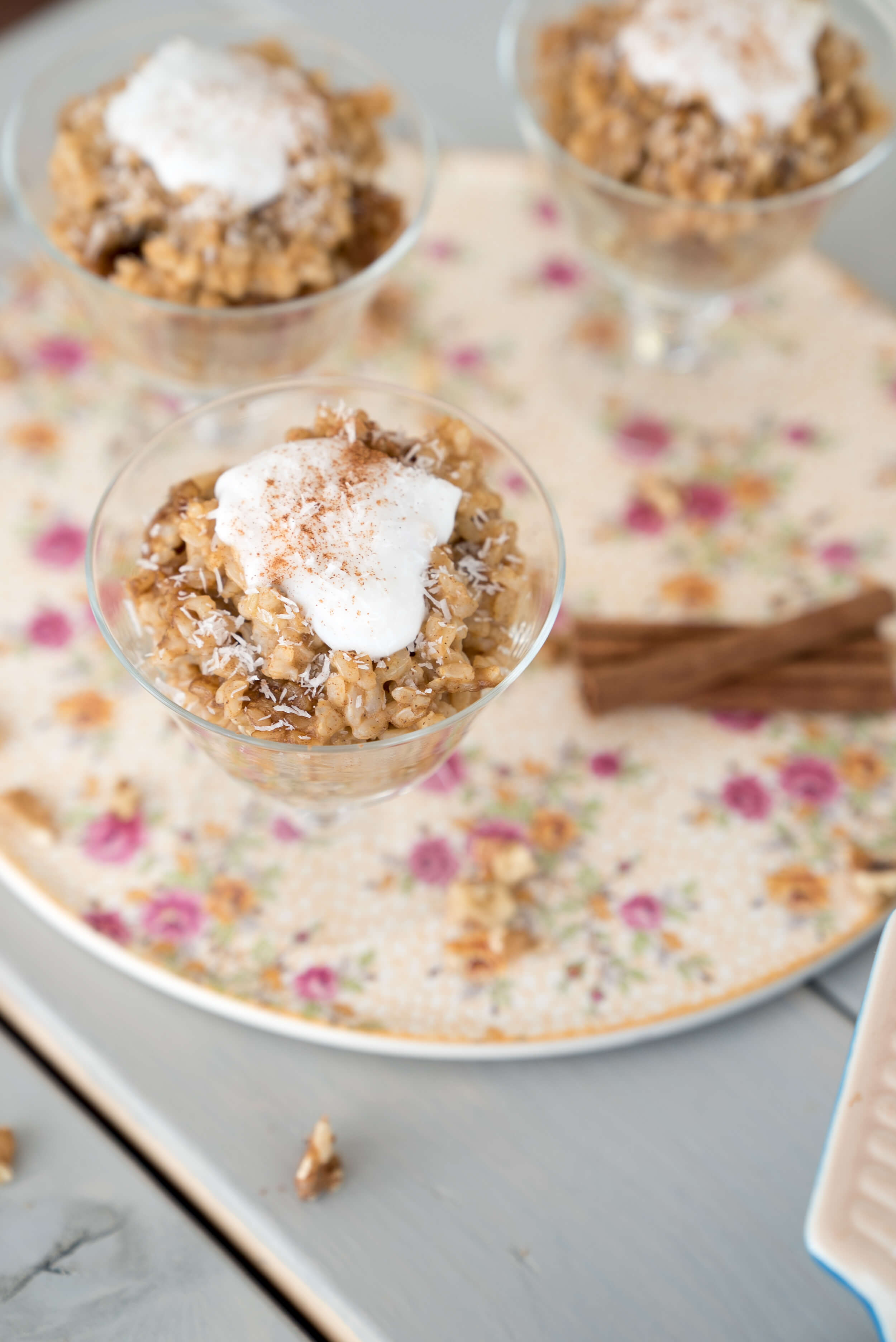 It's got tons of fiber, making itlfilling and great for digestive health thanks to the sweet potato, banana and brown rice.
It's rich in antioxidants from the spices like nutmeg, cinnamon, ginger and cloves making it the perfect medley of flavours.
It's got plant-based protein from the walnuts, nut milk and minimal amounts of protein in the brown rice too!
It's creamy, delicious and a crowd-pleaser.
See what I mean? This dessert is awesome! Not unlike many of my dessert recipes, I actually really love eating it chilled at breakfast with a schlop of coconut whipped cream on top.
It's nice and creamy from the mashed banana, nut milk and maple syrup. If you wanted to make it even more creamy, you could add another mashed banana. If you are allergic to bananas, you can swap it with applesauce instead.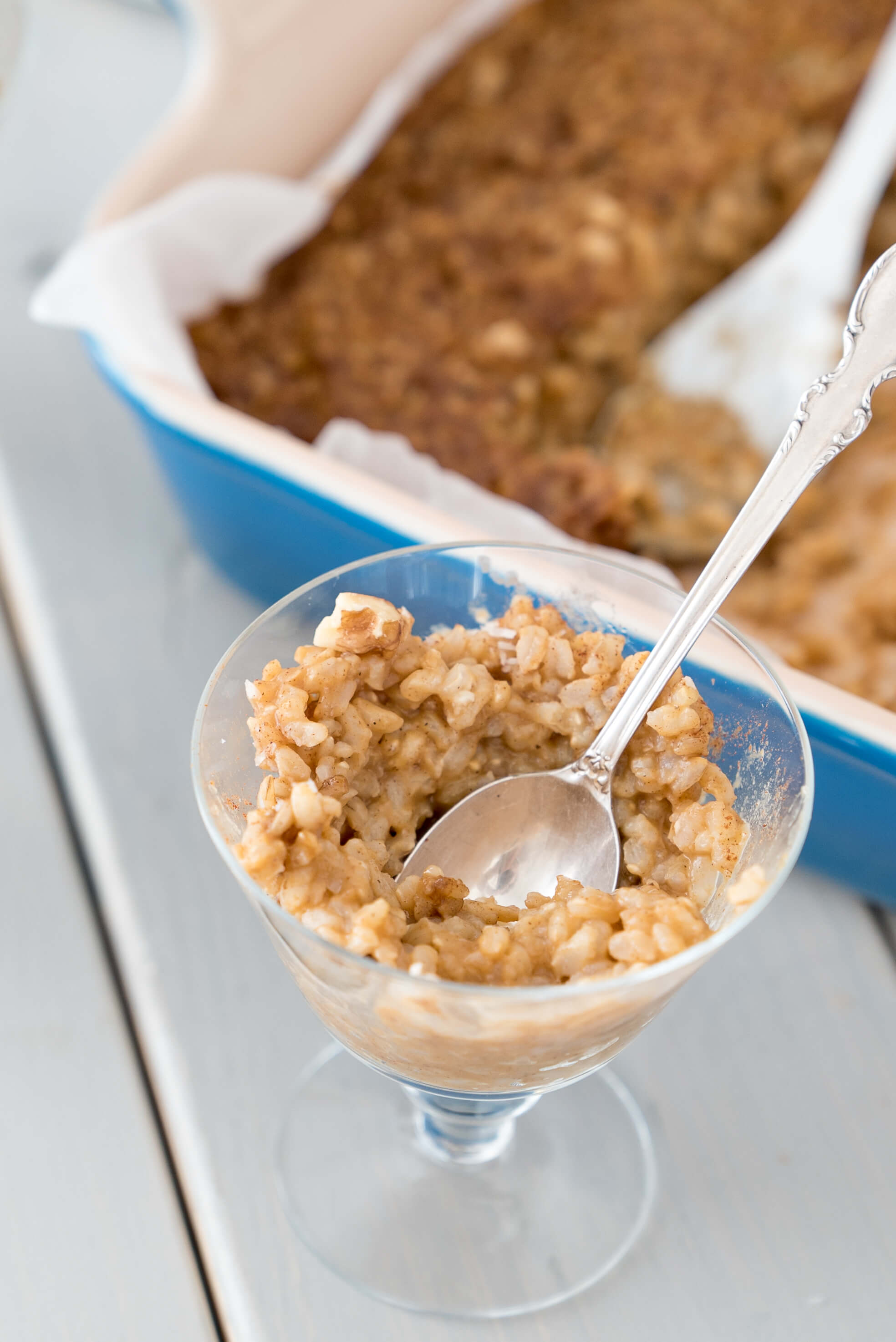 You could even add dried cranberries to the mix, which would be lovely, especially this time of year.
This recipe first made an appearance last year in my Detox-Friendly Desserts ebook I released just before Joyous Detox was published. You can get the whole ebook below, for free!
Here's my recipe: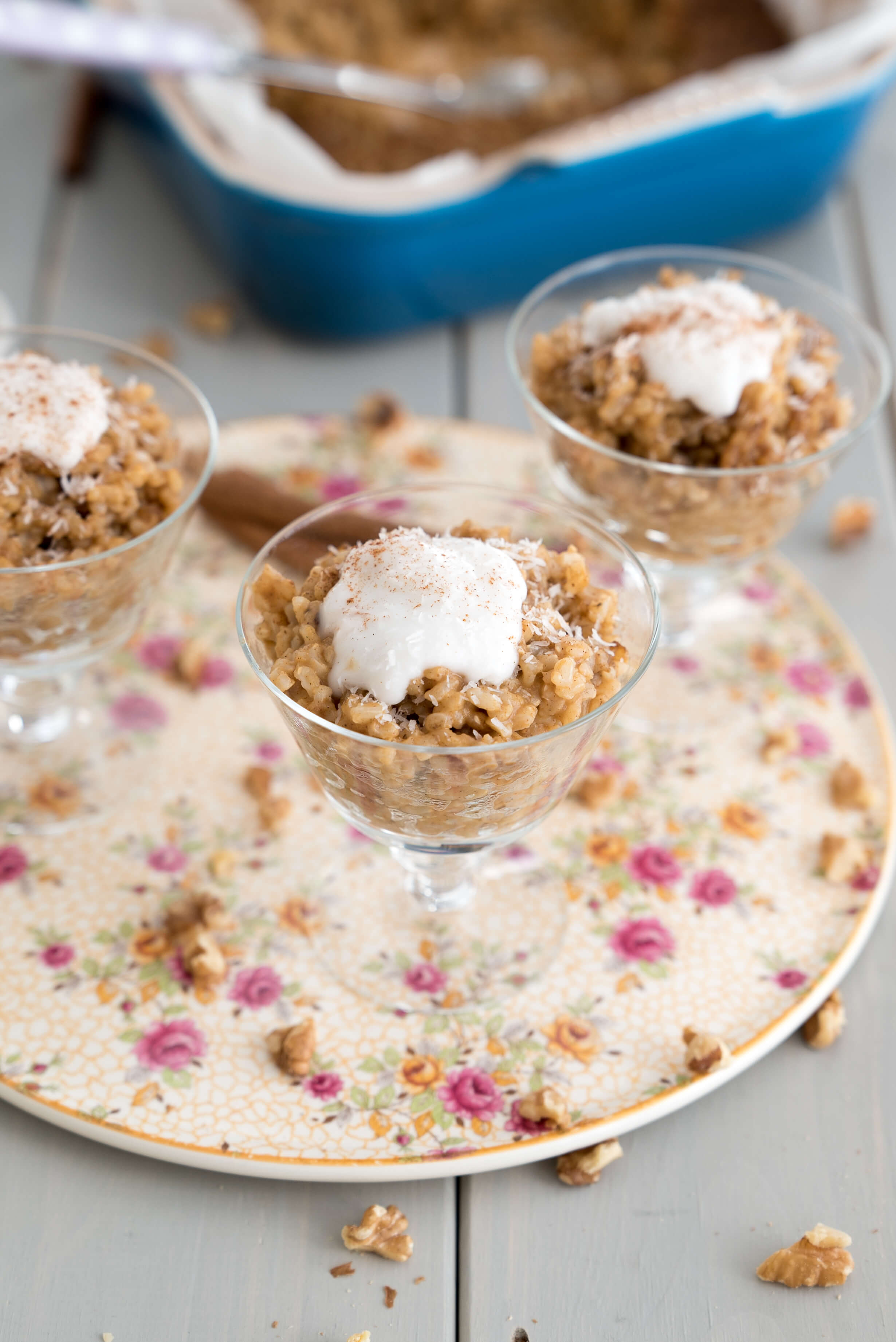 Ingredients
5 cups cooked brown rice (approximately 2 cups uncooked)
1 1/2 cups nut milk
1/2 cup chopped walnuts
1 banana mashed
1/4 cup brown rice syrup or real maple syrup
2 tsp pure vanilla extract
1/2 tsp ground nutmeg
2 tsp ground cinnamon
1 tsp ground ginger
1/4 tsp ground cloves
1 cup cooked sweet potato puree
1 tbsp coconut oil to grease pan
Instructions
I cook the brown rice and sweet potato ahead of time. For brown rice, simply follow the package instructions or just make sure you have a 2:1 ratio, water to brown rice when you cook it. The sweet potatoes are easily steamed for 20 minutes or roasted in the oven for 30-35 minutes at 350°F, just be sure to puree them in a food processor or blender.
Mix all the ingredients together in a large mixing bowl. Pour into a greased 8x8 baking dish and bake at 350°F for 35-45 minutes.
I like to top it with walnuts, coconut yogurt and a drizzle of raw honey!
---
Notes
Makes 8-10 servings.
I hope this ends up on your dessert table over the holidays! I would be honoured if you tagged me on social media @joyoushealth #joyoushealth as I love seeing your creations.
What's one dessert you never get tired of?
Have a joyous week!
Joy