You know how I was peach obsessed for most of August and September which turned into an apple obsession (did you try my Mini Apple Tarts )? Well now it's pumpkins!
The seasons are changing and I am enjoying everything the fall harvest has to offer. We have yet to go to a pumpkin patch as a family, but it's on my list! The pumpkin I used to make this cake with was from my local farmers market. It was a decent size so I actually got two recipes (including pumpkin chocolate chip muffins) out of it and I still have some leftover to make soup!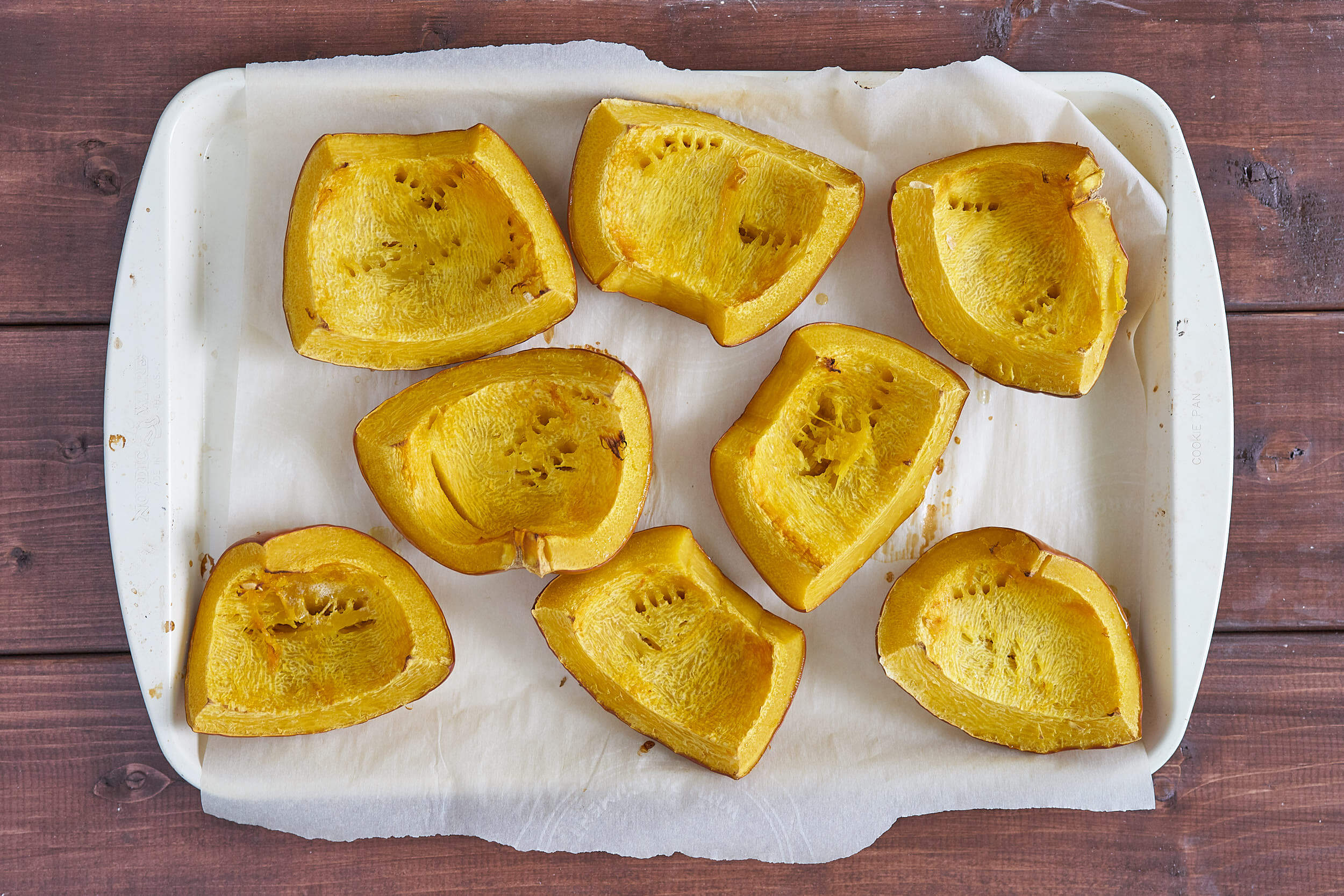 It smelled delicious when it was baking. You may want to skip this extra step to save time but I promise you, if you have the time, it's worth it to roast your own pumpkin. It's SO MUCH better than canned – more flavourful and nutrient-dense.
The colour of the pumpkin is totally different than canned too. Isn't it gorgeous? It's the colour of sunshine and we could sure use some more of that in Toronto. It's been sooooo grey here, waaah!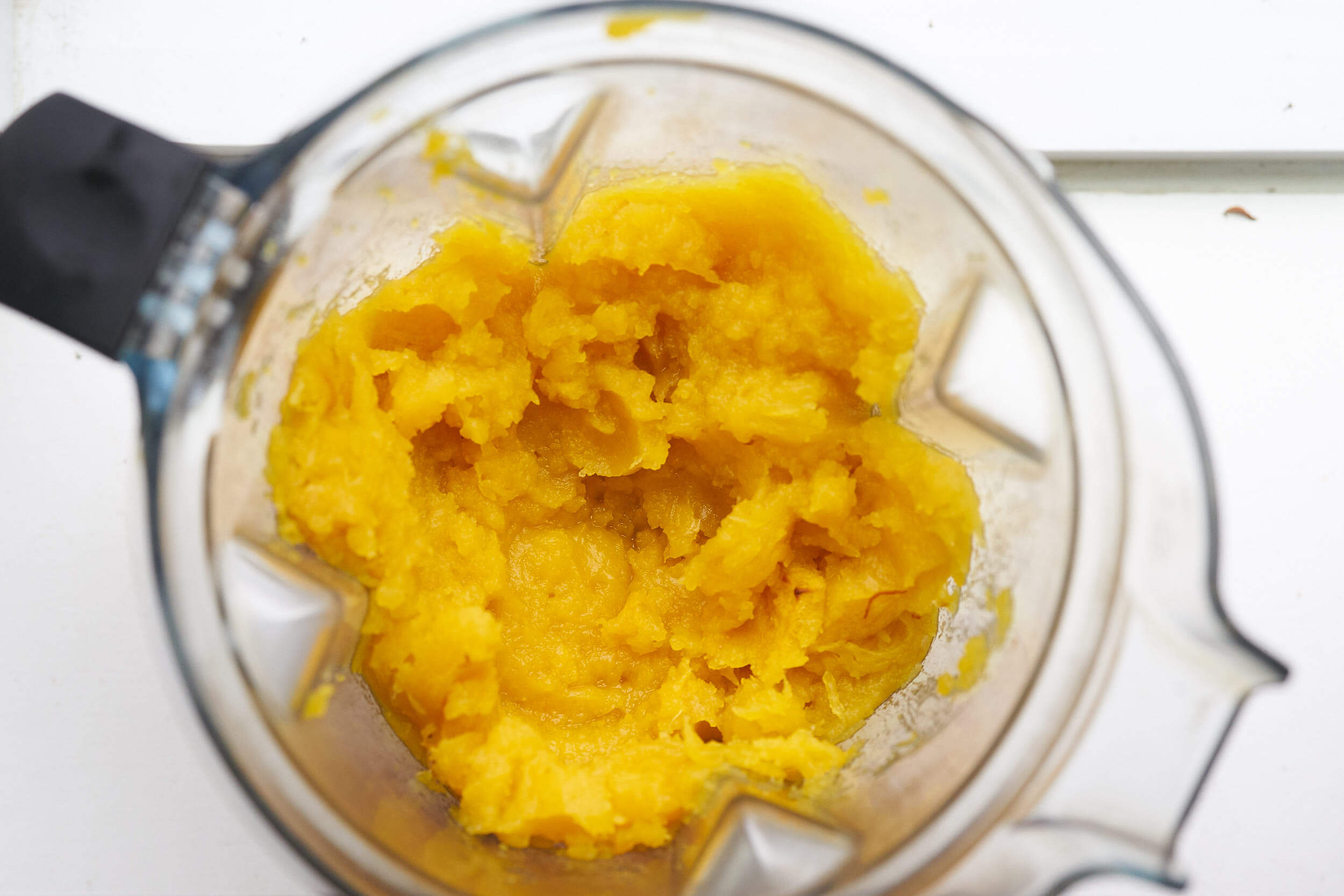 But of course, don't feel bad if you use canned. I totally get it! I roasted the pumpkin while I was in the office working one afternoon so it took me no time at all. While I worked way, the pumpkin roasted and before I knew it, I had beautiful, fleshy yellow pumpkin just begging to be turned into pumpkin cake. I've included the recipe instructions for roasting pumpkin below in case you're feeling like you'd like to do that.
Pumpkins are incredibly tasty but not overpowering and they add a moistness to this cake that you really can't duplicate any other way.
Just like all winter squashes, pumpkin is a nourishing superfood.
It's loaded with immune boosting vitamin C and beta-carotene.
Once you've got all your ingredients ready, you'll likely notice that it seems like you've got too little coconut flour. If you're a coconut flour virgin, you're gonna be like "Joy made a mistake with the amount". I promise you, it's 100% accurate!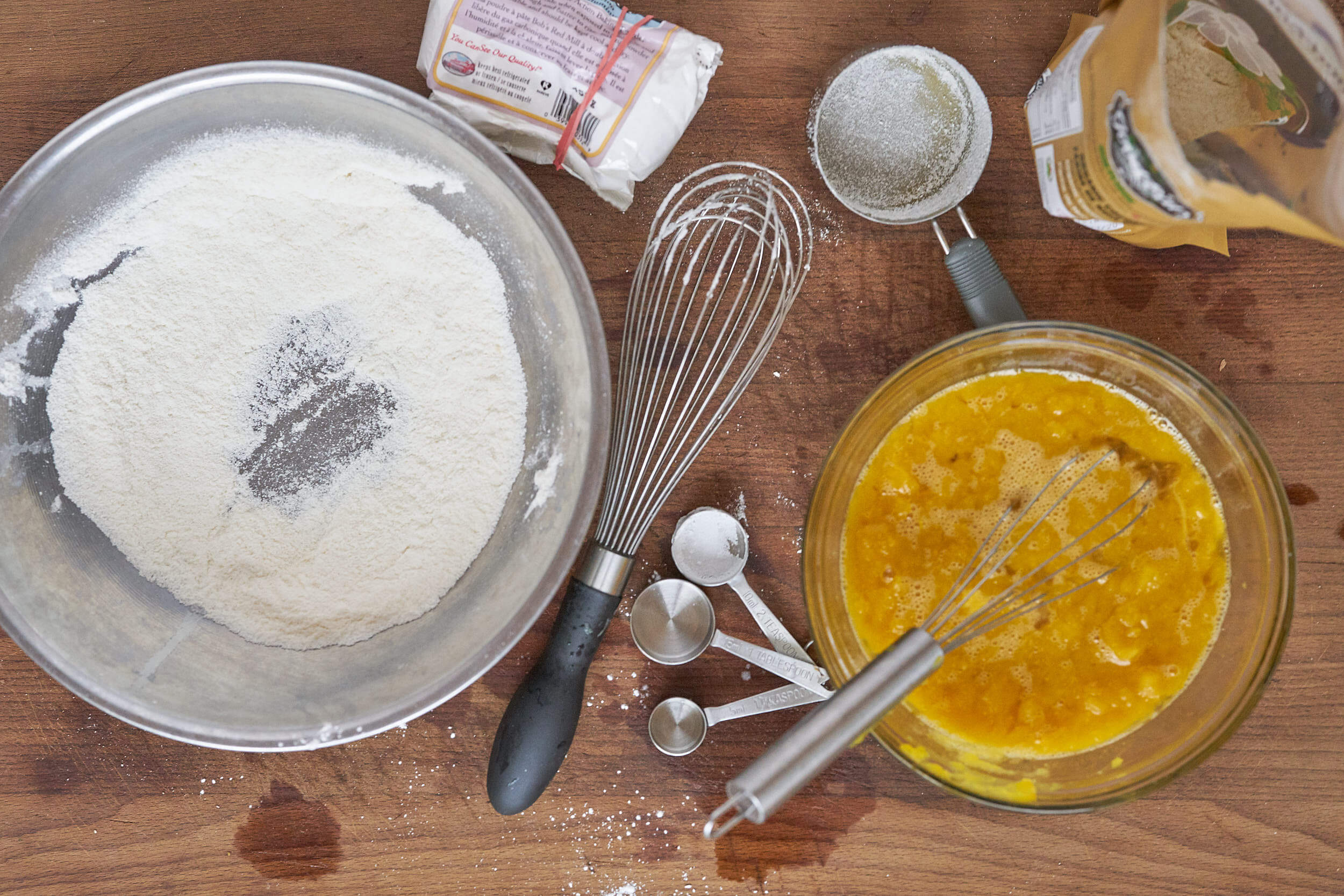 Coconut flour absorbs an insane amount of moisture and you can just see how fluffy this cake is. Coconut flour is an amazing flour if you use it in the right amounts in the right recipe, like this one! It's also very filling because as far as flours go, it has the highest amount of protein and fibre compared to nearly every other flour.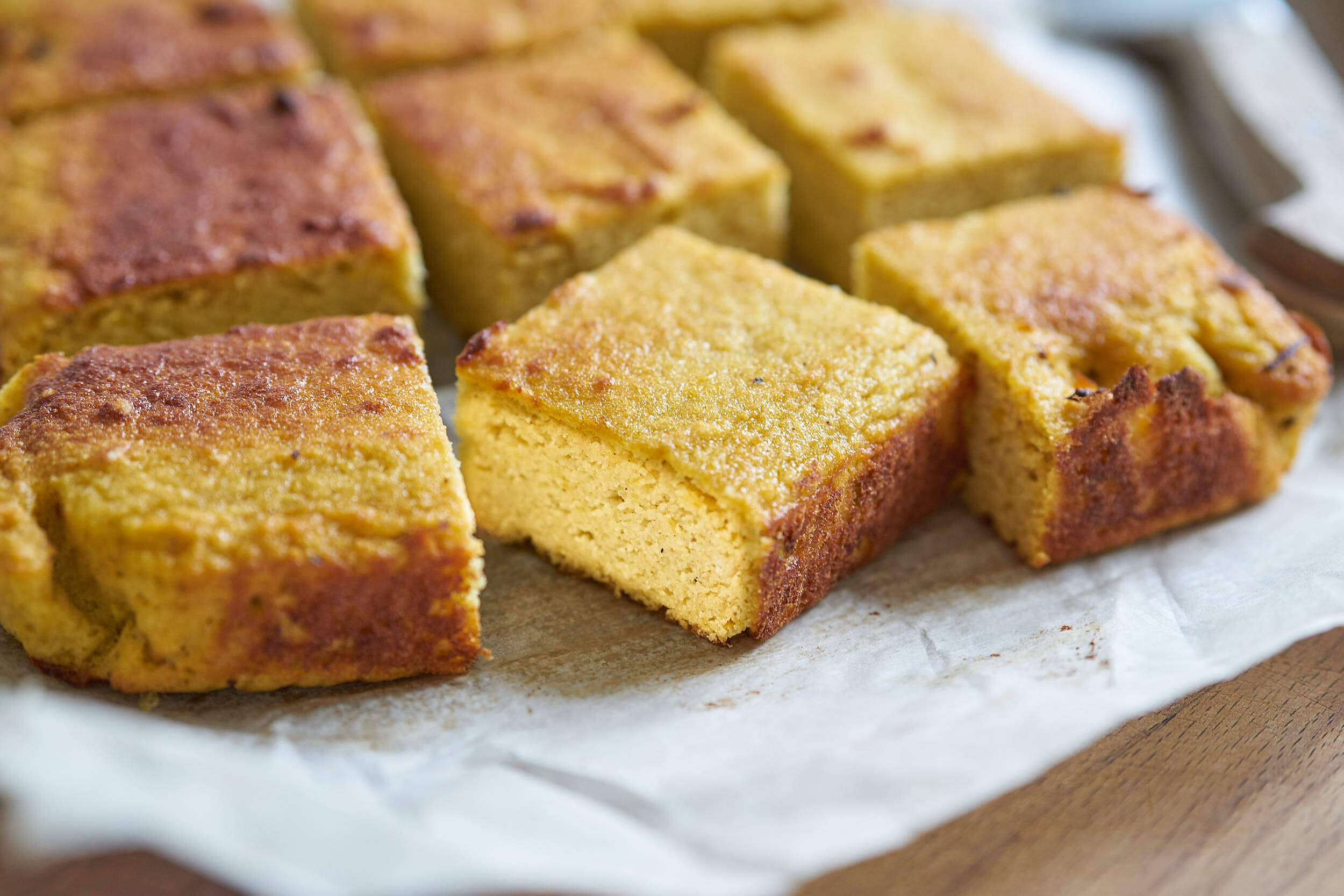 Looking at this cake, you might be thinking it needs icing, but honestly it doesn't! It's got so much flavour all on it's own from those four wonderful spices I added (and yes you can use "pumpkin spice" – I just like doing it myself). However, if I was to make an icing, I would infuse the icing with orange zest. I feel like those flavours would go amazing together.
I really wanted to make a coconut whipped cream, but I didn't have the right brand of coconut milk (this one from Cha's Organics is usually my go-to!). Coconut whipped cream is THE MOST FINICKY recipe ever so that's why it's not on my blog. But who cares when you have coconut milk vanilla ice cream and you can buy from six bucks from the store like I did!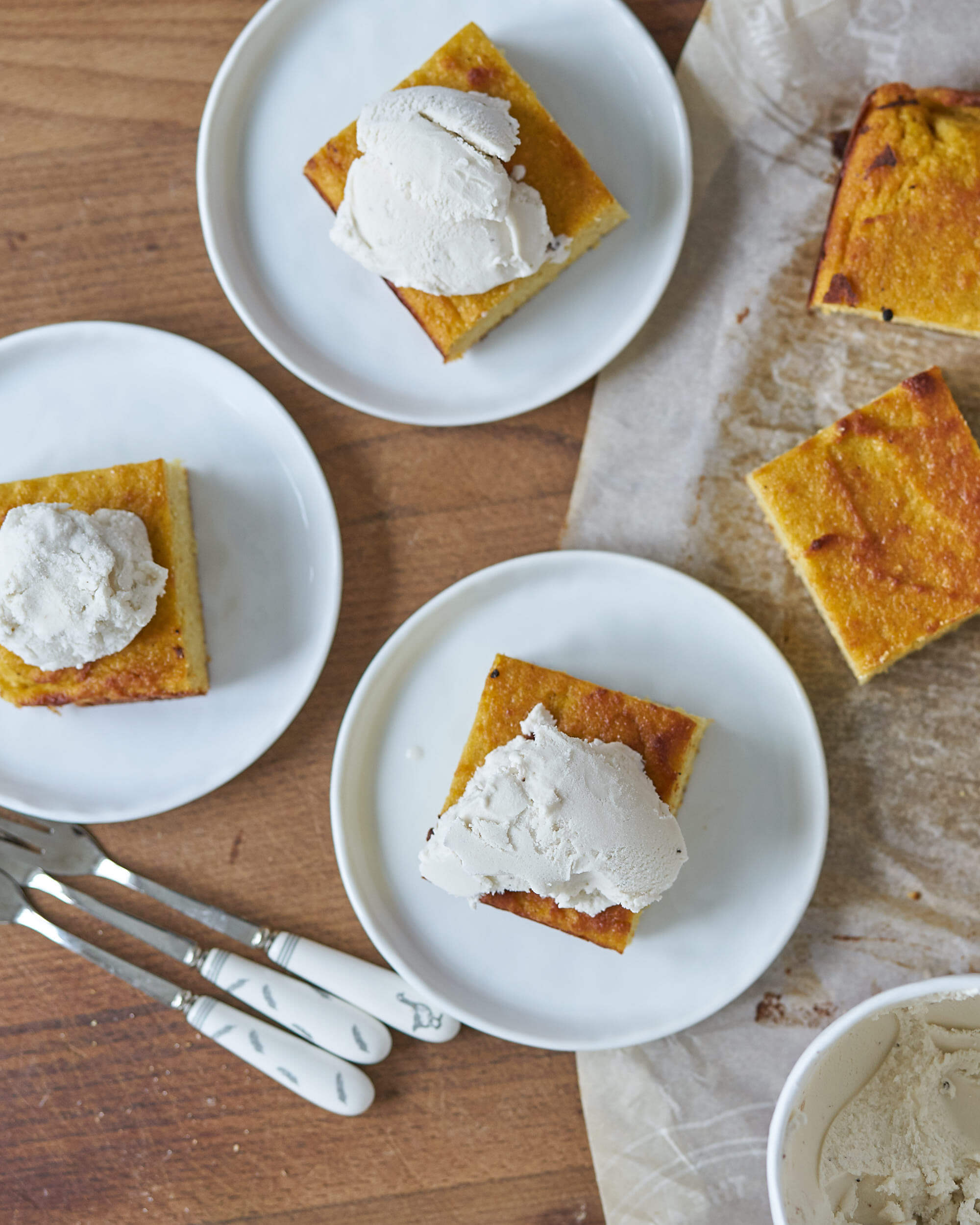 Back to this recipe though ... you know how I was saying that coconut flour absorbs a LOT of moisture? Well, this is why you need to let the batter rest a few minutes before pouring it into your baking pan and tossing it in the oven.
This is what it should look like before letting it rest ...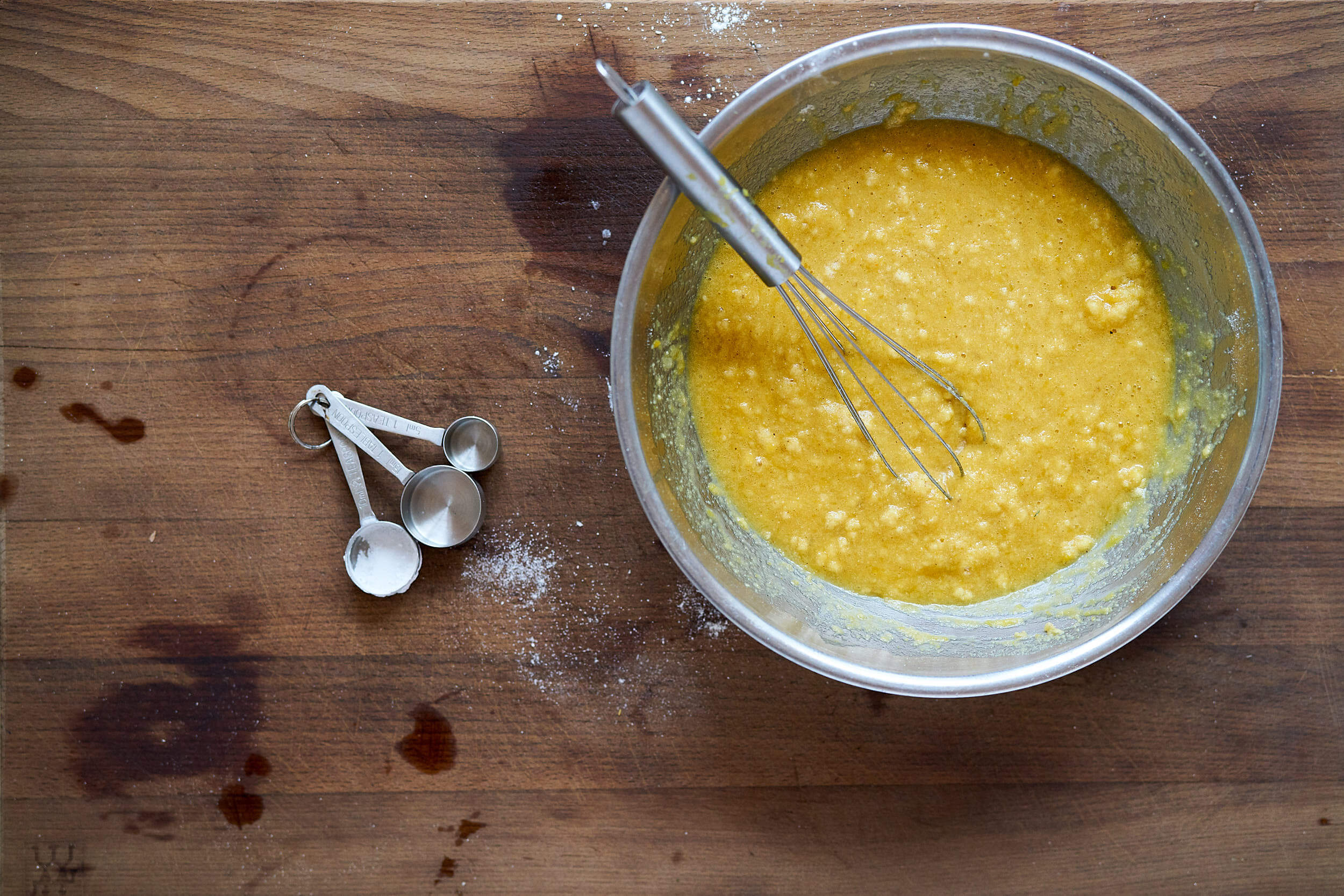 ... and what it should look like after it's rested. See how much the batter changes in just a few minutes? This is key!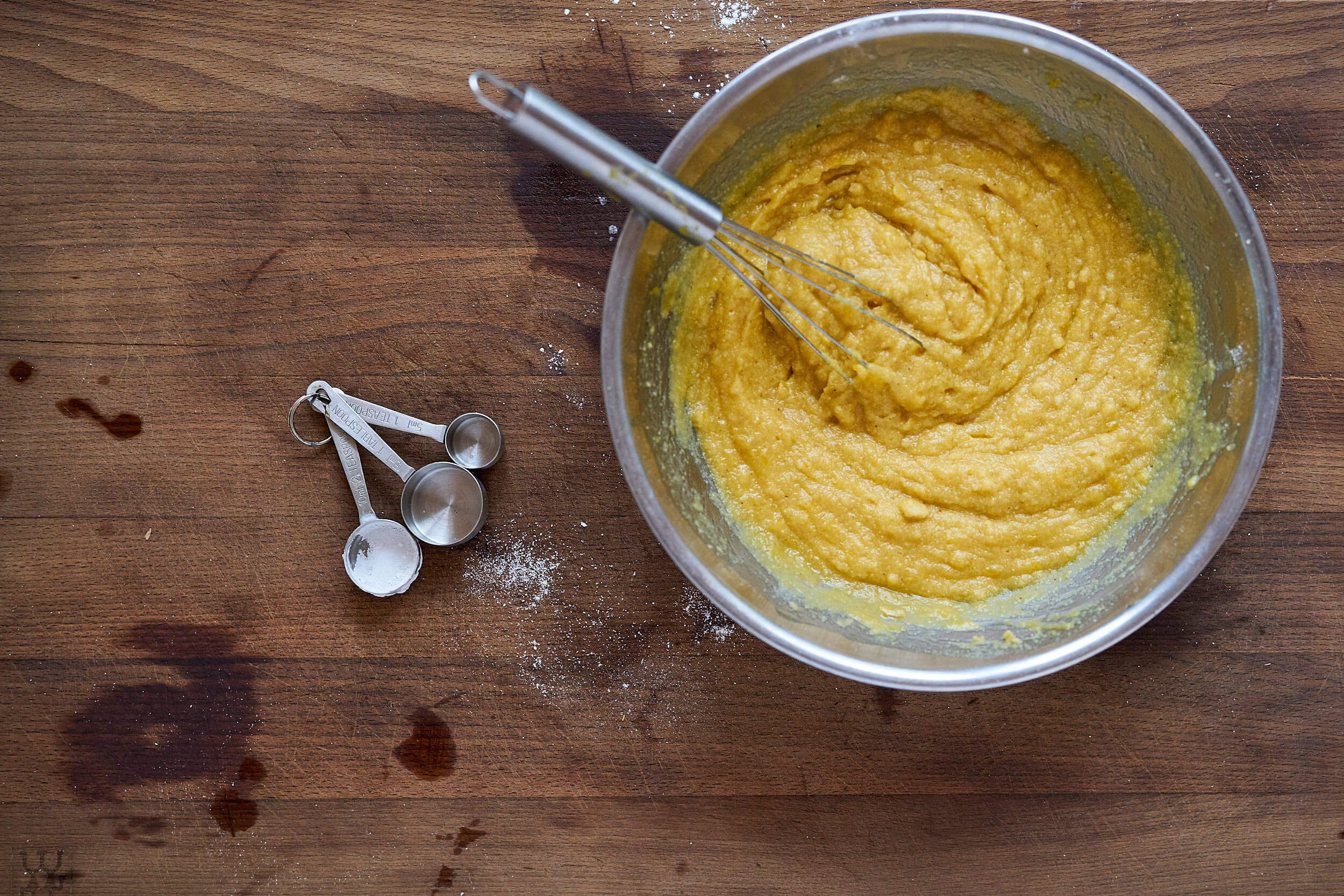 And see those clumps? Don't freak out! It's normal. That helps the cake be fluffy. It doesn't need to be perfectly smooth. I mean, look how perfect it turned out!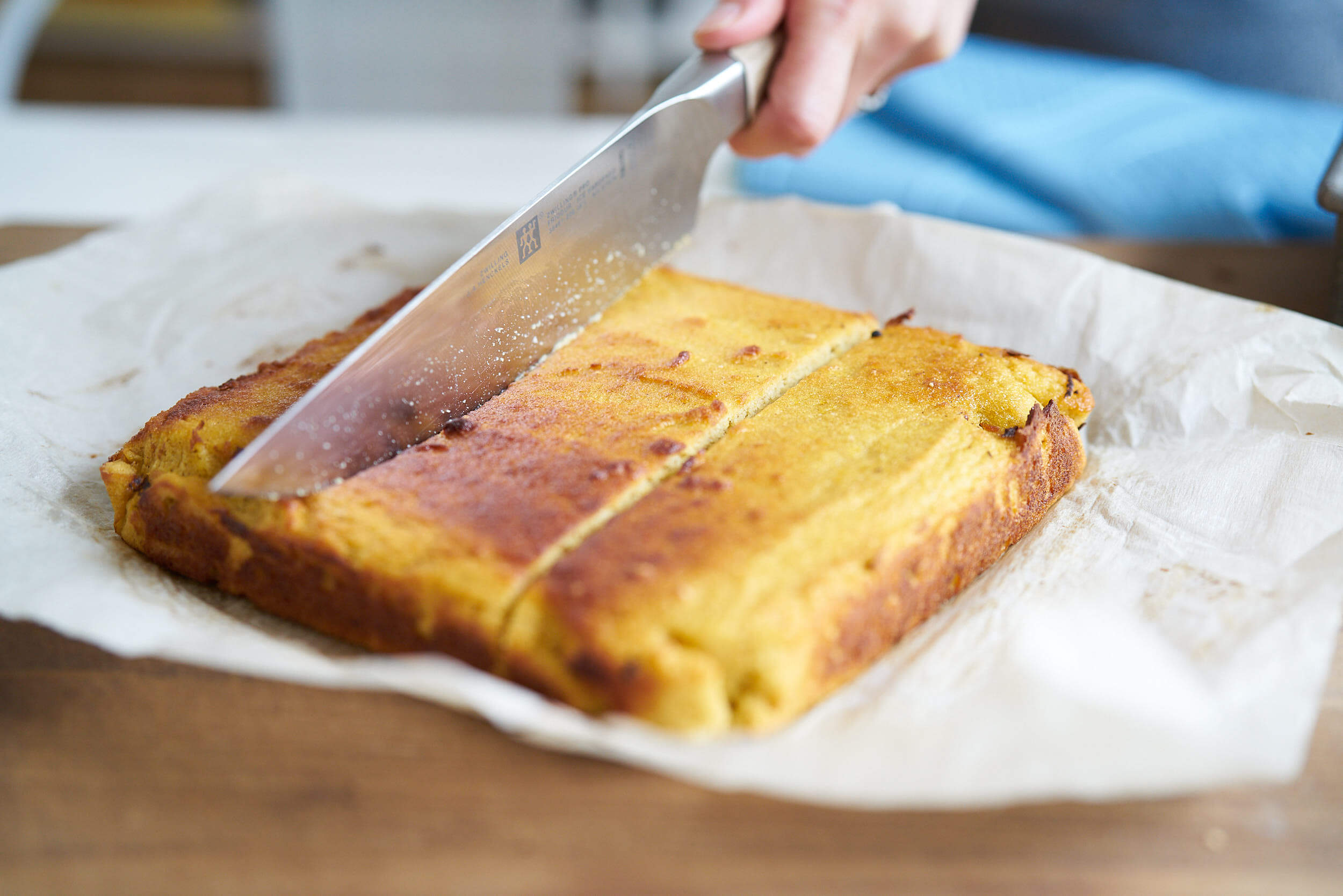 I pretty much always use parchment paper. It just makes it easier to remove the cake from the pan and place it on the cooling rack. I always recycle or compost the paper and dependin on the recipe, sometimes I can reuse it!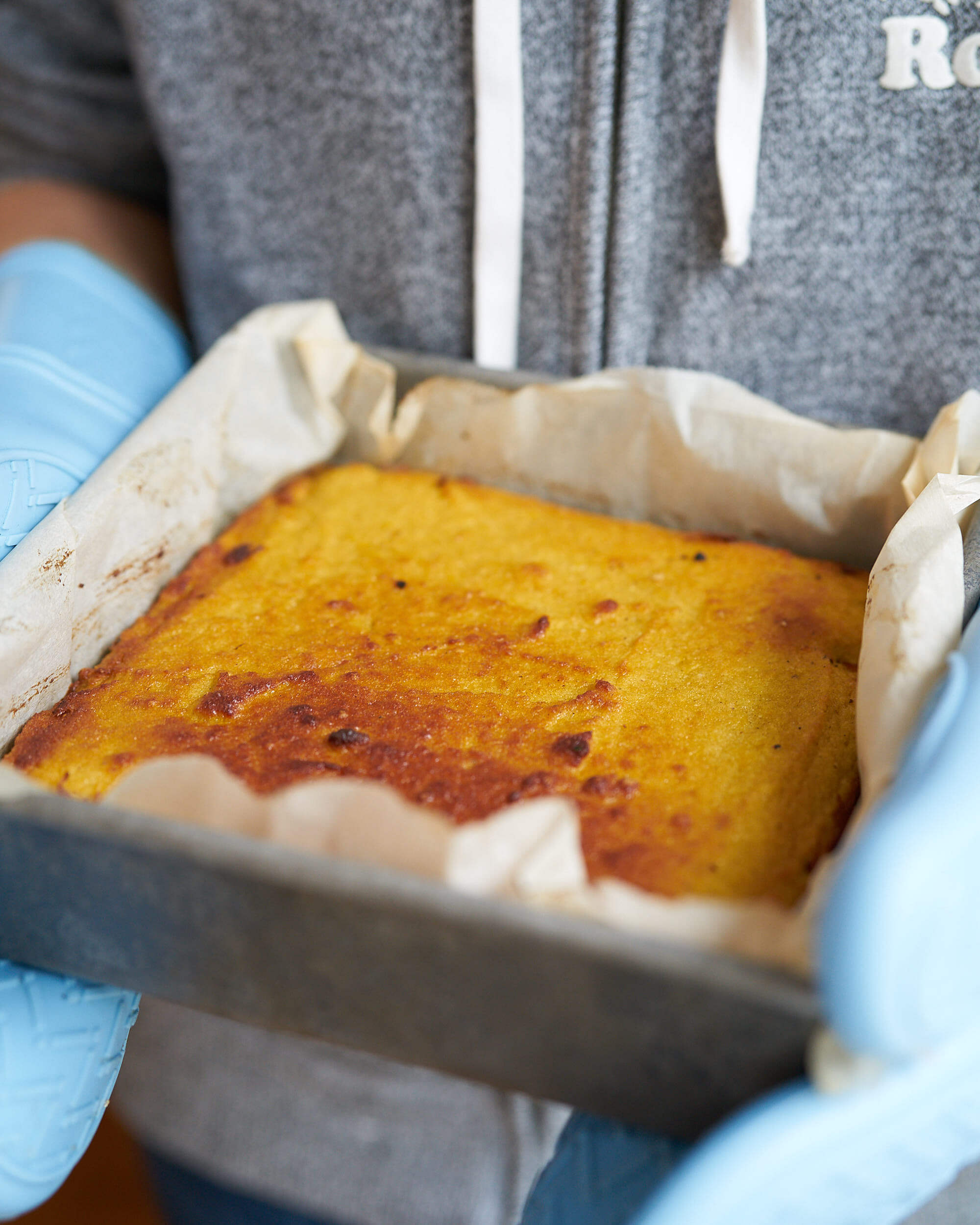 Now for whatever reason, I couldn't get Vienna to try this cake. Mind you, she's had the stomach flu for 48 hours this week, so maybe she just wasn't in the mood, but she sure gobbled up these cookies we made together! Did you see our LIVE video making them on facebook? If you haven't, you must check it out. It's over on my private Joyous Detox Community but it's free to join!
Anyhow, I will try again when she's feeling better because I think this cake would definitely be toddler-approved. It's holistic nutritionist/mama approved, that's for sure! I made it for my parents the other weekend and they LOVED it. I made it with canned pumpkin that time and the result was a much darker cake, but it was still super tasty.
Are you ready for this recipe?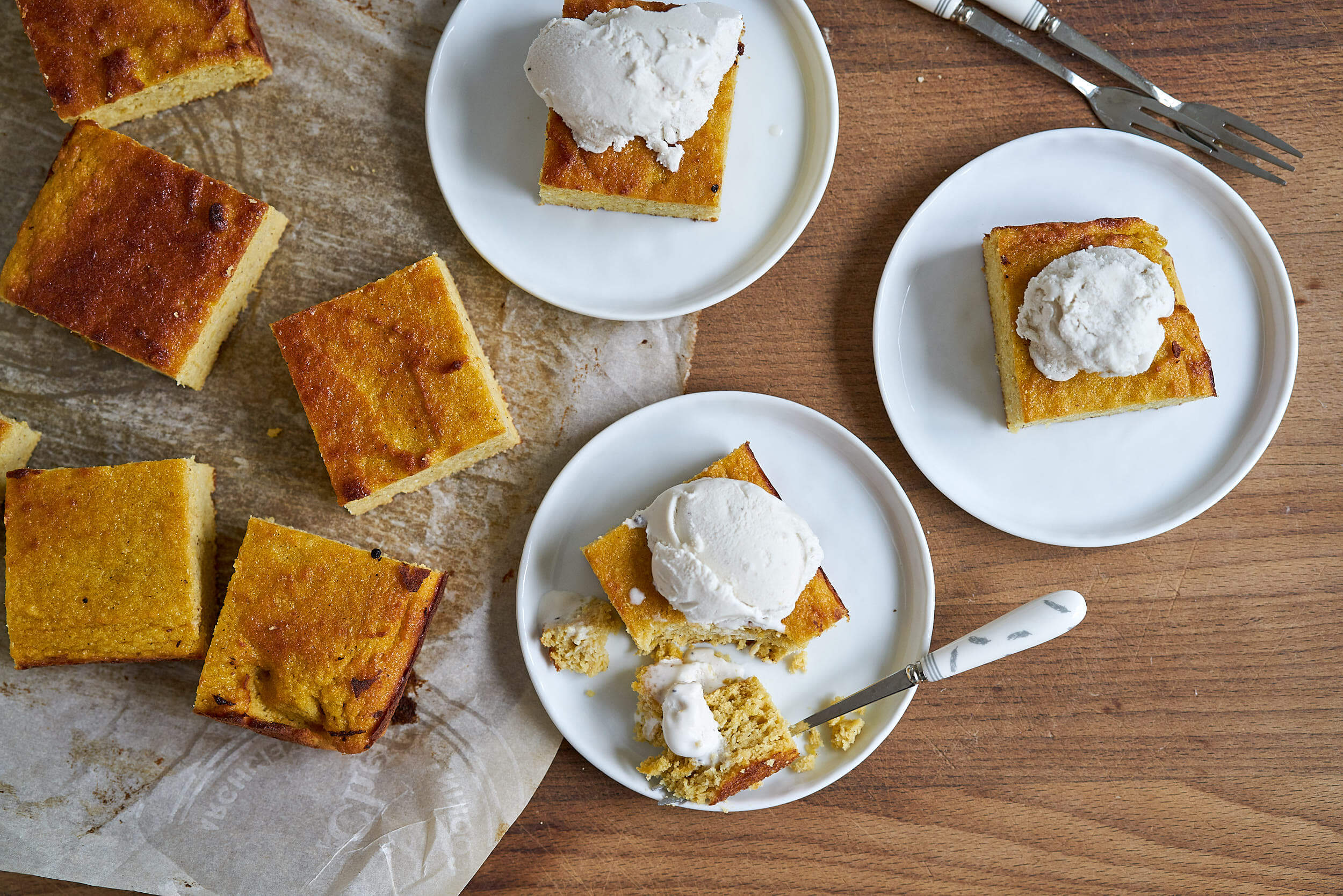 This recipe is gluten-free, grain-free, dairy-free, refined-sugar free and can be enjoyed by many!
Ingredients
1/2 cup coconut flour
1 tsp ground cinnamon
1/2 tsp ground nutmeg
1/2 tsp ground ginger
1/4 tsp ground cloves
2 tsp baking powder
1/4 tsp sea salt
6 large eggs*
2/3 cup pureed pumpkin**
1/2 cup real maple syrup
1/2 cup melted coconut oil
2 tsp pure vanilla extract
Instructions
Preheat oven to 350F (180 C). Line an 8x8 inch square or round baking pan with parchment paper or grease it with coconut oil.
In a large bowl, whisk together coconut flour, spices, baking powder and salt.
In a separate bowl, whisk eggs, then add in pumpkin, maple syrup, coconut oil and vanilla.
Add wet ingredients to dry ingredients. Mix completely and let batter rest for 3 minutes. Once batter has rested, mix again. This is a necessary step for the coconut flour to absorb all the water. It may seem thick and clumpy, this is normal.
Spoon batter into cake pan. Bake for 25 minutes on convection setting or 30-35 on normal bake setting or until a fork inserted in the middle comes out clean.
Let cool for 10 minutes and then transfer to a cooling rack to cool completely. Serve with coconut milk vanilla ice cream. EnJOY!
Store in fridge for up to 5 days or tightly wrapped in the freezer for a month.
---
Notes
Serves 8-9.

*I've made this with 4 eggs before and it works, but it gets nice and fluffy with 6.
**You can use canned pumpkin, just make sure it has no added sugar. If you decide to roast your own pumpkin, then see my recipe below.
It's a very easy recipe too. No blender or mixer or food processor needed! Just a couple of bowls, a whisk and a spatula.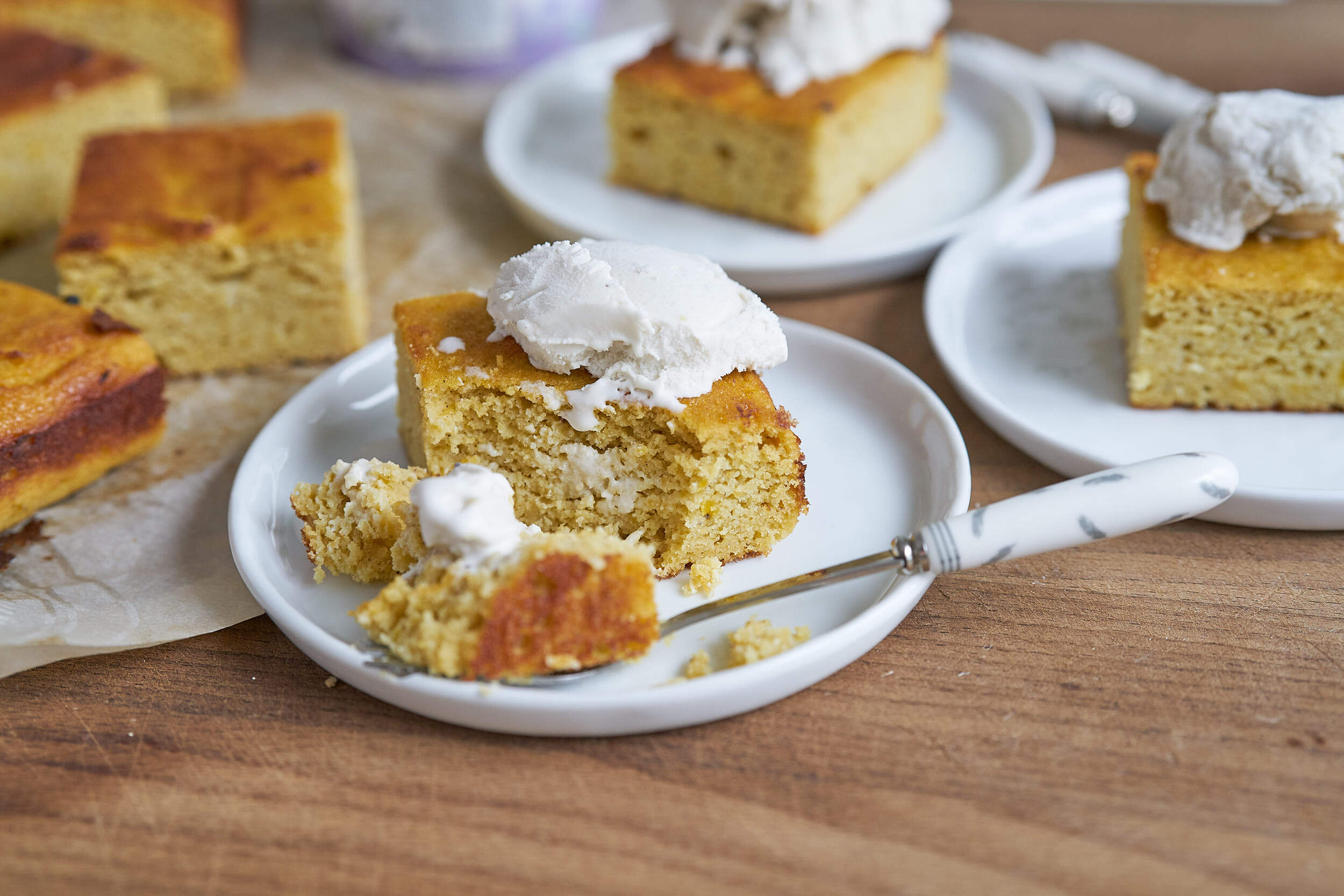 Also in case you wanted to make your own pumpkin puree, here's my recipe:
Ingredients
1 small pumpkin*
1/4 cup water
Instructions
Preheat oven to 350 F (180 C). Cut hole in the top of the pumpkin, around the stem. This will make it easier to handle the pumpkin and cut it into chunks.
Clean out the pumpkin guts and seeds with a spoon by scraping the sides down.
Place chunks of pumpkin, flesh side up on a baking sheet. Bake for 50-60 minutes until fork tender.
Remove from oven and let cool 10 minutes. Scrape out pumpkin flesh and put into a high powder blender. Add water and blend until a very thick puree. I use the word puree loosely. Check out my photo and you'll see it's not overly wet.
Freeze in an airtight container for future use, or use right away!
---
Notes
This pumpkin puree is meant for my pumpkin pie or pumpkin cake.
*The pumpkin should be small and they are usually labeled "Pie pumpkin".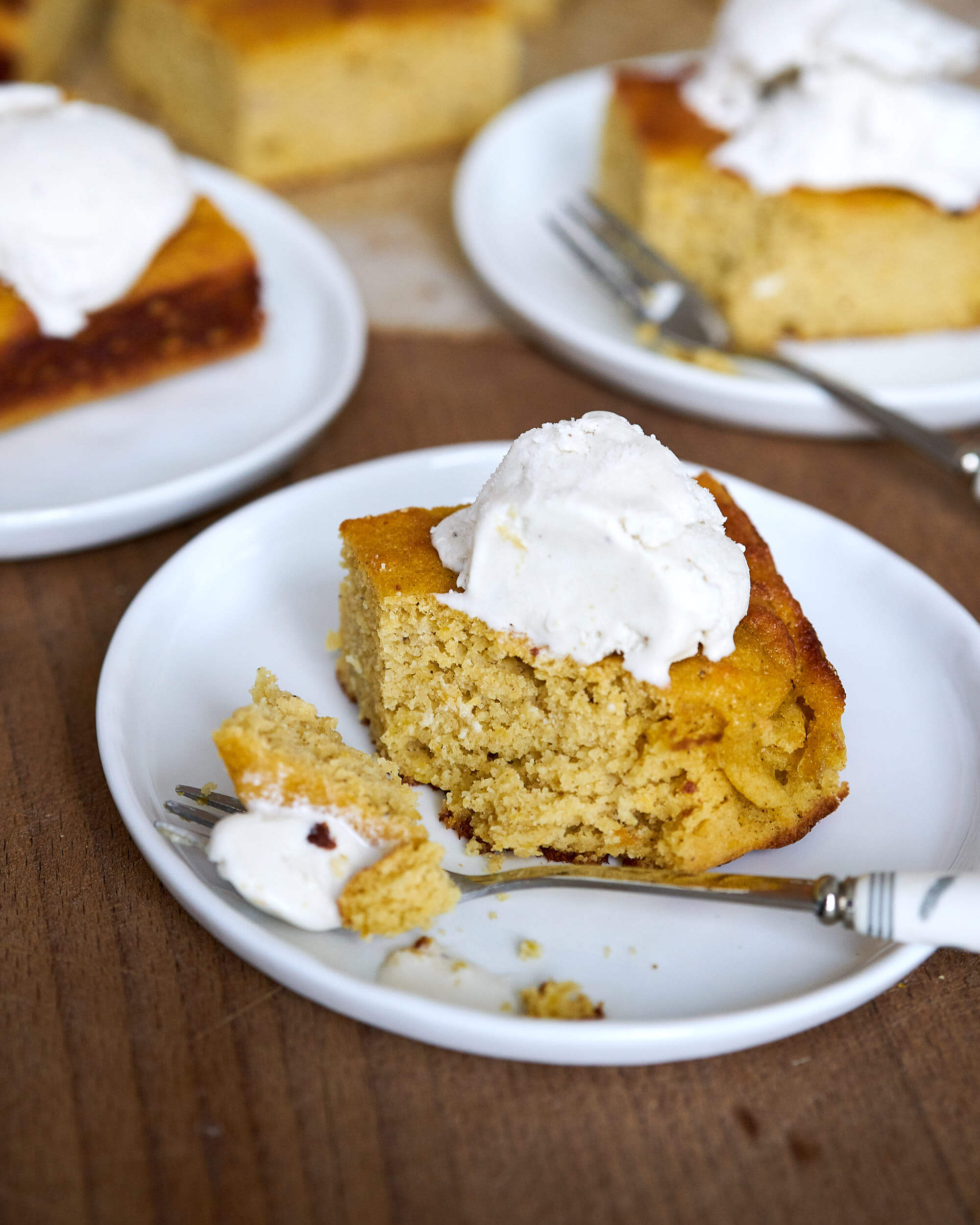 If you're a Canadian reader, I hope you have a wonderful Thanksgiving weekend! Be sure to check back for my Thanksgiving recipe roundup for the most joyous Thanksgiving dinner ever!
Thank you for being a part of my community whether you're new to the blog or you've been here for years -- I truly appreciate you. And, I LOVE when you comment. So do tell me what you think!
Happy Canadian Thanksgiving!
Joy