With the recent arrival of Baby V , it's been a little busier than normal around here.
Joy, Vienna and myself are still getting used to everything, so it goes without saying that we've had to make a few adjustments to our day to day routine. One of those changes means that I'm doing most of the cooking, so while Joy's feeding Vienna, I'm feeding Joy.
While Joy is the pro in the family, I definitely enjoy cooking and having grown up around the restaurant business, I've picked up a thing or two along the way. So when I have the chance to take over the kitchen for a little while, it's something I genuinely enjoy.
One of the strategies we've been using to help manage our new schedules is batch cooking meals that we can eat the next day again for lunch or dinner. These chickpea turmeric pancakes are perfect if you're looking for a main or a side to last a day or two. The inspiration for these pancakes came from some amazing spices that Joy came across - Earthy Spices turmeric and garam masala and the lovely lady Anuja who created them. These spices are organic, incredibly flavourful and a nutrition powerhouse. Here's a few reasons why (or at least what Joy tells me):
Curcumin is the active plant medicine in turmeric and what gives its anti-inflammatory power and golden colour.
Curcumin works by blocking the release of enzymes that produce an inflammatory response.
Has been shown to be comparable to potent drugs hydrocortisone and phenylbutazone as well as over-the-counter anti-inflammatory agents such as Motrin.
Turmeric is a beauty superfood is because it enhances detoxification of the liver.
Garam masala is a blend of Indian and Asian spices, although there is no single recipe.
Has been used in Ayurvedic medicine to heal the body.
Relieves gas, heart burn, and soothes upset stomach.
Balances blood-sugar levels.
I made a really simple sheep's milk yogurt, cucumber and garlic sauce to go with it.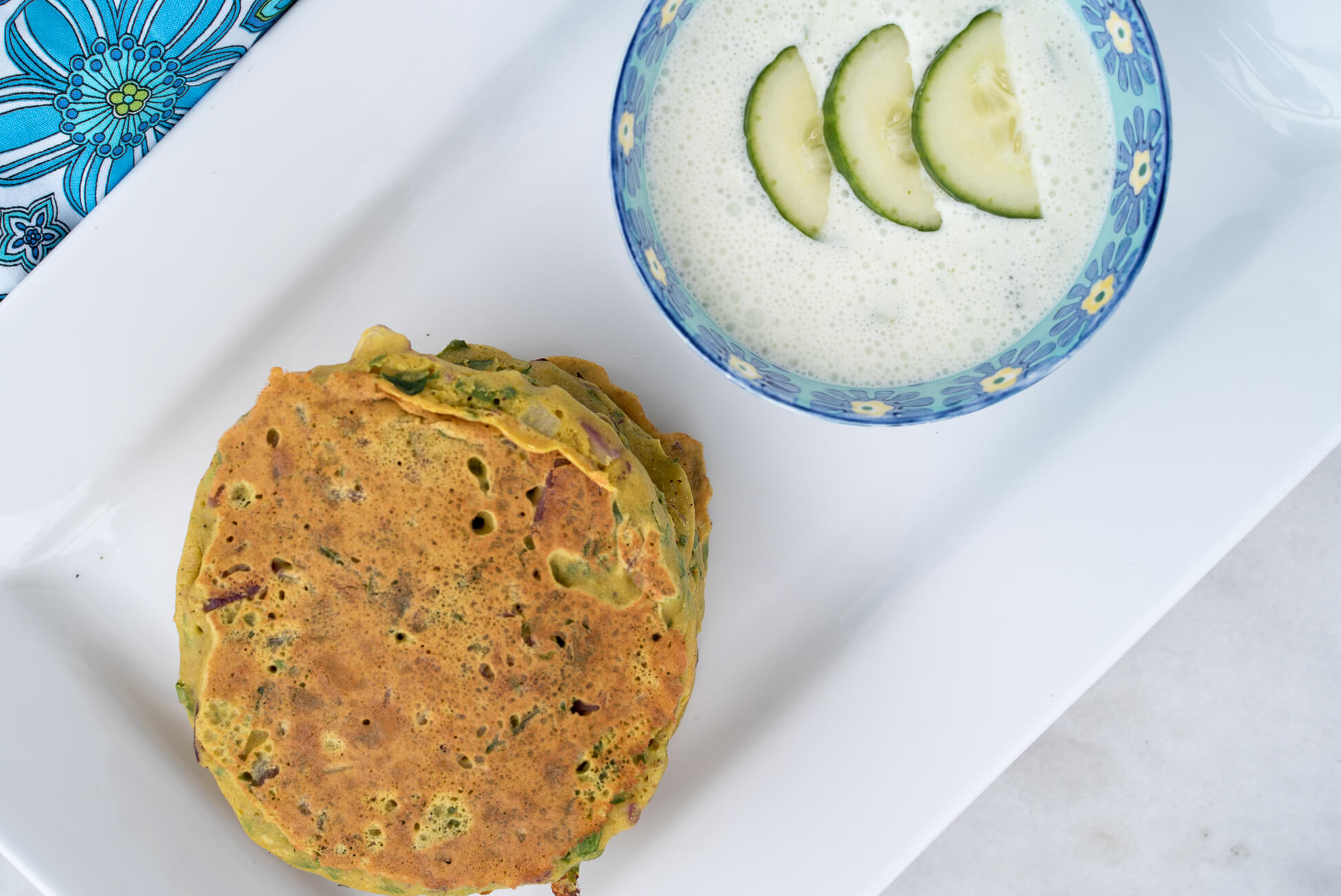 The secret to these pancakes are high quality spices. We have a cupboard full of spices, but wow, the Earthy Spices were potent! Joy and I loved these spices so much that we actually decided to stock the Joyous Shop with them in limited quantity. Of course, you can make these pancakes with any brand of spices – but they are worth a try!
Pancakes
2 cups chickpea flour
1 cup baby spinach or kale (finely chopped)
1/2 cup sheep or goat's milk yogurt*
1 1/2 cups water
1 tsp pink Himalayan salt
1/2 tsp turmeric
1 tsp garam masala
1 tsp clarified butter or coconut oil
1 small red onion, finely chopped (optional)
1 chopped green chilli to increase heat (optional)
Cucumber Yogurt Sauce
1/4 cucumber
1 small garlic clove
1/2 cup of sheep's milk yogurt
Instructions
Put the chickpea flour in a mixing-bowl. Add salt, turmeric, garam masala and mix the dry ingredients. Add the chopped greens, onions, water and yogurt and whisk till you get a smooth, loose batter.
Heat a non stick griddle/pan. Put the clarified butter/oil and grease the griddle.
Pour a ladle full of batter onto the heated griddle and, using the back of the ladle, spread it thinly.
When the underside becomes golden, loosen the pancake with a spatula and flip. Continue cooking the other side until both sides are golden.
Serve hot.
---
Notes
*original recipe calls for greek yogurt
Serves 4.
There you have it – delicious savoury chickpea pancakes! These are a breeze to warm up the next day in the toaster or oven. Enjoy them as a main with a side salad or roasted veggies.
Looking for more ideas how to use these great spices? Try some of these recipes: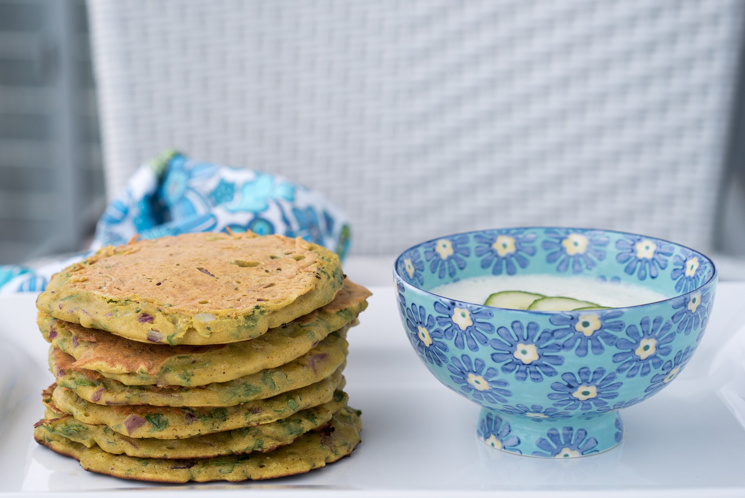 Chat soon!