Even you're not actually breastfeeding don't worry, you're not gonna start squirting milk from your boobies by eating these cookies ;) However, if you are BFing, the ingredients in these cookies will support healthy milk production. I enjoy them mid-afternoon with a London Fog.
In thisblog post about Vienna,I talk about how I had a lot of trouble breastfeeding in the first two months (if you are having trouble breastfeeding,check out this post here!) First, it was getting a good latch without nipple pain (seeing my chiro with Vienna helped tremendously ) and working with two great lactation consultants.
Second, it was getting my supply up to help Vienna gain more weight. Nursing around the clock, eating well and taking a tincture to boost milk supply that my Naturopath Dr. L a makes at her clinic, all made for joyous boob milk. And yes, eating these cookies!! You know me, I'm a cookie monster so any excuse to eat more cookies is alright with me.
The thing with lactation cookies is most of them are dry and hard. I don't care how good something is for me, if a recipe creator describes their lactation cookies as dry and hard, I'm not into it. The other problem is that a lot of them have too much refined sugar and are made with flours that I never bake with anyhow. I was on a mission to create a lactation cookie that tastes good, is soft (as long as you don't overbake it) and full of goodness without allergens.
The key ingredients in my best-ever lactation cookies are: oats, brewer's yeast and ground flaxseeds.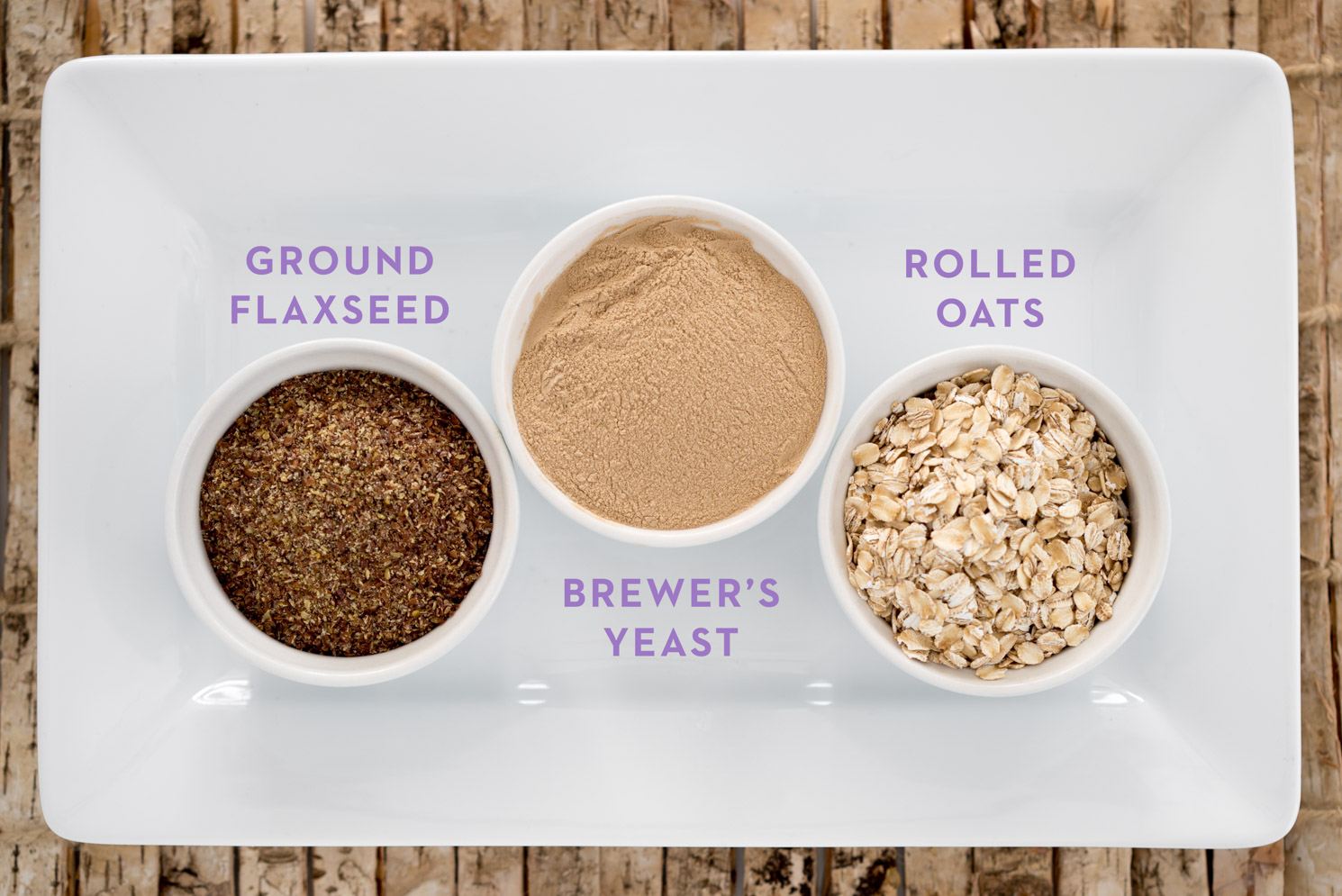 Oats are a nutrient-dense superfood for mamas that are rich in protein and fiber, minerals including iron, calcium, magnesium, potassium and vitamins such as thiamine (B1) and folate. All of these nutrients are necessary for nursing mamas.
Brewer's Yeast is a lesser-known superfood outside of health nut circles. It is produced by cultivation of Saccharomyces cerevisiae on malted barley in the production of beer. After fermentation, the yeast is separated from the beer, roller dried and de-bittered. It is rich in fiber, protein, various B vitamins, potassium and chromium. Making this ingredient key for a nursing mama's energy, blood sugar control (managing cravings) and overall wellness.
Ground Flaxseeds are rich in plant-based omega 3s which are essential for a nursing mama's diet because these good fats are needed for a growing baby's brain. Rich in fiber, antioxidants, anti-inflammatory nutrients that combat the negative effects of oxidative stress on the body.
The above three foods have been used in traditional diets for hundreds of years as foods to increase milk supply. Whether they actually INCREASE supply or simply support the body nutritionally is up for debate. But either way, you win by eating these yummy cookies.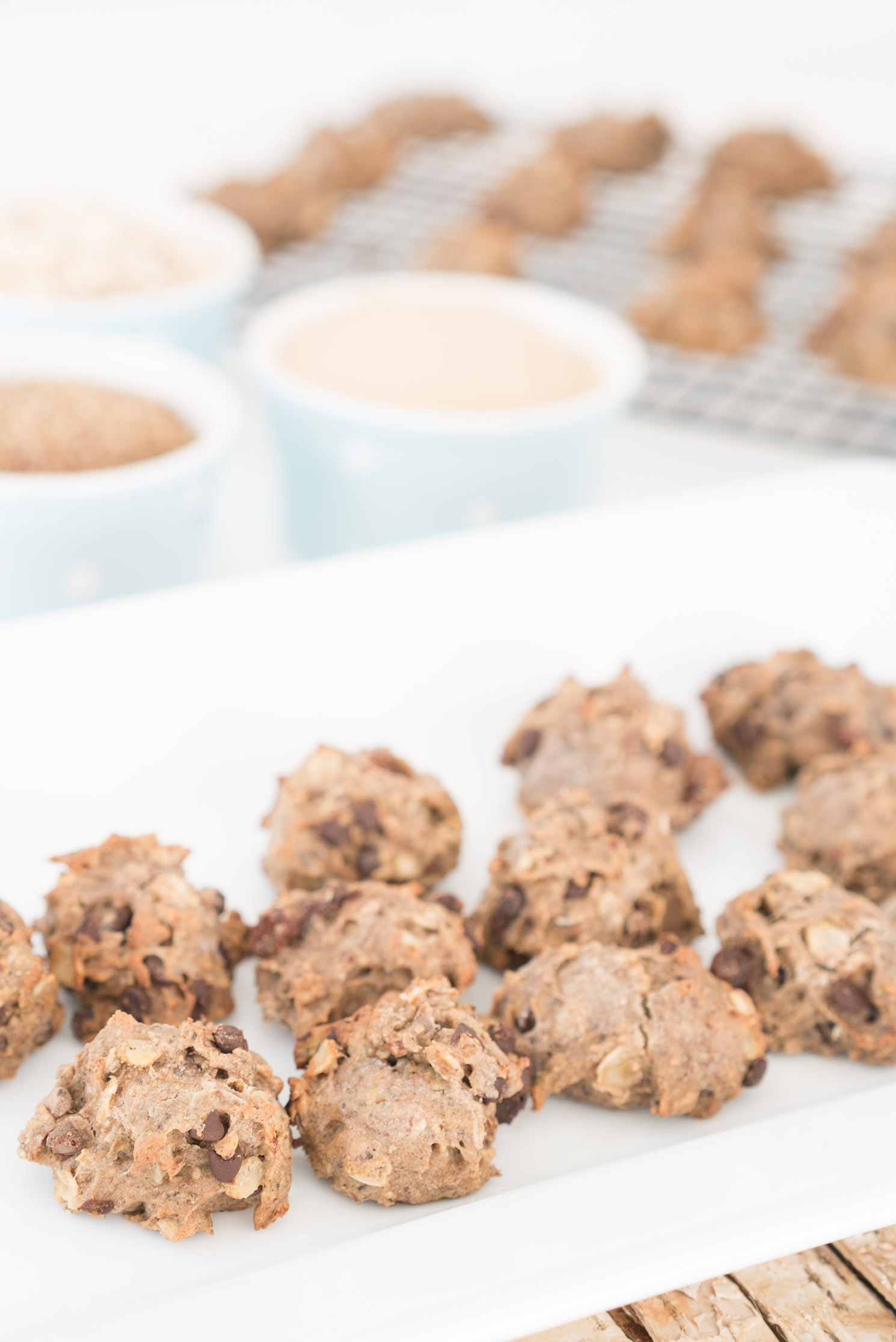 Always remember that what you eat, baby eats too. Just like when you were pregnant, everything that went in to your body was fuel for you and baby. Many people still believe that it really doesn't matter what you eat, you'll still produce milk. This is correct, you will still produce milk. However, there is a pretty important factor here that is not mentioned.. QUALITY. The quality of your milk will be sub-optimal if you eat a poor diet.
Research shows that vitamin D, B-vitamins and good fat intake (especially DHA) all impact the nutritional density of breastmilk.
This means that eating healthy foods while nursing greatly benefits your sweet baby and of course helps your energy and vitality.
These cookies are dairy-free, refined-sugar free, and egg-free. They are super yummy! As evidenced by how many Walker ate, haha! Vienna was totally into eating them too... we will have to wait a while for that. She's just started to grab things off my plate lately, it's the cutest! Notice those red cheeks aka teething baby. Okay I'm chatting too much... let's get to these cookies shall we?!?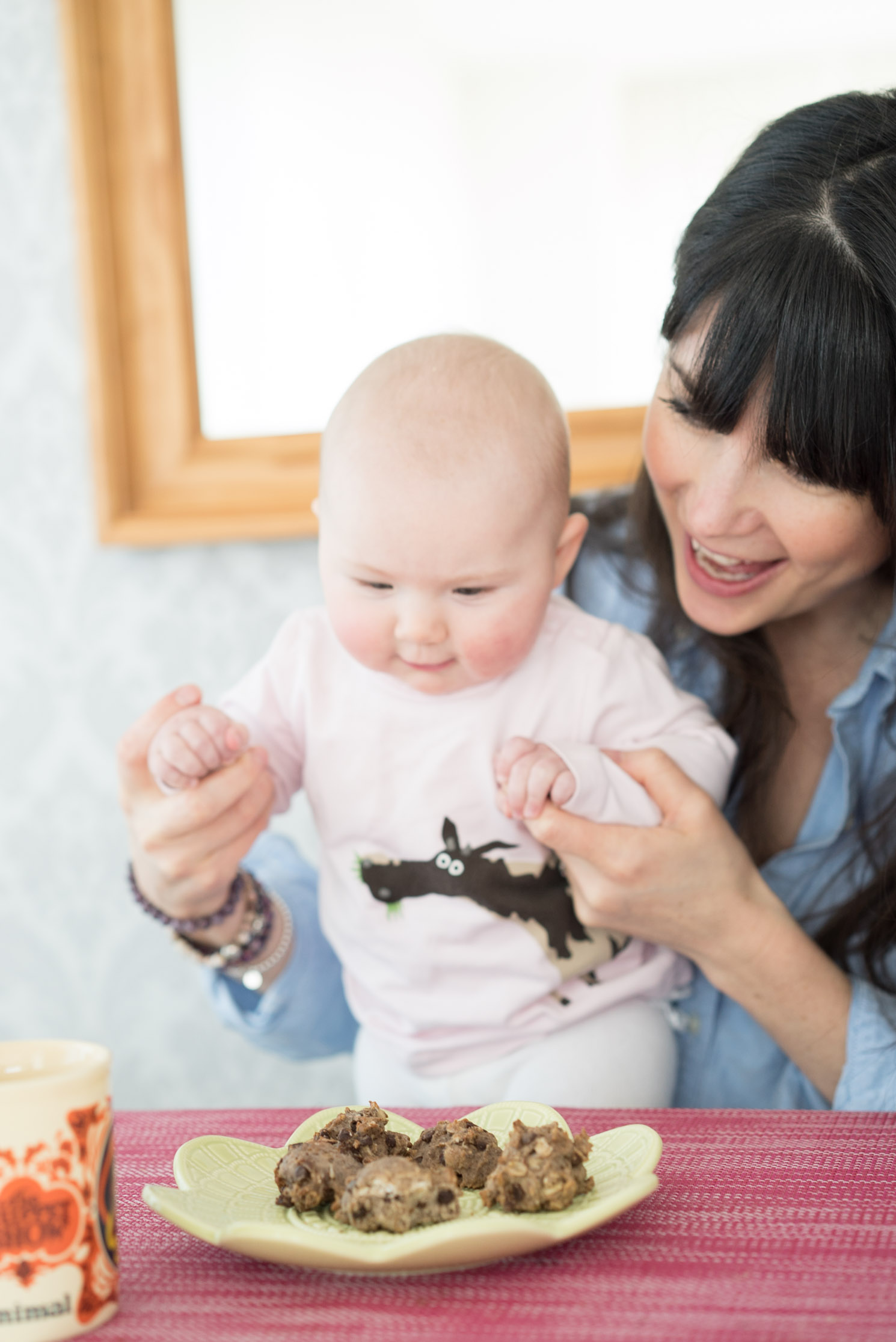 Here's my recipe:
Ingredients
2 cups buckwheat flour
1 1/2 cups rolled oats
1/4 cup brewer's yeast
1/4 cup ground flaxseeds
1.5 tbsp ground cinnamon
1 tsp baking powder
1/2 tsp baking soda
1/4 tsp sea or pink salt
1/2 cup mini chocolate chips
3/4 cup melted coconut oil
1/3 cup maple syrup*
1 banana, mashed (use 2 bananas if you omit the maple syrup)
1/4 cup filtered water
1/4 cup raisins (re-hydrated in water)
1/4 cup chia seeds
3/4 cup water (this water is for the chia seeds)
Instructions
Preheat oven to 350F degrees.
Combine chia seeds and 3/4 cup water. Let sit for 5 minutes and stir until it becomes egg-like.
Combine all the dry ingredients in a large bowl: flour, oats, yeast, flaxseeds, cinnamon, baking powder, baking soda, salt and chocolate chips.
In a separate bowl, combine wet ingredients: coocnut oil, maple syrup, banana, water, raisins and chia seed mixture.
Add the wet ingredients to the dry ingredients. Mix until fully combined.
Drop spoonfuls on to a greased cookie sheet. You don't have to flatten them with a fork! Just thought I would mention this because that saves you a step! Unless of course you want them to look super pretty, then flatten.
Bake for 10-15 minutes. I have a convection oven so they baked in 10 minutes. Keep in mind there is nothing in these cookies that technically has to bake. Do NOT overbake as this will result in tough cookies. Keep them soft and chewy.
---
Notes
Makes 3 dozen cookies.
Freeze for months or refrigerate.
*I suggest you give the batter a taste-test before baking. I didn't make them very sweet, and if you want to add more maple syrup then you can!
I hope you love these cookies and you enjoy them while nursing your beautiful bundle of JOY :)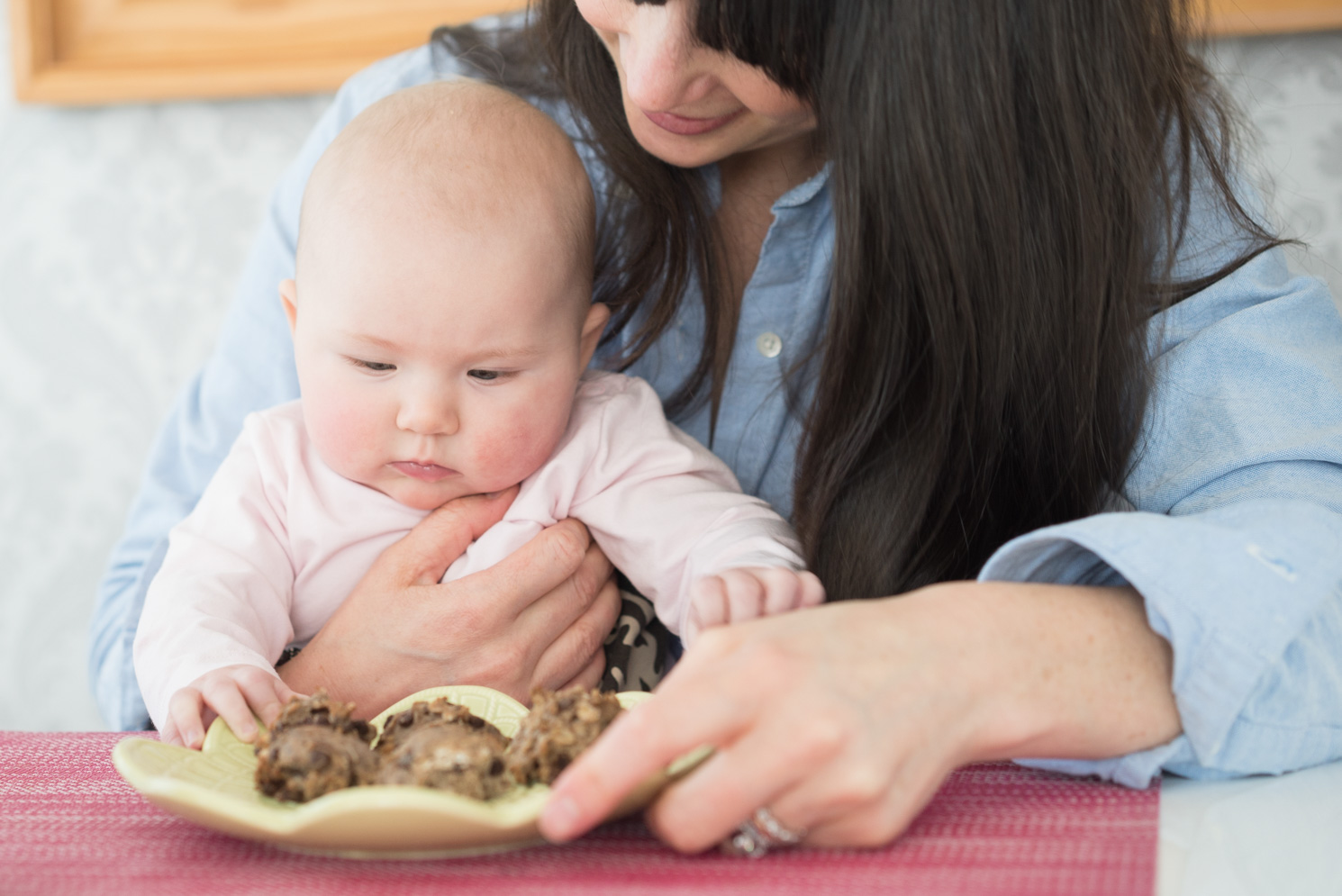 I want to take this opportunity to share something with you that I haven't before on the blog. Walker Jordan (in the photo below) is my husband, best friend, daddy to Vienna and my amazing business partner. Everything that we've accomplished at Joyous Health since 2012 has happened because we work together.
I am eternally for everything Walker does and well... he just doesn't get enough cred! He's always behind the scenes and his work is equally as important as mine. He takes all our beautiful photos, keeps the website running smoothly, manages everything to do with numbers ie. accounting etc, manages all new business, helps me with corporate workshops and partnerships with brands and so much more. I honestly couldn't do it without him. He is a big part of the JOY in Joyous Health.
I love you Walker, thank you for everything you do! I'm teary-eyed right now... and I can just hear him saying "oh love, you're just like your mom" (the teary-eyed part, it's a McCarthy thing, our bladder is next to our eyes). Anyhow, I have been meaning to write this for a long time.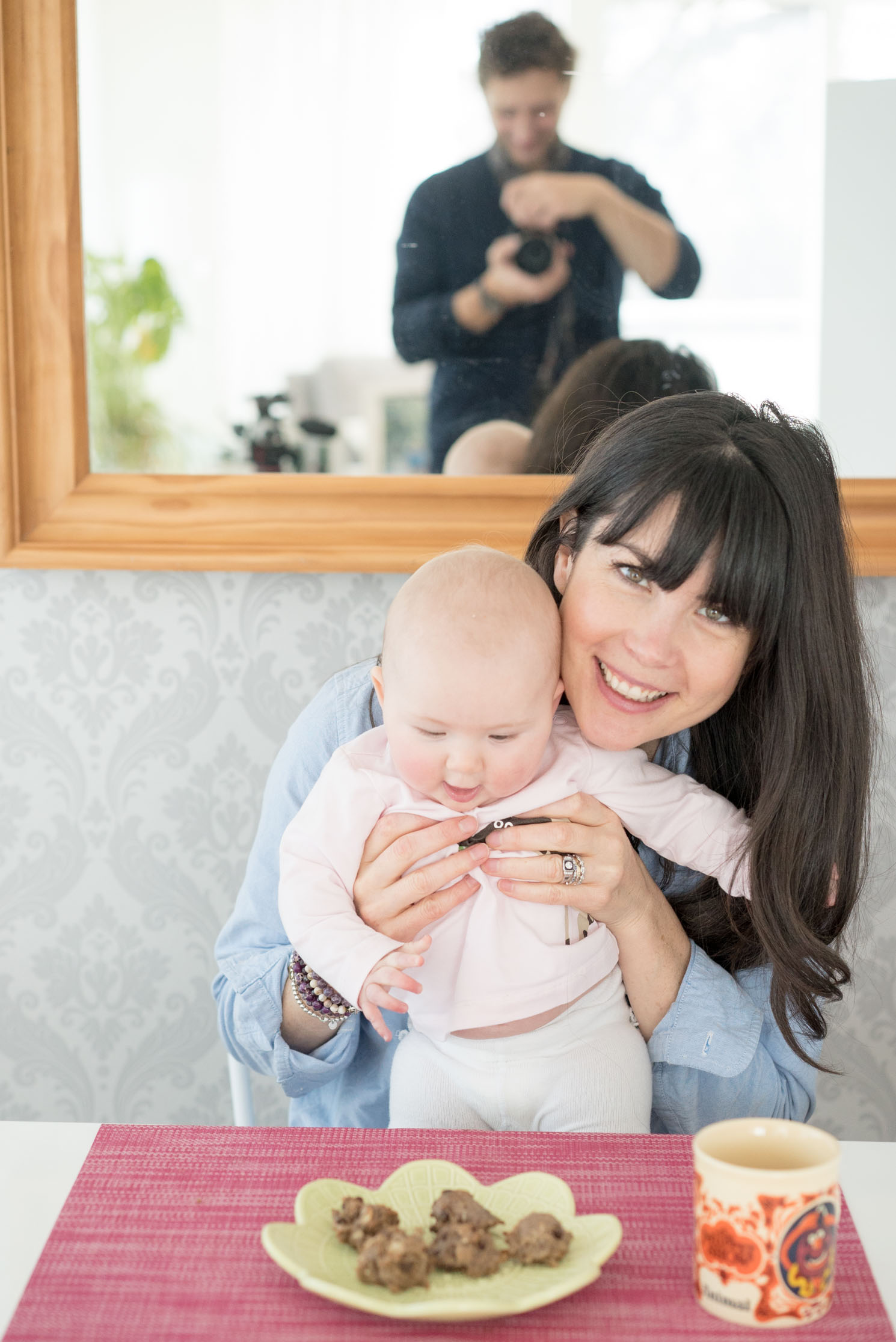 Wishing you happy lactating boobies!
Joy