As you know, the whole McJordan family are self-professed pancake monsters and yes, that includes Vienna. And while you might be thinking that it's simply by osmosis our bambi loves pancakes, let me affirm that she's her own little person. The first time I made her pancakes she gobbled them up. I was high fiving Walker!
It was only appropriate that I made these chocolate heart pancakes since Valentine's Day is just around the corner.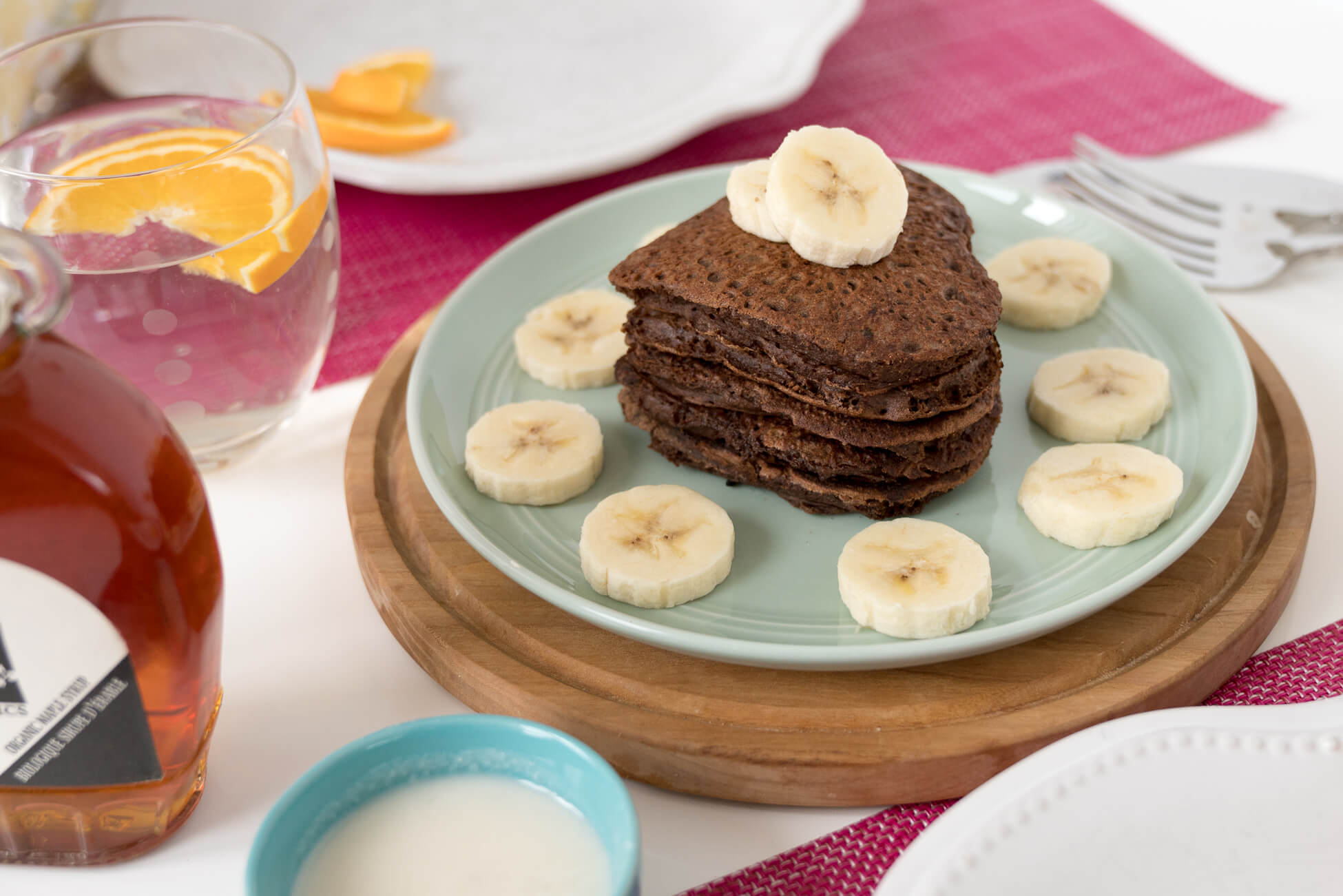 Before I share this recipe I need to get something off my chest. I realize nowadays it's cool to be anti-Hallmark holidays because well, it's only one day in the year and corporations make BIG BUCKS on our need to prove our love. I, on the other hand think there is so much sweetness in this day and being sweet on February 14th encourages people to be sweet other days of the year.
I remember when I was kid and wore red to school on Valentine's day with cupcakes and cards in tow that my mom helped me make. Why is it so cool to hate-on these sweet days? I think the world needs more sweetness anyhow!
Back to these pancakes... Have you tried my Buckwheat Blueberry Pancakes or Strawberry Oat Pancakes from Joyous Detox yet? If you like those p-cakes then I gaurantee you'll fall head over heels in love with these ones too.
I really love using buckwheat flour because it's such an no-fuss flour to work with. I am still a bit scarred from my coconut flour pancake recipe because so many people have trouble with flipping these puppies. I still make them all the time but I don't post about them anymore because the sheer number of people who report back to me they don't work. Coconut flour has a very unique personality and once you have an understanding of each other it just works. Let's move on now...
I bought this heart cookie mold from Bulk Barn and it's no wonder I didn't burn my fingers off! Truth be told, I only made 6 into hearts and the rest of the batch was your standard circular pancake. I really need to get a proper mould with a handle. Like this one from William's Sonoma.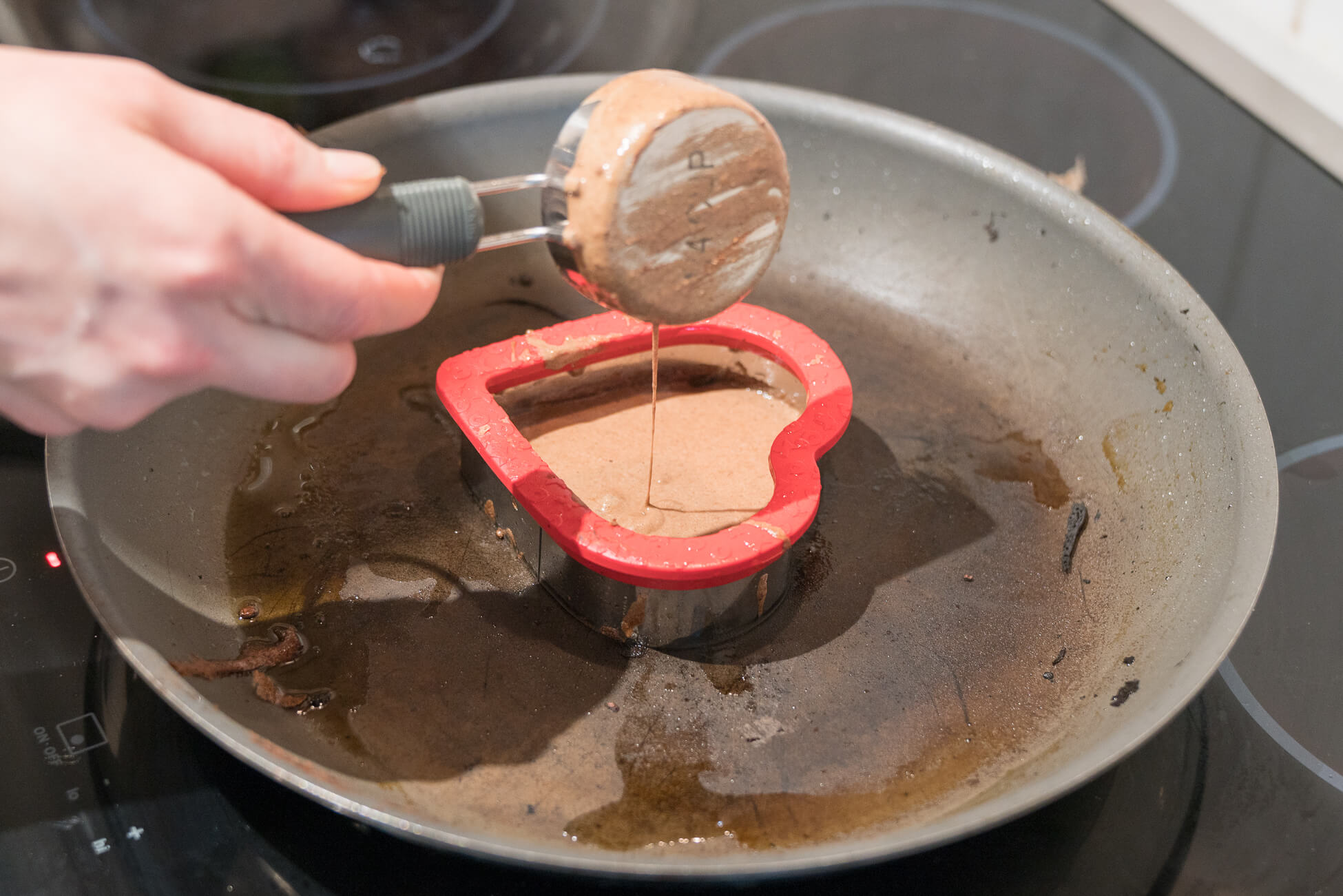 These pancakes were chocolate-y goodness. The richness of the cacao was perfection.
Ingredients
1 banana, mashed
2 medium eggs, whisked
2 cups nut milk
1-1/2 cups buckwheat flour (light or dark)
2/3 cup raw cacao powder
1 1/2 tsp baking powder
Instructions
In a medium bowl, combine banana, eggs and nut milk.
In a separate bowl combine flour, raw cacao powder and baking powder. Add the wet ingredients to the dry and mix well.
Melt coconut oil on large skillet or pan over medium/high heat*. Place mold on to pan and pour 1/4 cup batter into mold or less if your mold is smaller. Flip immediately once bubbles form.
Enjoy with warmed coconut butter, sliced banana and cinnamon.
---
Notes
Makes 16-18 pancakes.

You'll need a heart mold for this recipe.

*I cook pancakes on "6" on my stovetop.

**I used a small spatula to press the pancakes out of the mold. Make sure the pancake is solidified enough so that when you push it out it doesn't fall apart.
If you need to feed your inner chocolate monster feel free to add in chocolate chips too, no judgement over here! They are sure to melt the heart of your loved ones. And if you're really silly like me, you could add happy faces with the chocolate chips. Maybe it's because I'm a mama I put happy faces into everything now :)
I topped them with warmed coconut butter because I like the balance of good fats with these p-cakes. Good fats help to balance your blood sugar and prevent the sugar-crazed-dizzy-feeling. You really don't even need maple syrup but someone twisted my arm to add it.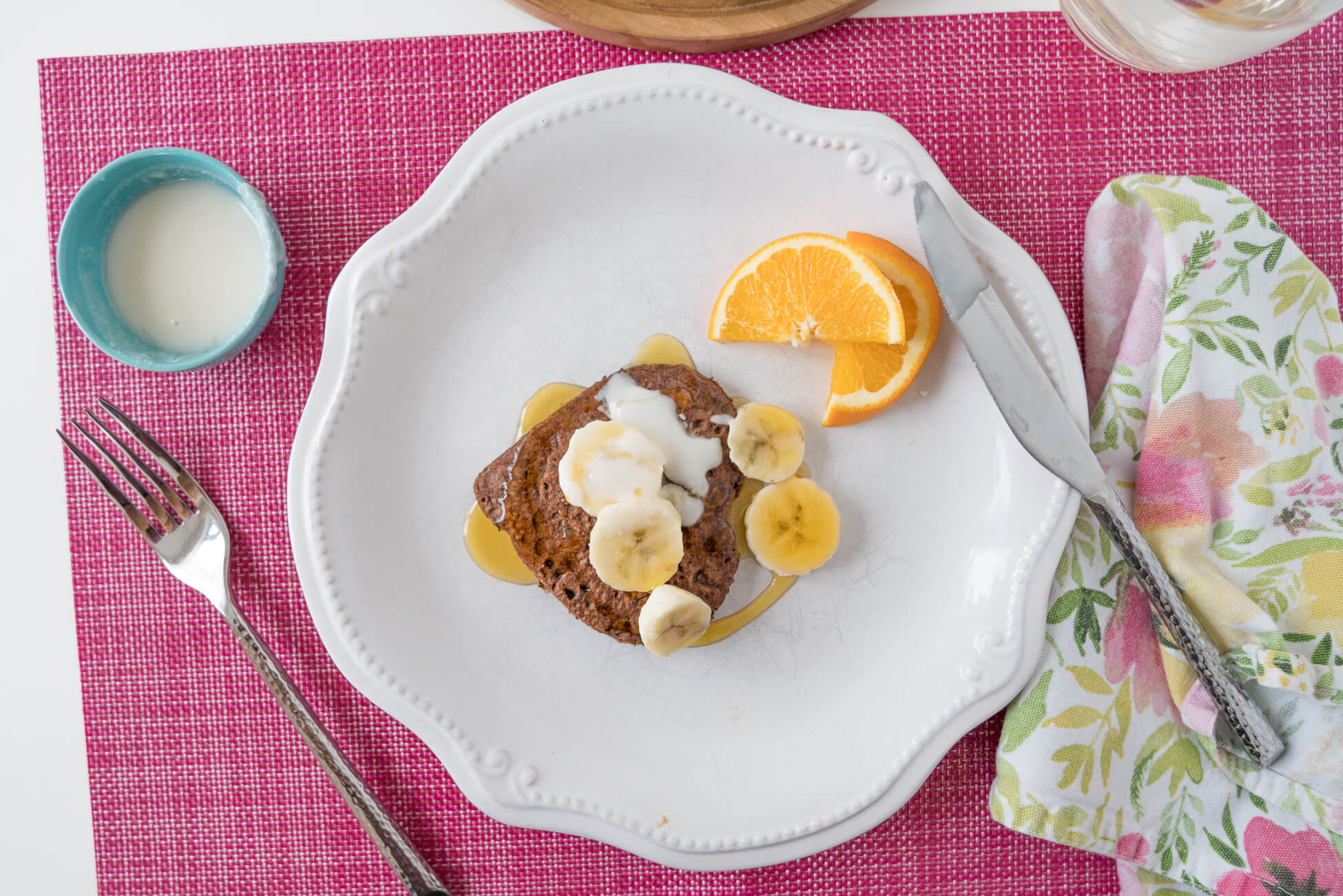 Even though Valentine's Day is once a year there's no reason you can't make these any time you want to share your love!
Looking for more Valentine's recipes? I've got a bunch right here.
Happy Early Love Day my friends!
Joy