One of the many things I love about summer is all the fresh organic fruits and veggies at farmer's markets and even better when it comes straight from Ma McCarthy's garden! If you've got a veggie garden, I'm sure you can relate that there's no better feeling than eating something grown by you. Plus growing it in your own backyard (or balcony!) means the freshest, most nutrient-dense food possible.
I live in a condo which means I don't have a backyard, but there are still tons of options for urban gardens or even the option to grow your own plants indoors (there are SO many benefits to come along with indoor plants too!).
The first time I realized the true healing power of plants is when I took an herbal medicine course during my time at The Institute of Holistic Nutrition. I couldn't believe how just walking outside into nature was a gateway to all of this natural medicine!
Nowadays, people are so quick to turn to the quick-fix of modern medicine such as NSAIDS (Aspirin, Ibuprofen, Naproxen) to mask their symptoms, without recognizing all of the negative side effects that come along with them. That's not to say everything in nature is entirely safe and it should still be approached with caution. However, it doesn't come with the wealth of negative side effects that conventional medicine does.
Given that summer time typically invites minor ailments such as cuts, bruises, insect bites, burns and scrapes, I've been turning to herbs for their natural healing remedies a whole lot! And so, I wanted to highlight some of my favourites which you might find helpful for you or your little ones.
5 Healing Plants To Grow At Home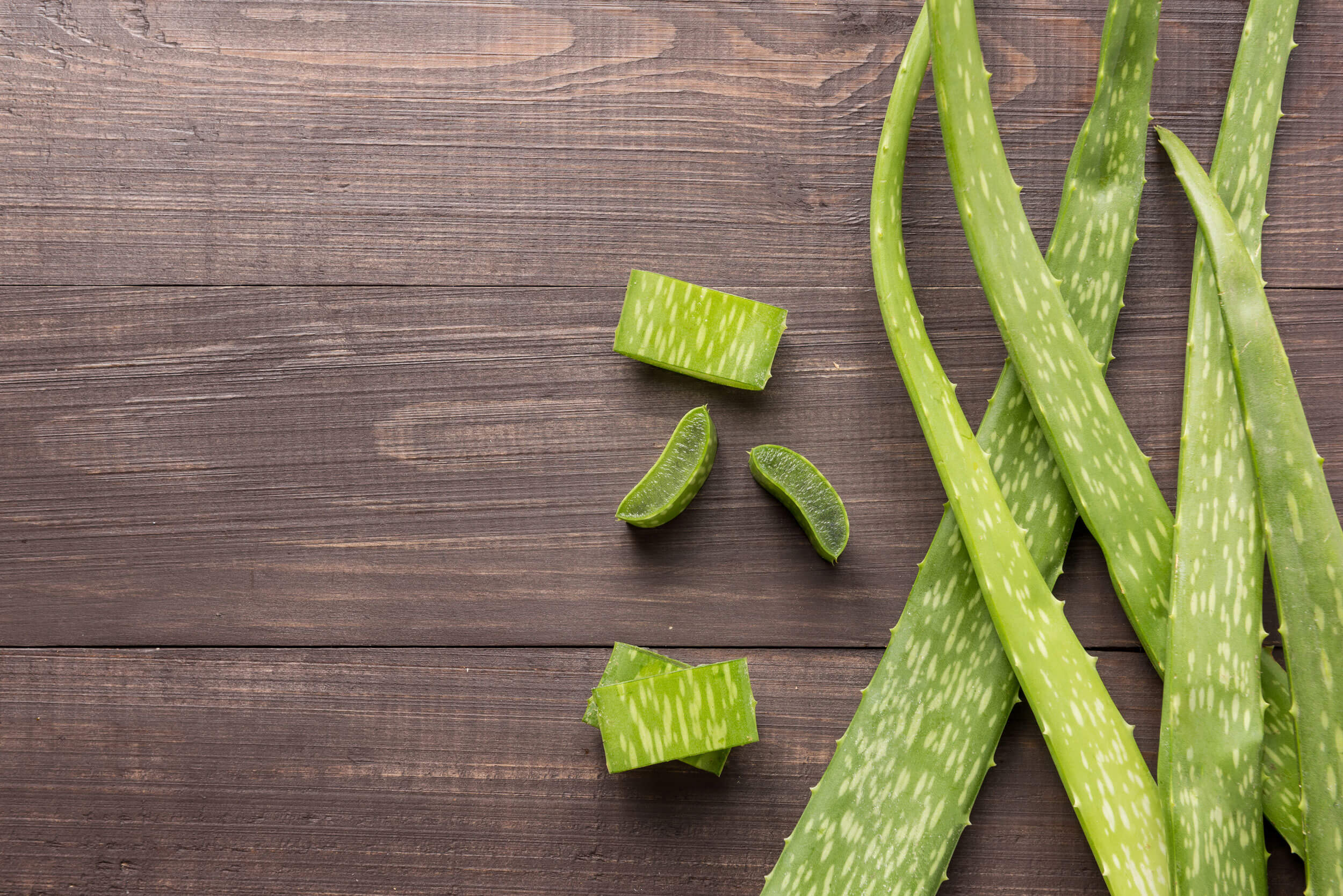 Most people know Aloe Vera if they've ever had to resort to the neon green solution after an excruciating sun burn. While there's no doubt this brings a lot of relief due to the cooling, soothing nature of it, it's best to use aloe from the actual plant. Conventional aloe vera you might find at your local drug store has been overly processed to the point where there's very little to no active ingredients left in it – and we want all of those nourishing ingredients, right?!
The most healing parts of the aloe plants are the gel found in the centre of the leaf and the latex from the cells which can be found just beneath the leaf skin. Its anti-inflammatory, anti-bacterial and anti-viral properties are what makes aloe vera so magical by helping to accelerate healing and reduce pain. It also provides 20-22 of the amino acids required by humans and 8 of the 8 essential amino acids!
Beyond sunburns, aloe vera is beneficial for healing the gut (its soothing nature has the same effect on the lining of our digestive system!), healing cold sores, treating constipationand boosting the immune system.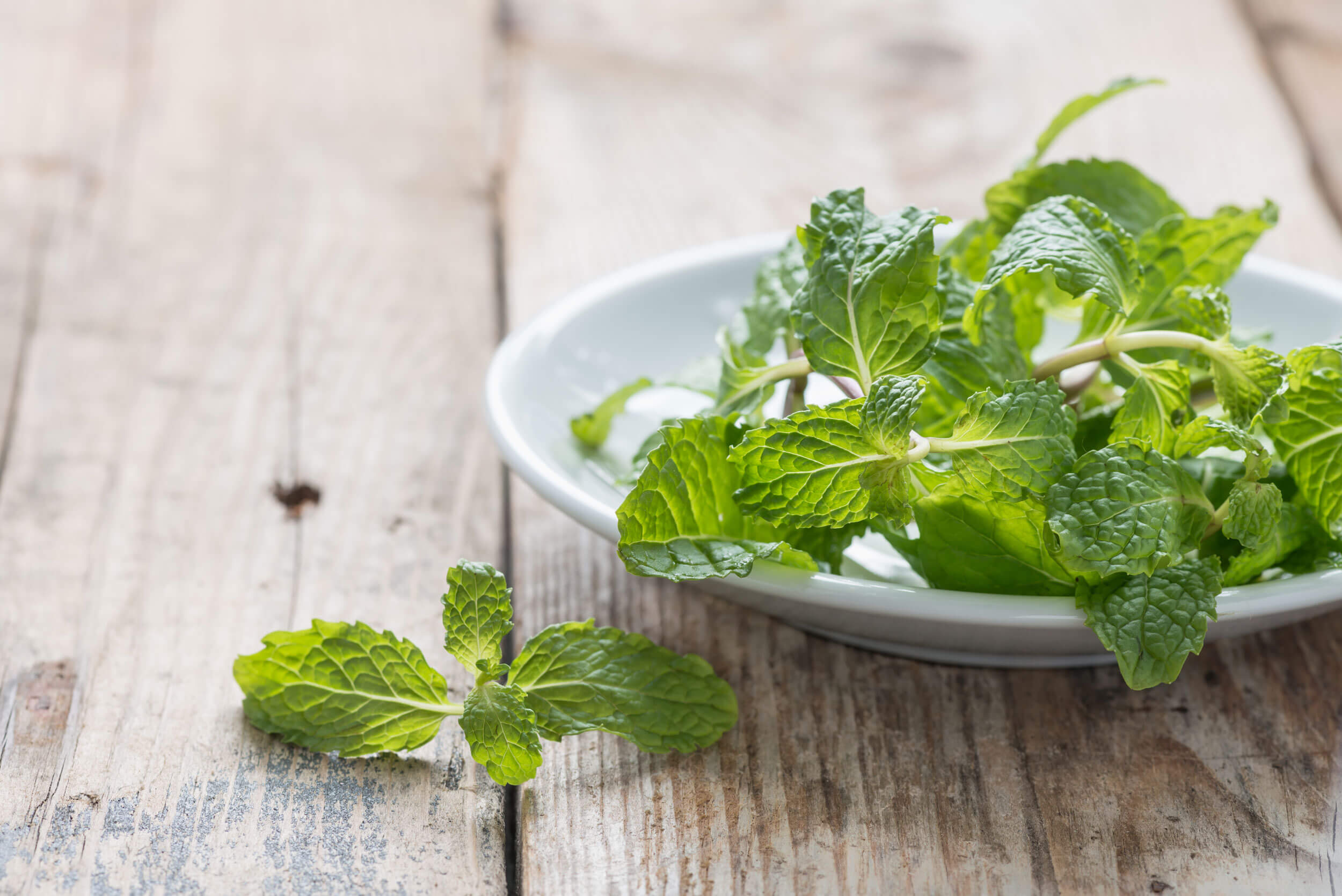 News flash! Mint isn't just for mojitos anymore (although it does taste delicious in this Mixed Berry Kombucha Mojito Mocktail). It's also a rockstar for relieving indigestion or a stomach ache. The way it works is by activating the salivary glands in our mouth that secrete digestive enzymes which help to support digestion. Typically when we're experiencing indigestion, it's largely in part due to the fact that we're struggling to break down the food.
Mint is also amazing at preventing bad breath by inhibiting harmful bacterial growth in the mouth. Beyond the minty fresh taste toothpaste leaves in your mouth, there is a reason why toothpaste companies emphasize mint in their products (including Joyous Health – you must try our Minty Fresh Toothpaste!) In the past, mint was used by rubbing it directly on the teeth and gums to freshen the mouth and keep any dangerous forms of bacterial growth at bay.
It can also play a key role in treating nausea (are you listening, mamas?), providing relief from headaches and alleviating fatigue. It's anti-septic nature also makes it amazing in skin care and to rid of pesky pimples. Not to mention, it grows like crazy so you can be fully confident that you will be able to reap the wonderful benefits it provides whenever the need strikes!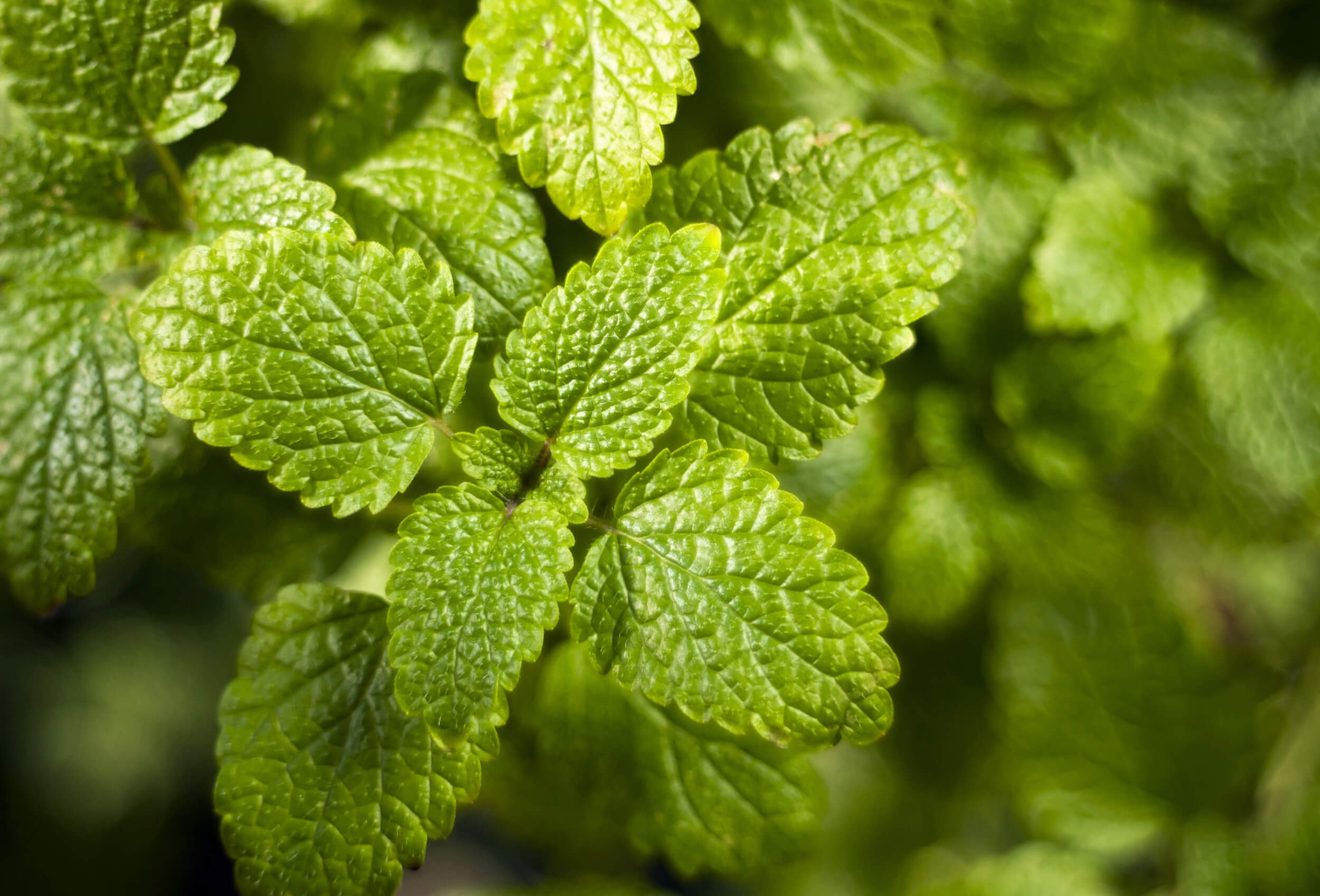 As part of the mint family, lemon balm comes along with many of the benefits as mentioned above plus more! It's anti-bacterial, anti-inflammatory, anti-viral and antioxidant properties make it a very effective natural remedy to combat health conditions such as candida, cold sores and to repel insects (due to its strong lemon aroma!).
The beautiful thing about lemon balm is that it can be used in so many different ways – homemade lip balm, salad dressing, yummy tea and toothpaste – all while providing these amazing healing benefits!
It's not often I suffer fromanxiety, but when I do, it's usually before flying or riding my bike in the city which is crazy because I used to be fearless doing both! Ever since I've became a mama to Vienna almost 2 years ago, my nerves have heightened in these situations knowing that I'm a mom and need to be more careful. I now bring essential oil roll-ons with me that contain lemon balm (due to its calming effects) wherever I go now in case I need to soak up some of the relaxing benefits they provide.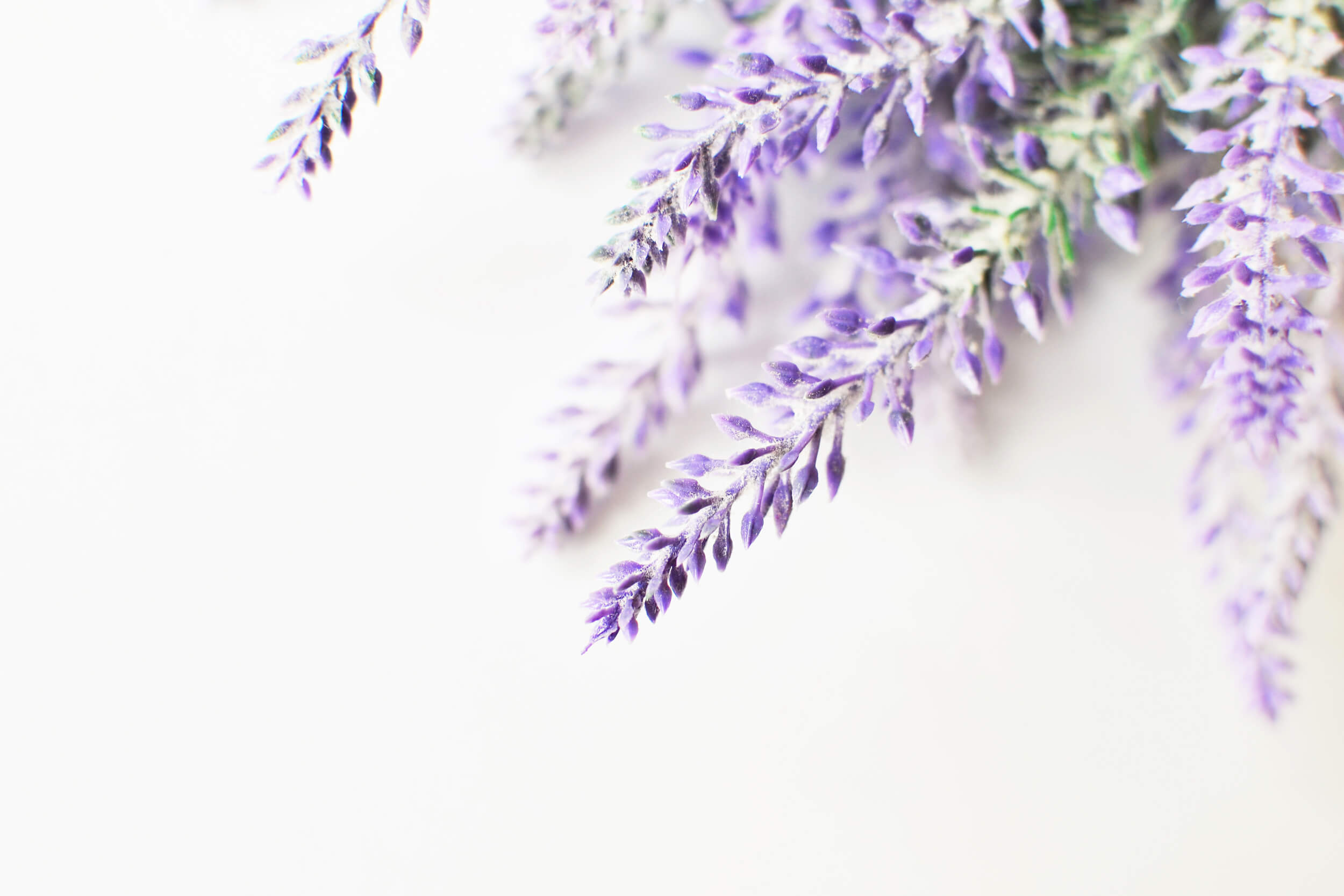 You probably already know how much I love lavender due to the Dead Sea Salt Lavender Detox Bath Salts I have in the shop. It immediately relaxes me and makes me feel like I'm at a spa! It's no surprise that the Egyptians used it as a natural perfume and the Romans used it to scent the air (basically like the Febreeze 2,500 years ago - haha!)
Aside from its calming nature, it can also be very beneficial to apply to cuts, burns and bruises due to its anti-microbial properties.
There are about 100 studies behind lavender that support its abilities to prevent various infections, bacterial and fungal disorders.
While I'm an advocate of healing from within, natural topical treatments can be helpful from time to time as well. There are a wide variety of herbs in this Eczema Healing Cream which all support skin healing, but you could most definitely add lavender to it as well due to its skin soothing properties. Just 10 drops per 1 oz of coconut oil can provide relief for painful sunburns or help to heal dry skin, cuts and scrapes.
When I did 1:1 consultations with clients who suffered from insomnia or poor sleep, I would always recommend them to use lavender essential oil before bed, either topically, in a diffuser or in a bath. Alternatively, it can also be very helpful for providing relief for headaches.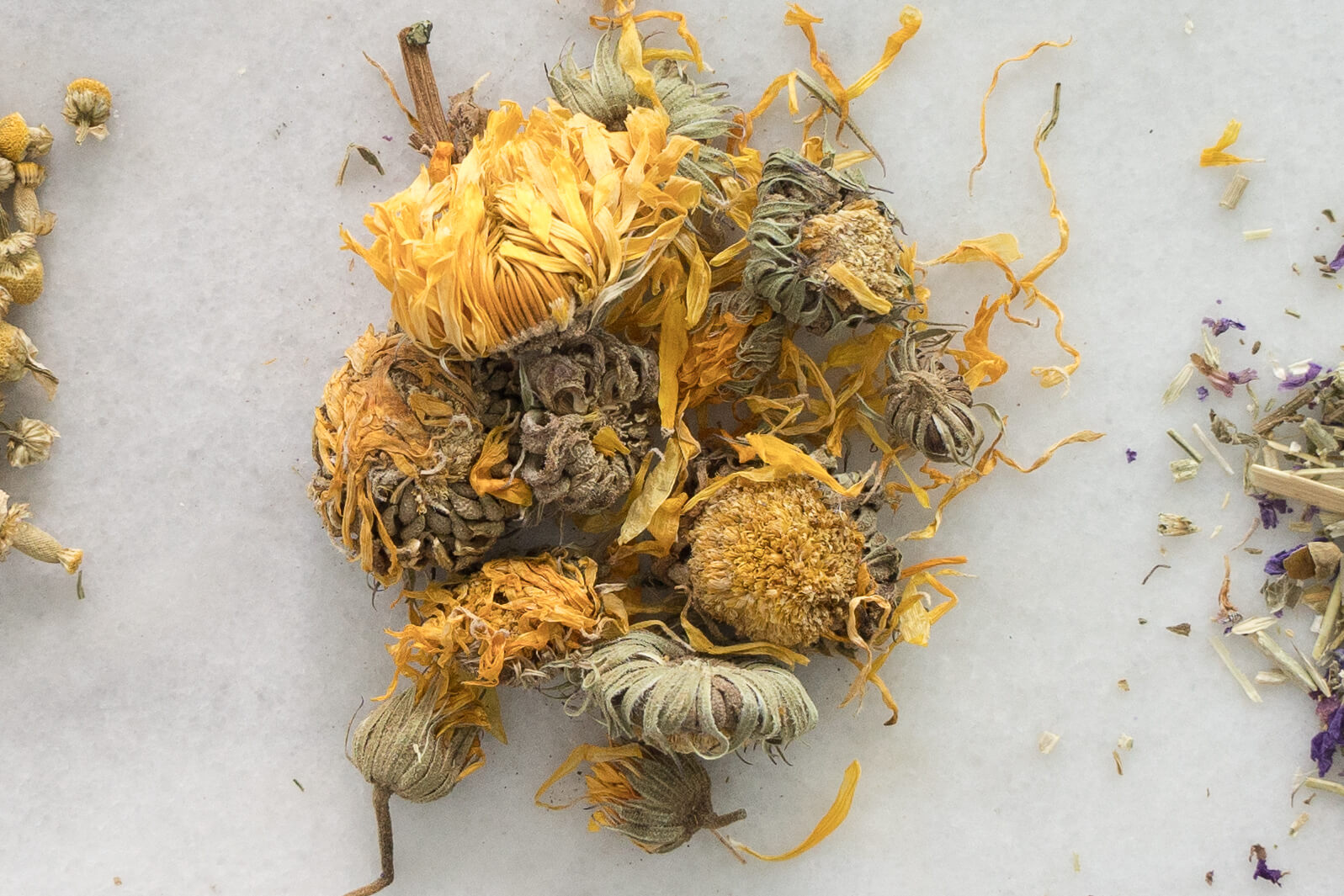 Calendula officinalis, or Calendula, is a particular species of the beautiful yellow orange marigold flowers you may see popping up in people's gardens. Calendula is one of the best herbs for healing skin irritations, playing a key role in providing relief from rashes, allergies, eczema, dermatitis and other pro-inflammatory skin conditions.
While it has the ability to lower inflammation, reduce cramping or hemorrhoid pain or repel bugs, I turn to this herb most when it comes to skin woes specifically.
Calendula doesn't just work it's magic through its pretty eye-pleasing colours, but it's active ingredients: saponins, sterols, calendic acid, linoleic acid, carotenoids, flavonoids and tocopherols. It can safely be used wherever there is evidence of inflammation on the skin, characterized by an infection or physical damage.
You can apply calendula to irritated skin as a lotion, poultice, compress or an ointment (my preferred method). As much as I would love to take the time to forage my own herbs and whip up a DIY creation, being a busy mama and entrepreneur doesn't always allow for it.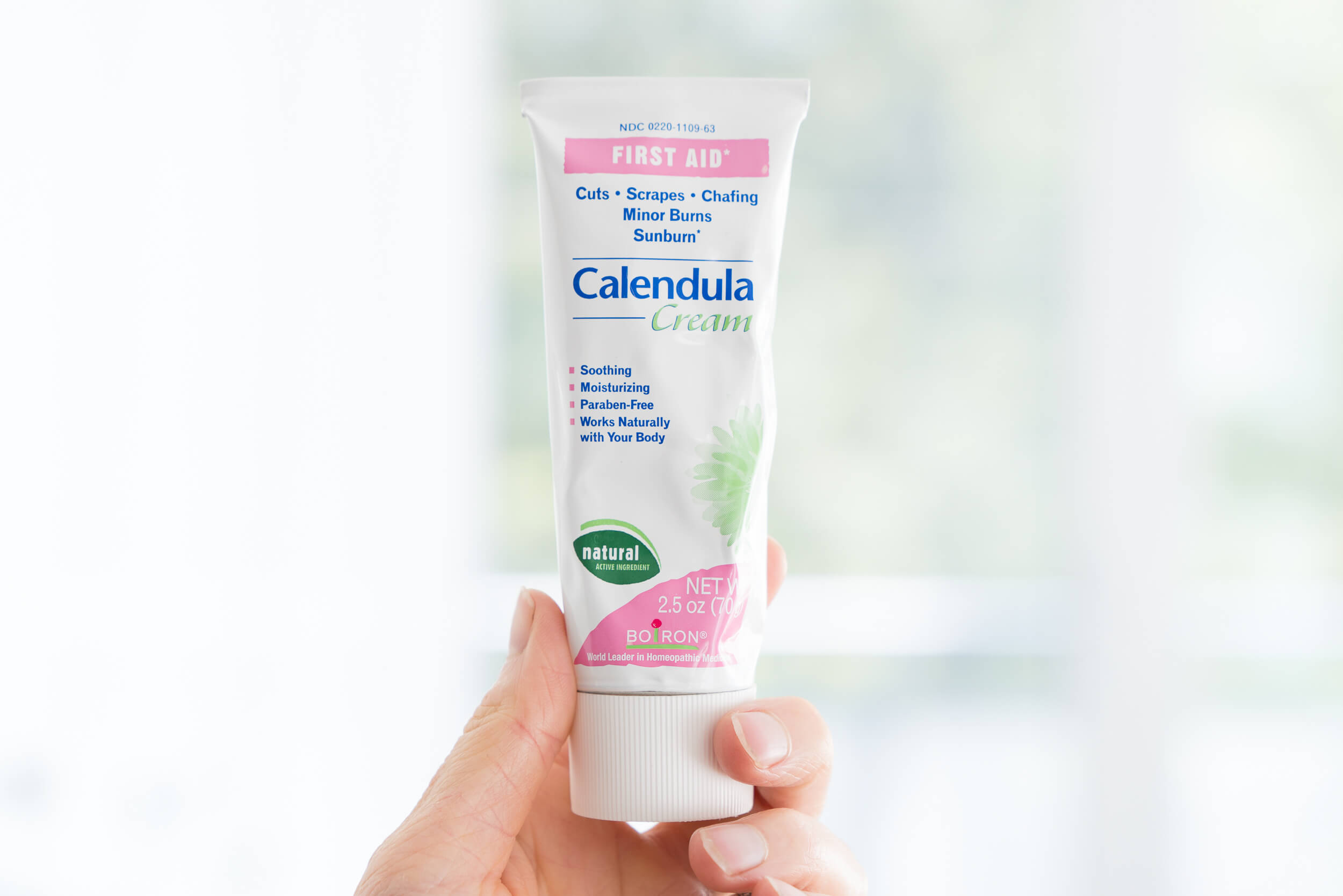 The Calendula pictured is the US packaging
Instead, I will use Boiron's Calendula Cream which still has all of the active healing constituents I'm looking for, all while maintaining a paraben, artificial colour and fragrance-free nature. There's also a very low risk of negative side effects which is important as I often use this on Vienna as well. I typically just buy Boiron's Calendula Cream online which makes it even easier to keep my natural first aid kit stocked at all times (with a young babe who loves to run around and explore new things, this is key!)
What plants do you grow at home for healing purposes?
If you are on any medications or suffer from any health conditions, please be sure to consult with your natural health care practitioner before ingesting any of the above-mentioned herbs. This post was created in a limited-liability partnership with Boiron, however, all opinions are always my own. Read more about partnership ethos here.