Today I'm talking all about pumpkin seed oil! In this post, I will share with you how pumpkin seed oil is made, the health benefits, how to enjoy it, store it and a delicious recipe for my Summer Salad with Pumpkin Seed Oil.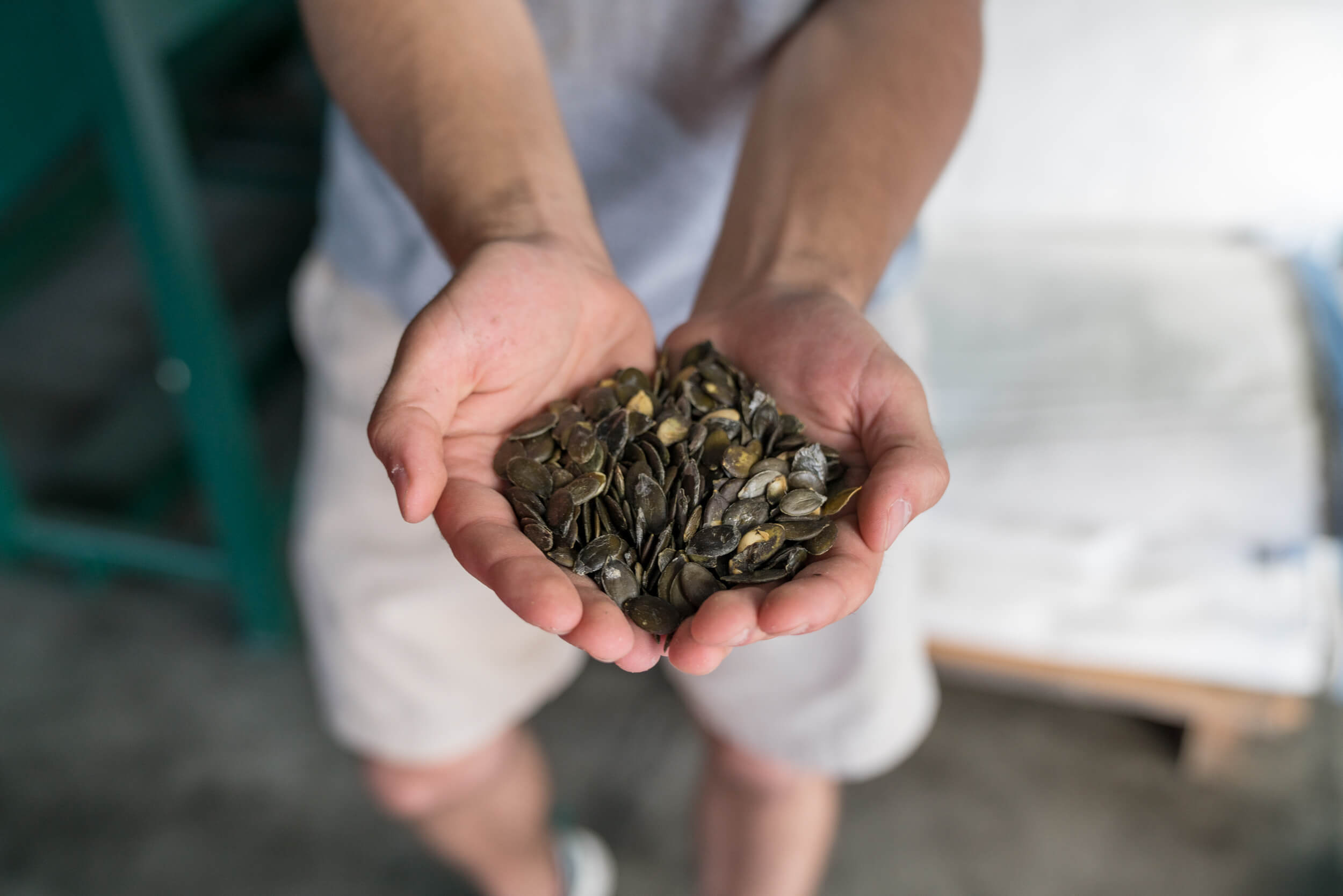 The reason for my excitement about pumpkin seed oil is that I'm in Austria aka home of the best pumpkin seed oil ever! For many years now, our summer vacation has been spent in southern Austria visiting my father-in-law Axel.
We've been doing this every summer since I met Walker (except the summer I was 10 months pregnant. And each summer, I slurp as much pumpkin seed oil as I can during our visit and always bring some back to Canada, because, well, I'm pretty much obsessed with it.
If you've never tried it before, it's incredibly flavourful, absolutely delicious, nutty and rich.
It tastes good drizzled on anything from salads (see my recipe at the bottom of the post) to pasta, and it's simply divine to just dip a fresh baguette onto a plate of oil with a sprinkle of sea salt -- that's Walker's favourite way.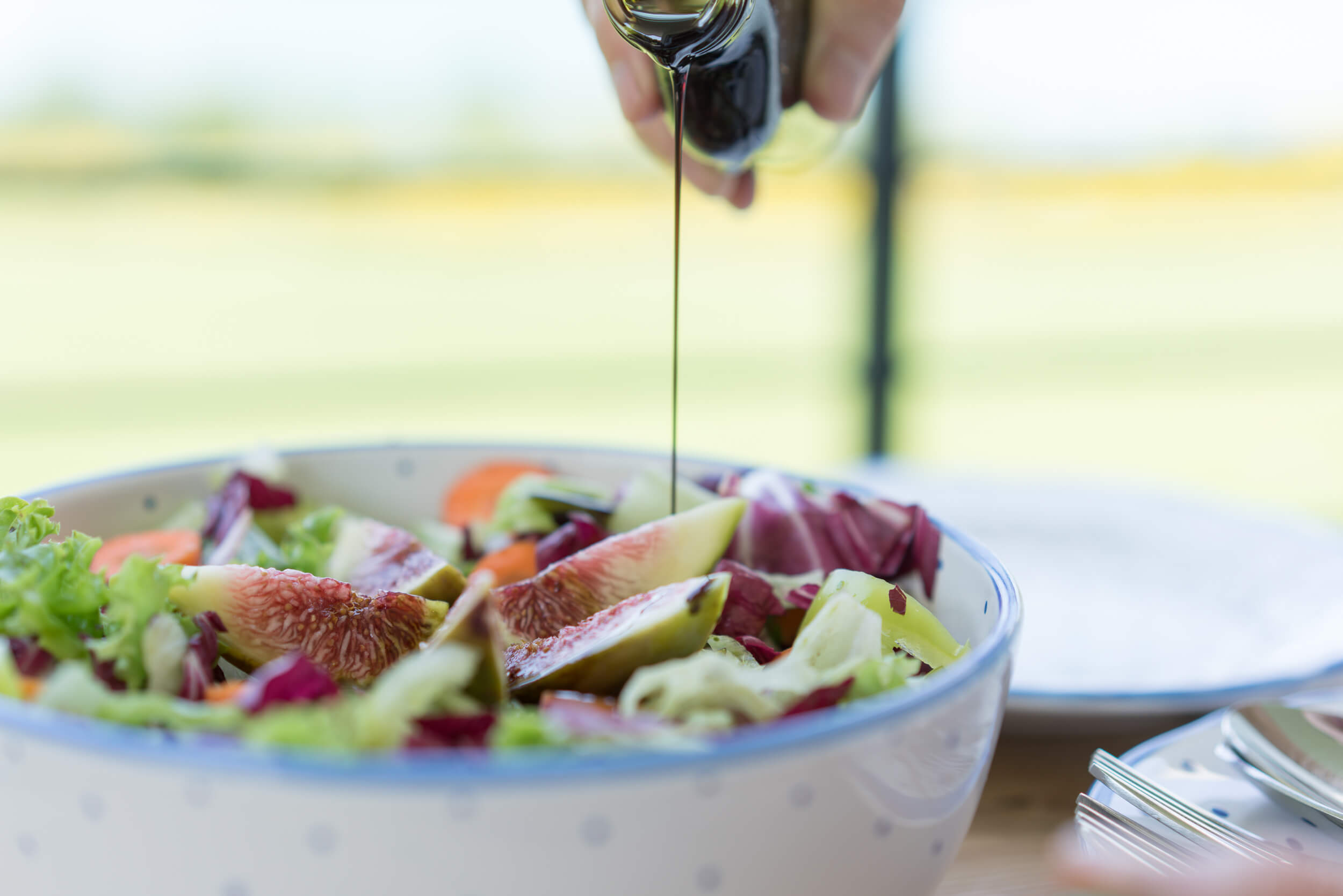 Given that I've been a little obsessed with it for a few years and counting, I thought I was time I visited a pumpkin oil producer, which is exactly what we did!
We had the grand ole tour of kiendler, a family run company since 1696 - yep, you read that right! When Ulrich Kiendler (who gave us the tour) told us the company has been running for over 300 years and first started milling grains and offering "cooling houses" to small villages wanting to "refrigerate" their milk, butter and cheese, I was pretty impressed.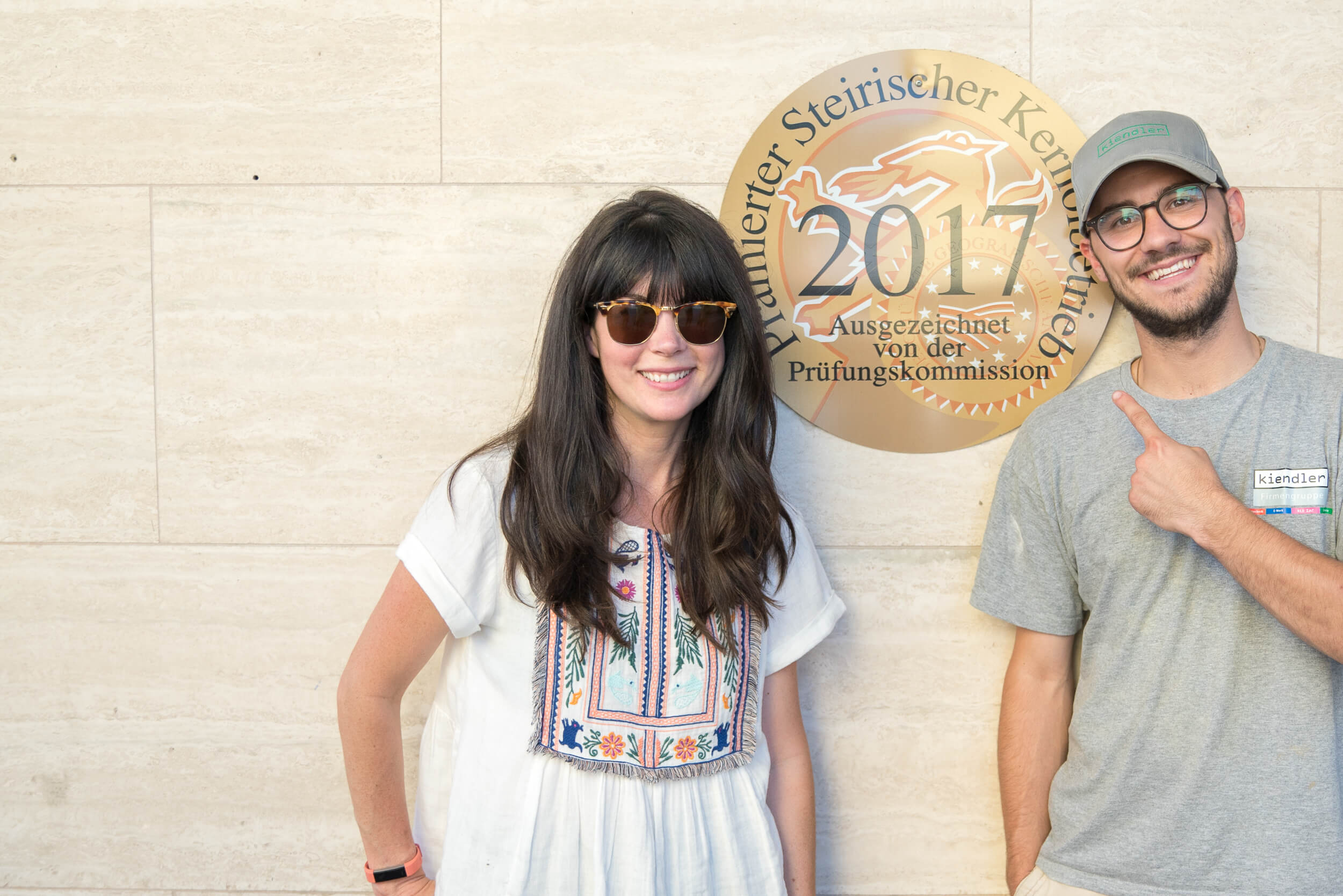 But their pumpkin seed oil is what I wanted to learn about because it is my favourite food in Austria. That's Ulrich in the photo above, he was kind enough to do the whole tour in two languages (German and English) because we were with a big group.
The kiendler pumpkin seed oil is certified P.G.I (Protected Geographic Indication) by the European Union. P.G.I is important because it means it's pure pumpkin seed oil from Styria -- there's no other oil from any other region of Austria or country. There are producers (just like in any food industry) that are not truly authentic and in the case of oil, get their seeds from China (eek) or use other oils than what you think you're getting so you might not be getting pure pumpkin seed oil.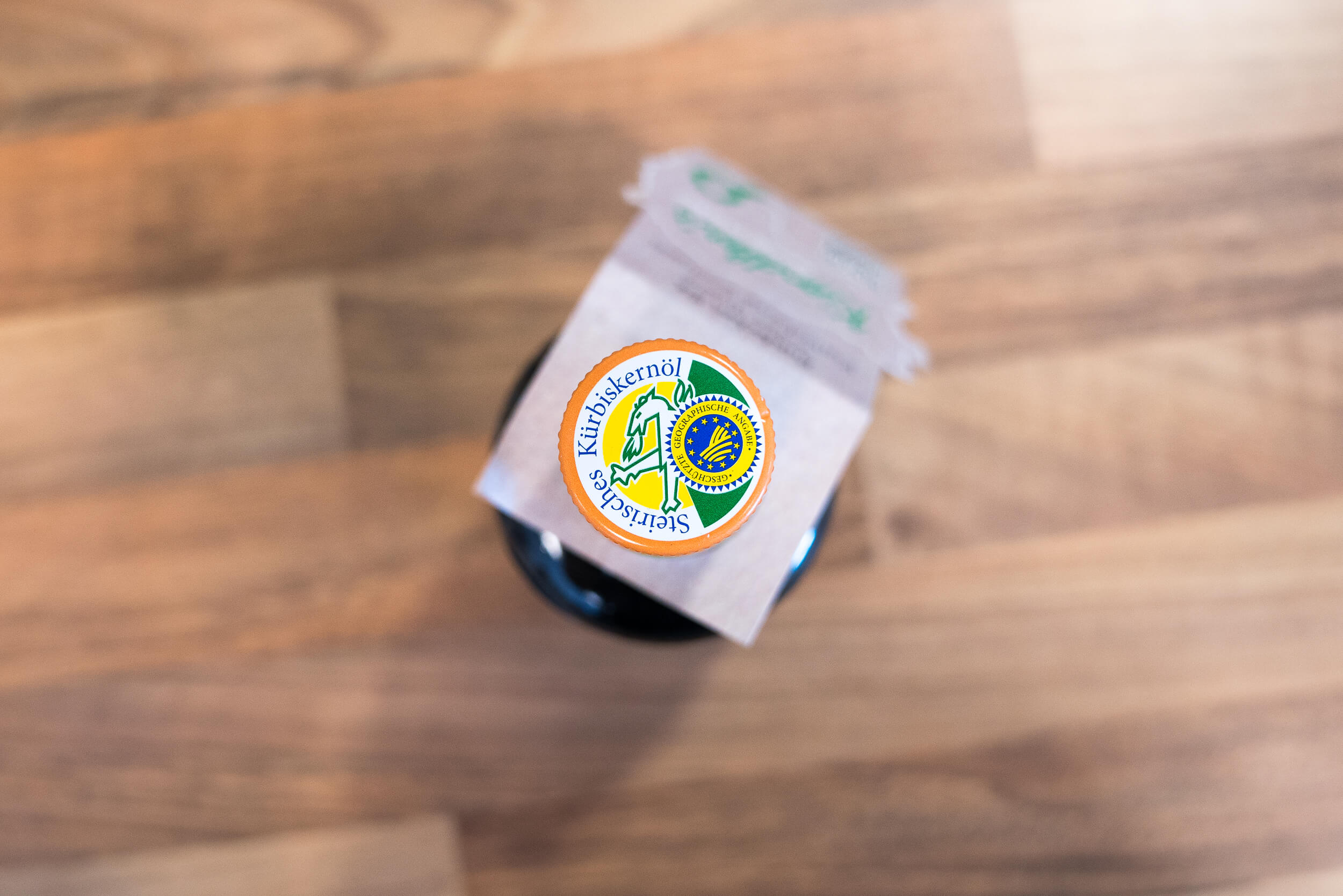 The other factor that P.G.I ensures is that it's pressed using traditional oil mills and it's 100% pumpkin seed oil from the first pressing.
You may have heard of this certification as it relates to Italian olive oil, well, it's the same thing but with pumpkin seed oil. So if you want the good stuff, look for this seal (obviously the seal above is German, but in Canada or the U.S. you'd look for P.G.I.).
I learned a lot but the most interesting of all was the simplicity of the oil extraction - it's done in pretty much three stages.
First, we had to put on these hair nets, as you can see Vienna wasn't too impressed but once she realized everyone else was doing it, she got into it.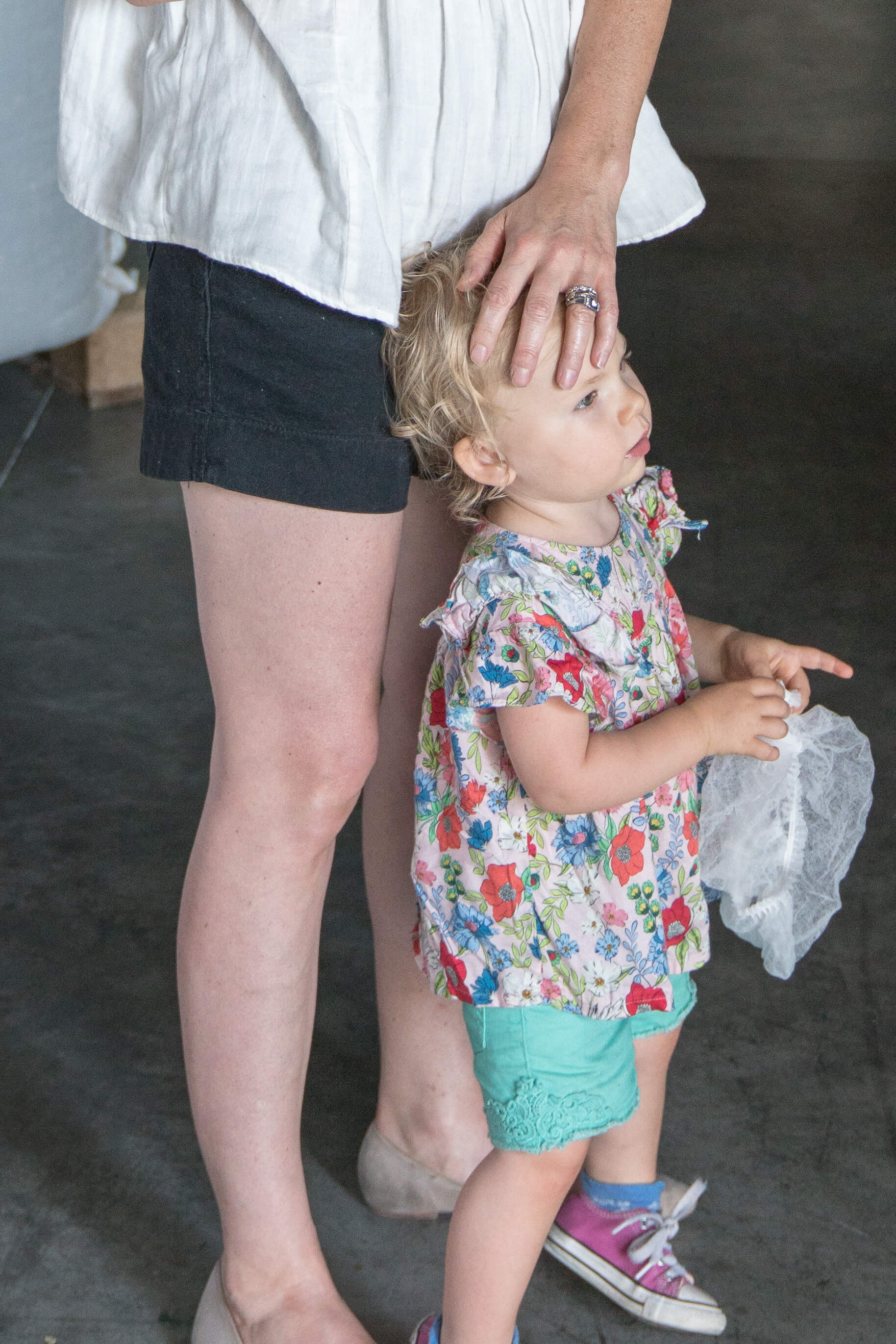 Then he took us into the refrigerated room where they store all the pumpkin seeds they get from the local farmers of Styria. I could have stayed in here all day because it's been INSANELY hot here, like 38-40 degrees celcius (100F). At least I'm detoxing without trying... it feels like you're sitting in a hot bath All. The. Time. I'm not complaining mind you (even though it sounds like I am), I love the heat.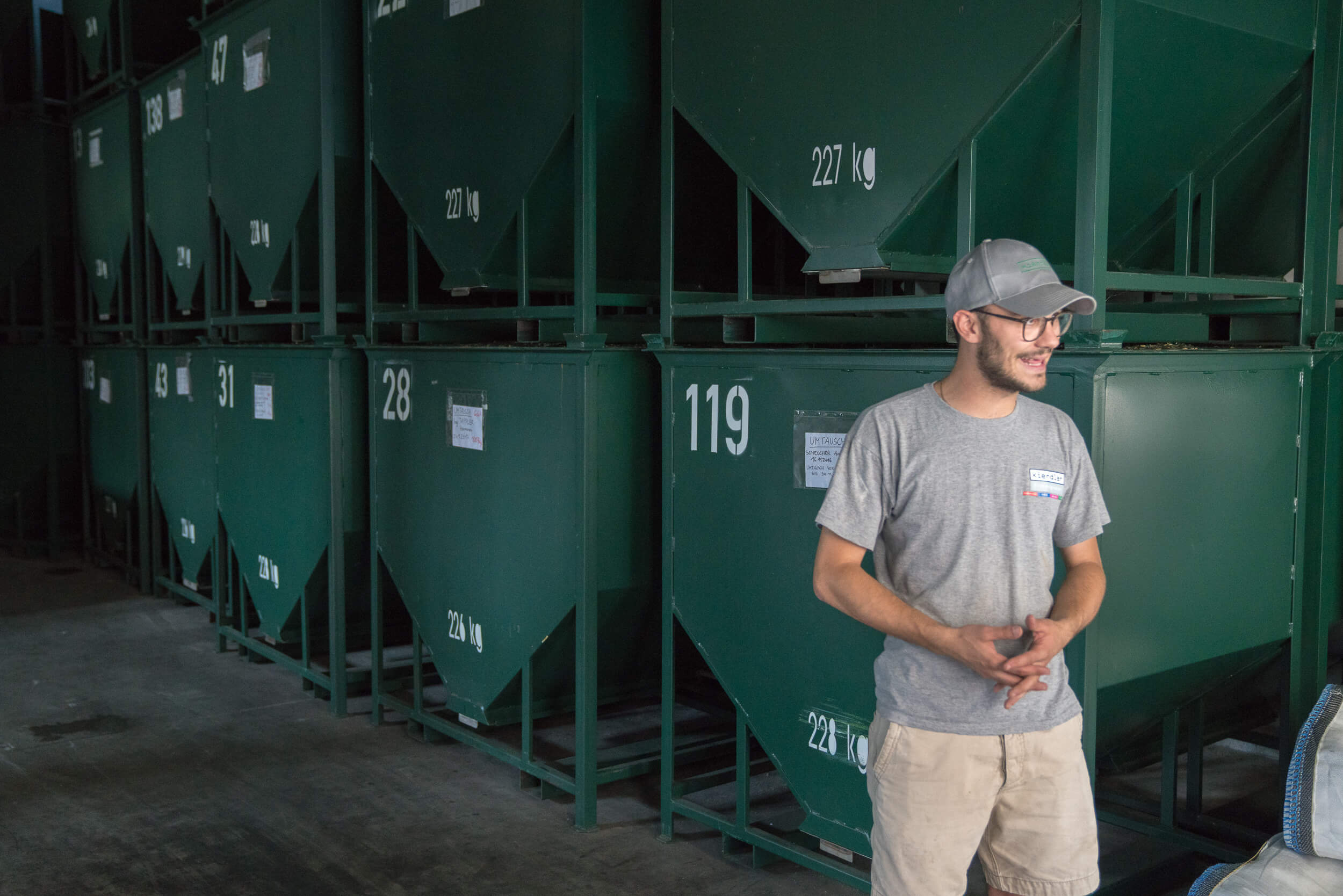 The next stage was roasting of the seeds. Roasting is a necessary step for a richly flavoured oil. They roast at a relatively low temperature so they do not damage the precious oil and use only minimal water and salt. They do not use any chemical additives which guarantees an unmistakable taste and quality. For you nutrition nerds out there, I found this study that showed very little changes to the oil when roasted.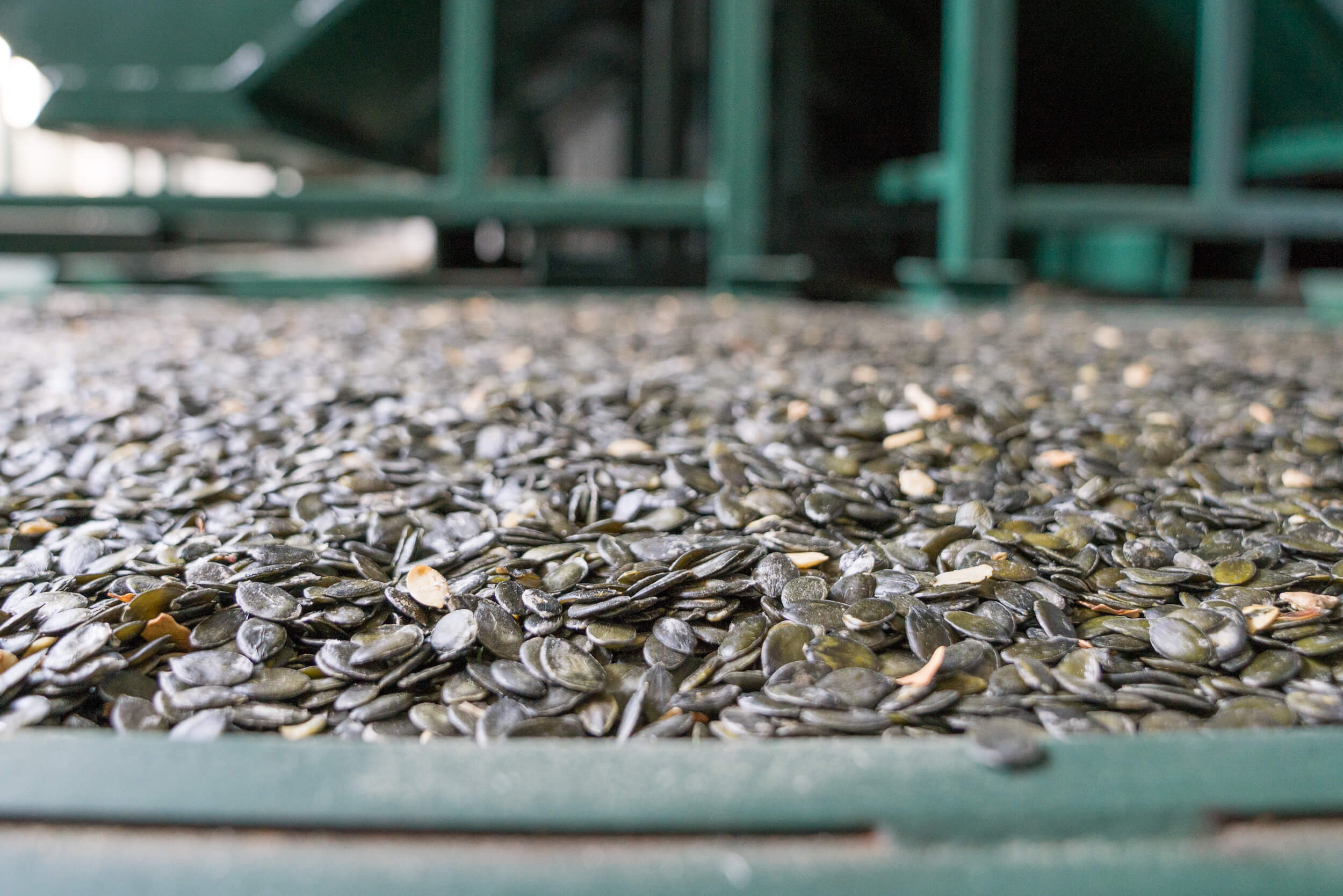 Then it's ground into a powder to prepare it for pressing to extract the delicious oil.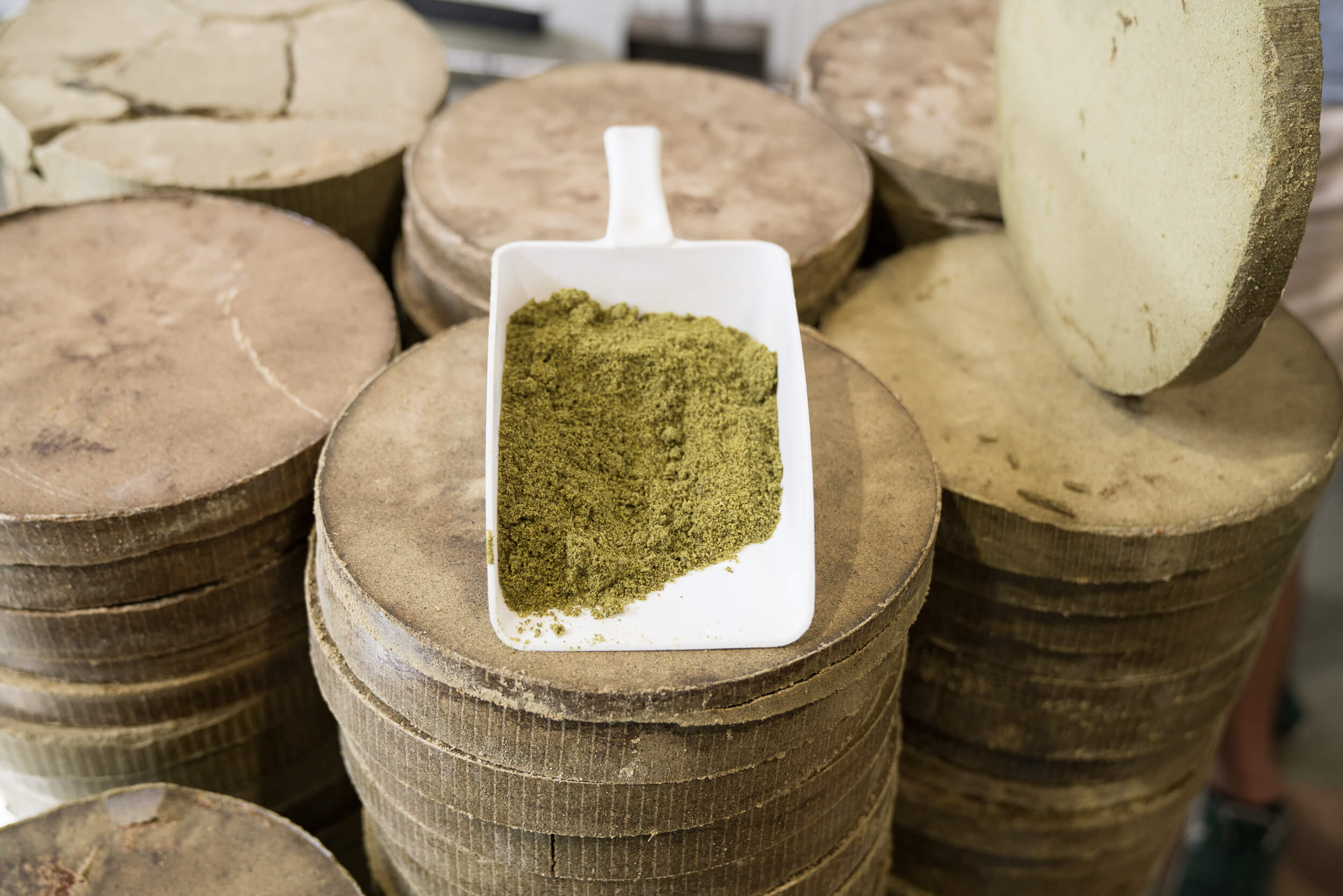 It's cold pressed using 300 tonnes of pressure (that's a LOT, an average elephant weighs between 3 and 4 tonnes).
The best tasting and most nutritionally beneficial oil is on the first press, so they only press it once and bottle it for sale.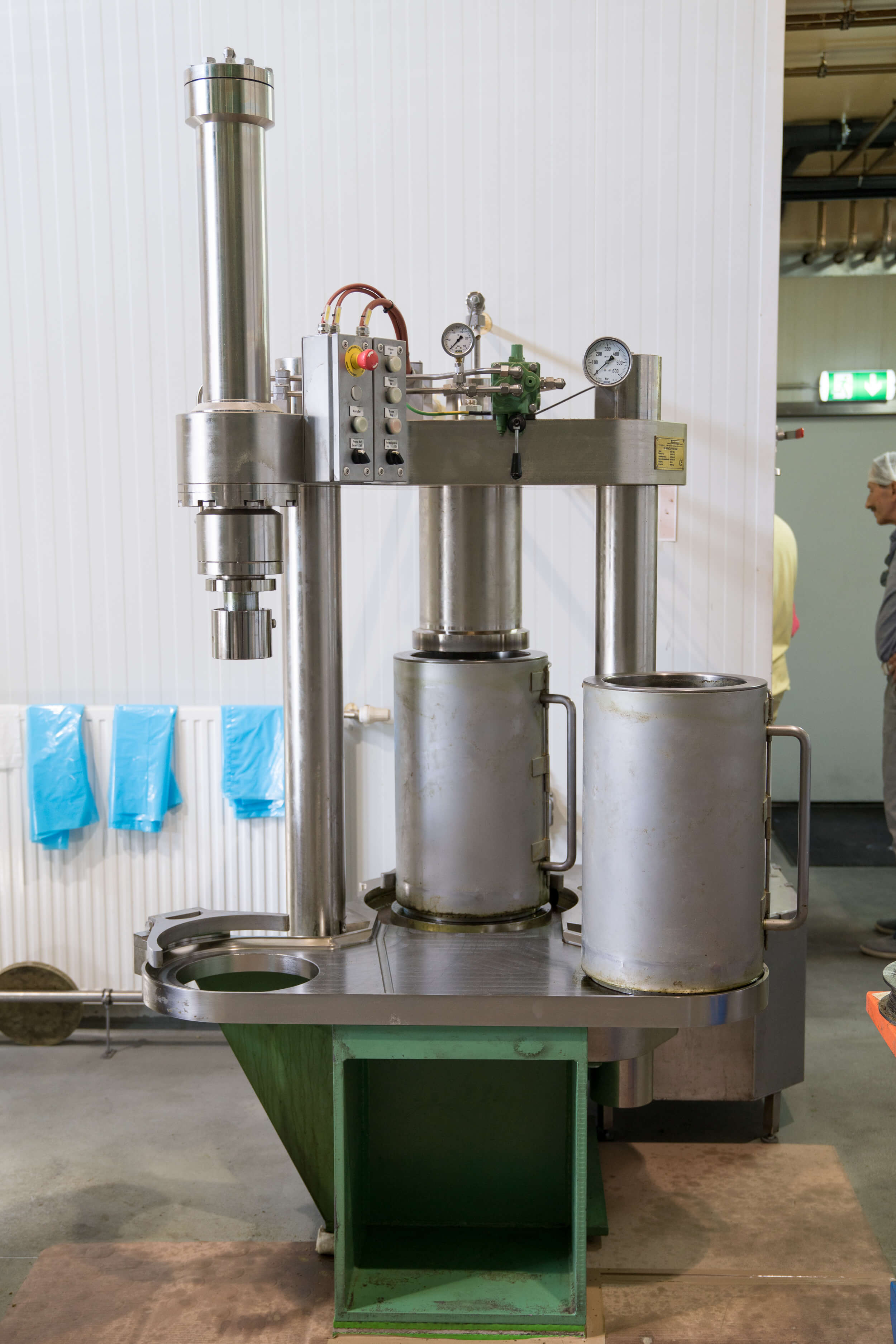 What's left are these pucks of dry pumpkin seed powder. It is not wasted and used as animal feed or for baking. They may even consider a pumpkin protein powder -- makes sense right? You're left with very little fat and mostly protein.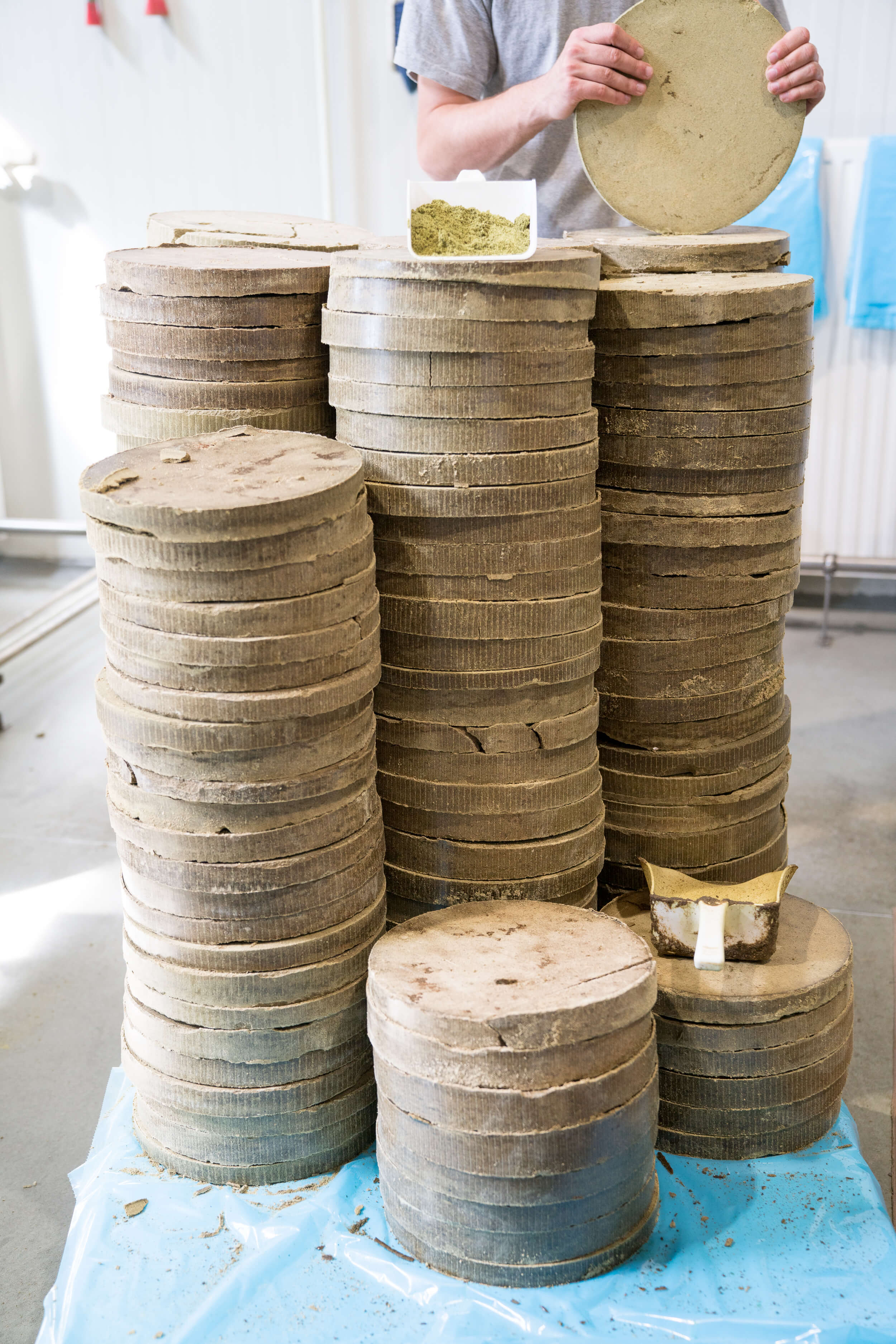 Then it's bottled, not a very thrilling stage so I don't have pics of that because I just wanted to get to the taste-testing part! If you watched my instagram stories you probably heard a lot of "mmmm" and "nom nom" from both myself and Vienna.
That was my tour in a nutshell, thanks to Ulrich Kiendler for the tour. I feel much more informed when I'm buying Pumpkin Seed Oil in Canada. Unfortunately, their brand is not yet available in Canada but you'll just have to look for the seal when purchasing other brands.
You can find pumpkin seed oil in pretty much any health food store in Canada and the U.S. and at most gourmet foods stores too.
Let's talk about these health benefits.
Pumpkin seed oil is extremely high in vitamin E, but not just one type: alpha-tocopherol, gamma-tocopherol, delta-tocopherol, alpha-tocomonoenol, and gamma-tocomonoenol. When an oil has a variety of types of vitamin E, it really enhances the bioavailability. Vitamin E is most well known for skin health because it protects the cells from free radical damage and slows down the aging process. It also helps with moisture and elasticity of the skin. This is why you often see Vitamin E added to cosmetic and anti-aging products.
Vitamin E is also an important nutrient for heart health by preventing cholesterol from oxidizing and slowing down the hardening and thickening of arteries that leads to atherosclerosis.
Pumpkin seed oil is a good source of a variety of minerals such as phosphorus, magnesium, manganese, copper, zinc and iron. In fact, the World Health Organization recommends eating pumpkin seeds as a great way to obtain zinc in your diet. Also rich in tryptophan, not a mineral, but an amino acid important for mood and sleep.
Anti-inflammatory due to all those unsaturated fatty acids (and you already know the importance of eating fat, right?), anti-microbial and blood sugar balancing -- pumpkin seed oil is awesome.
Applied topically, pumpkin seed oil has been found to be healing to the skin in research.
Curious how to store this oil?
Cool, dark place (18 degrees celcius is ideal) -- kinda like vino. You can refrigerate it but then you'll have to let it sit at room temp before using it for about an hour if you do put it in the fridge.
As I mentioned above, it's great drizzled on ANYTHING. However, since I've been guzzling it every day since we arrived, I'm going to share a salad recipe with you today. If you have either of my books Joyous Health or Joyous Detox, just search "pesto" in the index and you can swap the olive oil with pumpkin seed oil for a rich and wonderfully flavourful dish.
Summer Salad with Pumpkin Seed Oil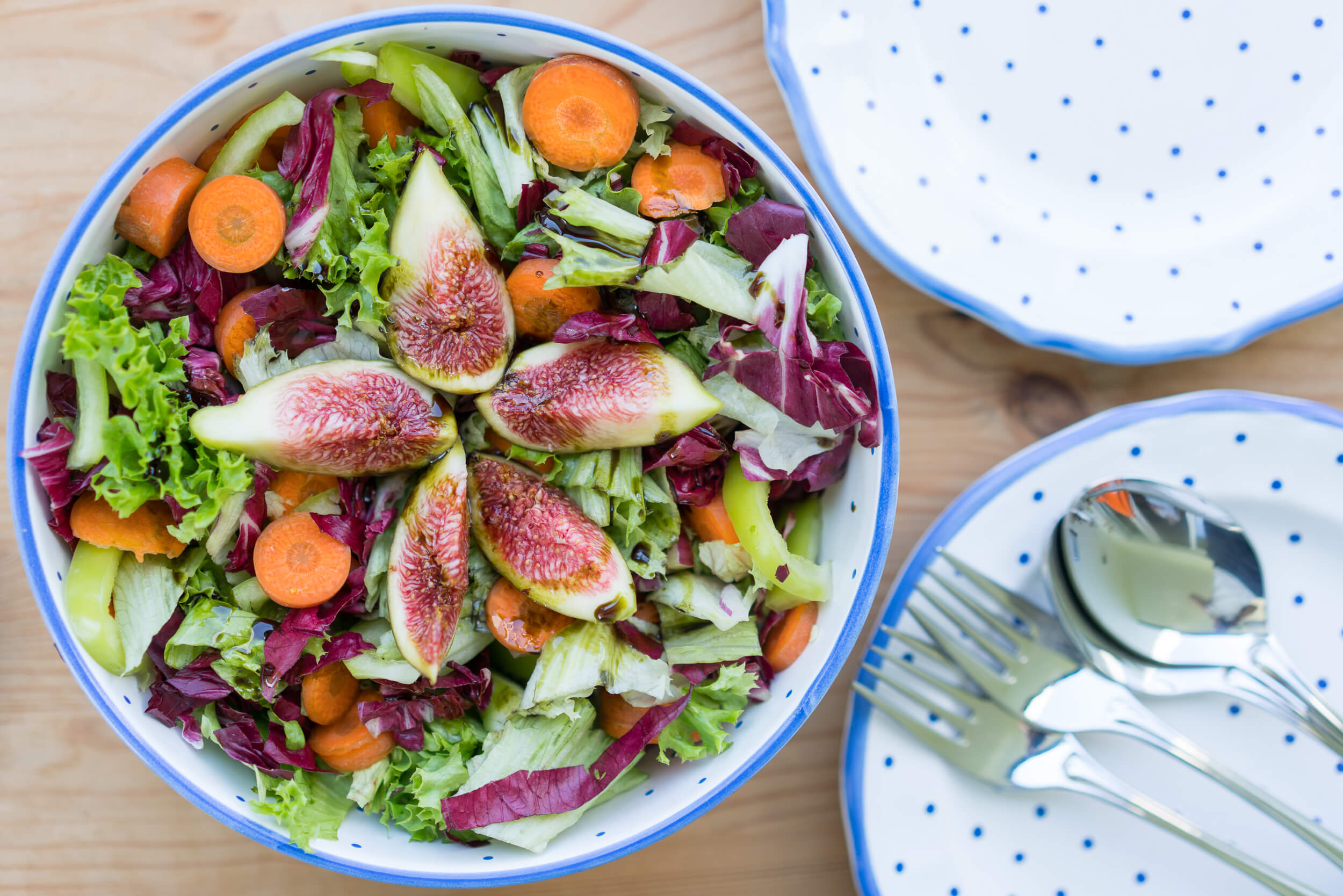 Here's my recipe:
Salad + Snacks
Summer Salad with Pumpkin Seed Oil
Save
Print
SALAD
1 head of leafy green lettuce
Half head of radicchio, chopped
1 cup carrots, chopped
1/2 red onion, finely chopped
1 sweet pepper (any colour), chopped
2 to 3 fresh figs sliced
Optional: Canned tuna and/or chickpeas mixed in
Sea salt and pepper
DRESSING
1/4 cup Styrian Pumpkin Seed Oil
1 lemon or 2 tbsp apple cider vinegar or balsamico
Instructions
In a large salad bowl, toss ingredients together excluding the figs. They are very delicate so I suggest placing them on top. Drizzle with pumpkin seed oil and an acid of your choice. Enjoy!
---
Notes
Serves 4.
*The oil is so flavourful, you might not even need to add an acid like lemon or ACV to this recipe, but you can if you like!
I'm super excited for you guys to get on the pumpkin seed oil train so you can share in my enthusiasm for this wonderfully delicious oil!
I better get back to my Austrian vacation ;)
Wuensche ein schoenes Wochenende!
Joy