I remember when I was a kid and my mom made something for me I didn't like (which wasn't very often), I wouldn't be given something else. Even if liver and onions were on the menu!! And ya, I can still remember that disgusting smell. On the other hand, if my brother didn't like it, he would just stuff it behind the fridge in secret like he did for most of his veggies where they laid to rest and rot (true story, LOL).
The options for my brother and I were: eat what was made for us or don't eat.
It may seem harsh, but it was effective. Everything else Ma McCarthy made was amazing by the way, except for liver (barfarama).
Now that I'm a parent, I really appreciate this (not what my brother did, but rather what my mom did NOT do) because I really can't imagine making a separate dinner for Vienna each time she doesn't like what we are eating.
This is why I love the fact that this recipe feeds both her and Walker and I – and everyone loves it! Now of course there are meals that Vienna isn't a fan of or that she's just not ready to eat (for example, spicy Indian food, which of course, I adore!) but I've found that she just needs totry something a couple of times before she likes it, especially if it's a new flavour.
The recipe I'm sharing with you today is from a wonderful cookbook by Leah Garrad-Cole called It All Begins with Food!
I'm proud to share that I wrote the forward for her book, so I've had the chance to make many of her recipes and thoroughly review it. I really love the philosophy behind her book – eat real food, whole food, healthy food, darn tasty food!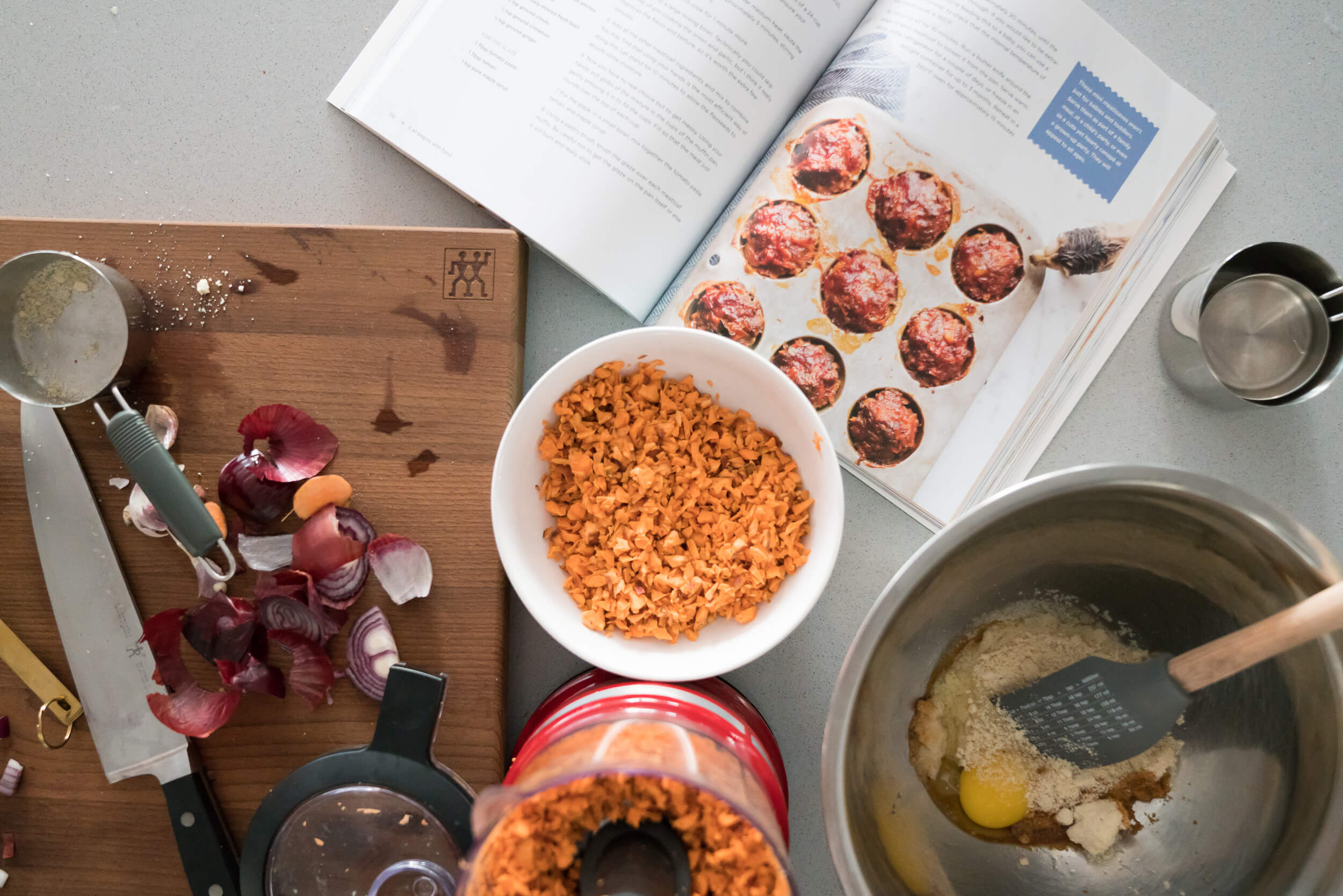 These little loaves from her book are called "Not Your Mama's Meatloaf". If you grew up feeling forced to eat your mama's meatloaf, don't worry, you'll have no trouble eating this one! The only change I made was instead of ground beef, I used ground organic chicken.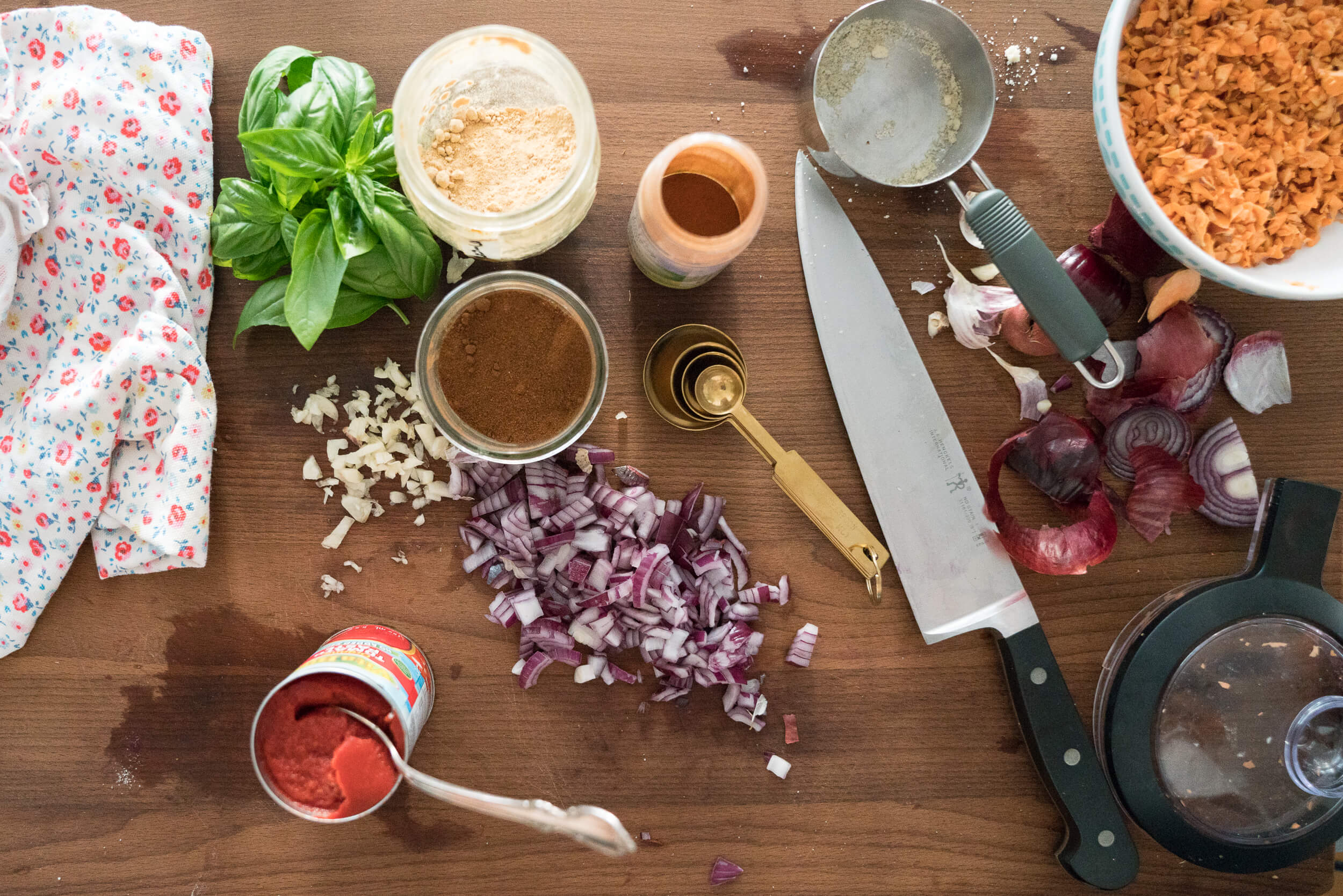 These mini meatloaves have such a wonderful combination of flavours from cloves to ginger to basil. They are nice, moist and they are so damn tasty, it's hard not to eat 10 of them :)
If you're feeding little ones who don't have a lot of teeth, these meatloaves are nice and soft making it easy for the young ones to eat it too – the perfect size for finger food!
Here's the recipe:
Meatloaf
2 tsp coconut oil plus extra to grease the pan
1 small onion, finely minced
1 garlic clove, crushed
1 lb ground organic chicken*
1 small sweet potato, peeled and grated
1 egg
1/2 cup almond meal
1 tbsp tomato paste
1 tbsp tamari
1 tbsp ground flaxseeds
1 tbsp finely minced fresh basil
1/4 tsp ground cloves
1/2 tsp ground cinnamon
1/2 tsp ginger
Glaze
1 tbsp tomato paste
1 tbsp tamari
1 tsp pure maple syrup
Instructions
Preheat oven to 400F and grease the cups of a 24-cup mini muffin pan. Be a little heavy-handed to ensure your meatloaves don't stick.
For the meatloaves, in a skillet over medium heat, saute the onion in the coconut oil for approx. 5 minutes, stirring frequently until transparent.
Add garlic and cook for 1 minute more.
Transfer to a large mixing bowl.
Add all the other meatloaf ingredients and mix to combine. You may find that using your hands is the most efficient way of doing this. Let stand for 10 minutes to allow the flaxseeds to absorb some moisture.
Now you have no real choice but to get messy. Using your hands, put globs of the mixture in the cups of the muffin pan gently pressing it in to fill the cups. Fill so that the chicken just rounds over the top of each cup.
For the glaze, in a small bowl mix together the tomato paste, tamari and maple syrup.
Using a pastry brush, brush the glaze over each meatloaf muffin. Be careful not to get the glaze on the pan itself or else it will burn and really stick.
Bake in the oven for approximately 20 minutes, until the loaves are cooked through.
Allow to sit for 10 minutes. Run a butter knife around the edge of each meatloaf to loosen it from the pan. Serve warm. Store in the fridge for a couple of days or freeze in an airtight container for up to 3 months. Reheat in oven for approx. 15 minutes.
---
Notes
*The original recipe calls for ground beef.
**I love the glaze so much I often double that part of the recipe.

Makes 2 dozen meatloaves.
As I mentioned in the recipe, I often double the ingredients for the glaze because it's so darn tasty!!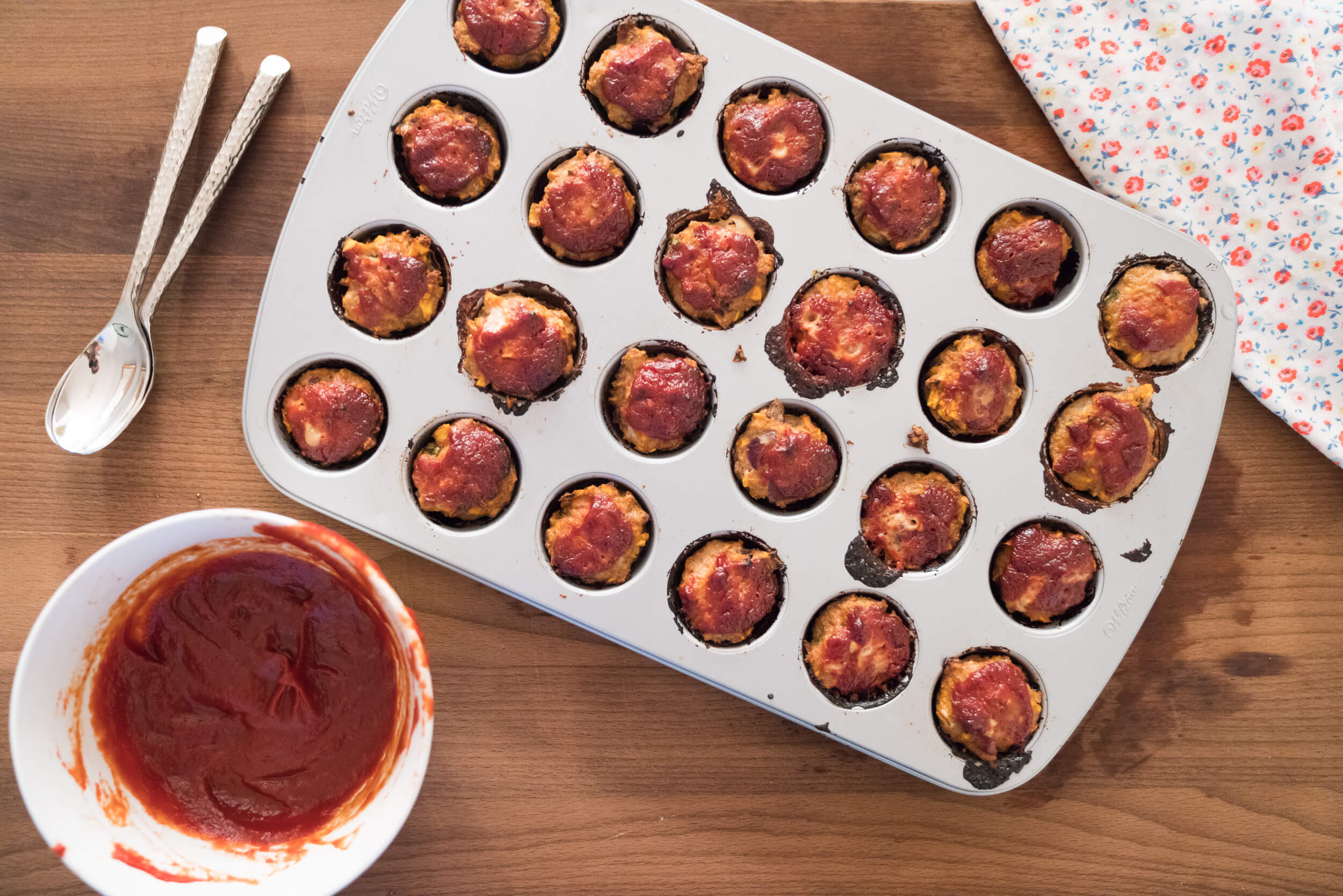 Be sure to check out my instagram because you can win a copy of my book and Leah's book until this Friday November 10th, 2017-- good luck!!
When I make this recipe I normally serve it with some rosemary sweet potato wedges and my kale salad with creamy dressing. Both of which everyone in the McJordan family LOVES!
Have a great rest of your week!
Joy xo