Turmeric in a latte, turmeric in tea, turmeric in soup or stew and even in pancakes!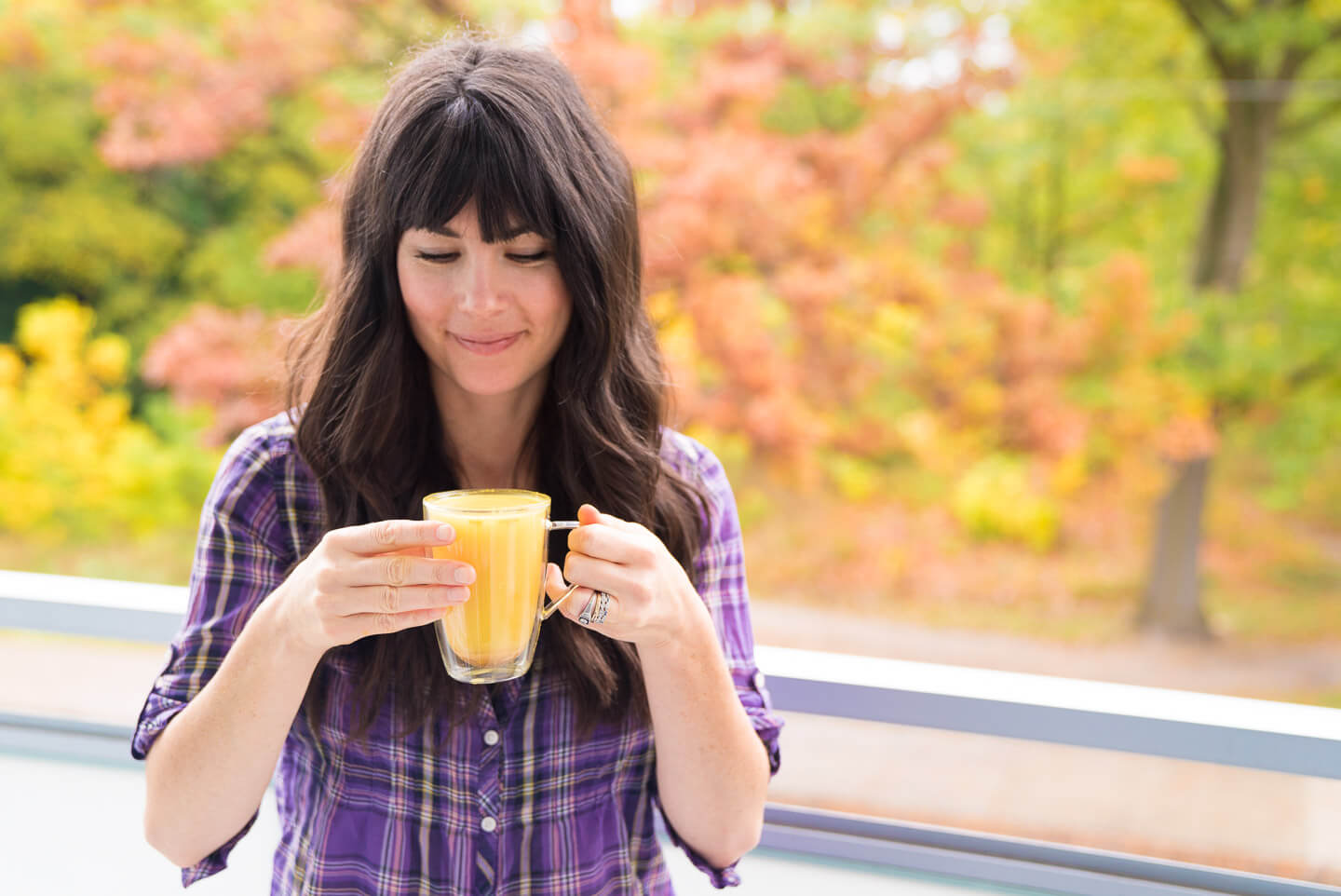 There are a gazillion ways to enjoy this incredibly healing, detoxifying, antioxdant anti-inflammatory food.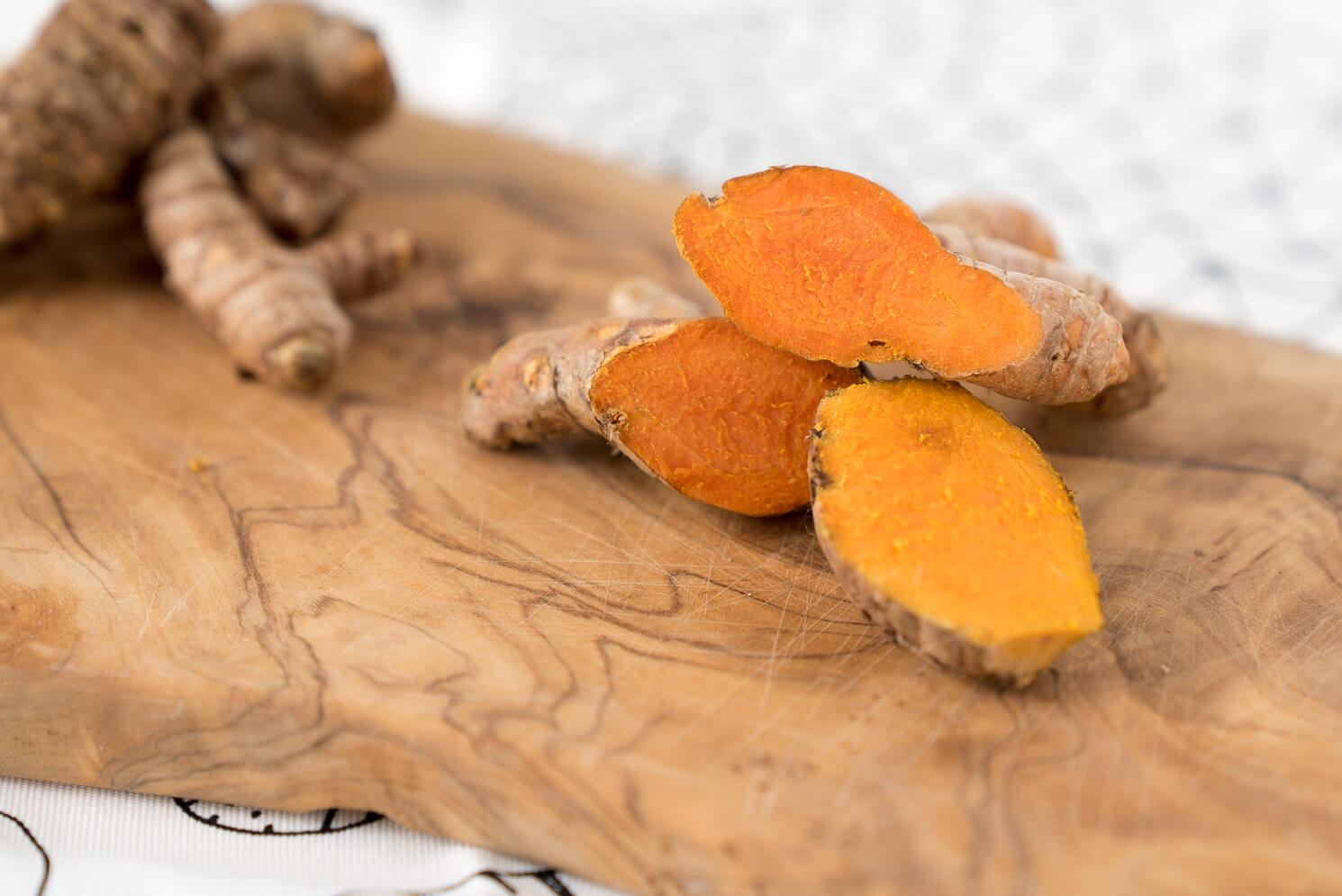 If you haven't jumped on the turmeric train with me, what are you waiting for?
let's just look at this list of impressive health benefits:
Turmeric is extremely high in antioxidants and there is evidence it can increase one of the most important antioxidants in the body, superoxide dismutase.
I could go on and on, but let's leave it there. Let's talk about cauliflower rice now! I love cauliflower because it's still a filling, high-fiber food that has many health benefits including being effective at helping the body better detox and aiding in hormonal balance.
To "rice" cauliflower, you'll need either a cheese grater and some elbow grease or a food processor. I use the latter. You'll want to blitz it until it looks like the size of rice, or close to it. It takes less than a minute. If you rinse your food processor immediately, you won't even need to use soap because the cauli easily washes off.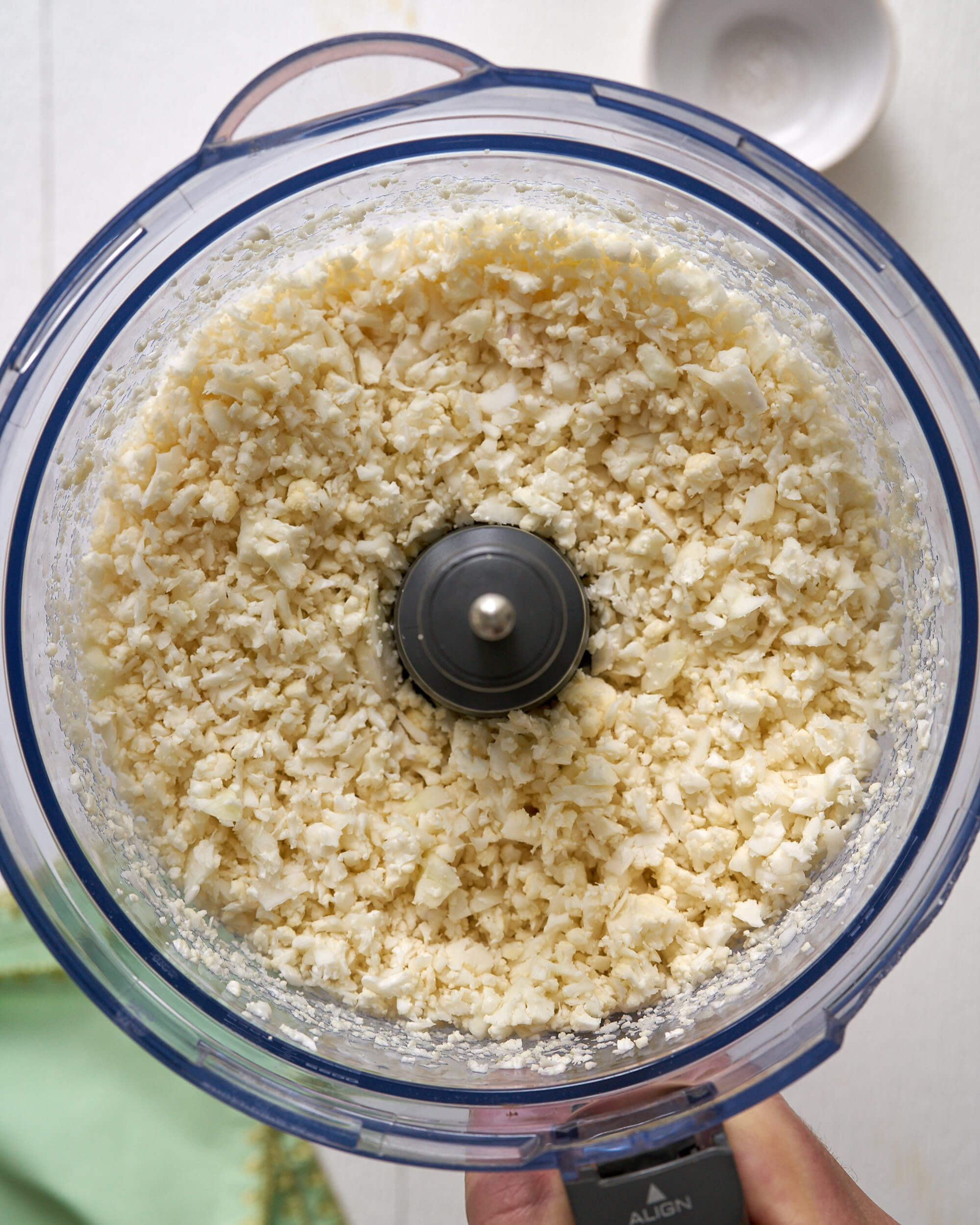 The turmeric I used in this recipe is from New Chapter. It's organic and fermented.
The fermentation of turmeric enhances it's bioavailability big time. This is important to note because curcumin, being one of the most researched phytonutrients in the history of modern medicine has very poor absorption. However, when it's fermented AND it's consumed in the whole form with all the other phytonutrients present (as is the case with this brand), the absorption is greatly enhanced.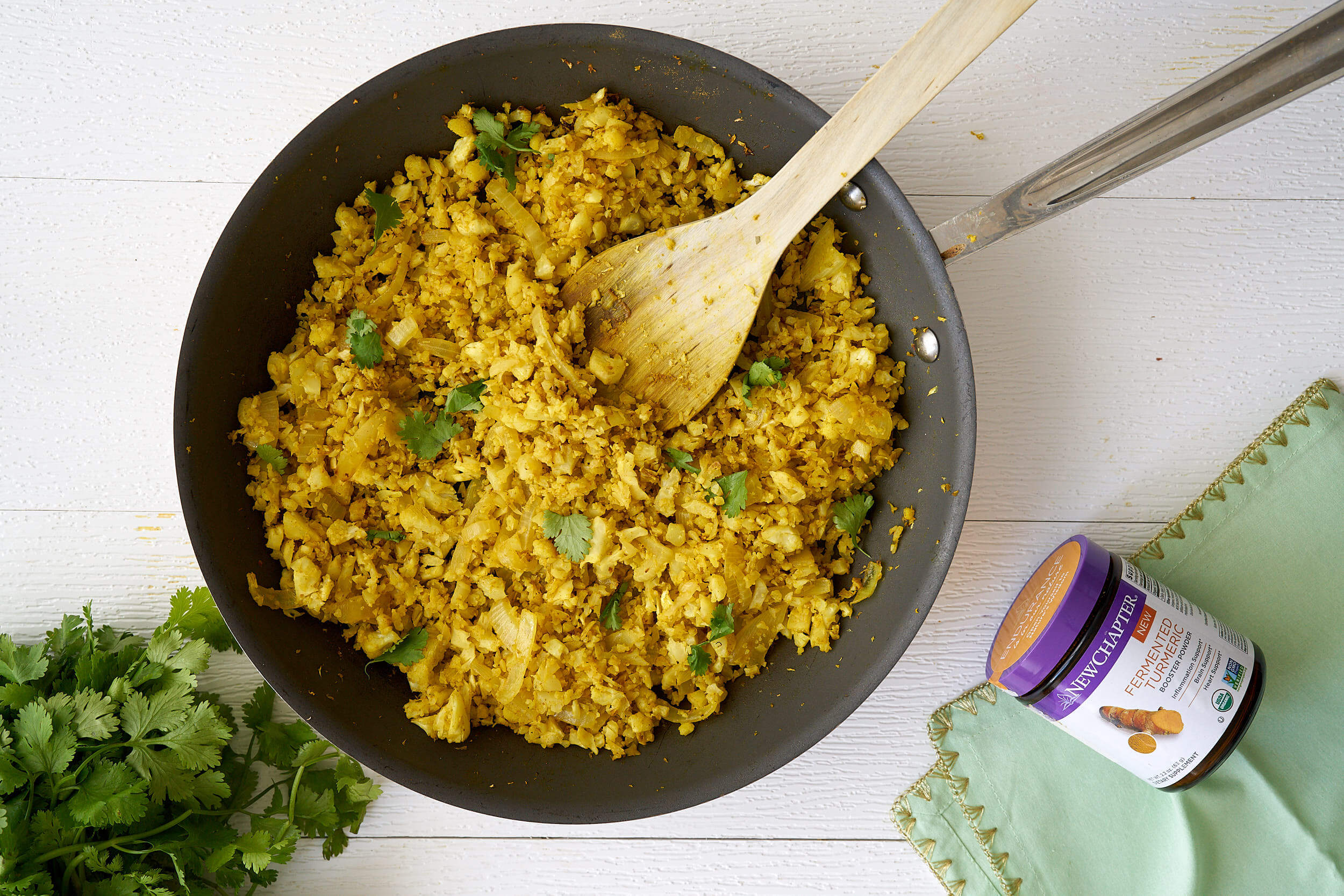 Of course you can also grate fresh turmeric root or use organic powder but again, the absorption is excellent due to the fermentation.
Here's the recipe for Turmeric Cauliflower Rice.
Ingredients
1 head cauliflower rice
2 tbsp extra-virgin olive oil or coconut oil
1 small white onion, chopped
2 garlic cloves, finely chopped⠀
1 tbsp organic fermented* turmeric New Chapter
1 tsp ground cumin⠀
Sea salt and pepper to taste⠀
Parsley for garnish⠀
Instructions
The quickest way to "rice" your cauli is to toss it into a food processor and blitz it for less than a minute until it's the size of rice. Otherwise, go old school and use a cheese grater.
Heat oil on fry pan to medium, saute onion and garlic for a couple of minutes and add turmeric and cumin, saute for a couple more minutes.
Add riced cauliflower and cook until tender. Add sea salt and pepper to taste. Top with parsley and if you're like my hubs Walker toss an egg or 2 in there and make cauli eggy fried rice!⠀
---
Notes
Serves 4.

*You can't beat the absorption and bioavailability of nutrients when they are fermented. Plus the curcumin and curminoids are significantly higher in fermented turmeric.⠀
It's the perfect side dish to accompany any protein, or on it's own. You could do like my hubs did and crack one or two eggs right into the fry pan near the end of cooking for a nice hit of protein.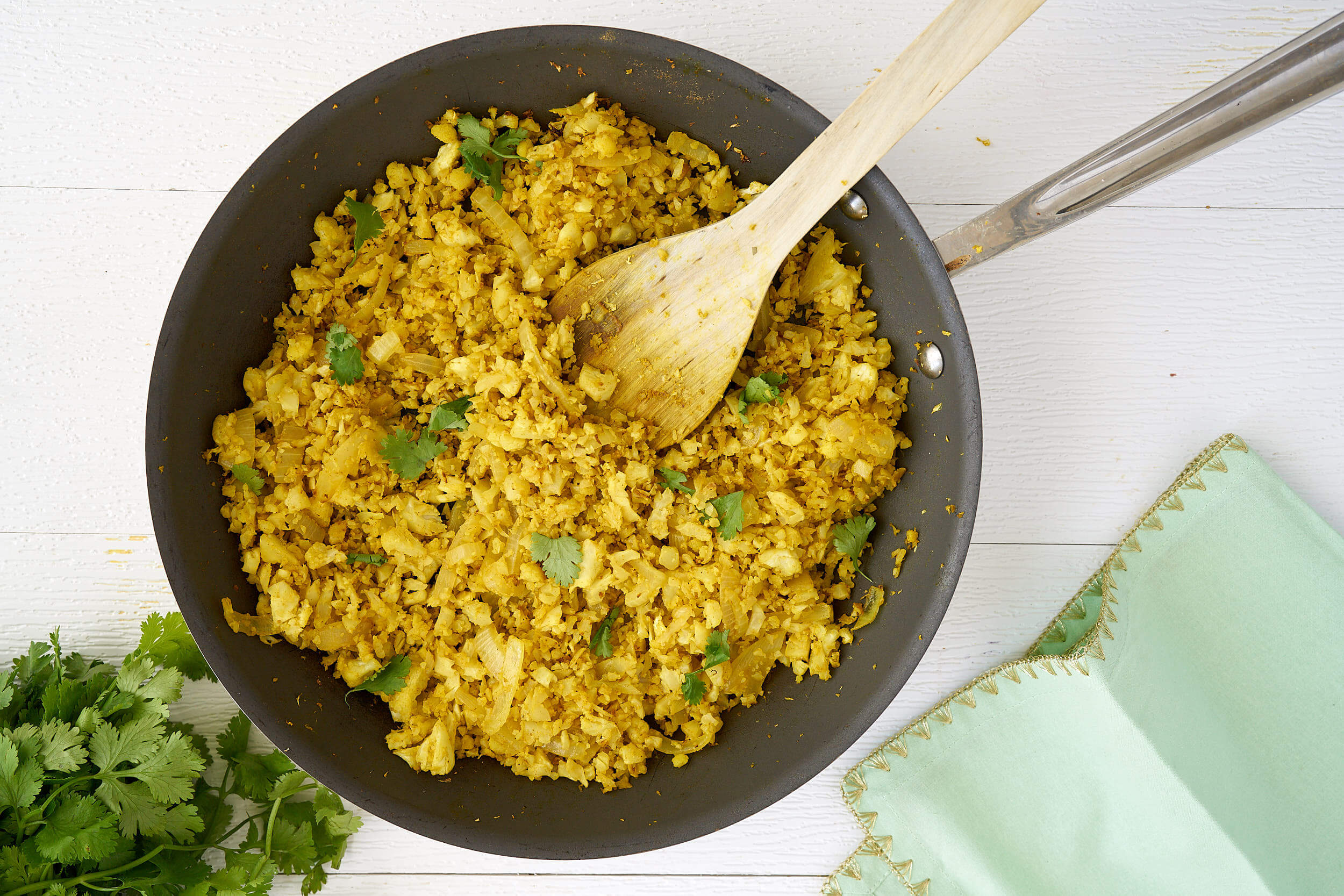 Let me know if you try it out, comment below and tell me if you did an egg or no egg :)
Have a joyous week!
Joy