In the wintertime, I'm a soup queen. I make homemade soup a couple of times per month. I really enjoy having soup as a starter to a main meal when entertaining, or as the main event when it's just Walker, Vienna and I. We had this soup for lunch and then as a little appetizer at dinner with fish and salad.
This turmeric butternut squash soup is creamy (without any cream, dairy or otherwise) and incredibly flavourful! It was huge hit.
Everyone loved the crunchiness on top! Especially Vienna, it was her favourite part of this soup (she LOVES chickpeas and so do I).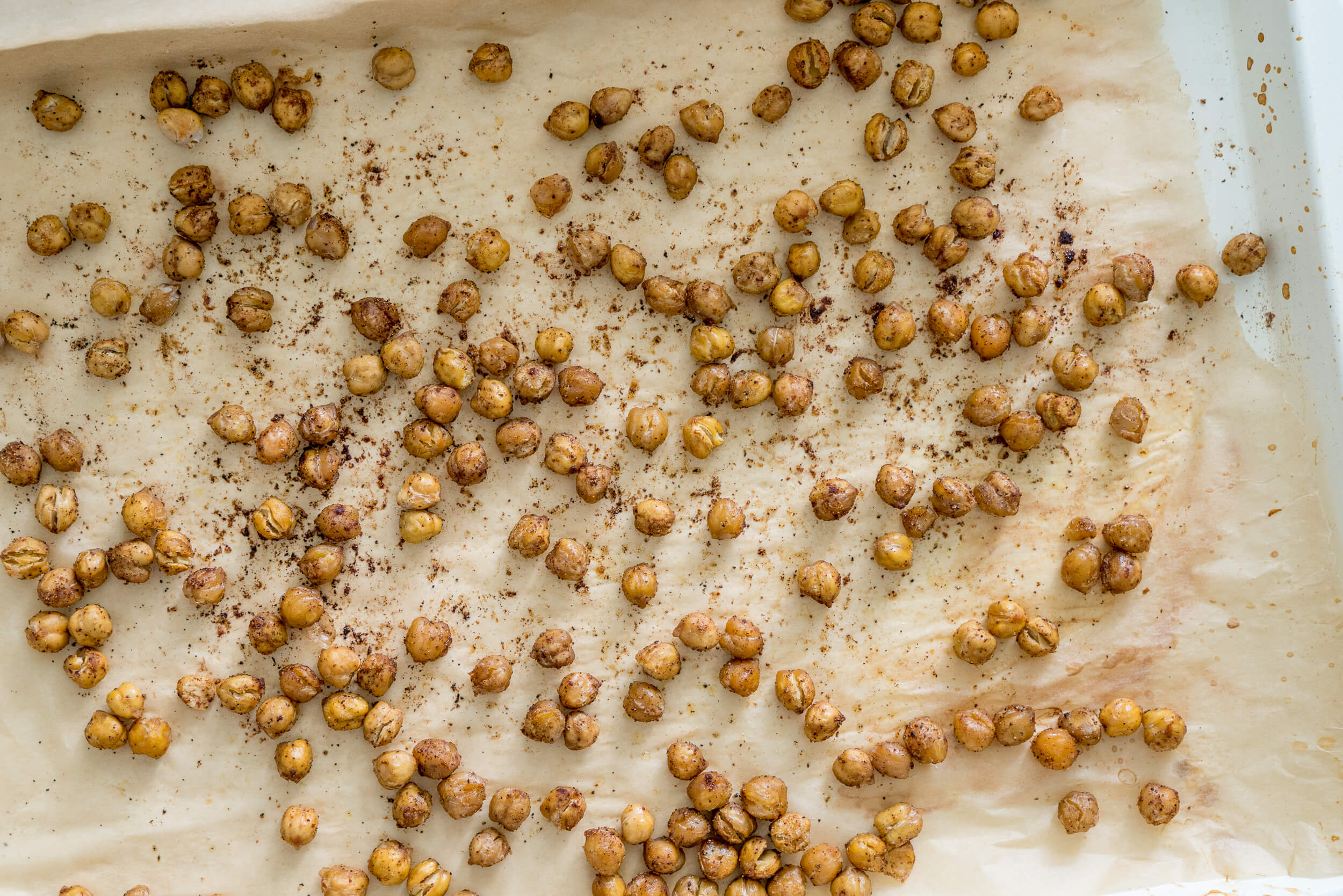 Those crunchy roasted chickpeas and kale chips are the perfect balance to the smooth and spicy creaminess of the soup. However, once she got past the chickpeas, she was all "mmmmmm" and "nommy nommy". I was quite pleased, of course! Getting her to try new foods these days isn't as easy as it was when she was around a year old. I often find myself thinking, if she'd just try it, she'd love it! Which is why I was so happy when she did! I find a big part of experimentation with a child is eating with them, as opposed to feeding them at separate times.
When your children see you eating healthy foods, they want to emulate that.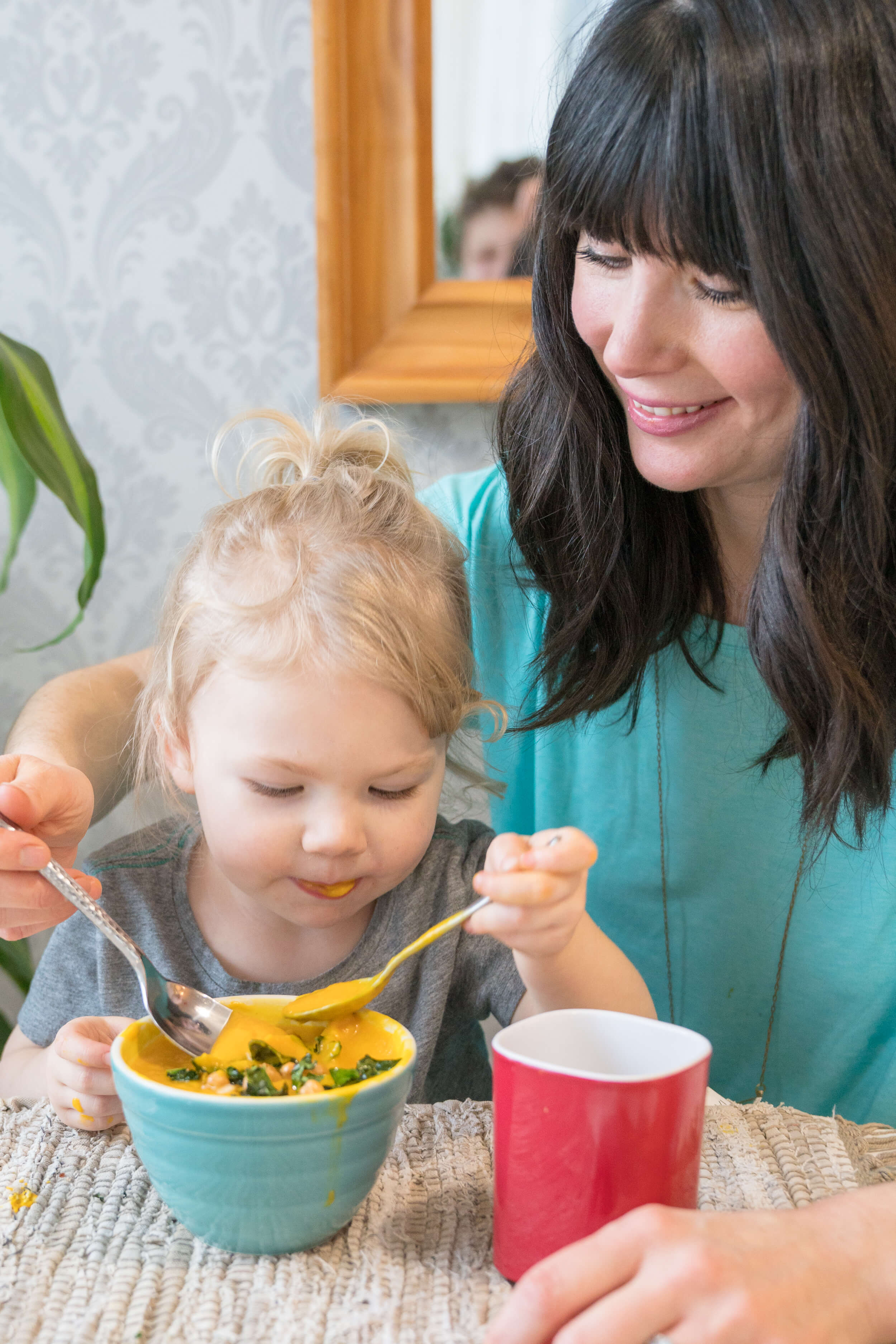 Togetherness at meal time is really important to me as a mom, but we are not perfect at this. Sometimes breakfast is Walker or myself slurping our smoothie while helping Vienna get dressed, but we always sit down to dinner together and make a point of eating brunch together on weekends. Breakfast, on the otherhand, is a work in progress.
I created this soup into a video because I wanted to show you how easy it is! If you're not a fan of butternut squash or you don't have any, you could easily swap in sweet potato instead. You can find the video below and then you'll find the recipe further down in the post.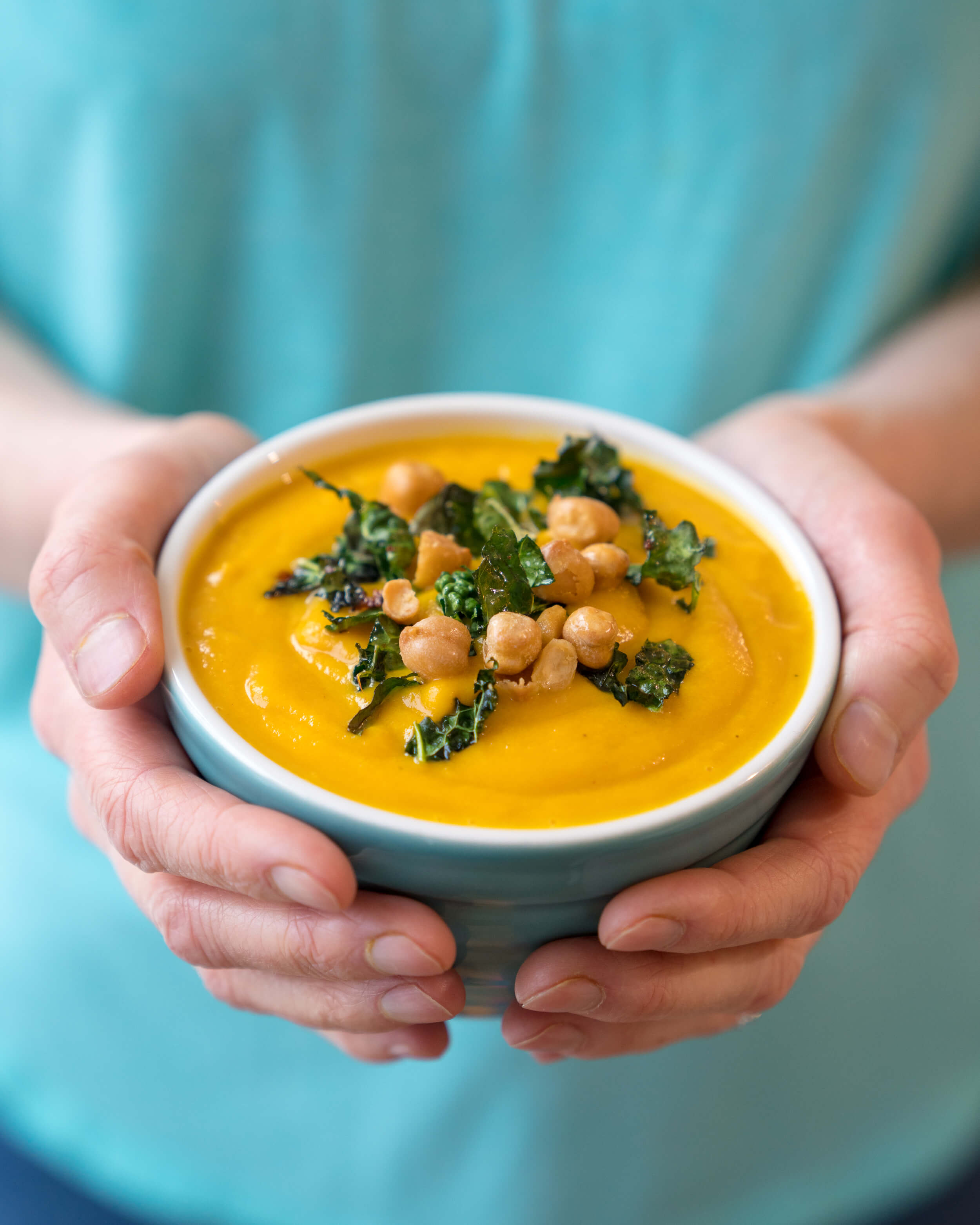 There are many wonderful health benefits of this soup!
Butternut Squash is packed with Vitamin A which holds all of the immune-boosting properties
Butternut Squash also has a high potassium content which can help support strong healthy bones (especially in postmenopausal women and older men, who are often at higher risk for osteoporosis)
The potassium present in butternut squash can also help to alleviate and prevent muscle cramps and PMS-related cramps
Curcumin, the active compound in turmeric, is a potent antioxidant which can help neutralize and protect the body from free radicals
Curcumin (or turmeric) has been shown to boost Brain-Derived Neurotrophic Factor (BDNF) which is linked to improved brain function and a lower risk of brain disease
Turmeric helps to clear up Amyloid plaques (buildup of protein tangles) which are at the root of Alzheimer's Disease
And no, you don't need to add black pepper to this soup to aid in the absorption of the curcumin, contrary to popular belief. You can read more about that here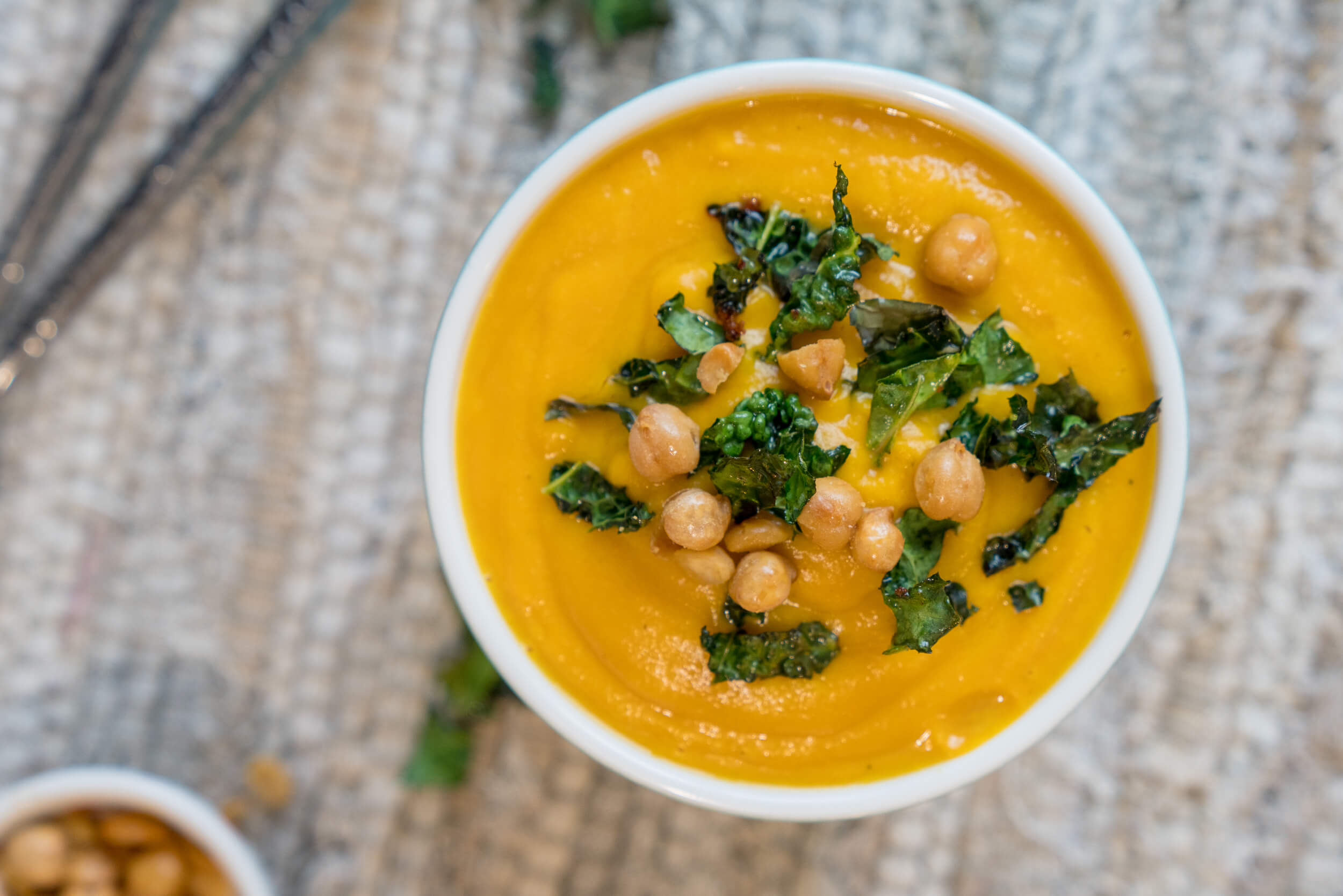 I used homemade chicken bone broth I made a few weeks ago for the stock. It's incredibly flavourful and really makes a difference to this soup. If you're just using water, the soup won't be as tasty.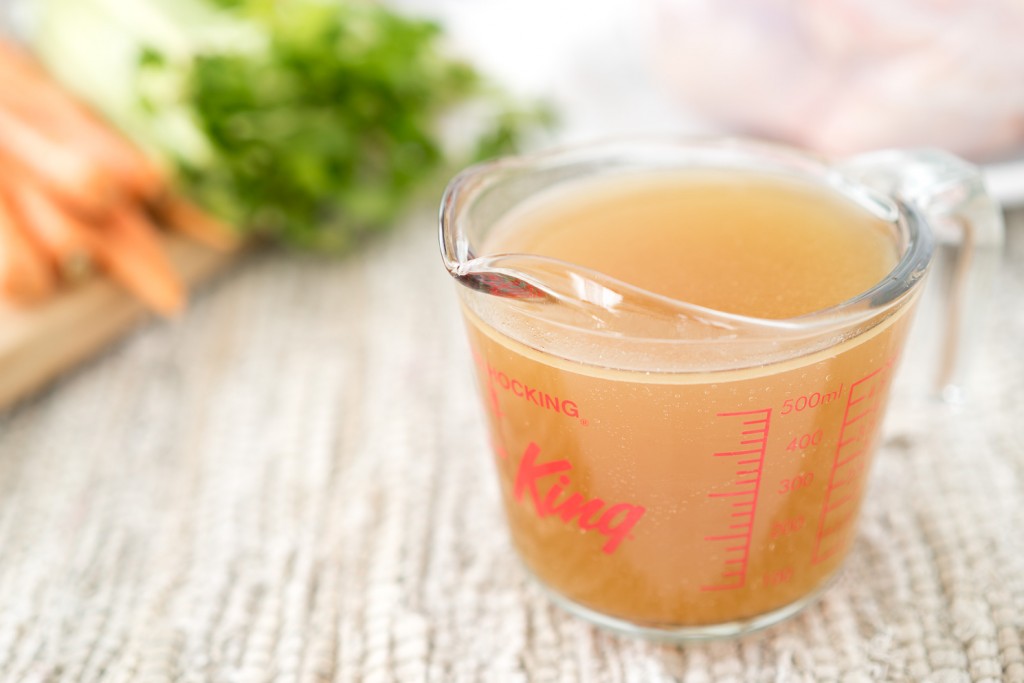 In the recipe I suggest to garnish your soup with kale chips and roasted chickpeas. This isn't mandatory, but it is highly recommended! I have some super yummy roasted chickpea recipes in my book, Joyous Detox, including Sea Salt Rosemarry Roasted Chickpeas, Cinnamon Roasted Chickpeas and Spicy Roasted Chickpeas, or you can try this recipe here!
If you're tight on time, you can reach for the kale chips I mention in this post at your local health food store, or you can make your own!
I have three amazing kale chip recipes in my first book, Joyous Health, but today I'm going to share my Sea Salt Kale Chips with you. You can find the recipe below.
Turmeric Butternut Blender Soup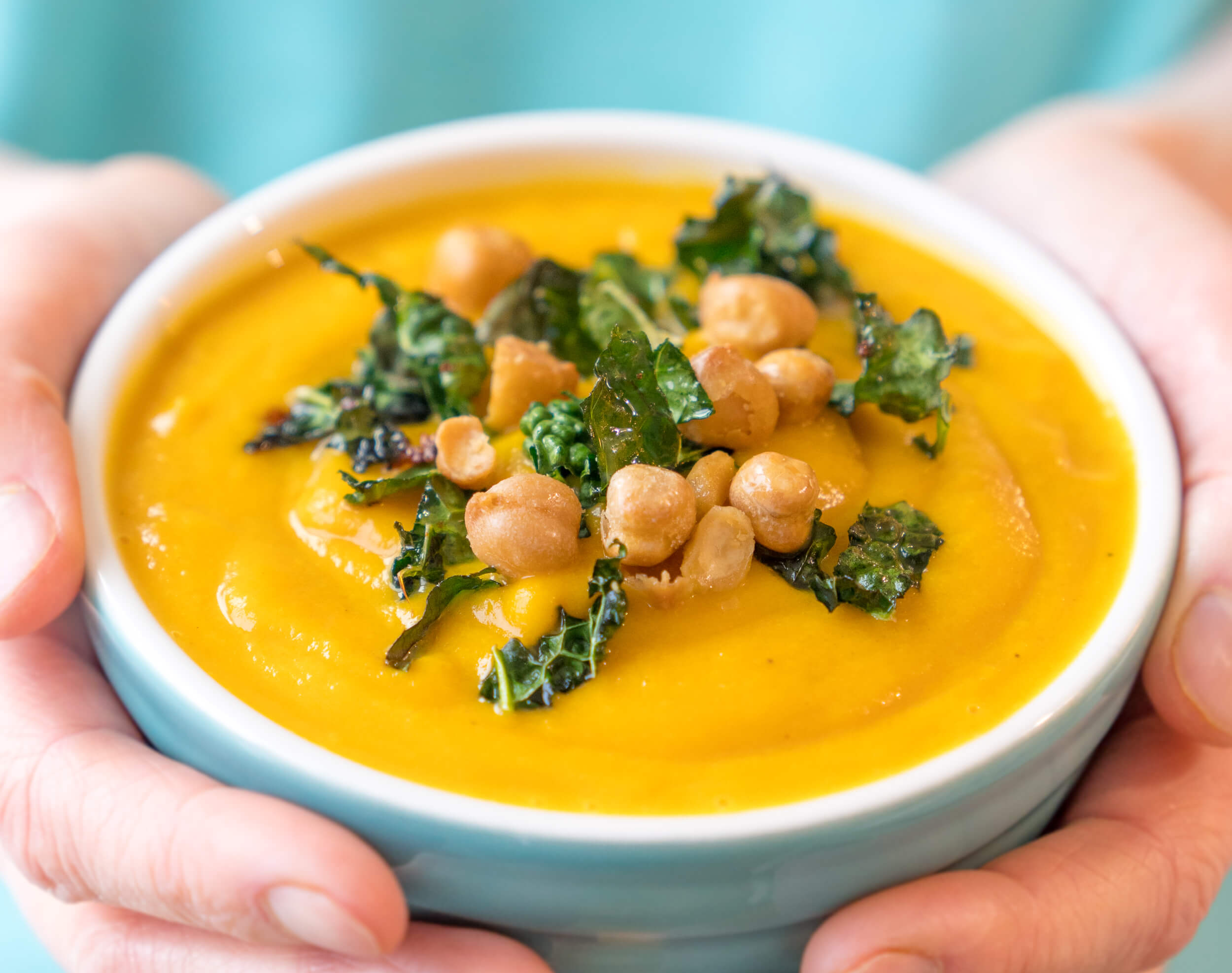 Ingredients
3-4 cups butternut squash or one large butternut squash cubed
1-2 tbsp extra-virgin olive oil (evoo)
4-6* cups of chicken or veggie stock
2 white onions or shallots, chopped
1 heaping tsp ground organic turmeric
1/2 tsp ground organic ginger or one knob fresh ginger
Juice from half a lemon
Pinch sea salt
Kale chips and roasted chickpeas for garnish (optional)
Instructions
Preheat oven to 350F degrees. Spread butternut squash evenly over a parchment covered baking sheet, drizzle with extra-virgin olive oil (EVOO) and bake until tender for 30-40 minutes.
Heat chicken or veggie stock on stove on medium heat. Then reduce heat to keep warm.
Meanwhile, saute onions with extra-virgin olive oil for a few minutes, or until tender.
Once butternut squash is done, remove from oven and let cool for 10 minutes.
Add the squash, onions, stock, spices and lemon juice to a blender or food processor and give it a good blitz until creamy and smooth.
Give it a taste test, if it's to your liking, you can enjoy immediately.
Once the taste is to your liking, garnish with kale chips and roasted chickpeas and enjoy!
---
Notes
Serves 4.

*I put a range for the stock because you can add the liquid slowly and adjust it to your liking. As you can see from my photo, I like it pretty thick and creamy.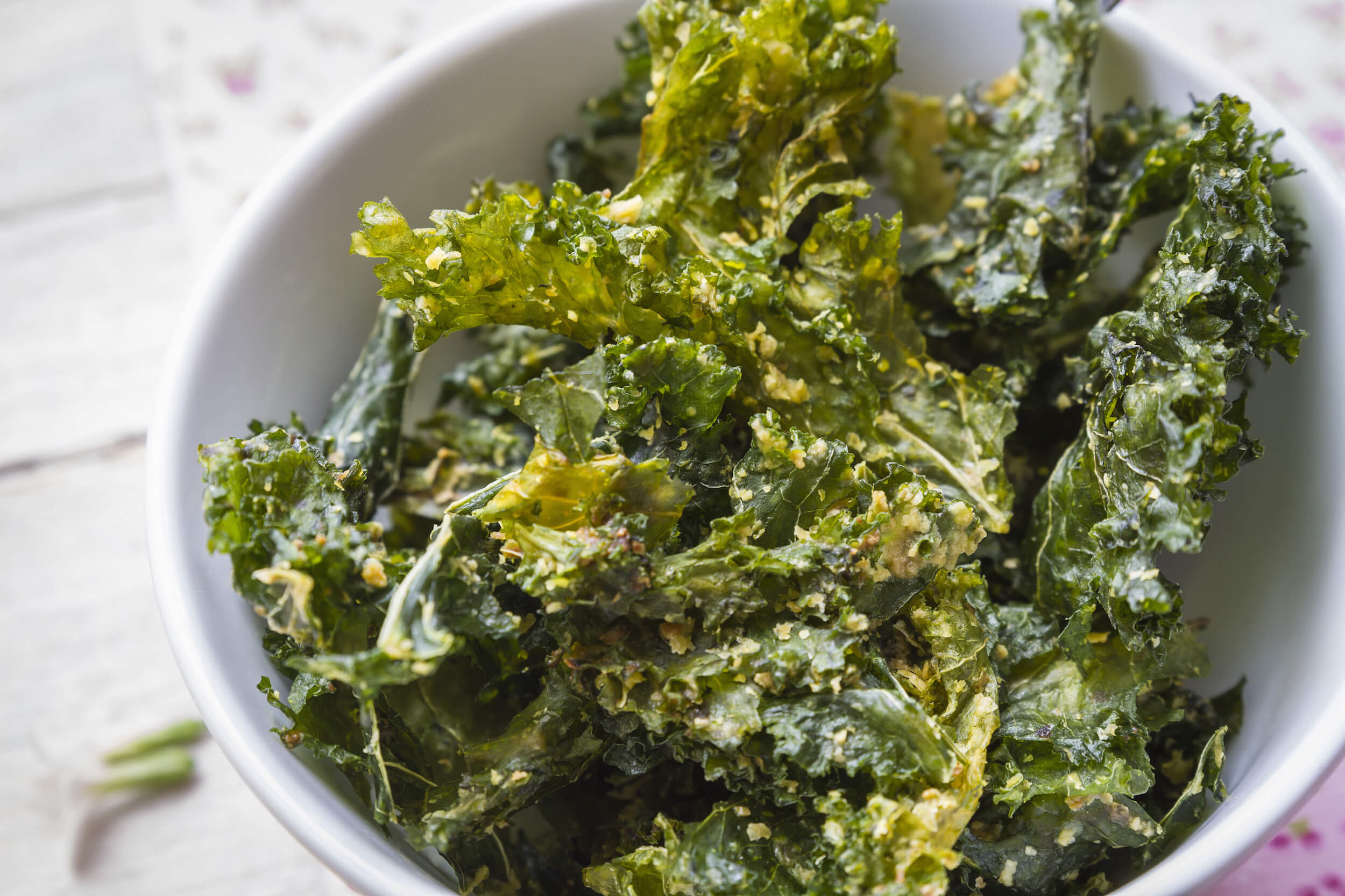 Ingredients
One bunch dino or lacinte kale, washed and torn into bite-size pieces
Pinch of sea salt
1 tsp extra-virgin olive oil
Instructions
Preheat oven to 350F degrees. Line a baking sheet with parchment paper.
Bake for 5-8 minutes (on convection setting) until the kale chips are nice and crispy.
---
Notes
Tip: After washing the kale, make sure you dry it really well otherwise it will take longer to get crispy in the oven.
If you're like me and like enjoying your soup with a little somethin' somethin', try pairing this Turmeric Butternut Blender Soup with one of the recipes below!
If you end up making this recipe, let me know what you think in the comments below or tag me on social media at @joyoushealth!
What's your favourite soup to cozy up to on a cold day?