This week's video is a tour through my fridge! Next week I will show you what's in my freezer and the week after what's in my kitchen pantry. As the old saying goes: If you put good food in your fridge, you will eat good food.
Here's a little summary of my tips in the video: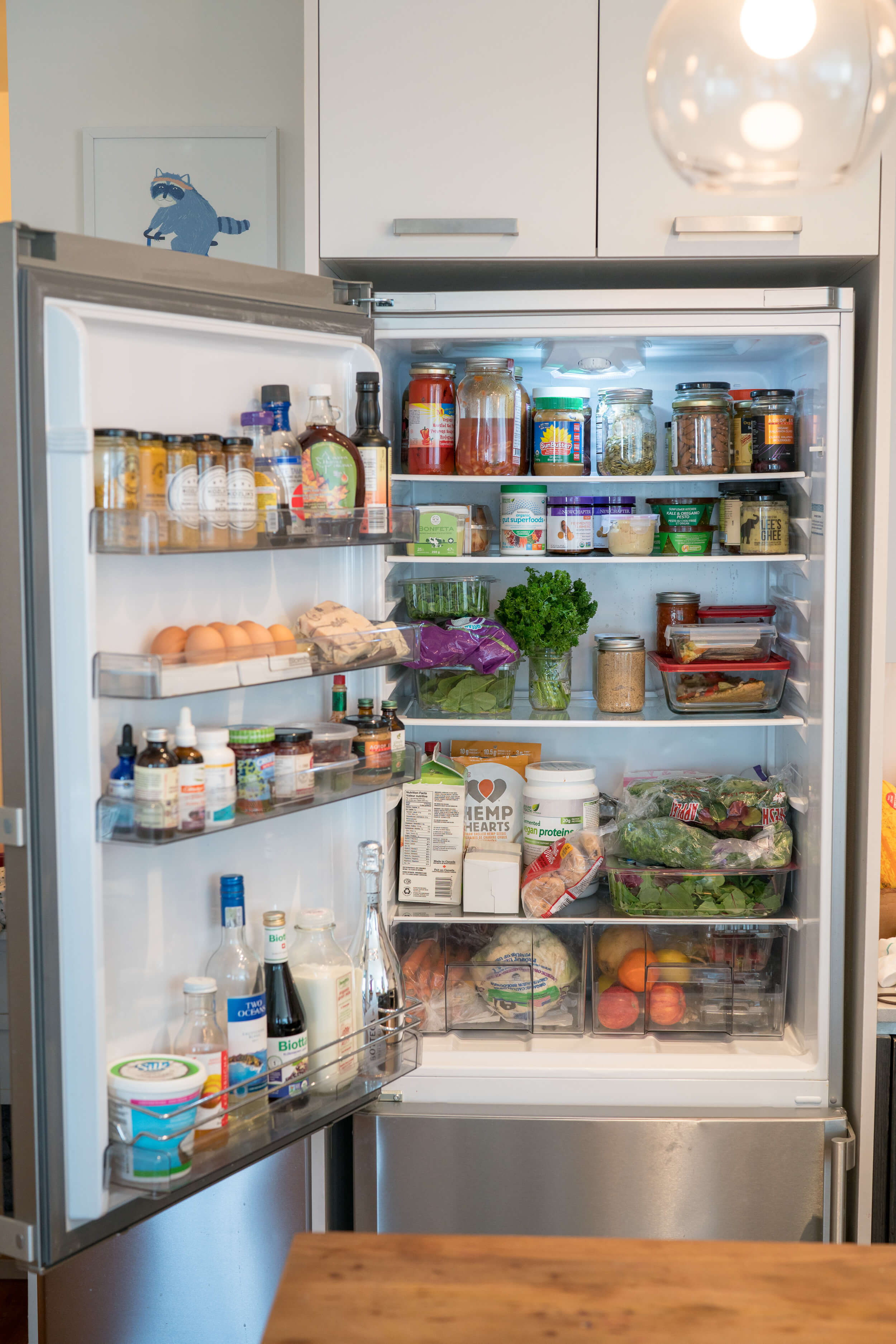 Iced tea instead of juice

Ditch the sugar water aka juice in favour of iced teas. Brew your own delicious tea and keep it stocked in your fridge. My fave right now is the organic coconut milk , almond milk , Creamy Vanilla Cashew Milk , hemp milk and more. Concerned about calcium? Here's a list of non-dairy sources of calcium at the bottom of the cookie recipe.
Glass jars of various nuts and seeds

Always keep nuts and seeds in the fridge or freezer if you are not eating them right away. It prevents the good fats from going rancid.
Ditch the store-bought sauces

They can be full of sugar, sodium and food additives that belong in a chemist's lab, not your fridge. Instead make your own! Have you tried my Best Ever BBQ Sauce yet ? It will blow your socks off.
Plenty of fresh fruits and veggies.
Carrot and celery sticks aren't going to be very appetizing if they are sitting in the fridge in their wholesome state. The secret here is preparing them and cutting them up into veggie sticks the moment you get home so they don't end up going to waste and you're much more inspired to make healthy snack choices.
Quick and healthy snack ideas

Hummus and granola, anyone?

I really wish there was a better name for leftovers than "leftovers" - it just sounds so unappetizing! I always make extra food every time I cook so that we have healthy leftovers for lunch the next day.
You may have noticed...what's missing: Bottled salad dressings, sauces, condiments -- this is because I don't believe salad dressing should ever come in a plastic bottle -- it's criminal really. Make your own!It's soooo much fresher, healthier and tastier. I've got tons of salad dressing recipes in my book JOYOUS HEALTH and in the salad section of my blog. As for condiments, you'll find out more about that when we get to my kitchen pantry video in a couple of weeks.
Also in my video: Find out what one of the best low-cost, high quality proteins are that I always keep stocked in my fridge, plus why it is super important to buy organic butter (and great if you can local grass-fed too).
Be sure to tune in next week for my follow up videos.
Have a joyous day!