I finally got my butt in gear on Sunday to make some autumn and Halloween inspired treats. Even if you're reading this just after Halloween, that's okay because I think you'll still want to make these cookies because they are simply divine.
The combo of coconut flour and almond flour makes them filling and the spices will immediately relax you. If you're a tea drinker like me, enjoy these cookies with a cup of your favourite tea or my London Fog. You'll be glad you did!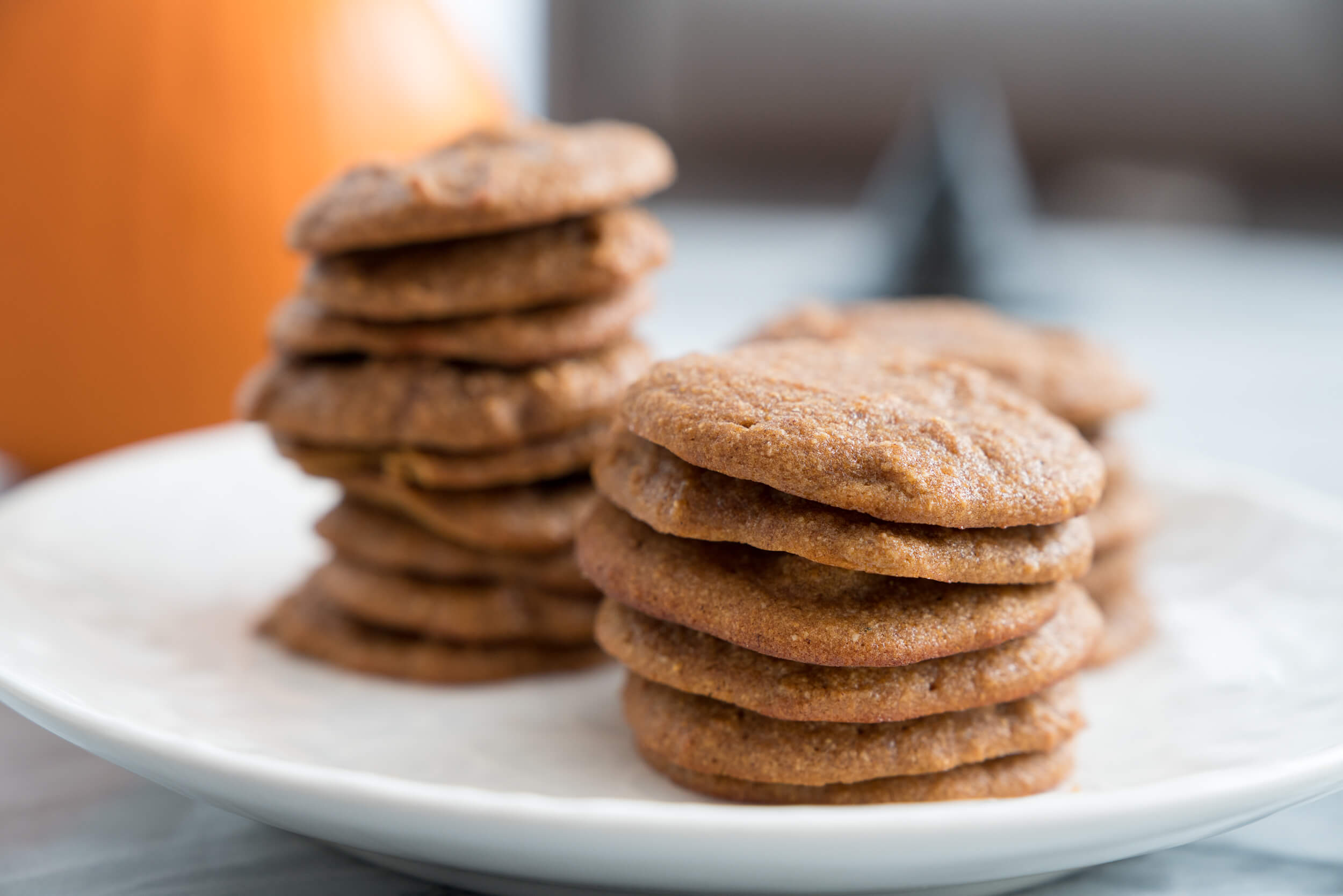 In addition to these delicious cookies that Vienna called "pancakes" because they were nice and soft, I had some fun and created "boo-nanas", greens+ booger balls and some green slime she could stick her fingers into just for pure silliness! I've made these boo-nanas many times before, they always make me laugh. I'm a kid at heart I guess :)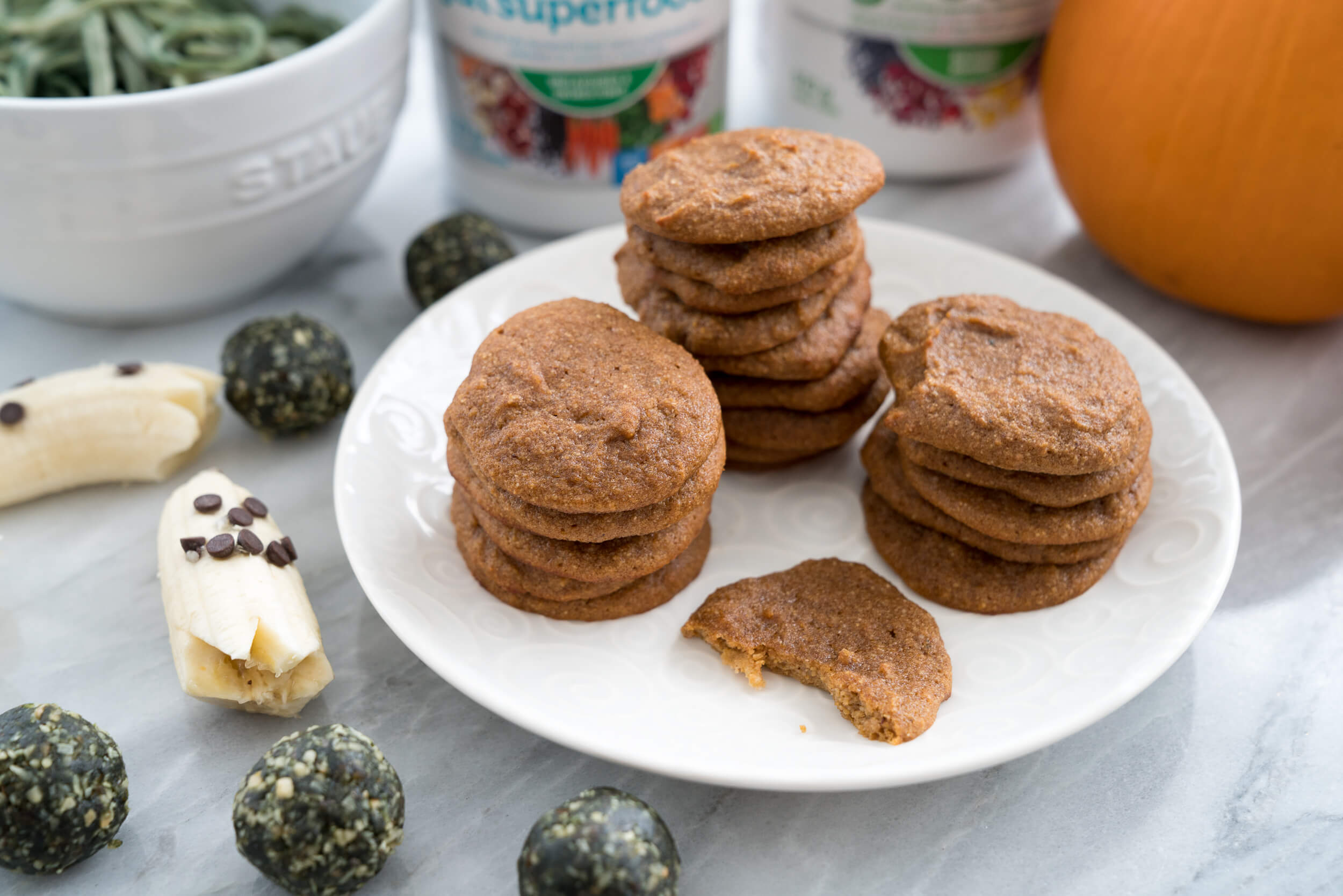 The secret to these wonderfully flavourful cookies are the spices.
I used cinnamon, ginger, nutmeg, and cloves -- in other words, "pumpkin spice". These spices are very high in antioxidants which fight free radicals and keep your cells healthy. I always give my spices a good sniff to make sure they are still fresh as they go stale faster than you might think.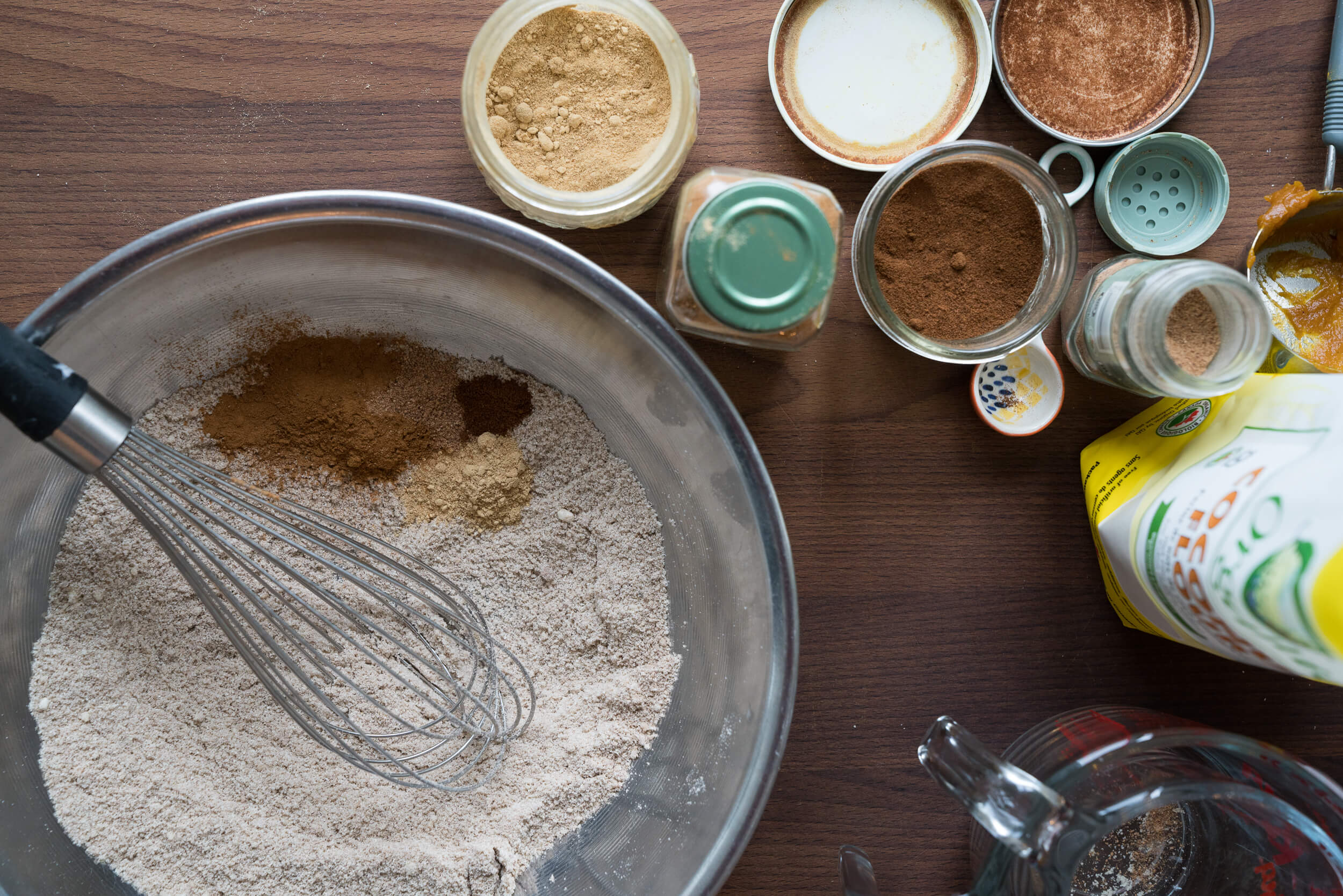 I've been putting it into my smoothies lately too because it's perfectly safe for kids to eat and amazing for digestive wellness! It really boosts the phytonutrients, fiber and digestive benefits of these cookies or anything you add it to. It's made from 22 fully fermented superfoods and you can learn more about it here.
As for the other recipes, I was on a mission today so I made these Greens+ Booger Balls, hahaha! Don't you just love the way that rolls off your tongue? I do. Say it out loud :) I kept this recipe incredibly simple. I'm going to a little Halloween dinner on Tuesday night so I wanted to bring some snacks with me. The boo-nanas were just for today of course.
And finally, I also boiled some spaghetti and added Greens+ to it. Just to have something silly and gross for Vienna to stick her hands into. Okay, maybe it's more for me, lol.
Okay here are all my recipes! First we have my Pumpkin Spice Cookies.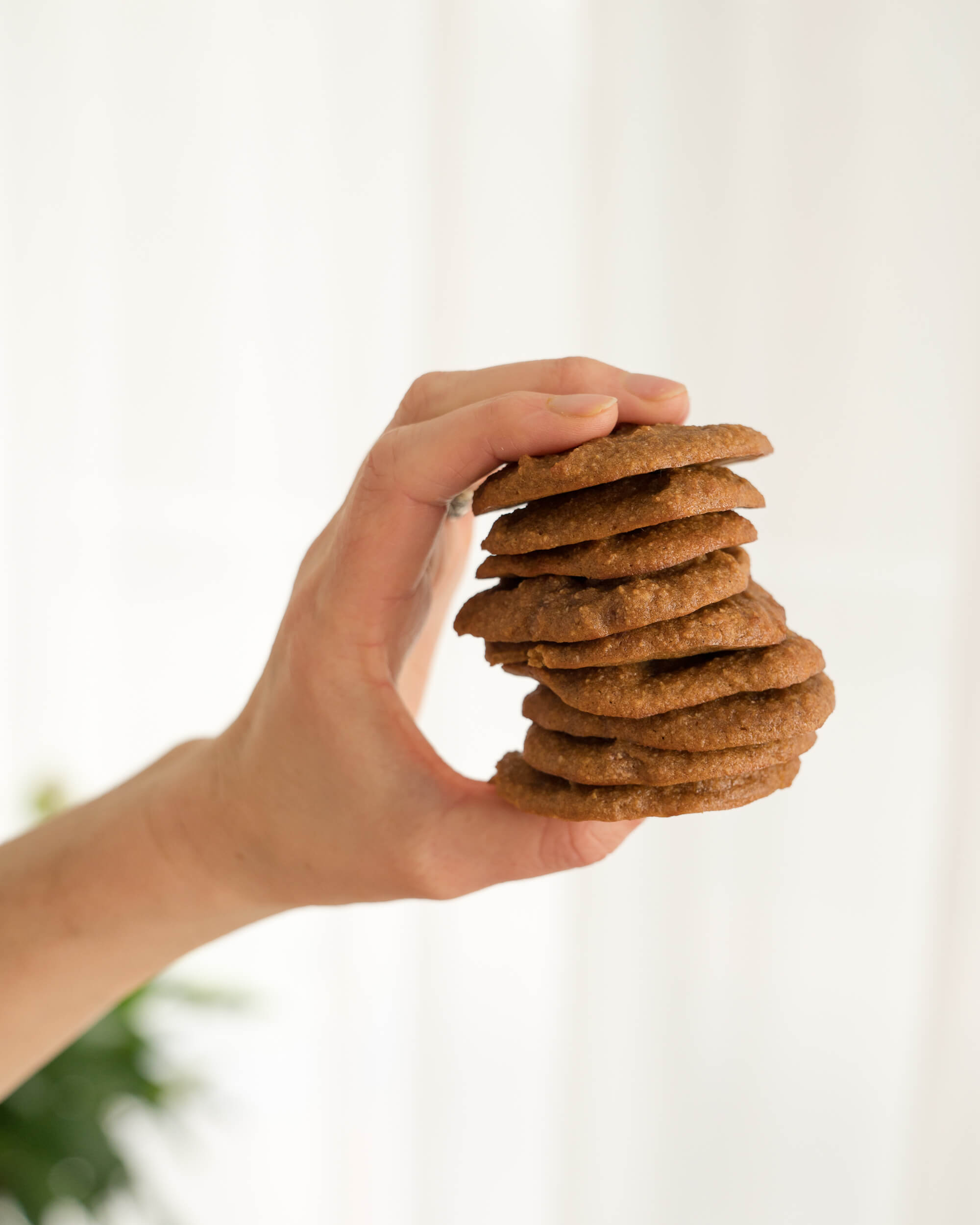 Sweets + Treats
Soft and Chewy Pumpkin Spice Cookies
Save
Print
Ingredients
1/2 cup coconut flour
1/4 cup almond meal (ground almonds / almond flour)
2 scoops Genuine Health Gut Superfoods Powder or 2 more tbsp almond meal
1 tbsp ground cinnamon
1 tsp ground ginger
1/2 tsp ground nutmeg
1/4 tsp ground cloves
4 eggs
1/2 cup coconut oil, melted*
2/3 cup pumpkin puree
1/4-1/2 cup real maple syrup
1 tsp vanilla extract
Instructions
Preheat oven to 350F degrees. Grease a cookie sheet or line one with parchment paper.
Combine all the dry ingredients into a large bowl and set aside.
Combine wet ingredients into a bowl.
Combine the wet and dry ingredients together. Let the batter sit for 5 minutes. This is an important step because the coconut flour needs time to absorb the moisture.
Place by small spoonful the batter onto cookie sheet.
Bake for 12-17 minutes. I used my convection oven setting and they were done at 12 minutes, but add 5 more minutes if you don't have a convection oven.
Let cool a few minutes before transferring to a cooling rack because they will be soft. They freeze well and refrigerate them to keep longer.
---
Notes
Makes approximately 2 dozen cookies 3.5 inch diameter cookies.

You can omit all the spices and add the equivalent measurement of pumpkin spice.

*Measure the coconut oil melted.

Re. the timing: If you want crunchy cookies, add an extra few minutes to the baking time.
I mentioned this in my recipe, but it's really important to make sure you let your batter rest for at least 5 minutes before you put it on the cookie sheet. And the batter is runnier as you can see from the photo below but that's what makes them so soft and chewy!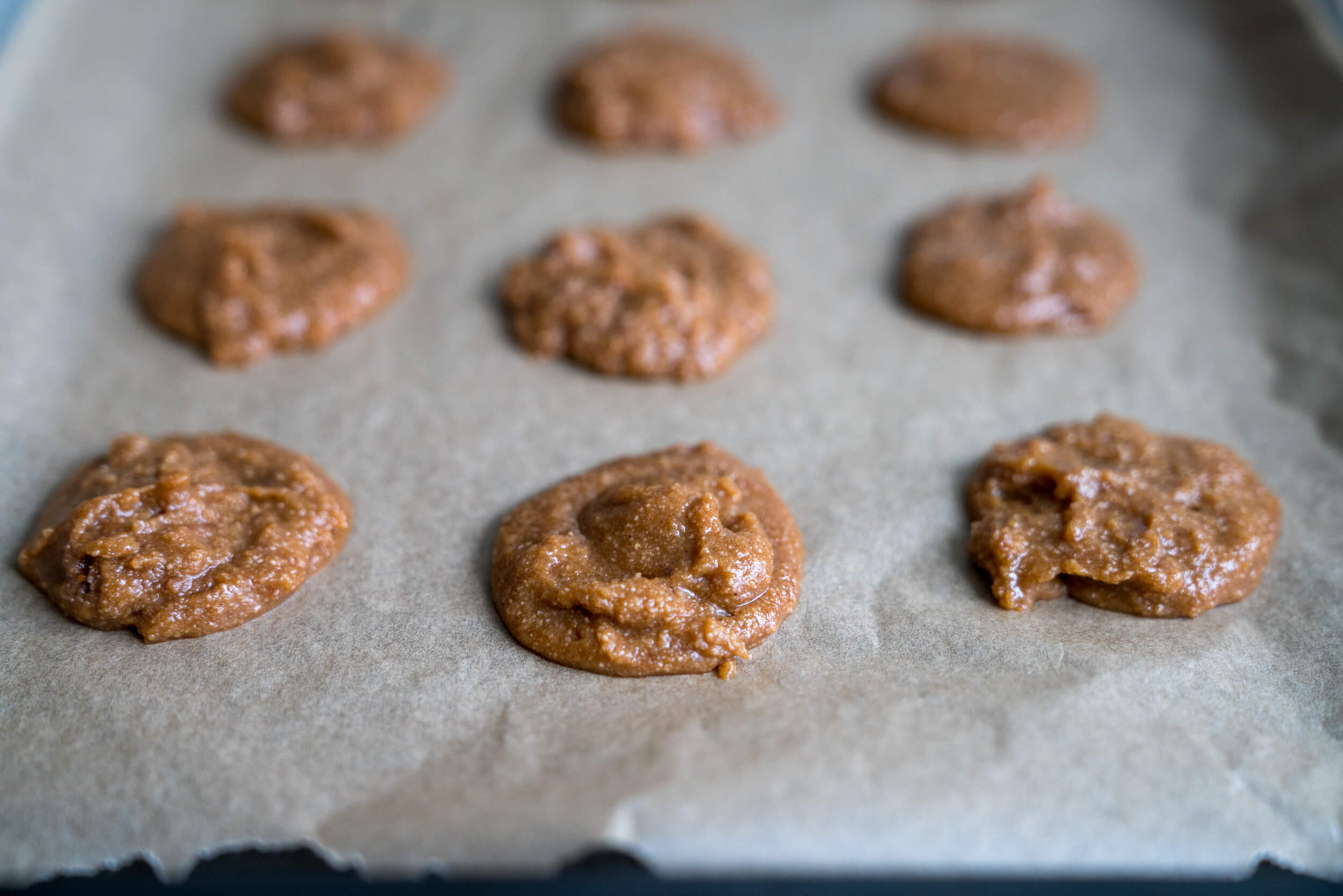 Now for my Greens+ Booger Balls! You're gonna think I'm like a 10 year old boy but I'm sitting here giggling as I write that. My intention was to make these as green as possible which is why I used greens+, which as you've heard me talk about before, is incredibly energizing and rich in phytonutrients.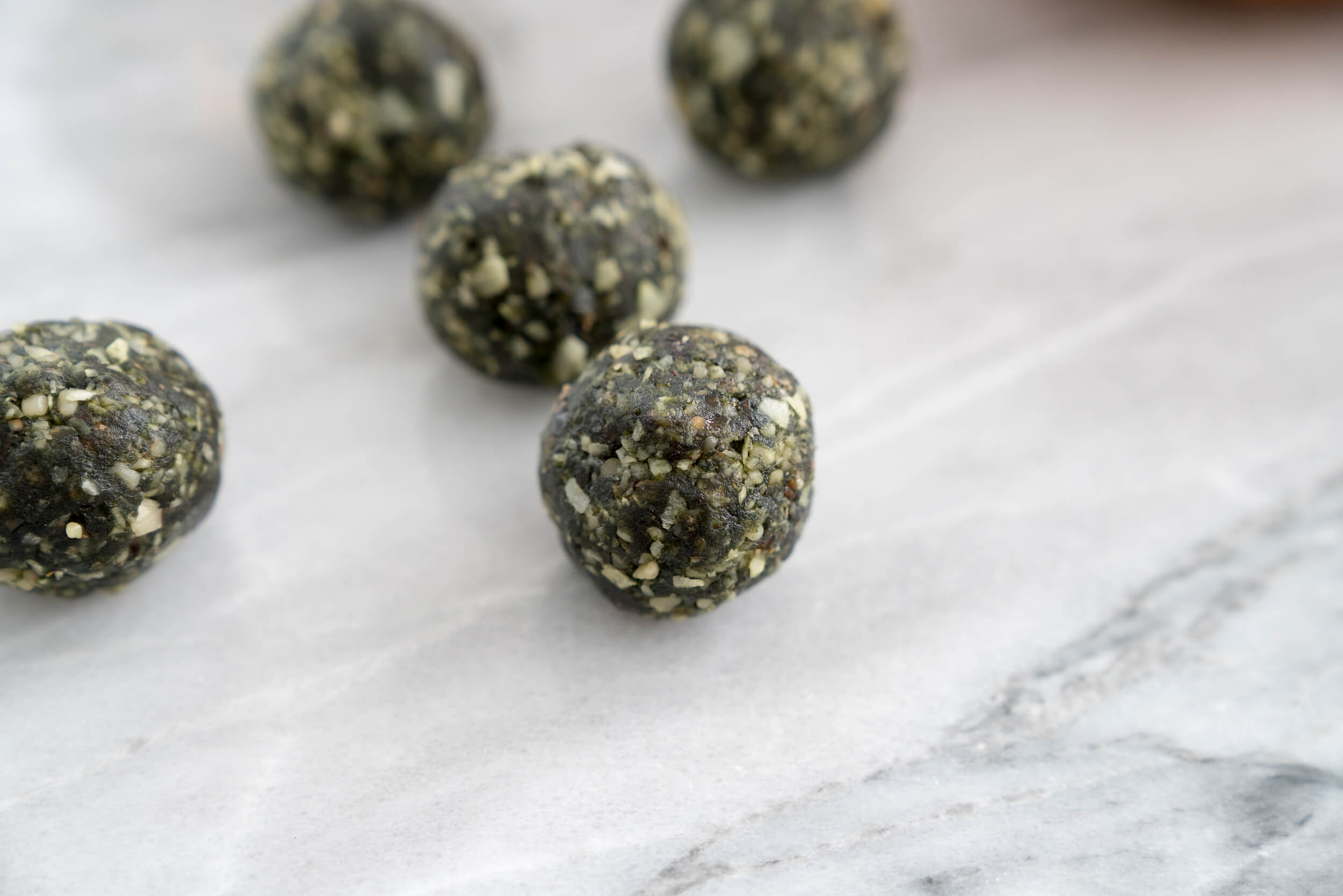 Now these are a snack / treat for teen kids and adults alike because greens+ has herbal ingredients that you don't want a toddler or child eating. I'm assuming your little one has enough energy already ;) Now divided among 15 balls, the amount per booger ball will be relatively low, but I will let you be the judge of what you give to your little ones. If you've got young ones like I do, the pumpkin cookies, green slime and boo-nanas will be tons of fun and then you can save the booger balls for the grown-ups.
Here's the recipe for my Greens+ Booger Balls.
Ingredients
1 cup walnuts
8 soft medjol dates, pit removed
1/2 cup unsweetened, unsulfured coconut flakes
1-2 scoops Genuine Health Greens+ Natural or flavoured
1 tsp fresh ginger, grated
Instructions
Toss all your ingredients into a food processor. Blend until crumbly. Form into balls.
---
Notes
Makes about 15-18 balls depending on how big you make them.
I'm seriously gonna have to hide these cookies from Vienna. She grabs her stool and opens up the fridge door now to look for food. Our fridge is on the top and freezer on the bottom which is why she needs the little boost.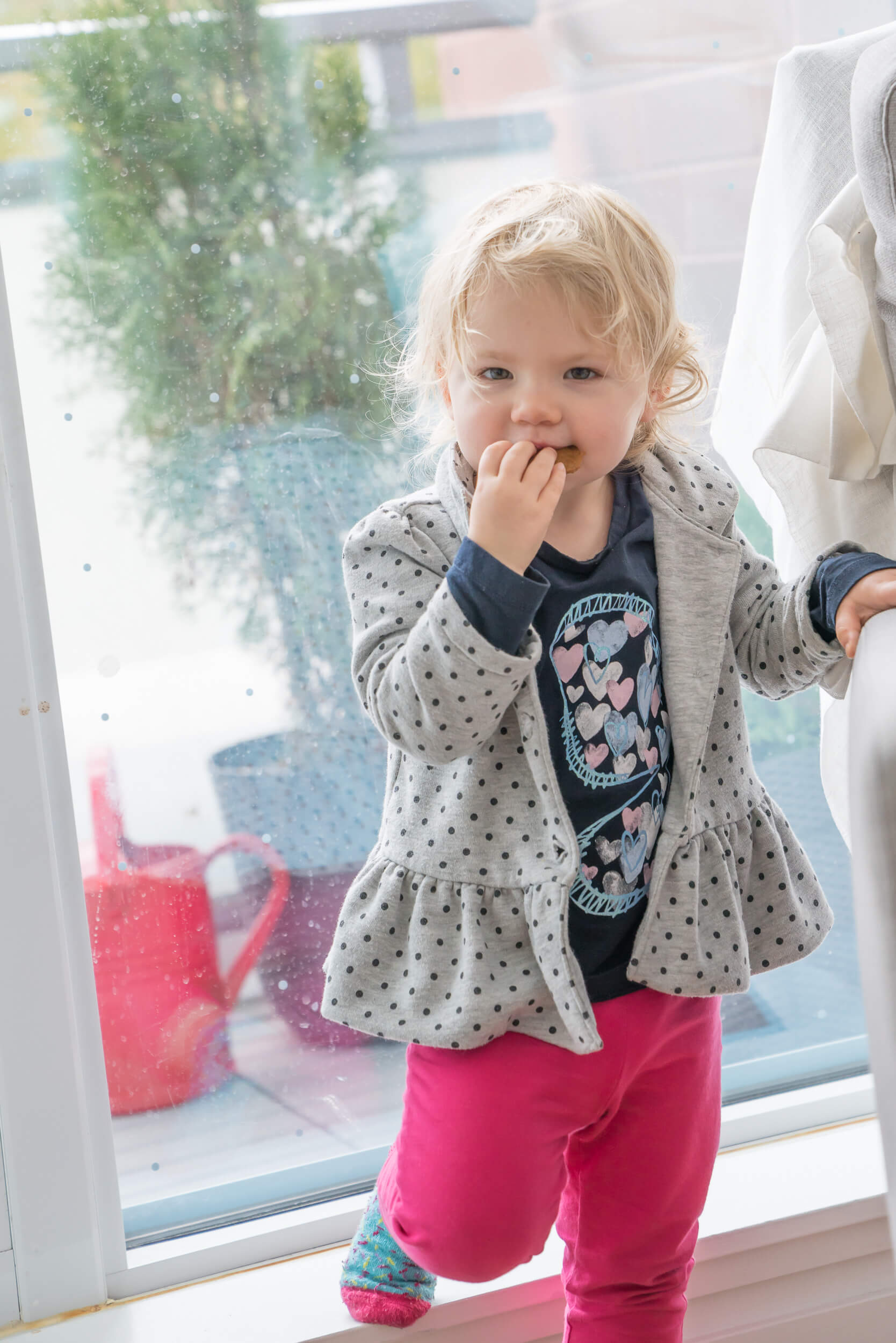 I'm finding this age (2 years) so much fun right now. It's like she's a child one minute and the next minute she's still my baby. I started recording all the funny things she says in a little journal! Her latest one is "so happy" which she said a lot on our recent trip to Lake Louise.
I was in a big cooking groove yesterday, as not only did I make all of these goodies, but I also made Pumpkin Spice Pancakes!You can get the recipe here.
And finally, if you're wondering how I made the green slime, I just boiled some spaghetti and added greens+ to a small amount of water and then poured it over top of the noodles. Remember, it's not for eating! It's just for a fun little Halloween activity so your kids can stick their hands in it with their eyes closed and get all creeped out haha!
Happy Halloween friends!
Joy

This post was created in partnership with Genuine Health, however all opinions are always my own. Read more about partnership ethos here.