Lunches seem to be the most common meal people struggle with; finding something tasty, healthy and uncomplicated can be a challenge for many. I'm not sure if you find that to be true, but I personally find breakfast and dinner easy to throw together (like this One-pot Paprika Chicken ). But lunches do feel a little more like a chore at times, especially when I'm eyeballs-deep into working on a project.
If you have kids, then not only do you need to think about your lunch, but you've got to sort out their lunch too. Not to mention, finding something they will actually eat! So if you're thinking "what the heck am I going to make my little one for lunch", I hear you loud and clear! This is why I've put together a couple of healthy lunch box ideas of items that Vienna loves (aka toddler-approved).
Whether you've got a toddler, or your household is kid-less, I hope these tips in my video inspire you to eat and enjoy a healthy lunch!
Healthy Lunchbox Ideas For Kids
Vienna started out as an extremely adventurous eater and slowly became pickier. Many people will say to me "how can you say she's picky – she eats olives"! Well, the biggest challenge is getting her to try new foods and have variety in what she eats. I can make the most delicious meal and she won't even try it.
I realize that a big part of it is her age (she's currently 2.5 years old). Vienna is definitely asserting her opinions and independence through her food choices and sometimes she cannot be reasoned. It doesn't matter that I've made the most amazing BBQ sauce ever. If she decides she doesn't want to taste it, then she won't. I don't push it on her. I have a funny feeling she will grow out of this phase, so I'm not going to worry about it.
I'm no child psychologist and I speak merely from the experience of being a parent but I believe an important aspect of having your child develop a healthy relationship with food is to keep it fun and stress-free.
That means if your child is eating pasta for the 6th time this week, don't worry about it! Just keep trying to introduce healthy foods and make sure they taste really good too.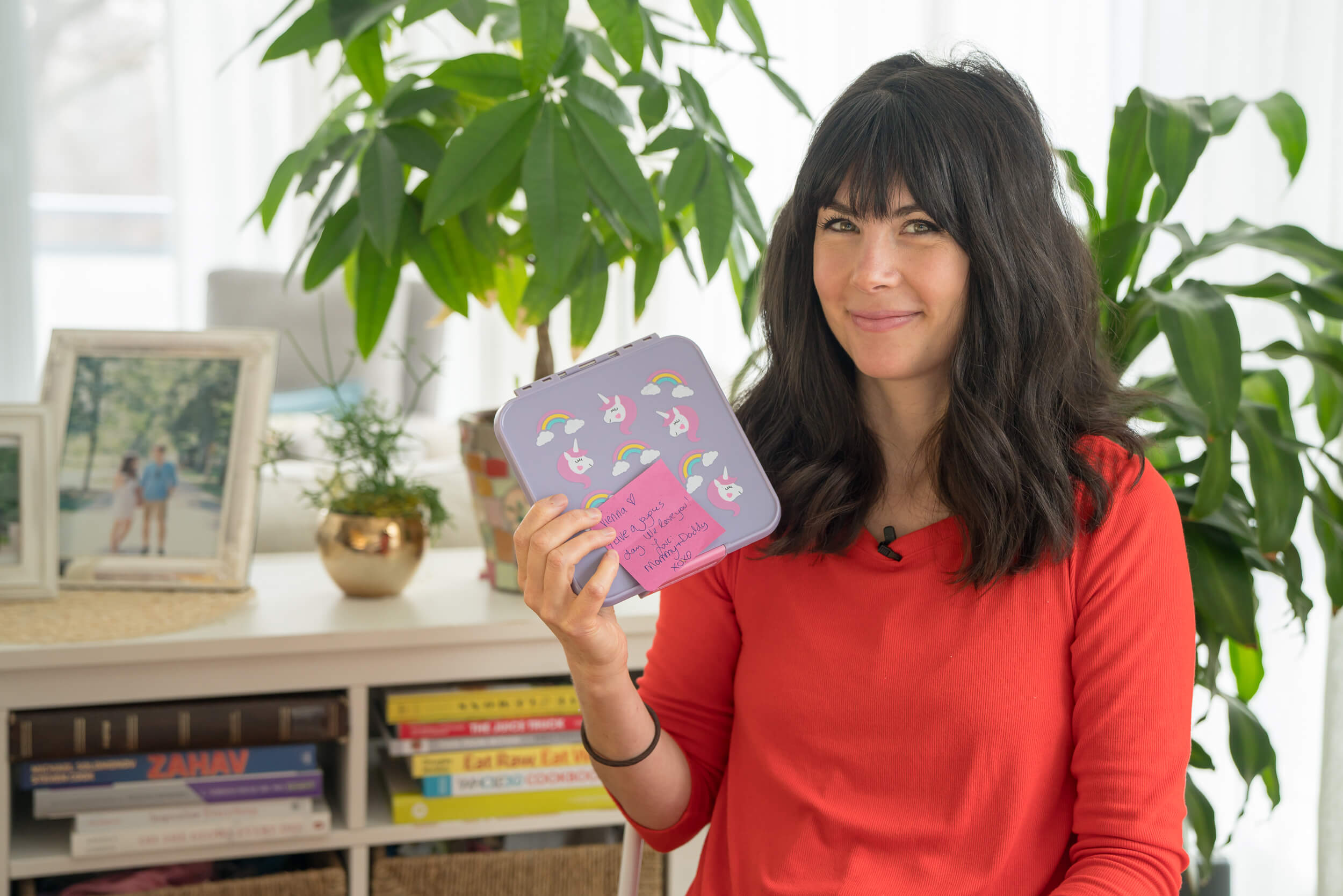 We like to make it even more fun by adding a little love note in her lunch, just like my mom used to do for me (hehe!).
I never force Vienna to eat something and there's no fear mongering about foods either, whether it be gluten or sugar or dairy. Even though we have very little of those three in our house, if we are out at a restaurant and bread is brought to the table, if Vienna wants some, I'm fine with that. I want her to make her own healthy eating decisions and know that she has the smarts to make good choices.
Now let's get to the yummy stuff! Here are the three lunchbox ideas I mentioned and details about what's in them!
Three Healthy Lunch Box Ideas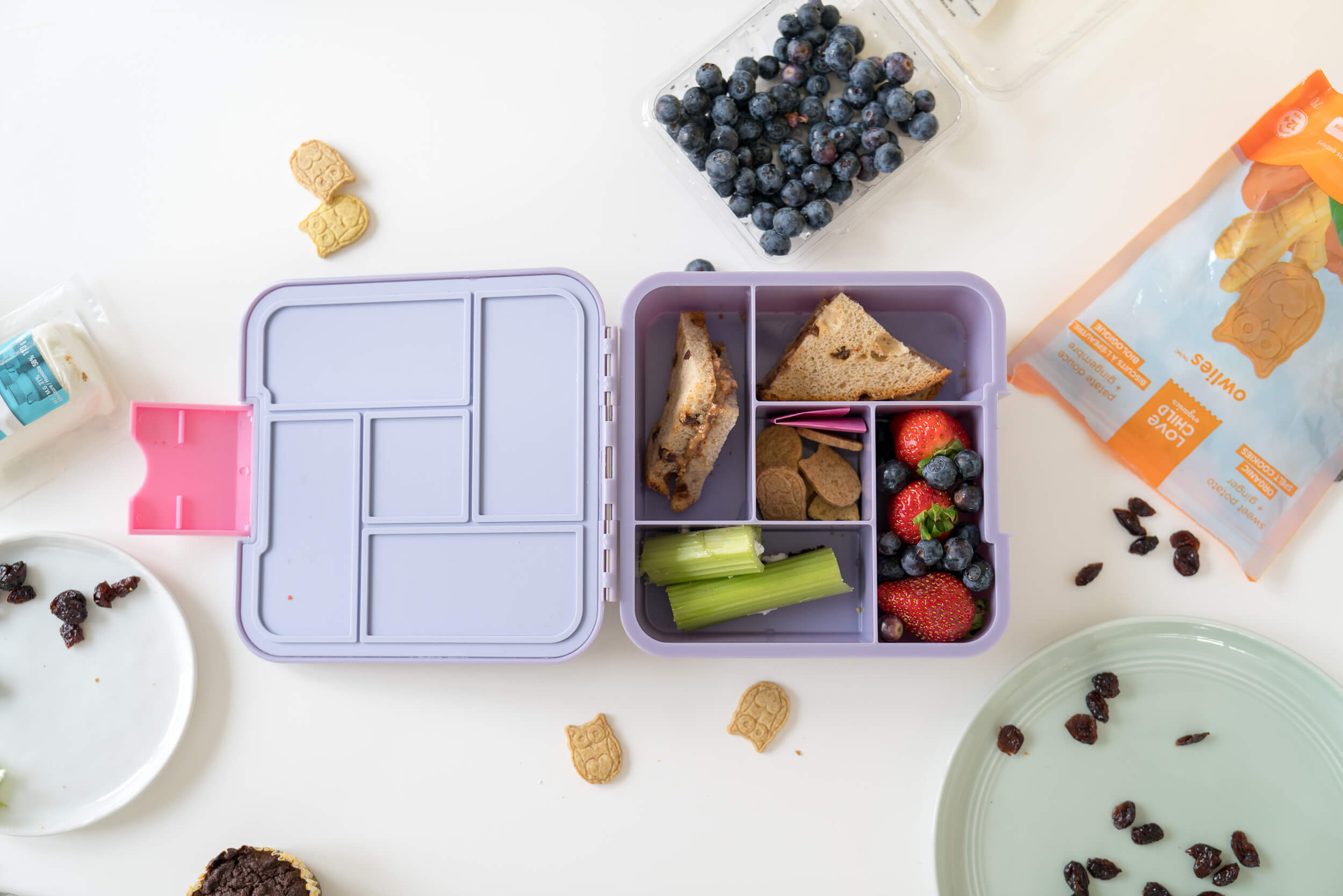 What's inside?
Sunflower Butter Sandwiches on Kamut stone-ground raisin bread
Ants on a log (celery with goat cheese and dried cranberries)
Blueberries and Strawberries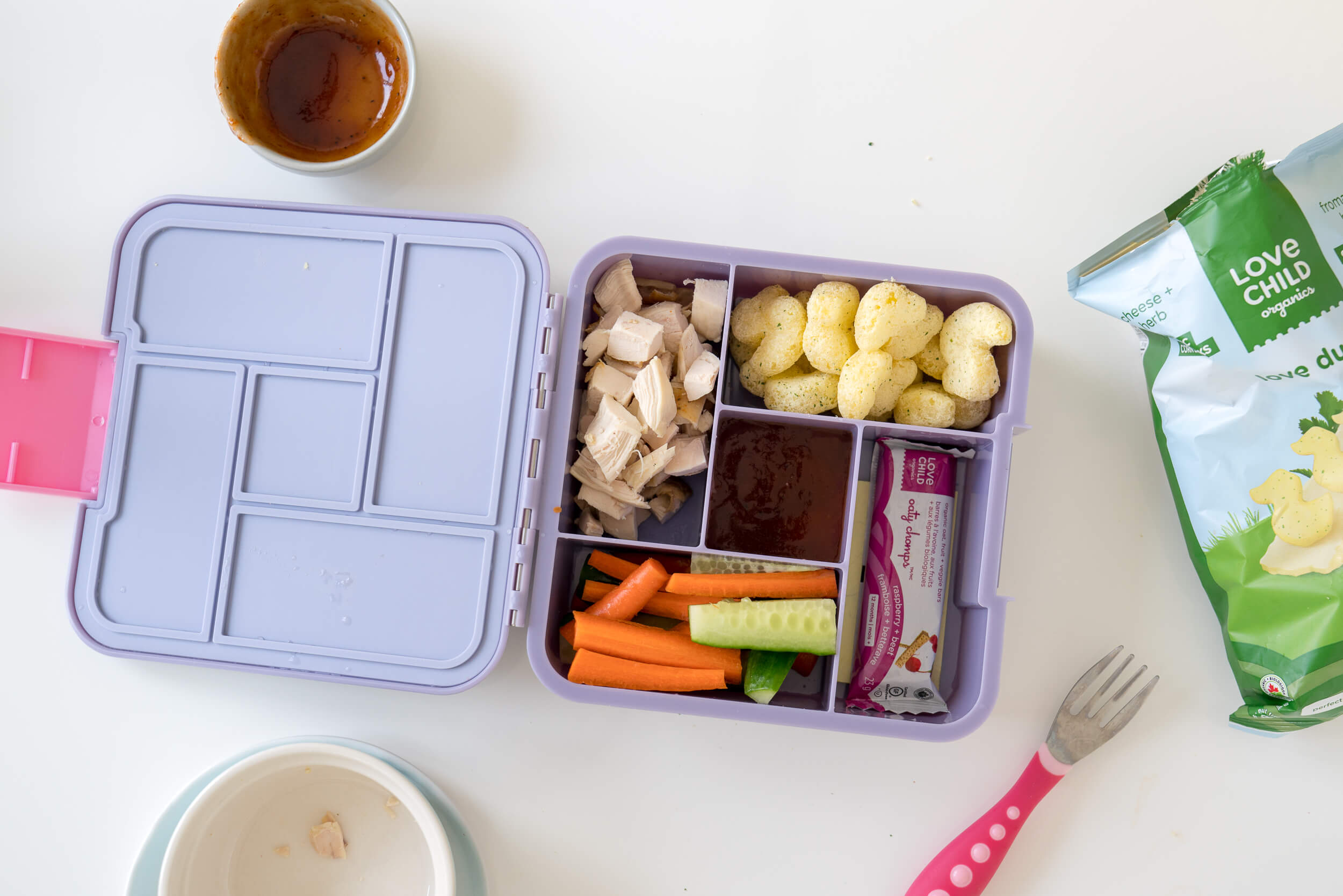 What's inside?
Cubed roasted chicken
Carrot and Cucumber sticks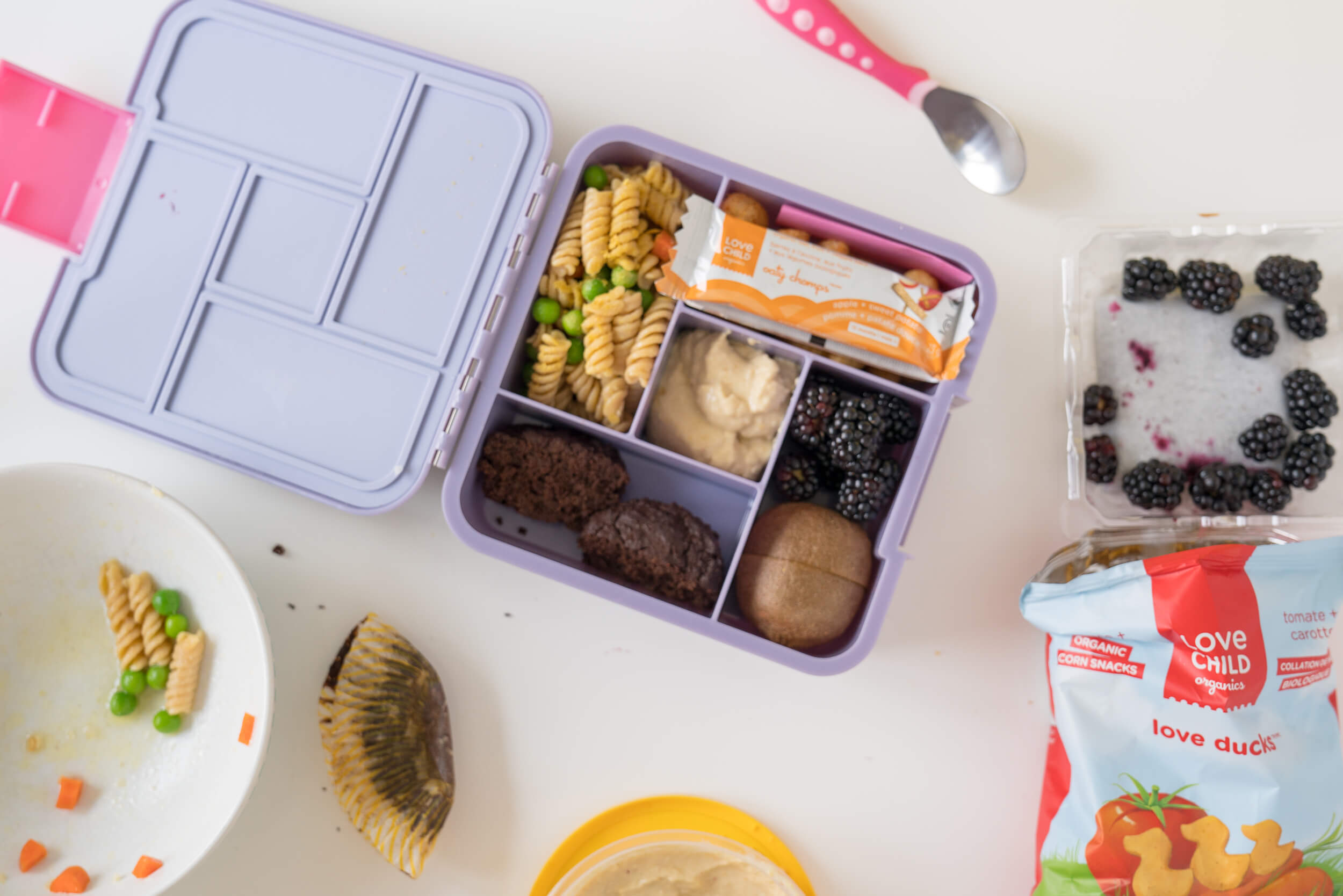 What's inside?
And one more thing before I go, remember that the single most important thing you can do as a parent to encourage healthy eating is this:
Eat healthy yourself. It's the best thing you can do for your whole family.
I may sound like a broken record here because I've repeated this many times before in other blog posts and in many interviews, but it's very very true. We've got to be the example as a parent. Children look up to us. We are their whole world (at least when they are young! If you eat like crap, you can't expect your child to eat better than you).
Here's to loving making lunch again! :)
What's your favourite go-to lunch?
This post was created in partnership with Love Child Organics, however all opinions are always my own. Read more about partnership ethos here.