I drink smoothies and eat salads all throughout the year. If you're not doing the same, maybe you'll be inspired by the time you finish reading my post to make this salad! But I totatlly get it, most of you do not want to eat a Cucumber Salad in October (me neither) but this salad with its warming spices and hearty ingredients will warm you right up.
I was so happy this new salad was a family hit! Whenever I'm figuring out a meal, I always take into account if Vienna will eat it too. I know it's shocking, but she does like kale. However, once she tried the chickpeas, the kale was the last thing she wanted. She loves the crunch of the chickpeas! And they are bursting with flavour.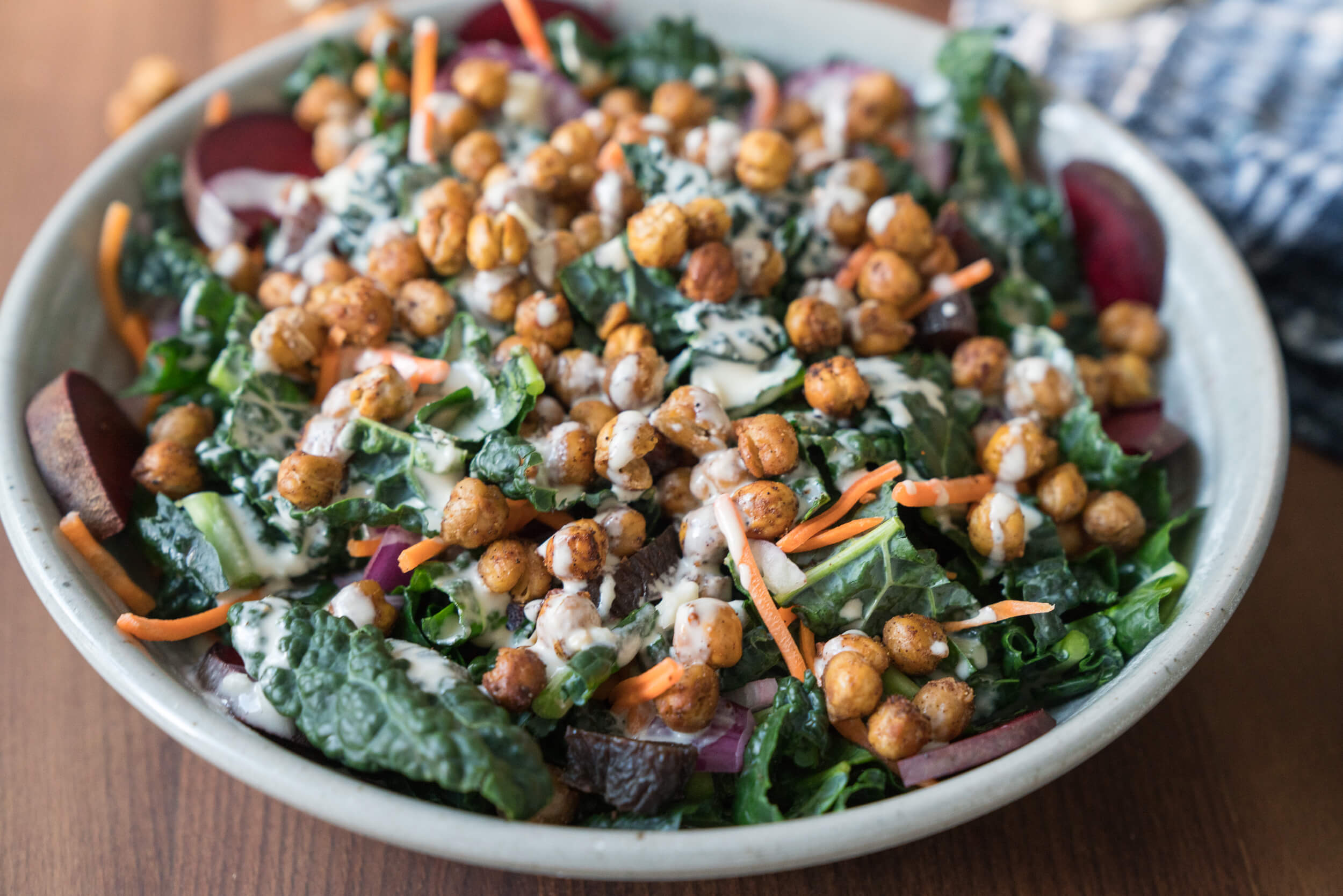 As you might have guessed, I recommend introducing a variety of flavours to your little one as soon as you can. I started with different spices and herbs when V was under a year. Probably around 8 or 9 months. So don't be shy to try these out if you've got a little one. Just a warning though, paprika can sometimes be spicy, so test it out yourself before giving it to your baby or toddler.
Vienna was very interested in helping me make this salad by taste testing everything, especially the organic apricots because they were super fresh and soft.
This recipe has it all – plant based protein, good fat and tons of fibre. These are the essentials for a meal that satisfies your belly and your soul. Kale is on repeat in our home but I don't buy the same kale every week. I like curly kale, black kale and dino kale otherwise known as Lacinto kale – my personal fave. It's been nicknamed "dino" because it looks like the texture of a dinosaur's skin but it's less of a "tree bark" texture than other types of kale.
As I mentioned, we eat salad daily.
Eating leafy greens in some form on a daily basis helps with regularity (you know, prevents constipation), provides the body with a variety of minerals including calcium, potassium, iron and magnesium and vitamins such as folate and vitamin C.
If you want to boost your energy, aid your body in detoxification, then eat your greens – but make them tasty! If you don't like kale raw, you could always give it a super short and gentle saute for 1-2 minutes on the stovetop just before serving.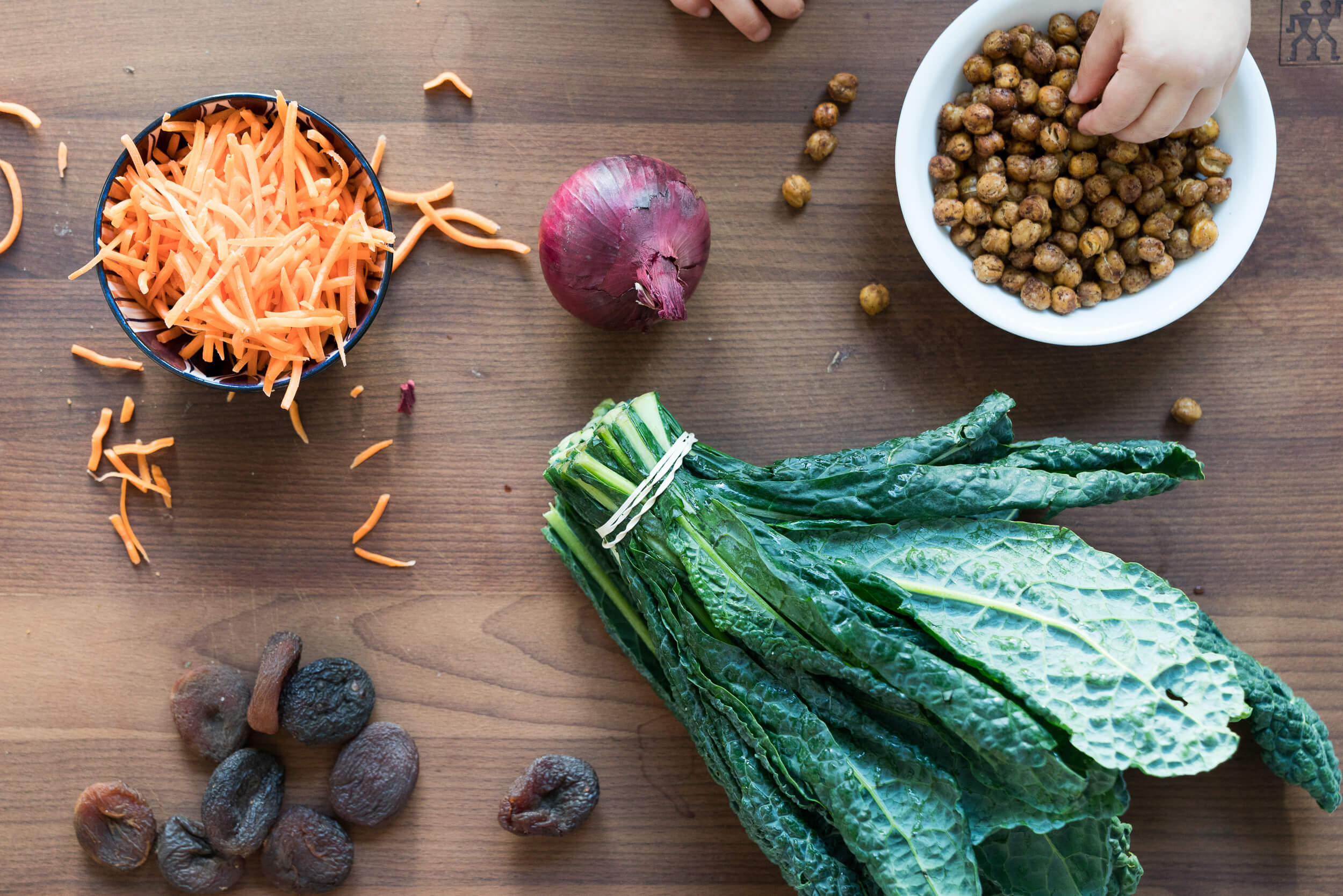 The hero of this recipe is not the kale even though I'm making it sound that way, it's the roasted chickpeas! When I originally posted a photo of this on Instagram, people were messaging me telling me that they find it hard to make roasted chickpeas crunchy. If you follow my recipe and they are not crunchy enough to your liking, all you have to do is pop them in the oven for a little longer and crank the heat to 375F degrees if you like.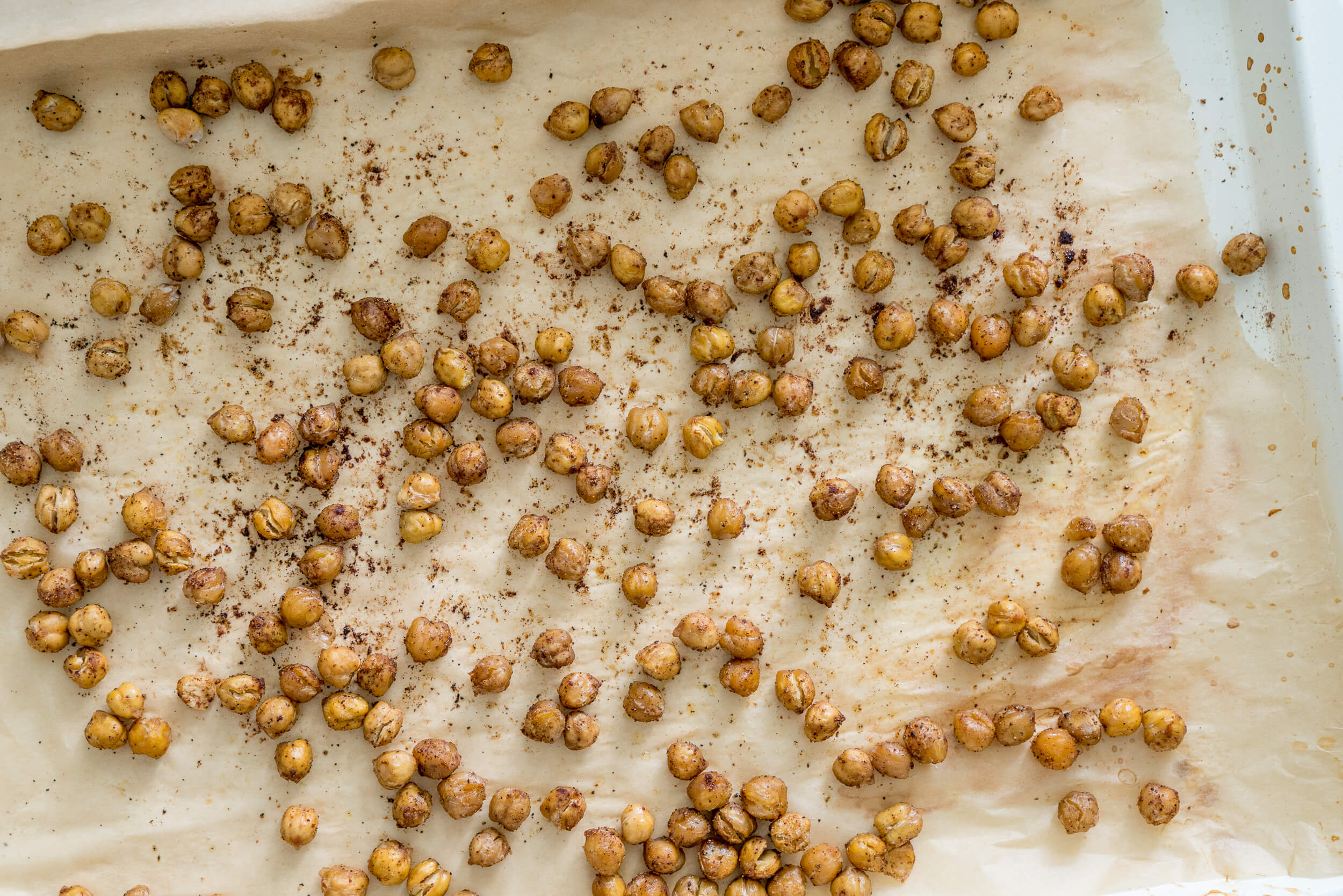 Chickpeas are a super healthy food and I love them because all that fibre really does fill you up.
Now you might be surprised that I didn't default to my lemon and olive oil dressing because I wanted something more creamy which is why I made a simple tahini lemon dressing. It really warmed up the raw veggies in this salad.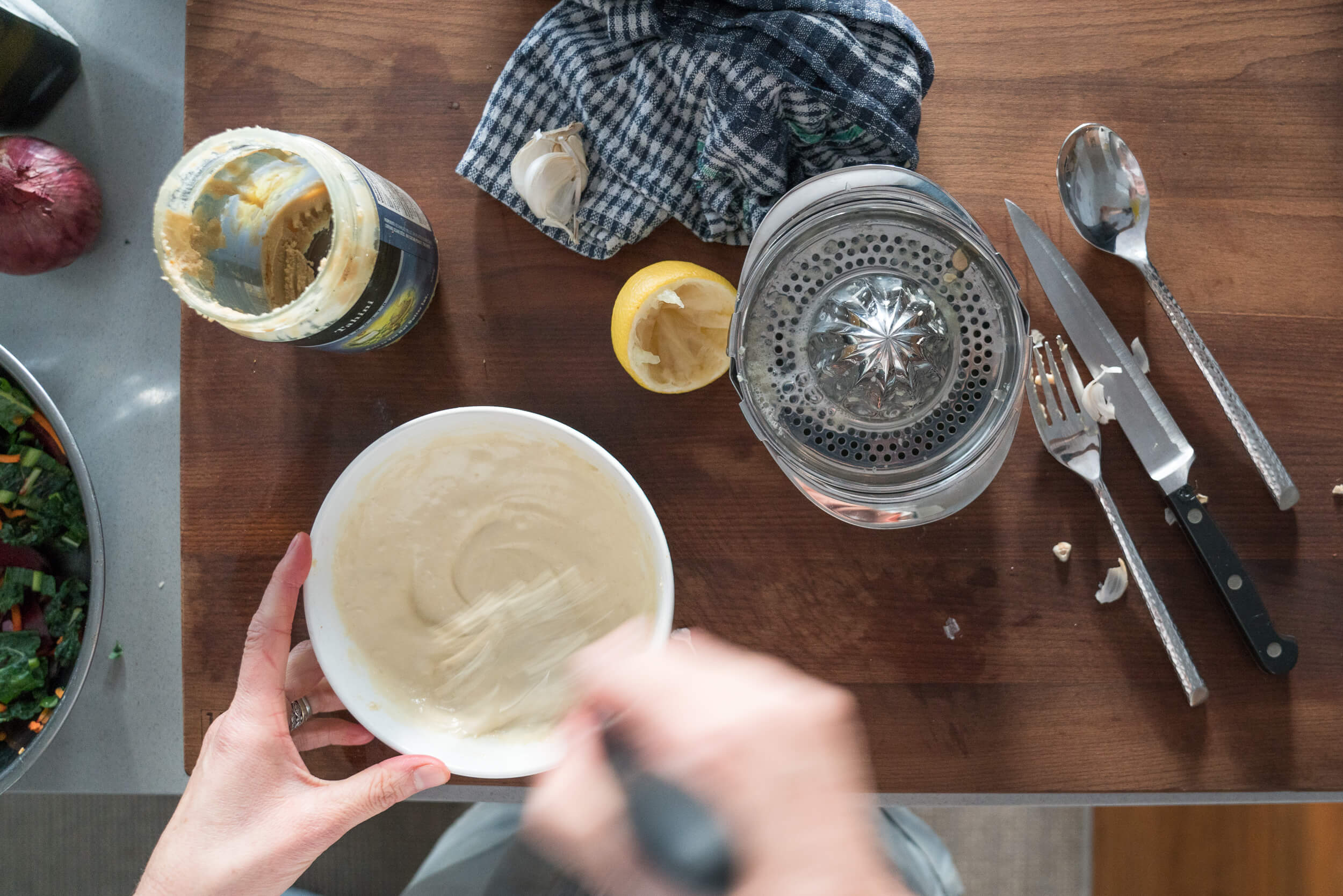 Tahini is my favourite dairy-free way to make creamy salad dressing. While I love cashews, sometimes I haven't been organized enough to soak them which is essential for a creamy cashew dressing like this one.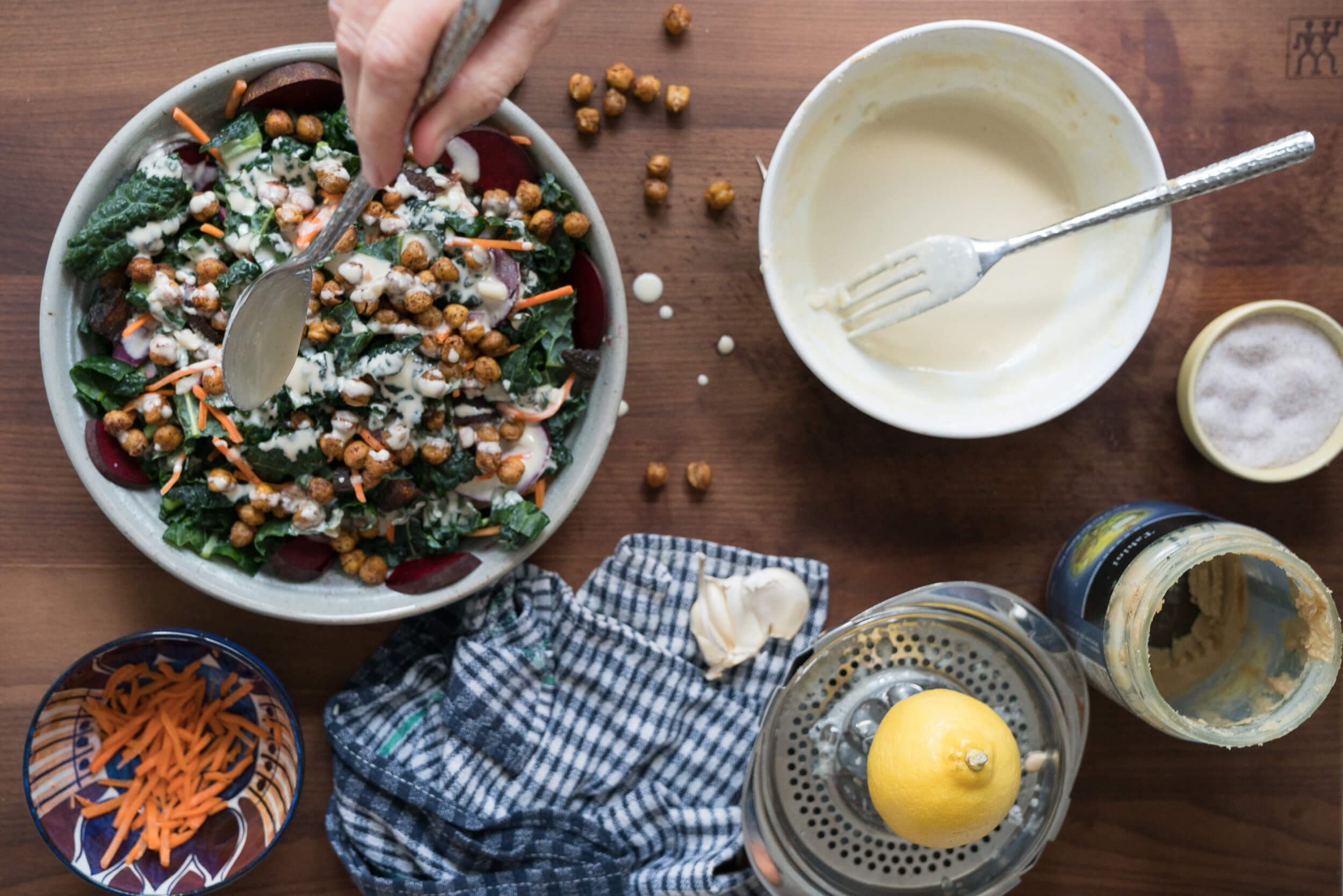 Here's my delicious recipe:
Chickpeas
1 can cooked chickpeas, drained and rinsed
1/2 tsp garlic powder
1/2 tsp paprika
1/2 tsp chili powder
salad
2 medium beets, thinly sliced using a mandolin if available
1 cup carrots, grated
1/2 cup dried apricots, chopped
1 small red onion, finely chopped
1 bunch dino kale, roughly chopped
DRESSING
2-3 large spoonfuls tahini paste
Juice from 1 lemon
1-2 garlic clove, finely minced
2 tbsp extra-virgin olive oil
Pinch sea salt
Water as needed
Instructions
Preheat oven to 350F degrees. Place parchment paper on a baking sheet.
Making sure the chickpeas are dry, place in a large bowl and sprinkle with spices.
Evenly spread chickpeas across parchment covered baking sheet. Bake for 20-30 minutes or until crunchy and crispy.
Meanwhile, prepare the salad. In a large salad bowl, combine all the salad ingredients.
To make the dressing, combine all the ingredients and mix with a wire whisk. At first it will get thick and then thinner as you add more water. I just add a couple of tbsp to thin it out but be careful you don't make it too thin!
Remove the roasted chickpeas from the oven, let cool slightly, sprinkle on top of salad and drizzle dressing over top. Enjoy!
---
Notes
*Choose organic apricots, they will be brown, not bright orange.

SERVES: 4 as a side and 2 as a main.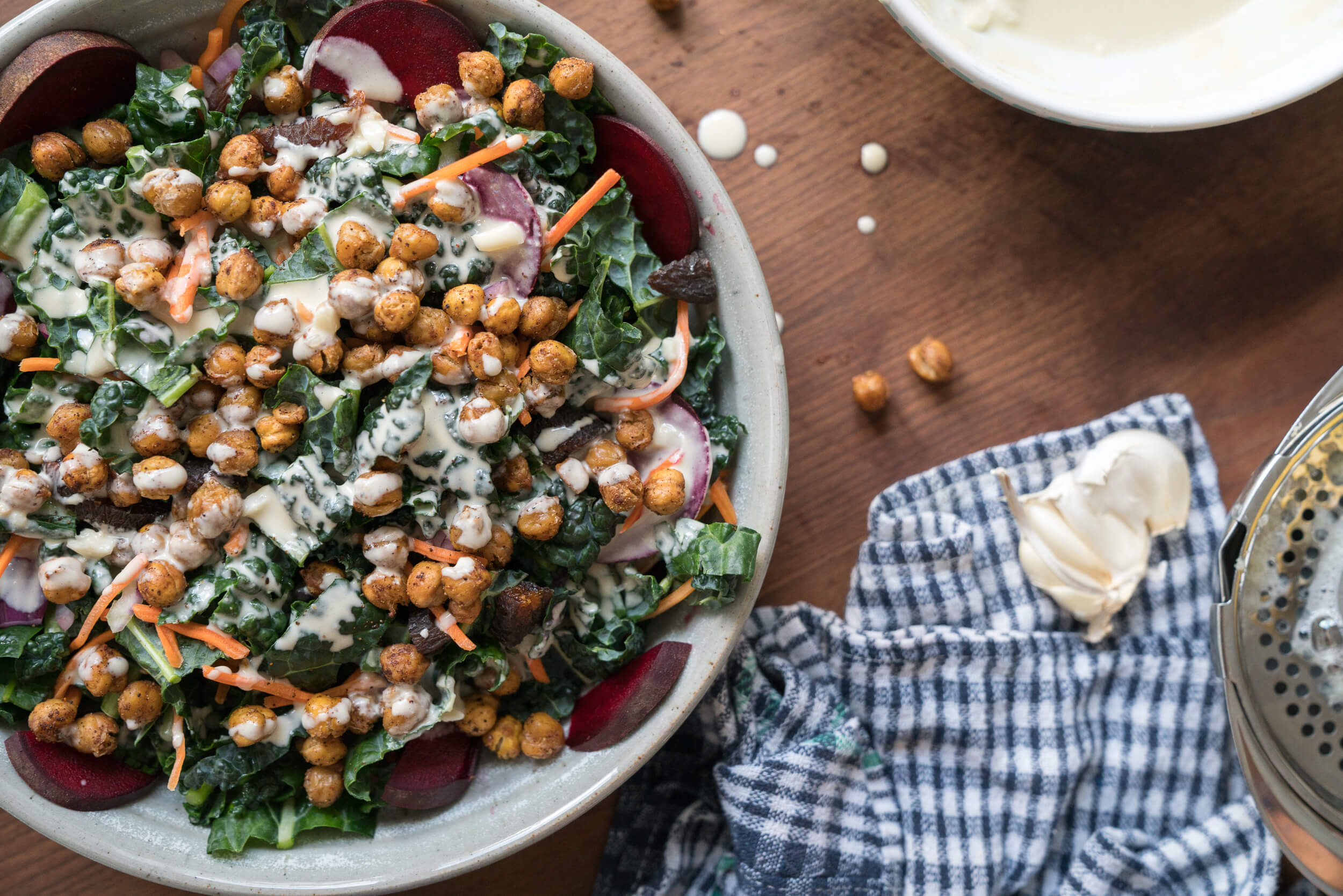 I think you'll love the smokiness of the chickpeas. If you don't like a smoky flavour just nix the chili powder and paprika. Honestly, roasted chickpeas with only sea salt and rosemary totally hit the spot and are just as good. You'll find more recipes for roasted chickpeas in Joyous Detox.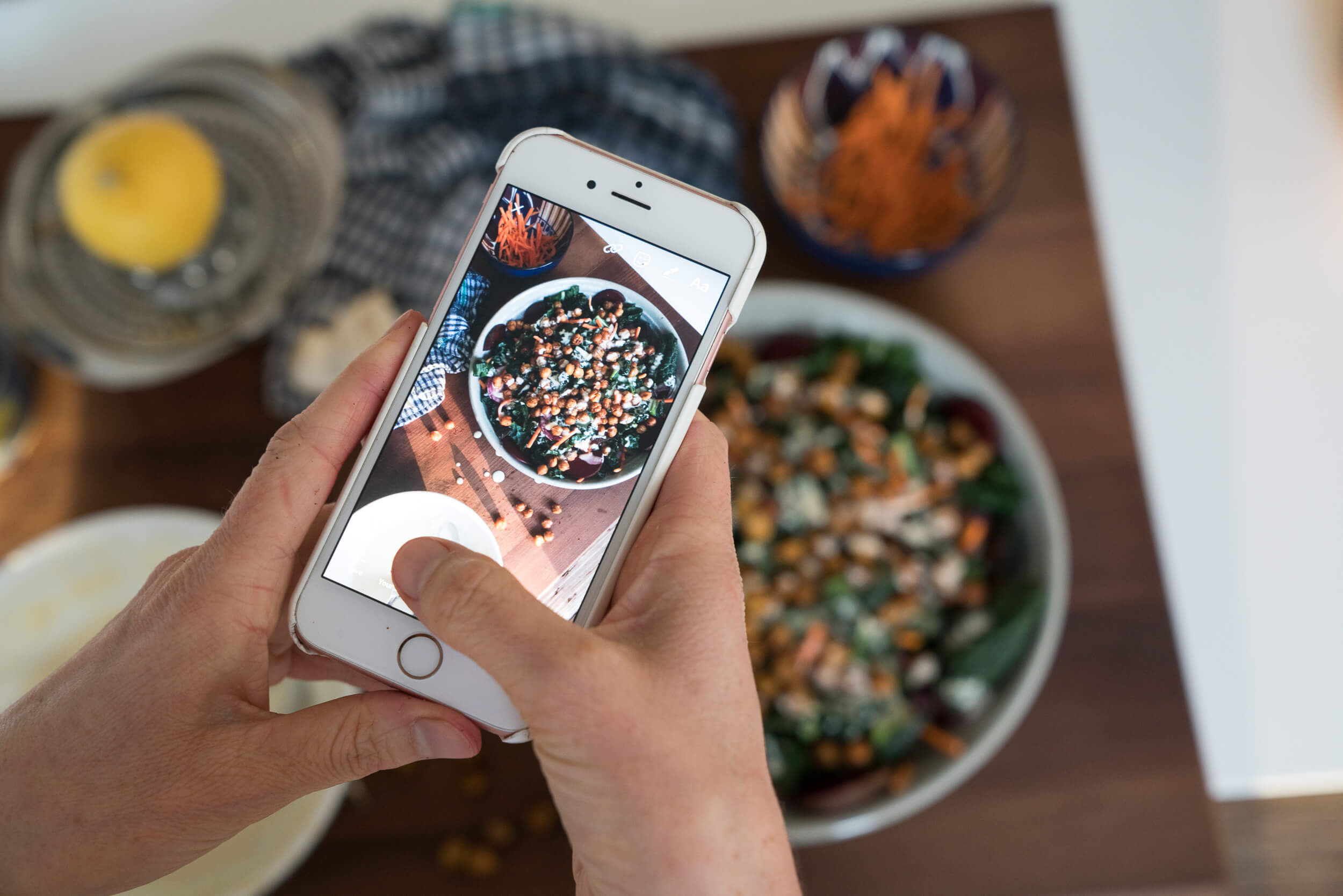 If you make this recipe, I would love to see you share it on social media, just tag me #joyoushealth or @joyoushealth on instagram or facebook.
Before I go, I wanted to let you in a little secret! I've been recipe testing for book #3! So please do let me know what you think of this recipe below because it might just end up in my book.
Wishing you a wonderful week!
Joy