I had such good intentions to post an update on baby Vienna every month, but as you can tell, I've gotten a little behind. Truth is, I've been a little busy ... as I'm sure you can imagine! Being a working mama is rewarding, but it also has it's challenges. Thankfully, I have an amazing hubby who is an incredible dad and right now he's putting Vienna to bed as I write this blog post :)
So much has happened in the last six months that it is nearly impossible to summarize it all here. But you can certainly follow our adventues on Instagram! Our lives have changed dramatically – in the best way possible. There is more love in our home than I ever could imagine. And I never thought it was possible to get by on so little sleep. The sleep is getting so much better but it's still a work in progress. I think that I will need a solid 4 weeks of good sleep before I don't have dark circles under my eyes anymore, haha! However, in speaking to mamas with older toddlers, they often thell me they still haven't slept ... in THREE years! Mama, mia!
We get V down by 6:30 or 7pm with very little fuss (that took some work though) but the daytime naps are not as easy as the nighttime routine. Each day is a bit easier though. The toughest part for us is really sticking to a routine because running a small business together wiht my hubs means no two days are ever alike. Vienna seems to roll with it pretty well.
That's what's happening in a snapchat, but I thought a fun way to do this post would be to share answers to the most common questions I've been getting as a new mama on social media. You can also find answers to the most frequently asked questions I get as a mama over here. Feel free to post any questions for me below too as it will inspire me to write more for future posts.
Here are a few of the questions I've gotten as a mama so far!
How do I maintain balance?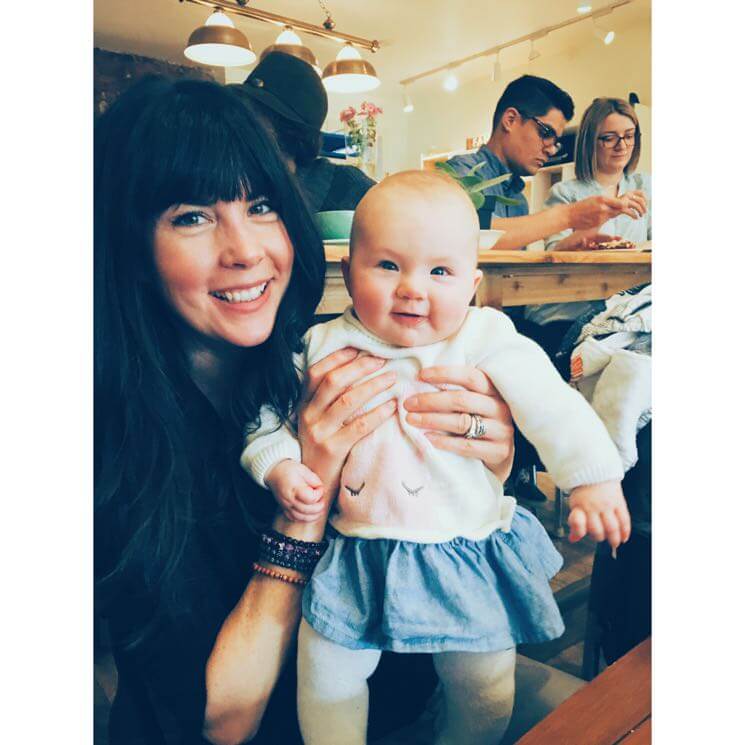 Balance? What's that? Haha. Well, let's just say having a baby, running a business and trying to find time for exercise is a balancing act and it's not easy to do it all but I'm trying my hardest. I only just started back exercising. I'm doing Barre 1-2X/week and that started up again when Vienna was about 5 months. It's the only exercise I can do aside from walking because I'm doing physio for my pelvic floor and I've got a bit of work to do. However, I literally LIVE by my calendar. I schedule absolutely everything in and that helps me find balance between my family life, work life and social life.
Making time to see my girlfriends has been essentail for being a happy mama too. Even if it's just 1 hour per week! As much as I love our baby girl, I need "me" time or I will go crazy!
Does Vienna really smile that much?
If you follow me on Instagram, you likely know that I post photos of Vienna a few times per week. And yes, she is pretty smiley. I don't know whether that's because we smile at her a lot and have some really good laughs or if it's just her sunshine-y personality. I guess time will tell!
What is her personality like?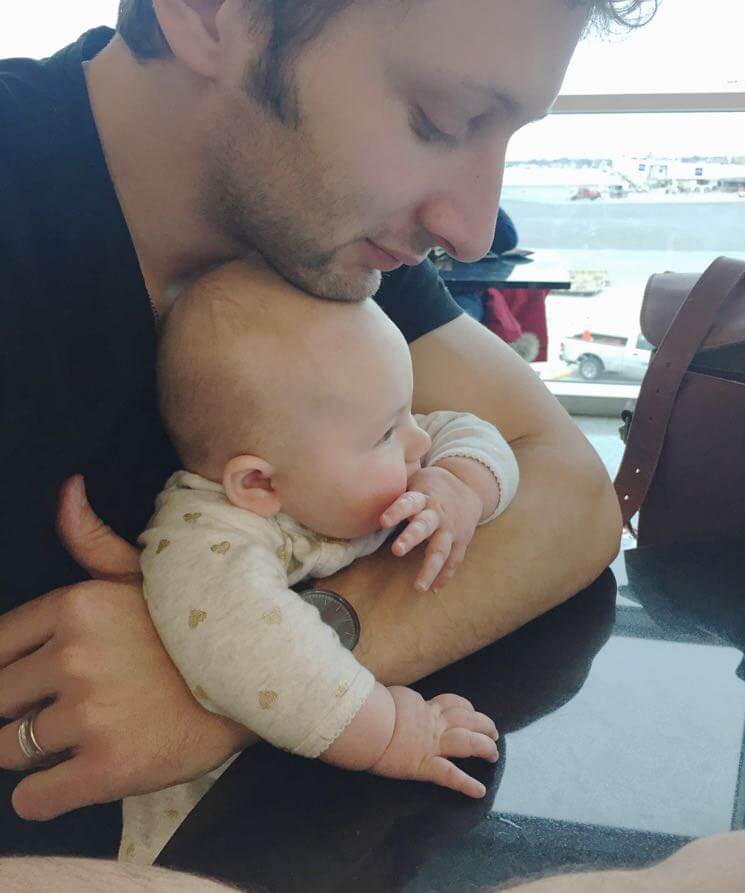 I think it's still hard to tell because she's only been with us for six months, but I think she's pretty easy going and I bet she's going to have a good sense of humour like her dad. We drag her pretty much everywhere with us and she doesn't seem to mind which is why I say she's easy going and she likes to giggle when I sing. Quite honestly, she's probably just laughing at me because I'm the worst singer EVER. She's also extremely determined.
She's been practicing crawling pretty hardcore for the last few weeks and starts to cry when she's on her hands and knees trying to figure this crawling thing out. I asked Walker how he would describe her personality and he said "very honest" and "genuine". Babies have no filter. They give you what they feel. Makes sense to me!
How do you find time for yourself?
There is definitely a lot less time for myself, but taking her for a powerwalk in the park while she naps feels like time for me. Or going to Rawlicious for a tea and a macaroon with Vienna feels like time for me too. Also, I've had a few dates with my girlfriends while Walker looks after Vienna. En route to my first date with my girlfriend, I played the music VERY LOUD in the car and sang my car out. It felt so good to that. Often Waker takes V on Saturday mornings for coffee while I do my own thing. Even if it's just for an hour, it's time for me to take a long shower and wash my hair.
How do you manage to find time to eat healthy with a baby?
Eating healthy and delicious food is such an important part of our life that I can't imagine being any other way. It's the one thing I know I can depend on to make me feel good. Grocery shopping and making time for food prep is priority in our home and it's a responsibility Walker and I both have. Batch cooking definitely helps. For instance, last we had this Cauliflower Stew which we reheated because I made it on the weekend with a kale salad that Walker made which I put the bean to bed. Walker makes the BEST kale salad. You can find it in The Complete Self-Care Guide for New Mamas!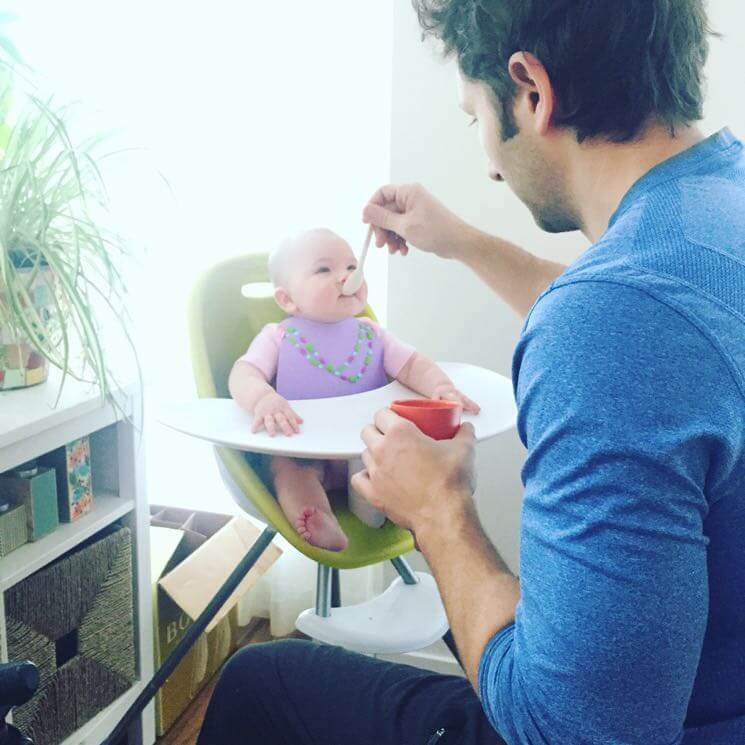 Do you ever have days where you dislike being a mom?
My short answer is: no. People ask me this a lot though. I realize that every mama has a different perspective on mamahood and of course, not every second of every day is sunshine and rainbows but being a mama is the best gift I've ever been given. I truly love it and I'm extremely grateful for it. Maybe it's because when I was in my twenties, I had so many hormonal problems I never thought I would be able to have a baby which makes me appreciate all aspects of mamahood. I also believe that Vienna chose Walker and I as her parents, so I feel very grateful to her.
Some quick facts about our sweet bean aka Vienna:
Her first food was avocado and her second food was banana. She LOVES bone broth and apple sauce!
She has one bottom tooth that is sharp as a razor!
She is crawling backwards and she walks forward when you're hold her -- it's the cutest!
She looks really pretty in purple.
She loves hanging in the kitchen with mama!
She's been on a plane twice and had her feet in the ocean which was frightening and exhilarating for her as you can see below.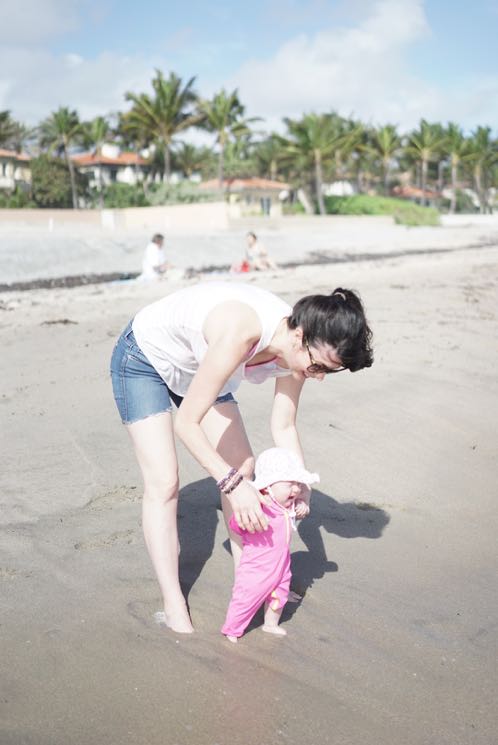 She couldn't care less if her diaper is full of crap and piss! hahah
She likes to make funny faces for the camera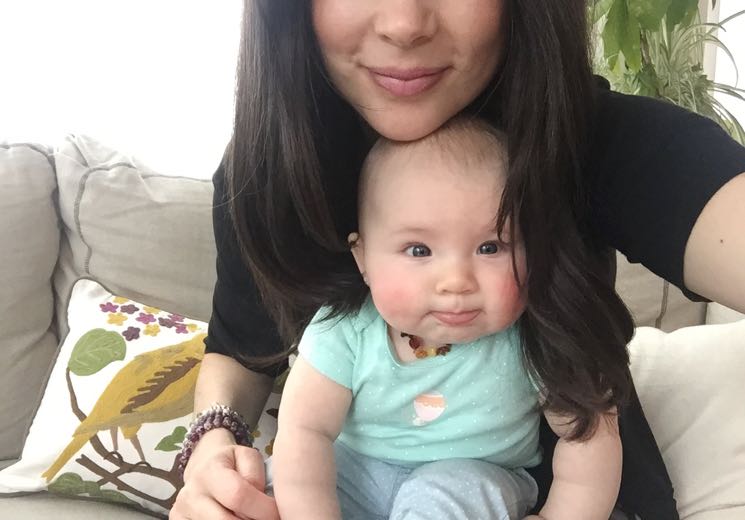 And finally... she's trying really hard to befriend the kitties!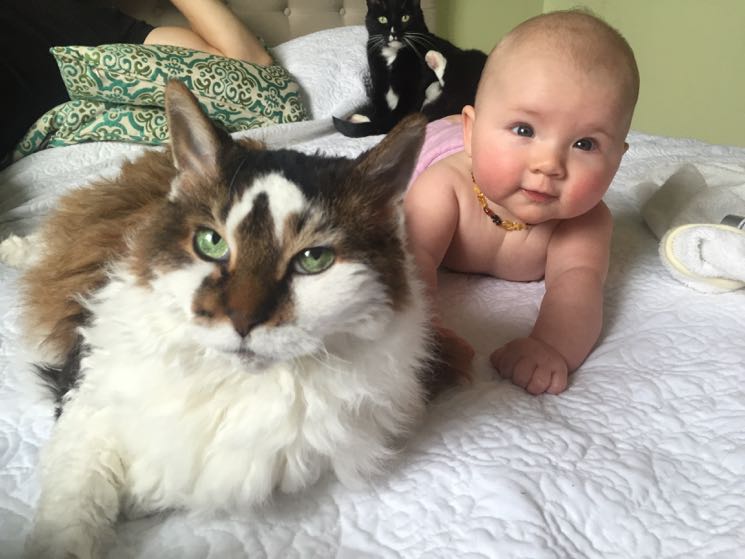 I hope you enjoyed this 6 month update along with all the photos. I'm up to 10,081 photos on my iphone now!! I LOVE taking photos :)
If you're reading this and you're a new mama, I would love to hear you share your favourite memory below. You may also be interested in my Complete Self-Care Guide For New Mamas!